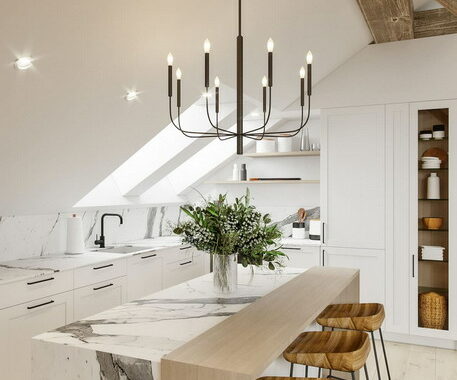 When planning your dream kitchen, you will surely come across a wealth of information that will fall on you from the pages of magazines, from the Internet. All this is not so easy to process and put on shelves. After all, new trends, fresh ideas, modern trends in the world of kitchen interior design in 2023 never cease to amaze the common man in the street.
Popular colors in the interior of the kitchen design 2023
When choosing a color scheme for a modern kitchen interior in 2023, you should be guided only by your own preferences. The selection of the correct color of paint for the walls will visually increase the space, transform the whole room, and most importantly, improve not only your well-being, but also all household members, which will most likely increase their appetite and make food more enjoyable. According to experts, popular colors for the kitchen in 2023 should be selected based on the interior design style of the room. But what does it look like in practice?
In a small kitchen, muted colors (for example, white, gray, beige) look very beautiful and impressive. Also interesting is the pastel version, which optically enlarges and brightens the space. Of course, the same techniques can be applied in a kitchen that is completely separate from the rest of the rooms (the so-called closed kitchen).
The trendy 2023 large kitchen will look great if it is decorated in classic, dark and rich colors. These color schemes are suitable for people who like to experiment, because almost all options are allowed here.
The combination of different, at first glance, ridiculous shades is a sign of exquisite taste. Remember – expressive and ingeniously selected colors in a large room will give individuality and character to the interior.
An important point – it is necessary to take into account the location of windows and furniture. If the kitchen has windows (the room is well lit), you can easily use dark colors, otherwise light pastel colors are better. When decorating the interior, it is worth making sure that the wall opposite the window is painted in a lighter shade.
UNIVERSAL EXAMPLES OF COLOR CHOICES FOR THE KITCHEN 2023:
Cabinets with white or gray fronts + white or gray walls;
Dark furniture + light walls;
Dark blue cabinets + monochrome blue color palette;
Red furniture + tiles of similar shades.
It is quite difficult to get a beautiful 2023 kitchen design in the perfect color scheme. However, following new trends and fashion trends, you can make the interior stylish, bright and original. It is only important to pay attention to the following points.
White and beige is a trendy kitchen interior design trend in 2023. These colors blend perfectly with rustic, Scandinavian and classic styles and go well with modern wood furniture. Thanks to them, a small space will become neat, clean, very bright, and most importantly – optically enlarged.
For large kitchens, a beige and white combination will add elegance and lightness. Regardless of the color of furniture and decor – the interior will look great.
Pastel has always been associated with lightness and tenderness. It is perfect for a small kitchen, it will not overwhelm it and deprive it of lightness (especially a light pink tone, aqua, pale yellow, blue, sand).
Pastel tones should be paired with a similar shade, because too much contrast can darken the kitchen. The exception is the same colors in different shades (for example, blue + dark blue, deep pink + delicate pink).
Composition with black is a great solution when the kitchen has furniture of the same color. Black color in the interior is experiencing a kind of renaissance. It is not often found in the interior and presents an interesting alternative to white and pastel colors.
A cool tone will make a narrow kitchen more proportional. But it cannot be denied that this color is quite complex, since it absorbs light and visually makes the space deeper. For a similar color, it is better to choose laconic furniture. Light furniture looks good in combination with dark walls (brown, black).
Stylish accents will provide the necessary volume to the room (countertop in a contrasting color), add an atmosphere of chic and wealth to the stylish interior of the 2023 kitchen.
For creative people, a special slate wall (for example, on one of the walls) is suitable, which can disrupt the routine and make the stay in the kitchen much more fun.
This solution is primarily for fashionable and modern kitchen interiors 2023, photos of which can be found in the interior. Compositions in this style will look very creative. Consideration should be given to the area for chalk drawing (for example, the surface of kitchen cabinets or refrigeration equipment).
Gray is a very beautiful, and most importantly, a universal color scheme, comparable to white and beige. It can be combined with almost all furniture (especially black and white). Gray colors (regardless of shade) look harmoniously in a modern minimalist style. Moreover, the gray color scheme can be used in a kitchen of any size (a light shade of gray is a small kitchen, a dark shade of gray is suitable for a large room, for example, a kitchen in a private house.
Colors with which you can create a warm arrangement – red, yellow, green. When using them, make sure the shades of the accessories are muted. On the other hand, light furniture will soften the dominant bright colors and provide an optical magnification of the room. The presented colors will look great in eclectic, modern and retro styles.
The most popular cheerful colors for kitchen interior design 2023 include caramel tones, shades of milk chocolate, ripe pear, cinnamon, apple, raspberry, orange and peach. They will create a positive mood in the kitchen, as they are associated with the sun, summer and pleasant moments. At the same time, these fantastically attractive shades are completely neutral, they bring a special comfort to the room.
An effective and attractive solution, more suitable for large rooms, a combination of two colors on one wall.
TRENDY COLORS IN THE INTERIOR OF THE KITCHEN 2023:
White + gray;
Beige + brown;
Blue + dark blue;
White + black.
Alternatively, you can use pastel colors with intense counterparts. But unlike previous solutions, which are an addition to the design of the modern interior design of the kitchen in 2023, they will be dominant (dictating the conditions), therefore, the rest of the decor elements and all kinds of accessories (dishes, textiles, household appliances) should be matched to the tone of the walls.
On a note! The right color combination for the 2023 kitchen interior will allow you to get a functional, beautiful and cozy space. The only color constraint is your imagination.
Kitchen interior design 2023 – Top trends
Are you planning to create an ergonomic kitchen design project 2023 on your own? Then study fashion trends and trends that are popular this year or listen to your feelings and advice from your friends, whose tastes you trust.
At the same time, the opinion of a specialist is equally important. A professional designer, taking into account your wishes, will help you develop a project of a functional and stylish kitchen 2023, in which there will be nothing superfluous. But before using its services, you need to decide for yourself what kind of new kitchen you want to see, what should be placed in it. The tips below will help you decide.
Choose the classics
If you stick to the classic style when decorating a fashionable kitchen interior in 2023, it's hard to go wrong. Unlike newfangled trends, which often change (on average, once every 2-3 years), the good old classics are relevant for all time. She personifies elegance, impeccable taste and nobility.
It is especially important to give preference to the classic style if you plan to sell an apartment. New owners may not like the vibrant colors and unusual elements that were in vogue a few years ago.
Give preference to practical materials
Kitchen furniture should be made of practical, easy-to-clean material. For example, glossy fronts look chic, but they will have to be wiped daily because every fingerprint is clearly visible on a perfectly smooth surface.
Take care of good lighting
For a modern 2023 kitchen to be well lit, multiple light sources must be provided. Work surfaces can be illuminated by spotlights, sconces or other sources of dim light are suitable for family dinners and soulful tea parties.
Install additional sockets
Perhaps they are not needed now. But in the future, you may have new kitchen appliances, and additional sockets will come in handy. In addition, during the operation of the kitchen, it is often necessary to charge the phone, connect an iron or a vacuum cleaner.
Think about kitchen towel racks
Many people dry damp kitchen towels on hot radiators, which interferes with heating the room efficiently. Better to use special hangers.
Provide storage space for food and kitchen utensils
Regardless of the area of the apartment and the composition of the family, the kitchen must have cabinets, drawers for food, pots, pans and various little things. They should be roomy and comfortable so that everything you need is at hand. If you have small children, you should equip drawers and doors with special interlocks.
You also need to set aside storage space for your meat grinder, food processor, and juicer that you don't use that often. This will free up space on your desktop countertop.
To store bulky items (vacuum cleaner, mop, ironing board), you may need a tall, narrow cabinet without shelves.
Choose cabinets with glass doors
Plates, cups, glasses are stored in hanging kitchen cabinets. To make the trendy kitchen design 2023 seem more spacious, their doors must be transparent. Open shelves are also a good option. They give a sense of space. However, in this case, dust may settle on the dishes. You will have to carefully monitor the order in the lockers, because all the contents of the shelves will be in plain sight.
Order kitchen cabinets up to the ceiling
If the apartment has high ceilings, you can order cabinets up to the ceiling for the new kitchen. They will have more storage space. In addition, you do not have to constantly clean the top surfaces of the cabinets from dust and greasy deposits.
Try to make the best use of hard-to-reach places such as corners. Corner cabinets with pull-out metal dryers can be perfectly used for storing kitchen utensils – pots, saucepans, pans.
Choose built-in appliances
Built-in kitchen appliances, for example, an oven, refrigerator, microwave oven, will significantly save space, as they take up less space.
How to make the kitchen interior design 2023 not only fashionable and beautiful, but also practical? The answer is simple. Install an extra sink. The second sink is convenient for washing fruits and vegetables, defrosting food. In it you can rinse dishes after washing, clean fish and vegetables. The additional sink is smaller in size than the main sink in which the dishes are washed.
Try increasing the countertop area
Any housewife will say that there are always not enough work surfaces in the kitchen. Planning a new interior is a great opportunity to increase their usable area (for example, combine two tables with one tabletop, use its surface instead of a window sill). The countertop in the kitchen is often used as a small bar counter, behind which you can also have breakfast.
The design project of a beautiful kitchen 2023 can be considered successful if the tabletop is located at the height that is optimal for your growth. If it is too low, you will have to bend too far while cooking, which can cause back pain. A high table top will put more stress on your arms because you have to lift them higher. This will cause discomfort in the shoulder and elbow joints.
Position your kitchen furniture so that you feel comfortable
Whether you are right-handed or left-handed is very important for the correct placement of kitchen equipment. In the first case, it is better to place the stove on the right side of the main working surface, in the second – on the left side.
The dishwasher is placed next to the sink, and there should be a waste bin here. This makes it easier to clean the plates of food debris and place the dishes in the machine. All furniture must be positioned so that it does not interfere with free movement.
The arrangement of any room in the house largely depends on the preferences of the tenants. But to achieve the desired effect, you must adhere to the rules described above. We hope that new ideas, useful tips, and a beautiful photo of the interior of modern kitchens in 2023 will not be superfluous, and your dreams of "an ideal place for cooking" will definitely come true.