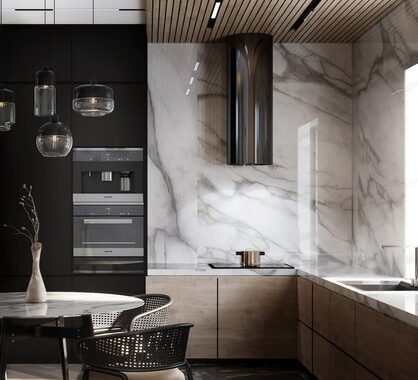 On the eve of the most cozy and long-awaited holiday by many – the New Year 2023 – we want to touch on the topic of new kitchen design trends in 2023!
It is no secret that in most families it is the kitchen space that is perceived as a home, a center in which all household members gather. Of course, comfort is very important here! Therefore, the kitchens that will be relevant in 2023 should not lose this quality. Comfort plus the most functional, modern, aesthetic design – that's the formula for success!
Kitchen 2022-2023 – a design in which you will not see hackneyed patterns. Improvisations, unexpected combinations of fashionable shades, a new reading of the classics – everything here is carefully thought out and rather concise. Ideal for a modern person with an active rhythm of life, isn't it?
The secrets of creation and the hottest kitchen trends 2022-2023 will be revealed in detail below. Enjoy reading!
Kitchens 2022-2023: what will be trend?
Kitchen trends in 2023 are so diverse that it will be difficult to single out one thing, the main thing in them. The widest range of modern furniture, appliances, decor adds complexity to the choice. The most correct decision is to choose a style "for yourself". The one in which the kitchen will please you the most, and reflect your worldview and inspiration. In order to orient you in the difficult fashion world of interior design, we will still single out a few trendy trends.
For those who love minimalism
Fashionable kitchens 2023 for those who prefer minimalist solutions are:
– glossy lacquered facades of the kitchen set in white;
– simplicity of forms.
Such solutions will give the space not only modernity, but also make it visually wider, freer.
If the design of the space in a single white color bothers you a little and makes you want to dilute it with something else, inserting wood – natural or a material that imitates it well – will help maintain the fashionable image of the kitchen. This will make the space "warmer".
Don't want to use wood? As an alternative, muted basic shades are perfect – beige, gray, graphite, black.
Such neutral solutions for decorating the facades of a kitchen set are very beneficial. Because if you want to change the interior in the future, they will perfectly fit into any other color schemes. To update, it will be enough just to change the color of the walls and pick up other decorative details.
For fans of retro
Another fashionable kitchen trend 2023 proves that the new is the well-forgotten old. If you are a fan of tradition and elegant solutions, take a closer look at the style of the 50s and 60s. Here, against the backdrop of expressive walls, kitchens with celadon azure cabinets will look appropriate. Of course, the technique must be chosen appropriate for such retro aesthetics. Fortunately, modern manufacturers provide this opportunity by releasing atypical retro models that perform all the functions that are typical for the technology of our time.
Also in such kitchens, sets with facades made of dark wood or materials that imitate it will look great. As accessories, metal handles look especially good on them. And countertops "marbled" will satisfy even the most demanding natures.
If the kitchen is small and there is not enough natural light in it (the windows face the north or west side), it is better to choose light-colored facades – white or beige.
Kitchen furniture 2023 – new trends
A smooth surface, like satin, without handles – this is how the facade of a kitchen set looks like, 100% in line with the fashion of 2023. But this is not their only advantage. Also, such facades at times facilitate the cleaning process, because they are easy to clean.
Trendy kitchens 2023 is a design that suggests that kitchen cabinets will be placed along the entire length of the wall and, as a rule, appliances are built into them. Open shelves on which you can beautifully place glass or porcelain items are a great option for visually facilitating such a design.
Two-tone cabinets, which began to be especially popular in trendy kitchens in 2022, will continue this trend in 2023 and will not leave the must-have list of modern designers' tricks. What colors will they combine? It is better if these are contrasting solutions. For example, the classic duet of white and black or non-trivial green and blue. And if you dilute them with a kitchen apron with a "marbled" or "concrete-like" finish and a "wood-like" countertop, it will turn out very unusual and acutely relevant!
A kitchen island is another piece of furniture that modern 2023 kitchens include, if space permits. This is not only a functional solution that allows you to increase the work surface or the number of storage spaces, but also practical – the island allows you to hide the mess that sometimes reigns on the headset tabletop from the eyes of guests in the dining / living room area.
Materials for creating a kitchen 2023: new trends
Considering the kitchen trends 2022-2023, it's safe to say that design is getting more and more exciting every year! The choice of materials surprises and delights! Consider the most popular solutions:
1) Glass
The interior of the kitchen 2023 involves the use of this material in sliding doors. Glass sliding doors will look great with any modern style – from minimalism to neoclassic. The differences are in the type of glass used and the nature of the devitrification.
2) Marble or its high-quality imitations
We are talking about the design of the working area – a kitchen apron and countertops. Marble has firmly entered the TOP of the most popular materials for kitchens, let's not be afraid of this word, for decades! And in 2023, only an increase in its popularity is expected. The space of exploitation of marble is expanding – the floor, the walls. In one room, you can use several of its varieties at once.
3) Other natural stones (granite, onyx) or their high-quality imitations
The main advantages of these materials are a high level of practicality, wear resistance. Also great for kitchen aprons and countertops.
4) Mirror
Namely, mirror tiles with toning. This material began to appear in the design of kitchens relatively recently, and, most often, it is in luxury interiors in the Art Deco style. The atmosphere here is very cocktail, almost bar.
5) Glazed tiles
Kitchen 2022-2023, the interior design of which assumes precisely the geometric layout of such tiles, is also often found in references from modern designers. Laying can be vertical, horizontal or parquet. Distinctive features of glazed tiles are that they are more elongated, glossy and have small bulges around the perimeter.
6) Ceramic tiles imitating brickwork
If the plans are to create a loft-style kitchen, then such tiles will come in handy.
7) The choice of a single or identical material for the design of the countertop and kitchen backsplash
So, the kitchen set will look as harmonious and holistic as possible.
8) Wood or its high-quality imitations
Since naturalness is now in trend, wooden textures in the design of the kitchen are also very relevant. They will fill the space of a modern kitchen with "live" energy. At the same time, the materials that will be used with wood or its imitations in a duet can affect how the space will be perceived. For example, an addition in the form of metal parts will make the atmosphere more rigorous and elegant. And glass is more refined, light and airy.
9) Complex combinations of different materials – perhaps the main trend of fashionable cuisine 2022-2023
Modern ideas, modern design – all this is replete with great variety and wide scope for the manifestation of imagination. Granite, marble, wood of various species, their high-quality imitations, addition of brass or copper elements, glass, stone, concrete, tiles with a variety of ornaments – the number of possible options is limitless.
Modern kitchen design styles 2022-2023
Stylish kitchens in 2023 – what are they? Consider the main directions and their characteristic features.
Loft
This style is distinguished by originality, naturalness and is very popular with those who love experiments.
The typical techniques used by designers to implement it include:
– no hidden ceiling beams;
– rough wall decoration or exposed brickwork;
– open wires, pipes and other communications;
– the predominance of materials such as metal, wood, glass, stone;
– furniture with an unusual design;
– original decorative details;
– modern appliances;
– the predominance of brown, black, white shades in the design palette.
Neoclassics
The modern interpretation of the classics is very popular today, because such kitchens look truly luxurious and innovative.
To bring all this splendor to life, adhere to the following rules:
– think over the lighting system well – there should be as much light as possible;
– use warm shades in the palette;
– place a large glass or crystal chandelier in the center of the ceiling;
– use a lot of textiles made of silk, cotton or linen – curtains, tulle, napkins, tablecloths;
– order furniture, the design of which involves the presence of many curves and rounded outlines;
– choose gold or silver for decoration;
– install, if possible, built-in appliances, leave a minimum in sight;
– do not save – the classic "does not like" this.
Scandi has not lost its popularity for several seasons now, and 2023 will be no exception. This is a great solution for owners of small kitchen spaces, as everything here is concise, functional, and the predominance of light shades helps to visually expand the space.
The main characteristics of the style include:
– practicality and simplicity in everything;
– the predominance of white and other light shades;
– installation of the minimum amount of furniture;
– built-in appliances;
– the presence of decor in very small quantities or its complete absence;
– large window openings covered with laconic blinds or roller blinds;
– built-in lighting fixtures or speakers and performing an accent role
Provence
For fans of French chic, Provence is the dream kitchen of 2023!
Their distinguishing features:
– the space design palette consists of soft pastel colors;
– the predominance of vintage, floral motifs;
– basic finishing materials – brick, wood and ceramics;
– textiles, mosaics, lamps – characteristic decorative details;
– built-in appliances or models in retro design.
Hi-tech
The kitchen of 2023, which is designed in a high-tech style, is also found among the references of modern designers quite often.
To create the necessary atmosphere will help:
– innovative household appliances – stove, refrigerator, microwave oven, food processor, etc. It is important that all household appliances are in harmony with each other, combined in color and material;
– shiny surfaces;
– solidity of structures;
– the predominance of glass, metal, plastic;
– lack of wooden elements and decor;
– straight lines;
– well-thought-out lighting system – high-tech kitchens should have a lot of light – both natural and artificial.
Modern
Modern kitchens 2023, designed in modern style, are distinguished by maximum functionality, conciseness and practicality.
What is characteristic of them?
– severity of lines;
– use of contrasting colors in the design palette;
– furniture made of wood, equipped with glass and metal parts;
– built-in headset equipment;
– lamps built into the ceiling or furniture;
– both glossy and matte surfaces are acceptable.
Vintage
Kitchen interior design 2023 in vintage style is suitable for those who love antiques. This style makes the interior as elegant, warm and cozy as possible.
The following details will help in its creation:
– indoor plants – give the space cheerfulness and freshness. Tropical vines look very beautiful. Ornamental cereals, herbs, etc. are also appropriate;
– a calm, unobtrusive design palette – beige, cream, light gray shades for walls, floors, as well as furniture;
– vintage decor;
– equipment in vintage style;
– artificially aged furniture;
– the presence of such useful things as a shelf for spices and canned food in the original design.
Such a kitchen contributes to a peaceful pastime. It's nice to be nostalgic here.
Country
The kitchen trends of 2022-2023 also include country style. This is the epitome of ingenuous charm!
To embody a rustic style that meets all the trends and requirements of 2023, you should take into account such points as:
– well-thought-out arrangement of the work surface, appliances and kitchen island;
– furniture made of recycled wood, the texture of which suggests the visibility of all imperfections, which gives the space a special charm. In preference – dark shades;
– a combination of elements made of wood with bright decorative details;
– the presence of a kitchen island or an accent wall – details that will give the design a unique look;
– the use of such materials, artificial stone, ceramics.
Trendy kitchen colors 2023
Considering the design of the kitchen 2023, new trends, one cannot but pay attention to such a factor as the color of the kitchen 2023.
Each year, the Pantone Color Institute chooses the color of the year that will be trending for the coming season. So, in the kitchens of 2022, two trendy colors have become fashionable at once – yellow and gray, and in 2023 – the lilac shade of the periwinkle flower.