Discover what the kitchen trends 2024 that are going to succeed like in terms of design, planning, furniture, coatings, etc.
5 kitchen trends that are stays in 2024
1. Diaphanous kitchens open to the living room
Despite the fact that these types of open kitchens are not common in Spanish houses (or they were not), in 2023 we already saw how this trend was making its way into the decorative panorama of the moment. In 2024, interest will continue to increase in designing kitchens connected to the living room or dining room, or with light glass enclosures. When space is limited, leaving it open is a good option. Continuous flooring throughout the house and elegant and decorative kitchen furniture, with smooth fronts and no handles as in the image, are two keys to designing open kitchens.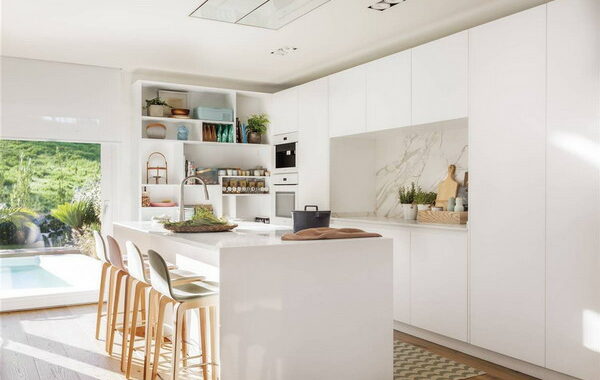 Kitchen decor design furniture manufactured by Ébano.
2. Kitchens with a sustainable spirit
Sustainability is an essential aspect in the decoration of our houses and very particularly in the kitchen. Natural and ecological materials are sought, whose production process is respectful with the environment. In addition, technologies are incorporated into the kitchen to make the most of resources and consume less: taps that save water, efficient appliances, etc.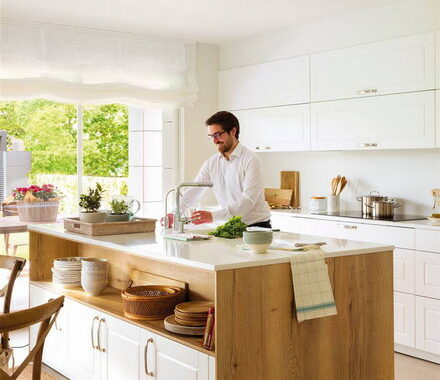 Kitchen designed by decorator Asun Antó.
3. Office spaces to eat daily
One of the trends that will remain during the coming months in terms of kitchen planning are office spaces. You don't need big dining tables or lots of seating, just a corner with a wall-mounted table, a breakfast bar with stools, or a small space with a round table. The important thing is to have this corner that allows us to eat informally every day. To visually delimit it from the rest of the kitchen, resources such as wallpaper can be used, as you can see in the photograph. Opt for a vinyl wallpaper, easy to clean, and don't be afraid of stains.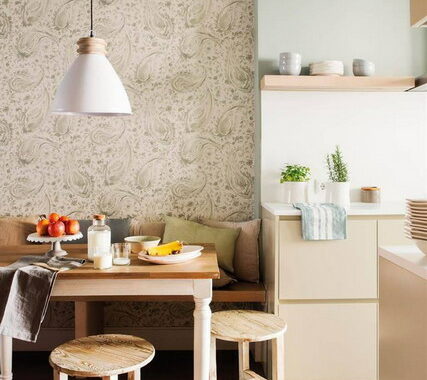 Table, stools and ceiling lamp, at Mardalba Interiors. Wallpaper, by Nina Campbell.
4. Marble effect countertops and backsplashes
Of all the materials and finishes present in this modern and bright kitchen, the large-format marble-effect porcelain of the countertop, backsplash and center table stands out. And the fact is that, whether it is authentic or a realistic imitation, the veins of this natural stone provide the kitchen with a good dose of elegance, glamor and modernity. Although it is not a new trend, this passion for marble effect coverings does not seem to be going away anytime soon. Quite the contrary, it is fully topical.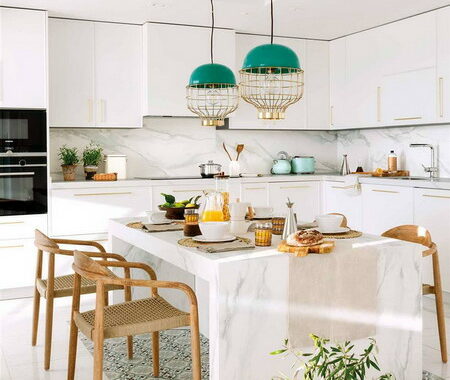 Furniture designed and made by Del Pino Del Valle, where the table, chairs and lamps also come from.
5. Black faucets
They arrived with force a long time ago and they do not plan to leave, at least for the moment. Black faucets continue to be one of the most current trends in kitchen decoration. They are more original than the traditional stainless steel ones and are perfect for the most contemporary kitchens. In the kitchen in the image, designed by the interior designer Paula Duarte, the black taps, handles and lamps contrast with the white of the furniture and the marble-effect coating of the worktop and the wall.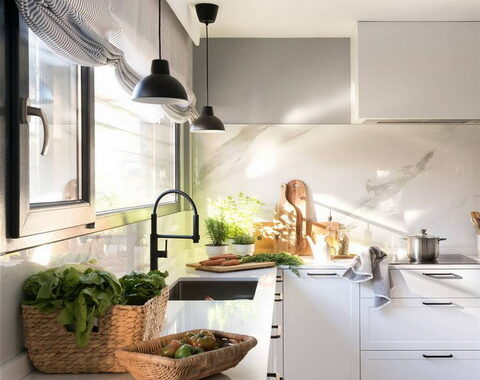 Gala kitchen furniture. Silestone countertop. IKEA lamps. Franke faucet.
5 outdated kitchen trends 2024
6. High-gloss cabinet fronts
Today's kitchens prefer matt finishes, at least for furniture and cabinet fronts. Gone are the high-gloss finishes, much more difficult to keep clean, since any trace of dirt or fingerprints is more evident on them. Both in dark colors and in the infallible white, matt finishes will take the cake in 2024. In the photo, a kitchen with decorative and versatile gray furniture.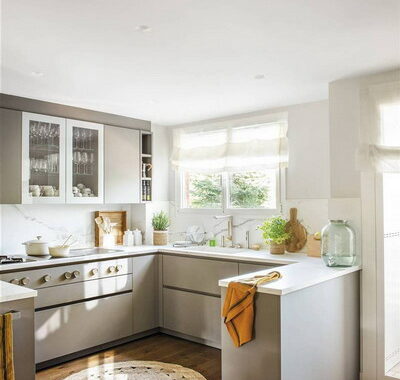 Eggersmann furniture. Ceramic hob with Bora hood. Dornbracht taps.
7. Subway tiles
The tiles in the kitchen are not a thing of the past, but today they continue to be an important element when it comes to covering the walls. However, they are losing some of their validity, displaced by other very decorative and practical coverings, capable of withstanding the frenetic activity of spaces such as the kitchen: paint, marble, polished cement, even large-format porcelain. It seems logical that the beveled subway-type tiles, which have been (and are) so present on kitchen walls, give way to other more original pieces: hexagonal, triangular, wavy, with relief, diamond-shaped, pentagon-shaped, etc. etc. Square format tiles and small size also stand out. If they are enameled or have a rough or irregular finish, they are very attractive as they provide different textures.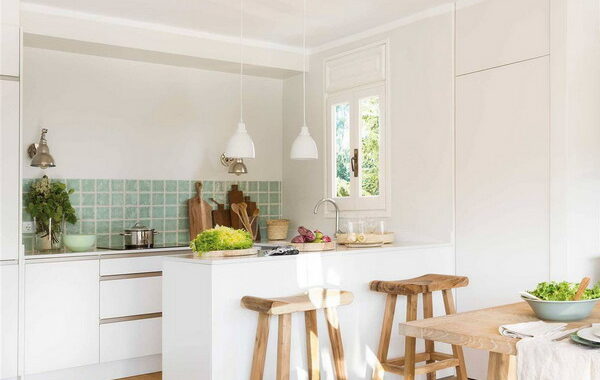 Creixell furniture and tiles. India & Pacific stools.
8. Appliances in sight
The idea of displaying kitchen appliances is also disappearing. Now the trend is to integrate them so that they go as unnoticed as possible. This trend is in line with others mentioned above, such as minimalist kitchens decorated in a single color. The result is sober but elegant spaces, open to the living room, with serene lines and a minimalist concept.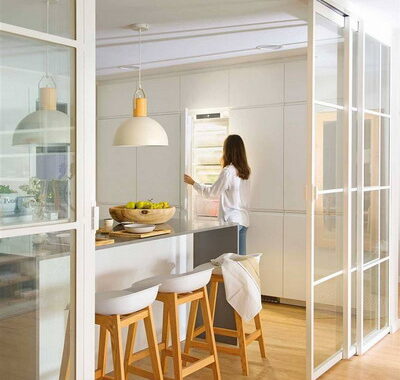 Ikea furniture. Silestone countertop. Stools from Maisons du Monde.
9. Combine various colors (now monocolor is worn)
If before two or more colors were combined in the decoration of the kitchen to give it dynamism and varied nuances, this trend will not continue in 2024. Or, at least, not too strongly, since monochrome kitchens, decorated in One single color. This, which was once considered boring and somewhat bland, is today a sample of style that adds character to the space. In addition to total white, an alternative that remains unbeatable, kitchens in dark colors are becoming more and more popular: black, anthracite grey, petrol blue, etc. The one in this photo is the best example of a super stylish kitchen!
Kitchen designed by Jeanette Trensig with units and wall panels painted in anthracite gray VG021 by Valentine.
10. Goodbye ornate decor, hello clean and minimal kitchens
The classic and more baroque kitchens will lose some interest in favor of minimalist kitchens, in which the essential elements and clean and pure lines prevail. Neutral colors, straight shapes and homogeneous surfaces will be the norm. As in the kitchen in the photo, in which white furniture with smooth fronts and homogeneous surfaces are imposed, between which the veins of the marble of the countertop and the sill are interspersed.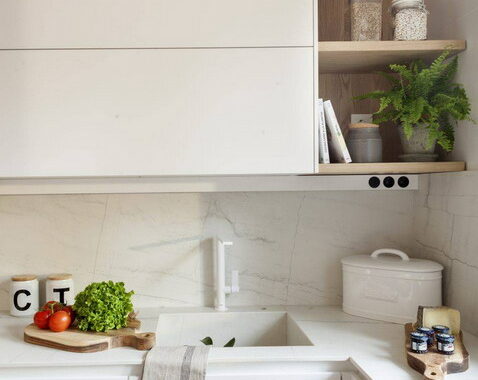 Santos kitchen furniture. Neolith countertop.