Kitchen Design 2023: Top Trends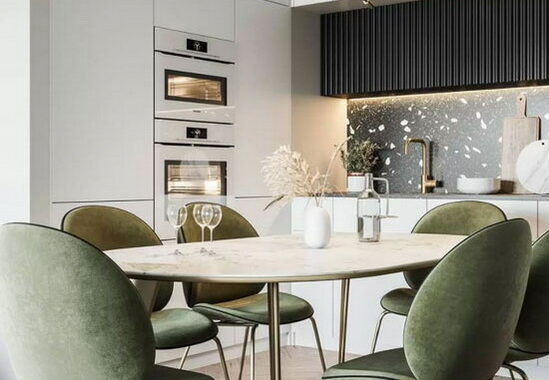 The kitchen remains one of the most visited areas in the home, even if it is not used as often. This is where family and friends come together.
The modern kitchen combines functionality and aesthetics, and increasingly integrates with the living room, integrating cooking and socializing areas. A multifunctional space is created thanks to an open floor plan, thoughtful content and harmoniously selected materials.
Designers advocate complete freedom from style restrictions. Today, there is no rigid framework for following a particular style. The uniqueness of the interior, its personification comes to the fore. Laconic design and minimalism in details are at the height of fashion today.
What are the main trends in kitchen interiors in 2022-2023?
Open space
An important trend in new kitchens is the maximum combination of kitchen and living space. The concept is based on the mimicry of technology and kitchen furniture for the residential sector, the kitchen becomes "invisible". This can be achieved using the same type of materials for interior decoration. At the same time, not only the design of the kitchen unit is thought out, but also of the entire room, including the living area.
If you are just at the stage of planning a kitchen interior, give up free-standing large household appliances – replace the stove with a built-in oven and hob, install a built-in refrigerator in a special case and cover it with furniture fronts. It is better to choose a hood that is fully recessed (the whole structure is inside the wall cabinet) or telescopic (the body is inside the cabinet, but the screen is pulled out in working order).
For those who are not going to throw away the old kitchen set and make drastic changes in the interior, try to partially replace the accompanying furniture (for example, the dining group) or change the facades on the headset. This will allow you to radically transform the interior with minimal spending.
The filling of the space depends on the available space. Kitchen design with an island is one of the key trends. This element becomes the centerpiece of the room. Both in terms of design and functionality.
Simple and concise style
Today, simplicity is relevant in kitchen design. This place should clearly fulfill its functions, but at the same time the atmosphere itself should create a feeling of peace and comfort.
The desire for laconicism and simplicity has long dominated the design of interiors of various styles. The canonical solution will be a minimalist kitchen, although a certain simplicity and asceticism can be seen in the headsets of other stylistic trends – classic, Scandinavian, hi-tech.
And the very concept of minimalism style in new kitchens has slightly changed. Instead of monotonous and contrasting black and white combinations, original tandems of matte gray and natural wood came into fashion. This kitchen looks very elegant and impressive.
In all other respects, the designers adhere to the canonical rules of minimalism – no decorations, no external fittings and traditional restraint.
Natural materials: wood and marble
The demand for ecological natural materials is still high. The trend towards the use of natural materials makes the use of natural wood, stone, concrete still relevant. Marble, granite, wood paneling, furniture, flooring enliven the project and look especially impressive on a large footage.
A beautiful and unique texture can radically transform the look of the entire headset. Therefore, the most striking representatives of nature are wood and marble.
Marble finishes in modern kitchens will always find their use, even if the design is very simple or discreet. This is especially true for kitchen countertops. The material can also be used as a floor covering and in the creation of a monolithic "island" or apron.
Wood in the interior is not only a set, but also individual elements – an island, a dining group, perhaps even a part of chairs in a group. Wooden panels look especially impressive as an accent in decoration. The tree retains its natural texture, it is practically not painted – this is important. Saturated dark walnut or light pine – choose based on the overall range. This texture will soften even the coldest decor.
Color spectrum
Color solutions in kitchen design 2022-2023 still emphasize the natural theme and try to be as harmonious as possible.
Classic blue
The minimalist and elegant tone is perfect for modern and traditional kitchen fronts. It goes well with white, light gray, steel shades, golden decor, natural wood texture. Usually plays the role of the darkest element of the finish. Remarkably, the most sophisticated and exciting color when it comes to kitchens is midnight blue. This is a recent trend.
Dark green
A color inspired by nature will remain popular for years to come. It is used in the design of not only a headset, but also walls, an apron. Green kitchen cabinets will be a key new style element. Green can be as dramatic as it is luxurious when used in the kitchen.
Deep greens can be counterbalanced by lattes, tinted glass, or soft metal to add richness to the kitchen. White marble and copper as designer accents in countertops, lamps, and even faucets will allow light to reflect in the space and set off darker colors.
Neutral background
Its task is to create a welcoming environment in the interior of the kitchen. Surrounded by unobtrusive, low saturation and not overtaking beige, cream, sand and other shades, it is easier to focus on the value of communication and each other's personality. Calm accents in furnishings will be key in 2023. Hints of deep pink, soft gray and green will create a refreshing sensation.
White color
White, due to its purity and simplicity, is the main color of trendy minimalism. This is a versatile shade to which you can choose any accessories and equipment.
Design in two colors
Another trend related to colors and gamut choices. Usually a neutral base color and a brighter secondary color are chosen for this.
Monochrome in dark colors
Designers today propose to decorate the kitchen in dark colors. And without strong dilution with light or even basic ones.
"Smart" appliances and furniture
Smart kitchens are an evolutionary aspect of design. There are many simple solutions available to everyone. For example, kitchen faucets can be equipped with a motion sensor. It detects the presence of hands below and automatically activates the one-touch function. The hood automatically reacts to the intensity of steam and cooking odors and independently adjusts its power; scales built into a cutting board, a sink with a waste grinder, a refrigerator with a built-in wine cabinet; technology controlled by a smartphone.
In new kitchens, the emphasis is on practicality and functionality, so the most suitable solution would be to install a multifunctional oven with a magnetron (combining the functions of a traditional oven and microwave oven).
Also among the built-in appliances will be trendy panels "Domino", which can combine various devices – from traditional two-burner ovens to a built-in grill or deep fat fryer. Hoods built into the worktop have also become an interesting solution.
Technically equipped kitchens are becoming more popular as owners experiment with technology. This is one of the most important kitchen trends 2023.
Three-tier wardrobes, mezzanine
A multi-tiered kitchen does not go out of fashion. A very useful layout for storing all sorts of different things and does not take up extra space.
New apron
The table top and backsplash are made of the same material and look like a one-piece, monolithic structure.
"Touch to open" system
Its advantages are explained by many factors: convenient operation, the ability to place cabinets outside the box, freely combine facade and finishing materials.
In addition, the fronts without handles accentuate much less attention, without overloading the look of the kitchen set.
Thin countertops
Thickness is not always equal to strength. Modern kitchen designs with thin countertops look almost weightless, yet good performance is designed to withstand standard household loads.
Lighting
Lighting has a lot more freedom in modern kitchens. Pendant lights are increasingly used to highlight the aesthetics of a room. While the use of spotlights or low beams is still relevant, there is a trend to make kitchens look more like living rooms – and lighting plays a key role here.