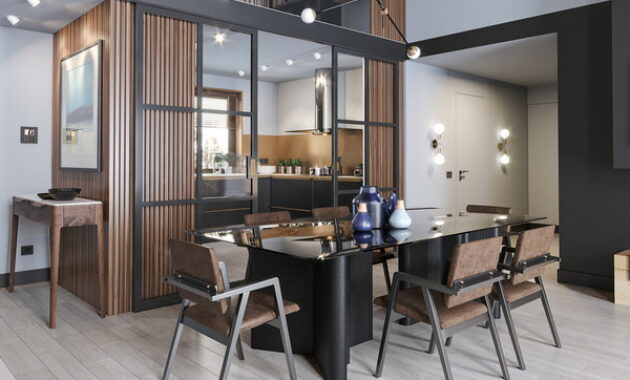 How to equip a kitchen so that its appearance and functionality are not morally obsolete in a few years.
The main event in the design of modern kitchens within the framework of the Milan exhibition Salone Del Mobile is held in the format of a biennial, in even years. It will be possible to find out about the latest trends in the spring, but it is already possible to predict in which direction the leading manufacturers of kitchen equipment are moving. We tell you about the long-term trends of modern kitchens in 2022, backed up with illustrative examples.
Fashionable kitchen today: 3 global trends
Minimalism sets the main vector in the development of kitchen fashion. Hence – monolithic structures, almost complete absence of decor, a minimum of color. Kitchens are becoming more ascetic, but not simpler: facades with expressive finishes, visually weightless structures, high aesthetic mixers and other details are responsible for the gloss and external high cost of appearance.
A kitchen in a modern classic with a minimum of decor and ornateness is not only an up-to-date solution, but also an easy-to-clean solution.
Living kitchen or the fashion for "living" kitchens involves abandoning typical kitchen surfaces such as a tiled backsplash or glossy white facades in favor of wood, concrete, natural stone and materials that are easy to imagine in a living room or hallway. These trends result in a great demand for built-in appliances, inconspicuous accessories, reliably hidden appliances and other little things, so that headsets and appliances can mimic the interior of other residential areas as much as possible.
Smart appliances and furniture are another promising area. Feel free to invest in:
automated solutions: for example, when the hood automatically reacts to the intensity of steam and cooking odors and independently adjusts its power;
multifunctional appliances and accessories: these can be scales built into a cutting board, a sink with a waste grinder, a refrigerator with a built-in wine cabinet;
equipment controlled by a smartphone .
How do kitchen manufacturers incorporate these trends into their product? Let's look at specific examples.
Kitchen design 2022: modern ideas and 12 relevant solutions
Color palette – shades of gray, white, black
Active colors fade into the background, and a monochrome palette prevails in the collections of the leading kitchen brands . However, there are also color options : usually these are muted, closed, restrained shades.
Finishes – only matte
Active gloss is no longer popular. Matte textures are in trend, even glass is covered with matte varnish. Maximum allowed – gloss of polished metal surfaces.
Complex material combinations
Kitchen designers combine wood with concrete and metal with marble, mix several types of stone in one headset.
At the same time, the opposite method is also relevant – when both the tabletop and the facades are made of the same material, and look like a solid, monolithic structure.
Thin fronts, countertops, shelves
Fashionable kitchen designs look almost weightless, yet robust and built to withstand standard household loads.
Low plinth
The current height is 5-8 centimeters.
Lack of handles
Kitchen furniture manufacturers offer to forget about them completely, and to open doors and cabinets by pressing (click-open system) or using small recesses on the surface.
Invisible kitchens
In kitchen 2022, the new trend towards invisible designs organically continues the concept of a fashionable "residential" kitchen. Appliances, shelves and other content are hidden in whole or in parts in special cubes, like in Leicht, behind sliding doors, like in Scavolini and Arclinea, and the work surfaces are masked with sliding tabletops.
Designers love such solutions for their integral look and scale, and ordinary people love for their practicality: there is much more room for culinary maneuvers at once, and a slight mess can be hidden with one movement of the hand.
Worktop integrated into a compact dining table
Of course, nobody canceled a separate dining room. But for an ordinary family dinner you cannot imagine a better solution, because it is much more convenient and more fun to cook, turning to everyone who is already sitting at the table, and to set and clear the table faster.
Cooker hood as an architectural element
Today it is either imperceptibly embedded in countertops, or made one of the visual centers of space. If the second option is closer, choose a hood in the form of a cylinder, with embossed facades or with another unusual appearance.
Top cabinets or up to the ceiling, or none at all
The second option is compensated by a spacious kitchen island and built-in wardrobes.
Multifunctional apron
A one-piece apron with shelves for spices, cutlery and other little things is a promising alternative to a traditional apron tiled with tiles or glass.
Some structures are built into the ceiling
These can be hoods, racks, boxes, small cabinets. The solution helps to rationally spend the footage of space, and visually stretch the room, which will not hurt, even if the ceiling height is decent.
Kitchen design 2022: novelties from exhibitions that are worth "settling" in your interior
Waste sorting system. In the era of conscious consumption, every premium brand strives to equip its kitchens with such systems. In the future, these solutions will become a familiar option.
Live plants. They are no longer just decor in modern kitchens: most manufacturers provide shelves and shelves with the ability to install a greenhouse on them for germinating wheat and aromatic herbs.
An interesting case from the Aran Cucine factory: in collaboration with the architect Stefano Boeri, the brand has developed a waste collection system, which, after autonomous processing, turns into fertilizer for a living tree growing in the middle of the island.
This is no longer relevant: 3 anti-trends in kitchen design 2022
Photo printing on facades and apron panels.
What to replace? Surfaces with expressive patterns of natural stone and wood.
Bar counter with "pole" and holders for glasses.
What to replace? A laconic bar counter with a minimum of details and decorative elements.
Colored backlight.
What to replace? Monochrome and not too bright backlighting.