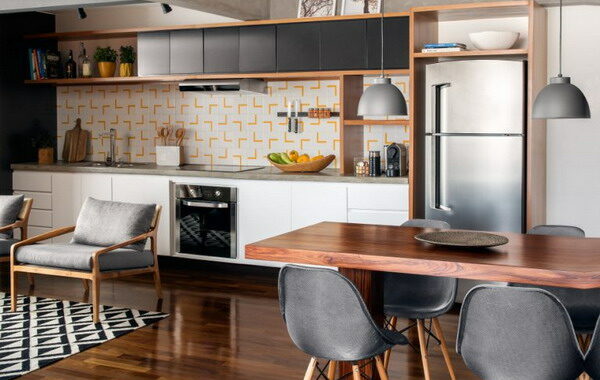 Among the main dreams of everyone, being able to choose carefully and carefully all the furniture in their homes occupies one of the first positions, after all, who does not dream of setting up a house with all the items capable of representing their style and personality?
In this planning, furnishing the kitchen with the main trends and building a pleasant environment to make the main meals and also to bring together family and dearest friends, further warms the desire in the workers' hearts and budgets.
Is it all right for you to build and / or renovate your kitchen next year?
So, stop everything you are doing now and continue reading this text, which brings, exclusively, examples of the main furniture that are already listed as trends in kitchen furniture in 2022 !
Blue furniture
It is nothing new to say that the kitchen has become the main and busiest social environment in a home, do you agree?
Therefore, investing in a good structure and decoration can be the secret to create a pleasant and attractive space.
According to experts, a strong trend in furniture for the year 2022 follows the blue color, that is, cabinets, lamps, tiles or other furniture and items that can brighten up the environment with that color.
Fitted kitchens
Do you know that kitchen that appears in a movie scene, where the boundary between the living room and this dining space does not seem to exist?
Well then, another option that will be very popular next year is this: the integration of these environments – a tip is to bet on countertops and mirrors to build this sophisticated kitchen model.
Furniture that cultivates green
Gone are the days when plants and flowers were restricted to gardening and floriculture spaces. Have you noticed how, a few years ago, it is difficult not to find a flower pot or a space for growing spices in homes?
This option of always having your favorite spices close by and also allowing nature to be present inside your home is very valid and, aware of this demand, architects and joiners have already created specific furniture for this.
Just search to find that model that besides making the environment even more receptive, it looks like it was made for you!
Cutting-edge design
If the idea of building a kitchen that allows integration with other environments is not the one that most pleases your planning and does not meet your dreams, that's fine, there are several different options for trends for 2022.
One of the most requested and which, for sure, will also be on top already next year is the living kitchen version, which brings in its projects models of ultra-sophisticated finishes and the most beautiful furniture that follow the line of avant-garde design.
Is it or is it not a dream just to imagine such an environment?
And the best part is that there are also incredible furniture to keep up with this trend!
Minimalist cabinets
With increasingly constant requests for furniture and utensils that follow the line of minimalism, the specialists, once again, answered the requests and started planning collections aimed at this target audience.
Already scheduled to be launched next year, several discreet pieces of furniture, such as minimalist cabinets with a clean design, have piqued the curiosity and interest of those who wish to renovate the space in their kitchens and also in other areas of the house.
Did you realize that when it comes to renovating or choosing furniture for your kitchen, there are plenty of options?
As already informed, the trends for the next year promise to surprise even the most demanding as to the furniture of your home, so already start researching even before the models are launched and guarantee the ones that best match your space.