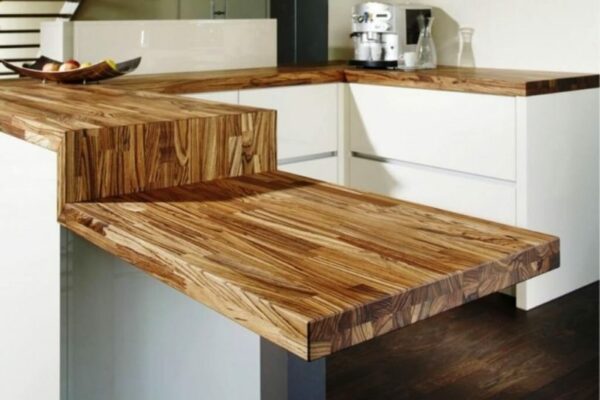 Wood is the oldest and most common material when creating any kind of interior. A wooden kitchen countertop was no exception, and has long been actively used in the kitchen.
From ancient times, it was convenient for people not only to take food for it, but also to cook it there. Wood is practical and easy to process. But is everything really so good with wooden furniture in the kitchen?
Advantages and disadvantages wooden countertop
It is worth starting with the advantages that can be highlighted when working in the kitchen.
wood is a material that is very easy to process . You can give it almost any form that will be ideally suited to your interior;
wood is a fairly elastic material , which means there will be less mechanical damage in the form of chips;
if you compare the cost with the tops of the stone, the wood will be 2 to 3 times cheaper ;
at any time, you can change the tone of the countertop itself;
wood fits perfectly into any style of interior and is combined with other types of finishes – glass, tile, metal, etc .;
thanks to antistaticity , you will not experience any problems with dust accumulation;
with minor damage, the product is easily restored ;
with a tree, as with wine. Every year it only gets better. In responsible care, it can last you more than 25 years.
It is also worth mentioning the negative points that can manifest themselves when using wooden countertops in your kitchens:
if you put hot dishes, traces may form on the countertop;
it is necessary to periodically change the protective coating, which tends to wear out;
sharp objects may scratch, so the use of special cutting boards is mandatory;
the high cost of natural wood and wood products;
wood is highly flammable.
And this, perhaps, all the arguments ended. That is, even with the naked eye it can be seen that there are much more positive sides than negative aspects. Although each owner may have his own reasoning.
Design and Appearance
Naturally, strict patterns cannot be considered, because each has its own taste and color. But still, there are some general tips that will help to design your wooden countertop not only high quality, but also pretty beautiful.
An important element in choosing a design is color. It is he who will either highlight or make your tabletop in the kitchen invisible.
Practicality does not recommend the use of bright colors. After all, it is the dark color that can hide any damage or even the smallest defect. But to create home comfort and a pleasant atmosphere, you can use soft and delicate colors.
What to combine a wooden countertop with?
Wooden tabletops can be combined with window sills or even niches. Recently, various geometric shapes that attract attention have been actively used.
The most common way to select tabletop colors is to focus on the headset itself. This is not always easy, because the facades and countertops can be made of different materials, which means that the color and texture can vary greatly. Moreover, such a solution does not always look pretty outwardly – a large solid spot.
It will be better if the countertop will only resonate with separate doors of the headset, if it is two-tone. But this option also has a drawback – it is difficult to select materials tone-on-tone, and a mismatch may look awkward.
The simplest and most relevant option is to combine an apron with a countertop. Moreover, they can be made from one material, then there will be no problems with the selection of the same tones and textures.
In addition, you can choose a countertop under the kitchen floor . Often this is the most budgetary solution: on the floor – a laminate, and a countertop made of chipboard. Of course, you can finish everything with an array, but this is a rather expensive option.
But wood and laminate on the kitchen floor are not always practical. That stone is another matter. With it, by the way, a wooden countertop will also look great. Moreover, it does not even matter whether the stone is natural or artificial.
And finally, the most obvious option is to repeat the tone of the countertops in the kitchen corner. Such an interior will always look spectacular.
Kitchen color options in the interior
If there is a fear not to fit a wooden tabletop into the interior, then you can resort to one of the proven, already classic, options.
White kitchen
Pure and refreshing white can be added to any kitchen , and wood will give it coziness and warmth.
It is important to consider some of the properties of this color :
he will expand the space, which will be the way in the small kitchen ;
if you want to add brightness and contrast, it is better to use the dark tones of the tree;
if you want a more elegant interior, then a light countertop is preferable.
An example of a white kitchen with loft elements and a wooden tabletop can be seen in the photo below. Pay attention to how interestingly the apron is beaten.
Gray kitchen
Now gray is at the peak of popularity, and 5-10 years ago no one could even imagine it in the interior, since gloomy and monotonous pictures immediately appeared in the imagination.
Now gray is the "new black", which combines elegance and sophistication. If you add a tree to it, you get a hint of elitism.
It is advisable to use light wood. Although the final choice should depend on the gray tone: for example, if it is too faded, then it is better to choose a darker tree – for contrast.
In this graphite kitchen with a wooden countertop, you can again find an unusual solution for an apron.
Black kitchen
The black interior is also popular now, because if properly handled, it will add luxury, style and originality to the room. But such a solution is absolutely not suitable for small kitchens, for example, in Khrushchev , since it will make a cave out of the room.
But the positive aspects include :
balancing bright interior details while maintaining contrast. If you add a natural wood countertop to the black headset, then the kitchen will instantly become harmonious, but at the same time original;
paradoxically, black creates an atmosphere of comfort, aesthetics and even cleanliness;
a competent combination of black and white will increase the space.
Beige kitchen
If you do not want to create a strong contrast in the kitchen, then beige will always help out. It is advisable to choose a countertop not tone-on-tone, but a little lighter or darker – so the interior will be much more interesting.
Beige goes well with brown. If the room is not too large, then you can use dark wood for the countertop.
Blue kitchen
Blue, especially its dark shades, is rarely used as the main color, much more often it occurs in the form of accents. Nevertheless, blue has a very large potential in combination with a tree – such a picture will resemble a marine theme, the sea and ships.
If a deep and dark tone is chosen, then the tree is better to pick up light species. If blue, on the contrary, is soft, then dark wood will perfectly combine with it.
Such a symbiosis can be entered into any interior from classic to modern.
Enjoy this cute blue kitchen with a wooden countertop. Perhaps the wood species should be chosen a little lighter to match the inner filling of glass cabinets.
Brown kitchen
The rule is exactly the same as in the beige kitchen – you should not allow tabletops to match the facades, so as not to get a large wooden brown stain.
This is permissible only if there is a conscious desire to create a cozy wooden corner, for example, against the background of the modern Scandinavian style , loft or hi-tech . Below is just an example of such a conscious decision – the owners wanted to fully unite with nature.
Types of wooden kitchen countertop
A quality headset with a wooden countertop is the perfect base for almost any style. Consider the most popular design areas in which a wooden countertop will look the most aesthetically pleasing.
Country
Of course, it is country that will come first, since this style loves wood more than other materials. Any one will do – raw, with knots or bumps.
You can paint the wooden facades in white, but the texture should still be traceable. Wooden countertops in country-style kitchens are what the doctor ordered! There can be no other options.
Provence
Provence is called French country, so the tree will look good here. In this case, it is best to play on the contrast "white-wood". For example, paint the countertop in white, or hinged cabinets with white, and leave the floor cabinets in natural colors.
Classic
The basis of the classical style is always based only on natural materials, including wood.
Most often not light, but dark and reddish countertops are used, since such breeds are considered more premium. The main task is to create a rich but harmonious interior.
Modern style
Wooden countertops look stylish in modern kitchens. They can be matte or glossy .
It is much more important to choose the right color – it should set the contrast, and not merge with the facades. The picture is complemented by stylish chrome and steel details.
Pay attention to the spectacular stools, which perfectly match the bar counter made of natural wood.
Eco
Of course, eco-style can not do without wood and its texture. Facades are selected in the same wooden, in soothing colors.
The most important thing is to create a calm and peaceful atmosphere in which it would be comfortable to be.
In this example, the slab plays the role of the basis of the dining table.
Tabletop purpose
First of all, the word "countertop" means the work surface above the floor cabinets. But this is not the only option how to use the countertop:
Make a table out of it by buying a few legs, as in the previous version in the photo. This option is often practiced by Ikea.
Make a bar counter out of it, also having bought 1-2 legs. Designers often use this trick to create a harmonious atmosphere in the kitchen.
Embed a countertop instead of a windowsill – here you can have lunch and cook.
Material and manufacturing method
Having decided to supplement your kitchen with a wooden countertop, you need to focus not only on the style of the kitchen, but also on practical aspects, since the operation of wood is always associated with some features that should not be missed.
The wood for the kitchen must be solid and stable, as it will come in contact with various utensils in a humid atmosphere with temperature changes. Ideally, the tree does not swell or dry.
It is best to look at the following breeds :
oak;
nut;
sweet cherry;
Indian tree;
cherry;
teak;
Iroko
merbau.
Classic options – oak or beech. They can be called a quality standard, because these rocks are strong, durable, have excellent performance, and also look great.
Oak Countertop
Elite breeds can also include mebrau and teak.
Birch, walnut, ash look simpler and easier, so they even fit into a small kitchen . At the same time, they will be pleased with the cost.
Pine can be even cheaper, but it is too soft for the countertop, so it can quickly become dented, which is often complained of in reviews.
But birch and ash will be excellent long-livers in the kitchen, since they retain all the properties of natural wood.
One of the best options would be larch – you will have to pay more, but it will last much longer, but will not lose its appearance.
We list the main characteristics of the most popular materials. This will help determine which tree to make the countertop from.
Larch
It is so unpretentious that it can be used even in rooms with high humidity. Larch does not rot, and bacteria and fungi cannot reproduce on its surface. Resistant to mechanical stress and looks beautiful. It is considered the best choice, but there is a drawback – it will survive only 1-2 restoration.
Oak
Oak is suitable for those for whom it is especially important to consider wear resistance: it will survive changes in humidity and temperature, mechanical stress. It is easy to choose for any interior, since the range of shades is wide – from beige to noble brown. But it has a high cost.
Beech
Beech, like oak, is a premium wood species and is characterized by durability and strength. It has a recognizable light brown color that fits perfectly into the classic interior, as well as in baroque and Empire style kitchens. Beech is demanding on air quality, so the countertop should not be near the battery. It is advisable to protect it from changes in temperature and humidity.
Cedar
If you want a kitchen "not like everyone else", then you should pay attention to the cedar. It is really rare in apartments, but in terms of strength and durability it can compete with oak. Cope with differences in humidity and temperature without any problems. It looks presentable – it can have both a dark brown shade, and light beige with an olive tint.
Pine
If you want a brighter picture and accentuated wood texture, then it is better to choose a pine. This is a cheap option, but very sensitive – it can quickly become dented with careless handling. But pine gives off just an incredible smell of pine needles, which will create an atmosphere of the forest in the kitchen. It is necessary to choose a quality manufacturer, so that the material is dried and processed with a composition against fungus and mold.
In addition to the breed, it is necessary to distinguish the types of different trees. For example, only in oak you can find many descriptions:
Bunratti;
Wotan;
Halifax;
Nebraska;
Bleached.
The same goes for pine:
Biscay;
panderosis;
vintage.
It should be understood that there are no critical differences in technical and operational characteristics, so the choice is simply based on external indicators. You can see even more varieties in the photo below.
But the operation is influenced by what the wooden canvas is made of, but also how it is made.
Solid wood
A wood countertop is a broad concept. The first thing that comes to mind is an array. The whole board is suitable for lovers of nature and ecology. Iroko or wenge countertops will look especially nice – in addition to their sophisticated appearance, they also have high performance characteristics.
You must understand that the array is not an expensive pleasure, and over time it can deform in a humid kitchen atmosphere.
Meanwhile, the development of technology does not stand still, so on the market now you can find a huge number of paints and other protective coatings that will extend the life of the tabletops from the array to the maximum. Over time, the coating erases, so it needs to be updated.
Although this beautiful pleasure is not at all cheap and most likely refers to premium products, sometimes you just can not do without it.
Imagine a rustic kitchen with elements of metal and glass. And they are perfectly complemented by light wood of natural oak, additionally painted in white.
Glued type
It sounds strange, but the glued type of countertops is considered much more reliable and stronger than the array. This is due to the fact that several beams glued together are more plastic than one piece of wood.
So, such a countertop is cheaper, and will probably last longer. Due to the price and the listed advantages, this type of wooden countertop is the most popular.
Advice! A very effective choice is a countertop glued from different types of wood. Great if they will differ in tone or texture.
But we must understand that more flexible does not mean stronger, therefore, the issue of reliability and thickness of the countertop must be taken seriously. The minimum that is permissible for glued countertops is 25 mm. The hardest rocks are :
oak;
teak;
merbau;
nut;
cherry.
The maximum size of such a countertop is 2.5 by 1.3 meters, so it is suitable even for a large family – for example, use it as a table.
What is a furniture board?
Furniture board is another name for glued-on countertops. They are distinguished by several types:
whole-lamellar – bonding comes from whole wide boards;
spliced (spliced) – small pieces are spliced.
There is no difference in durability, so often it is only about the taste of the owners.
MDF, particleboard and veneer
Countertops made of MDF and particleboard can be called stretched wood, since solid pieces of wood are not involved in their production, but only sawdust, glued and pressed in different ways. Rather, it is a tree-like option. A PVC film is glued on top, which may repeat the pattern and texture of the tree, or may not repeat – the choice of designs is simply huge.
In terms of performance, such solutions, of course, are inferior to a solid tree or at least boards, but the price of such an imitation is much more attractive.
The basis of veneered countertops is the same MDF panel. A thin-thin section of a natural tree is glued on top of it, therefore, it is impossible to distinguish purely externally from an array. At least the first time.
After a year, the veneer may begin to peel off, which will give out a "deceiver" in it. In general, performance here is also not at the highest level.
Useful tips when choosing wood
When choosing a wooden countertop, you should pay attention to the characteristics of the material. You can find them from a consultant or even find information on the Internet. Here are some of the important options:
level of heat resistance ;
humidity level – does not exceed 12%;
moisture resistance . It is especially worth highlighting this moment. After all, if you do not pay attention to this, you can encounter a number of problems due to high humidity. The best in this parameter are considered boards made of spruce, pine, birch, oak, larch;
wood density . Due to its softness, the material is subject to mechanical damage, which obviously will not please you;
appearance . Well, without this, of course, nowhere. With each job, you will see in front of you what you have chosen. Therefore, treat it with taste and attentiveness. For example, the material should be discarded if it has wormholes, rotten knots or resin pockets – they will affect not only the appearance, but also the quality of the countertop.
You can also independently cover the wooden countertop with an additional protective layer. This can be done both to restore old characteristics, as well as to create higher strength.
There are several life hacks for choosing the perfect product, which professionals share:
If the countertop will need to be milled or simply sawed not in a straight line, then you need to take only 100% wood. Consultants can offer particleboard or MDF with veneer, but the result after cutting will be completely different. In addition, the tree can be restored an infinite number of times, but the veneer will survive only a few restorations.
If wear resistance is important, it is best to look in the direction of oak or larch. Yes, they are expensive, but since the structure of the rock is dense, there will be no restrictions on the service life of such a tabletop. They are not afraid of mechanical influences, moisture, temperature. In addition, larch is 1.5 times cheaper than oak, and in its composition has gum – a natural antiseptic that prevents mold.
If the edge is the question of budget, then you should pay attention to walnut, ash, beech or birch. Of course, spruce and pine will please even more loyal price tags, but these species are too soft, so immediately covered with small dents.
If there is a strong desire to save, then you can take a thin countertop with a thickness of only 20 mm. But you must treat it very carefully and do not put heavy objects.
A very practical moment – every speck of dust and speck will be visible on a dark tree, therefore oak and walnut should be chosen only by cleaners who like to wipe dust several times a day. Elm, beech, and birch are perfect for everyone else.
The depth of the countertop should be 3-5 cm greater than the depth of the floor cabinets – this will protect against hitting the handles and surface.
The best option for washing is mortise. In this case, a hole is made in the countertop, on which a sink is put on top, as it were. All joints must be treated with sealant or glue. A sink with a tabletop installation, although it will look spectacular, but this effect quickly disappears due to the constant contact of open edges with water.
Design options for wooden kitchen countertop
Example 1. A terrific use of natural wood in the kitchen. The color is beautiful and noble, and a distinct texture emphasizes the taste of the owner of the kitchen. Natural wood is very pliable for milling, so the edges can be processed in any way.
Example 2. If you want to add originality to the room, then you can use an array with raw edges. Natural ledges and bends of the tree give the interior a touch of savagery and environmental overtones. Ideally, this solution will look in a modern eco-style.
Example 3. Beech is a universal hero that will fit into any interior and any style. If you can not decide – take the beech. But for such versatility, you will have to pay not only with money, but also with more thorough care. But its light tone and clear texture emphasize the accuracy of the owners.
Example 4. An interior in the style of a modern classic with gray-white facades and a wooden tabletop. The soft colors of the headset combined with natural wood create a noble and cozy atmosphere that will look best in a country house. In a more premium kitchen, it is better to use dark wood, so that the countertop appears as a contrasting spot.
Example 5. If the variant from example 1 seemed rather weak for an eco-style, you can always get an unprocessed saw cut of a solid wood. It is original, but also practical at the same time.
Example 6. A wooden tabletop with glass is suitable for people who want to combine comfort, coziness and the latest design trends. Such models look best with light breeds, but you can find specimens from mahogany and glass.
Example 7. In the previous photo you can clearly see the junction of wood and glass. Many do not like this effect, so countertops and natural wood, coated with epoxy resin, came into fashion. It looks very unusual. Of course, this option is great for a table, not a work area. Such furniture will definitely become the center of the entire kitchen, so it is important not to overdo it with the rest of the decor.
On the Internet, such instances of the art array are often found, but many are wondering why they fill the countertop with a cut of wood. So this is the usual epoxy resin, which can be bought even in Leroy Merlin and other construction stores.
Example 8. Another option for a creative countertop is a brushed wood. This is such a method of artificially aging a tree, in which its texture stands out as much as possible. Most often, brushing technology is used for the floor, since it is not very practical for the countertop – the dirt will clog and it will be difficult to clean it.
How to make a countertop from boards
Creating a countertop with your own hands, you can give free rein to imagination and get exactly what you need. First of all, you need to decide on the shape and overall design of the future countertop. In their design, they are:
veneered;
with lining;
spliced;
end;
whole lamella.
By its structure, the countertop can be created from a single piece of wood, from individual plates or simply glued. Now it is worth deciding on the type of wood :
Oak is the most durable, popular and practical breed. It is she who has all the necessary qualities to create an excellent wooden countertop;
Walnut . He will not concede to oak practically nothing. It perfectly takes on the necessary form and is easily used in design;
Ash is famous for its natural color, which is customary to use as it is. This type of wood is not brittle, very flexible and durable;
Beech is used to create bright colors. Also elastic and fairly durable.
You can always experiment and create a unique creation from several species of wood.
Beginning of work. Instruments
Before starting to create a wooden countertop, the wood should already be dried. It should also be treated with a special solution that will protect against various insects and the accumulation of moisture.
For work you will need such tools :
Wood milling cutter.
Drill or screwdriver.
Hand or electric planer.
Hacksaw or jigsaw.
Reymus.
Grinder, files, sandpaper.
Jointer.
Roulette.
Glue and antiseptic.
Roulette, square.
Pencil.
So, now you can start collecting the shield itself, which will be the basis for all the work.
To create it, you need to choose clean, dry boards.
As soon as the choice is made, we cut out the necessary sizes and go through the material with a jointer. In addition, you can do sandpaper processing, which will give even more smoothness to the surface of the board.
After everything is tightly treated with an antiseptic. The important thing is that the antiseptic should be for internal work. It will protect the wood from moisture and mold.
You can start gluing boards. You can connect in several ways :
using the gluing-edge method;
through the thorn-groove method;
according to the groove-comb technology.
It is worth knowing that the first method is the most unreliable. It is suitable for countertops that do not have any special physical activities. Soon, such a structure may crack and even deform significantly.
Therefore, if you expect durability from your countertop, we recommend using the third groove-comb technology. In this case, you need to make grooves with a depth of 10-12 cm. If the board is more or less thin, then you can reduce the size of the groove in one and a half to two times.
Now you can glue the boards together. Alternate each board in a groove-rake style. With a tight connection and good gluing at the exit, we get a very durable countertop. After it is already possible to start secondary processing.
Manufacturing
Care must also be taken to protect the ends of the countertops. For this, a lining is made – wood boards of a more durable breed are attached. Fastening takes place in the same way as with the boards of the countertop itself. For best adhesion, you can use clamps to fix the flange.
The most suitable tree species are birch and beech. If there are cracks left when fixing the casing, then they can be repaired with wood dust. Additionally, the fight can be strengthened with thin self-tapping screws screwed at an angle to quench the head. Then they putty.
In the next video, you can learn how to glue a wooden tabletop with your own hands on the example of a homemade table.
Mounting
When the wooden countertop for the kitchen is ready, you can proceed directly to the installation process.
Well thought out the place where we will mount the countertop. It is worth considering the location of outlets , the necessary pipes and wires. Everything should be in place and not interfere with other parts of the interior.
We install cabinets. Here you also need to be accurate in the calculations. It is in this process that the whole structure can be overwhelmed.
Once the cabinets are installed, you can apply a dense layer of glue.
Carefully install the countertop on the cabinets.
Now we additionally fix the structure with self-tapping screws.
Those small gaps that can form between the countertop and the wall can be covered with a skirting board. Stubs can be used for edges.
Coverage selection
Proper care and use of countertops will long extend its presentable appearance. The main rule is to always monitor the protective layer on the wood, and update it if necessary.
These actions will protect the coating from aggressive detergents and moisture, and in addition will create the effect of a matte or glossy wood – it depends on the chosen product.
There are several options for painting the countertop:
the oil . It will perfectly repel moisture. Wood fibers will not swell, which means there will be no deformation. But it is worth knowing that the oil is short-lived, and with a certain periodicity it must be applied again;
wax can be used instead of oil. In fact, it has the same qualities as the previous processing tool. Also requires constant updating;
varnish . Special types of varnish, for wooden surfaces, give the tree a darker shade. The outer plane will become expressive and will delight your eye. In addition, the protective properties are much higher than that of oil or wax.
Another advantage of the varnish is that under it you can use other coatings – stain, paint, colored glaze and others. There are several nuances :
Varnishes are divided into alkyd and acrylic – you should not mix them.
If you think what varnish to cover the canvas – choose shockproof.
A suitable primer must be applied before varnish.
It is best to apply 2-3 layers of varnish to improve its protective functions.
After a year, apply the varnish again.
Life hack! There is a very simple way to check the quality of the protective layer – just apply a couple of drops of water and observe. If they are quickly absorbed, you need to think about another method of processing countertops.
But what is better to cover?
Recently, more often, wood or oil with wax has been used to impregnate wood. It nourishes wood fibers, making them water repellent.
With high-quality processing, the countertop will be resistant even to non-concentrated household chemicals. Of course, it is still better not to leave it with water for a long time, but wipe it immediately.
There are special oils for soaking countertops. Their difference is that after processing it will be possible to calmly put food on the table, and then eat it – the impregnation is completely environmentally friendly and will not cause harm.
There are several more advantages :
Work with oil is much faster and more enjoyable. This is important, because in the first six months, it is better to do countertops as often as possible – at least once a week.
Oil allows you to restore a small area of the countertop – just sand it until the deficiency is removed, and then cover with 1-2 layers of oil. To restore the "lacquered" countertop, it is necessary to remove the entire coating, if it is important to achieve a beautiful result.
Oil will never darken or crack, unlike varnish.
Do not forget that processing requires not only the upper part of the countertop, but also its ends.
There are two types of oils :
One that dries completely. After drying, it hardens, does not wash off with water, and the appearance remains for a long time.
One that does not dry completely. Its purpose is to deeply soak wood. It is completely natural, but it must still be removed by mechanical action.
Brief instructions on how to apply oil on the countertop:
To clear a product of dirt, sticking out villi, possible dents, an old layer of varnish or paint.
To dry.
Apply putty, if there is serious damage, dry again.
Apply oil with a brush or cloth so that no lint remains.
Dry for about 12 hours.
Apply a second coat.
Dry for about 12 hours.
The number of layers depends on :
how to apply oil – two layers are enough with a brush, with a rag – 3-4;
what oil is applied;
on which surface.
For more accurate instructions, refer to the packaging of the product.
Countertop surface care
It should be understood that no matter what material you cover the wooden tabletop, you do not need to cook dishes directly on it – use a chopping board.
Here are some tips to help you extend your countertop's lifespan :
Use coasters for freshly prepared dishes. So you will not see unwanted traces on the surface;
heating electrical equipment – kettle, toaster, coffee machine – must be on the substrate;
wipe the countertop along the drawing, that is, along the lines of the fibers – so the dirt and grains of sand will definitely be removed;
Do not leave spilled drinks or other liquids on the countertop for a long time. It's better to remove everything at once;
if the windows face the sunny side, it is better to curtain them with at least a translucent fabric – the tree will easily fade;
it is necessary to maintain a normal microclimate – the room should not be too dry or wet, otherwise it can tell on the countertop. Sudden changes in temperature should be avoided;
you can wash the surface with dishwashing detergent. It is practical, fast and does not require large cash costs;
full processing can be done no more than once every one year. Varnish coating generally every two years;
take care of the insulation of the bottom of the countertop if you have a dishwasher , washbasin near or below it .
Update
Over time, the countertop still loses its fresh appearance, even if you treat it as carefully as possible. The advantage of the countertop is that it is easy to upgrade.
One of the easiest ways to update the appearance of a product is dyeing.
The principle of action is as follows:
to clean the countertop with a grinder or sandpaper;
process defects and defects with putty;
apply paint with alkyd resin;
if desired, the plane can be decorated, for example, to draw something.
Life hack! If the artist's skills are not at the highest level, but you want to decorate the countertop, then you can get by with decoupage technique. The process is very simple – you need to remove the decorative layer from the napkin, stick it to the countertop, and then varnish.
Film
Another way to renew the look of a wooden countertop is to use a self-adhesive film. The advantage of the film is its unlimited number of designs – you can leave a picture of a tree or choose an image of marble, stone, leather and even metal. Before gluing the film, it is necessary to clean the countertop and degrease.
The film must first be measured – it is better to take a little extra. Bonding is done with a plastic scraper without leaving tubercles or creases.
Recovery
If a wooden table top does not look like new over time, but you do not want to change its appearance too much, then the wood can simply be restored – this is one of its main advantages.
The process is as follows :
Damaged areas are removed and cleaned;
The outer part is dried and ground;
If there are large voids or dents, then fill them with a mixture of sawdust and glue from polyvinyl acetate – you can use ordinary wood putty;
Leave the restored area under pressure for 24 hours;
Apply silicone-based protective agent;
Oil or varnish.
If the damage is very minor, for example, scratches, then you can deal with them with folk remedies :
strong black tea;
walnut kernel;
machine oil;
vinegar with extract from olives.
If the scratches are deep, it is better to first sand them with sandpaper, and then grind. Gloss and gloss can be returned with felt.
Combination with plastic
If the damage is very serious, then you can use plastic as a patch for the countertop. Now it's not difficult to choose the right plastic according to the drawing, just visit the hardware store.
Damage itself on the countertop is leveled, and a patch is attached on top with liquid nails. Glue is applied around the perimeter and in the center. For reliability, a press is placed on top.
Conclusion
Wooden countertop for the kitchen – it has always been and will be convenient, practical and reliable. If you take responsibility for caring for it with responsibility, then in return you will receive a durable product that will be better and more beautiful every year.