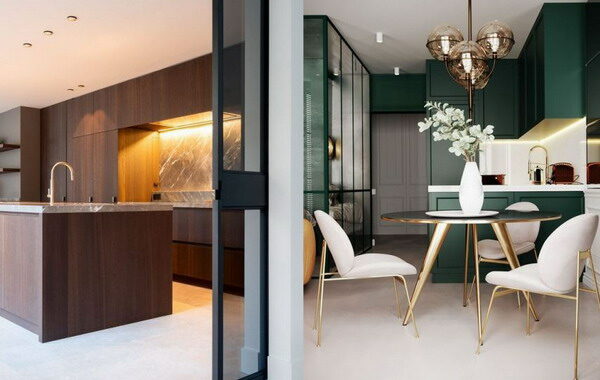 How have modern kitchens changed and why are they less and less like kitchens? Let's see which trends this year have received a logical continuation, and which have acquired the prefix "ex" – all about kitchen design 2023.
The kitchen is turning…
…in an elegant kitchen-living room. The kitchen in apartments with European layout is less and less like a kitchen, and this is not news for a long time. If the kitchen area and the living room share one room for two, the kitchen set tends to mimic the living environment, losing its identifying features. Fashionable kitchens in 2023 are removing traditional backsplashes and skirtings, abandoning classic geometry, familiar decor and typical kitchen surfaces. Refrigerators, utensils and household appliances are hidden.
Often, kitchens in modern design projects are reduced to a minimum, completely or partially removing the top module, if necessary, replacing traditional cabinets with open shelves. This option is suitable for those who prefer to eat in a cafe. However, culinary specialists and fans of home cooking have not yet died out, who need somewhere to place their pots and household appliances. Therefore, a kitchen without an upper tier has a trend-antipode: the most spacious kitchen with an upper tier to the ceiling. Outside, this version also tends to disguise itself as a living environment, hiding the kitchen "stuffing" behind furniture facades.
Not only kitchen areas integrated into living rooms are changing their appearance. Isolated kitchens are also less and less like technical rooms.
Are there many kitchens in modern apartments that are used only for cooking and washing dishes? Guests gather in the kitchens, work on a laptop, work with children, play board games – it is not surprising that the kitchen becomes like a living room.
Goodbye classic
In fashionable kitchen design 2023, there is less and less from the classics. Hoods are either hidden or do not look like hoods, the facades do not have handles, panels and glazing. Snow-white kitchens with gilding, pilasters and borders, reminiscent of the palaces of St. Petersburg, are a thing of the past. The focus is on rationality, manufacturability and ease of maintenance.
Together with the kitchen classics, the most recently demanded styles are losing popularity: Provence, country and loft. Temporarily, until fashion takes a sharp turn again.
Former favorites
According to practicing designers, such folk favorites as boar tiles, patchwork and mosaics are no longer in such demand. Instead of traditional ceramic tiles, customers are more likely to choose transparent skinals, plaster, stone, large-format porcelain tile or a backsplash made from the same material as the countertop. Wall plinths at the junction of the apron and countertops are also losing popularity.
Out of fashion, once very popular, gloss. Facades under metal and concrete came into fashion.
Another former favorite is the bar counter, which is increasingly preferred by the kitchen island.
Expensive minimalism
The classic ideas about the kitchen have been replaced by radical minimalism – the main trend in the kitchen in 2023.
All signs of kitchen life are hidden behind the facades, and the facades themselves remain smooth. The decorative load now falls on a few visible ingredients of the kitchen interior: lighting fixtures, appliances, faucets and textures. Fashion for naturalness has not bypassed the kitchen. Solid wood and natural stone are in trend.
Fashionable minimalist kitchens 2023 cannot be called ascetic, given the cost of such materials.
Wood and color
The color scheme is also inspired by nature, with muted neutrals and rich darks in vogue. White color is losing demand, cream or light gray colors are preferred to it.
One of the most noticeable trends is the combination of wood (or its imitation) with uniform matte surfaces within one set.
Ease of maintenance
No one wants to spend a lot of time cleaning the kitchen anymore. In practice, this means that surfaces that require the least maintenance are gaining popularity. That's why we say goodbye to glossy lacquer, seams on ceramic backsplashes and small decorative elements on facades.
Why erase the endless "fingers" from the gloss and clean the dust from the carved curls, if you can not wash and clean?
The headset has fewer components. Kitchens are trying to get rid of joints. Seamless sinks are gaining popularity.
The main thing is that smart
Modern kitchens easily do without handles, preferring push-to-open mechanisms that open by pressing on the front, and some go further, using systems that open with a voice command or hand clap.
Smart faucets heat, filter and save water. Refrigerators set the optimum temperature and humidity. The backlight turns on with a wave of the hand. Programmable technology wakes you up with freshly brewed coffee and washes dishes while you're at work. Home appliances are equipped with touch controls, automated functions and mobile applications. This is what a modern smart kitchen looks like.
Kitchen design 2023 is less about decorative and more about utility. Keep up with the trends or stay true to the interior classics – you decide, and the offline shopping center will provide everything you need for this.