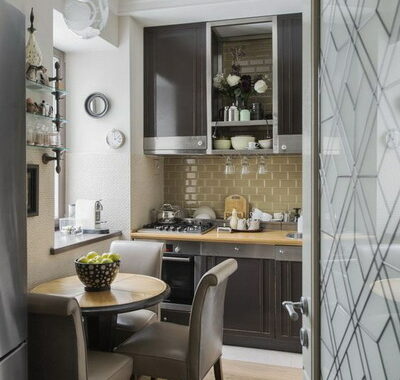 Reasonable consumption, respect for nature, laconic forms, "smart" appliances – fashionable novelties and trends did not pass by the design of a small kitchen in 2022. Despite the interior exhibitions closed due to the pandemic, you can draw fresh ideas from fashion magazines and online broadcasts of famous designers.
Trendy styles for small kitchen trends in 2022
Everything new in interior design is a well-developed old one. The styles we are accustomed to – loft, provence, eco, scandi, classics, are returning in a renewed form thanks to the addition of unusual details.
Let's see what has changed in each specific direction.
Modern classic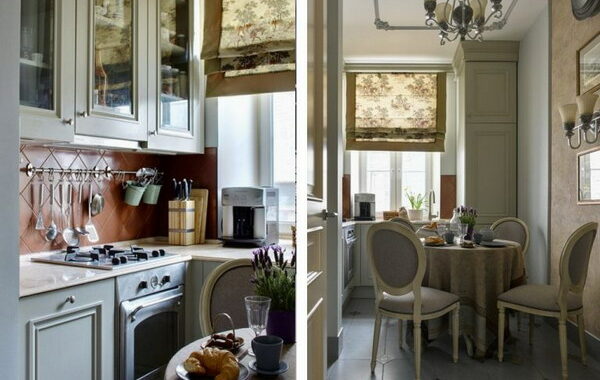 The combination of modern furniture and elements of the classic style allows you to get a new direction suitable for the design of a small kitchen – neoclassicism.
How to make friends with classics and modern style in the interior of a small kitchen 2022?
Refuse massive furniture in favor of a headset with laconic paneled facades without decorations in the form of balustrades, balusters and carvings.
Use mostly pastel shades in the design.
Use moderation in decor.
Refuse from lush curtains with a lambrequin in favor of light, translucent plain curtains or roman blinds.
Eco
Fashion has become eco-friendly.
Natural wood in the composition of kitchen furniture, rattan and straw products, many houseplants – these are the foundations of eco, which will get along quite well in a small room.
It is important to understand that eco-style is not so much about design as it is about lifestyle. Sort household waste, avoid the use of plastic and polyethylene – this is the minimum that will allow you to become closer to understanding the philosophy of the eco style.
Provence
The current shades of the design of a small kitchen in 2022 – blue, gray, cream, lavender, are aptly the style-forming colors of Provence.
This style can be easily adapted to the realities of a room of 6 sq. M. The pastel colors of Provence will benefit a small kitchen, but you need to be careful with the decor and open shelves – do not litter the space with unnecessary details. A tablecloth, a vase of dried lavender, cushions on chairs, and light cotton or linen curtains will suffice as decorations.
Minimalism
Minimalism is not just a style. This is a philosophy that assumes a conscious rejection of the unnecessary and the use of only the essentials for life. For a small area, this concept is certainly beneficial.
A minimum of decor, simple but functional furniture, monochrome light colors, a lot of light and the presence of at least some free space will visually push the boundaries of even the smallest kitchen.
High tech
Hi-tech is often confused with minimalism, although the former has distinctive features – the use of glass, glossy and metal surfaces, high-tech built-in and always the most modern technology. As well as for minimalism, the high-tech style is characterized by the absence of unnecessary decor. This makes it especially attractive for the design of small spaces.
Loft
The use of a loft in its pure form in a small area is undesirable. Its characteristic rough shapes and dark shades can make the room visually smaller. The only exceptions are cases when large windows are installed in a small kitchen.
Use separate elements of the loft in the interior – concrete and rough wooden surfaces, open communications, facades with a rust effect, forged elements in the design of furniture and lamps.
Snow-white Scandinavian small kitchens are already a little boring. The addition of new elements to the cold Nordic interior allowed this style to be revived and looked at in a new way.
A new element that can soften the mood of cold scandi is leather (better than eco leather). It can be used as upholstery for armchairs, sofas and even as accessories.
To place accents in the Scandinavian style, yellow, blue, blue, red were traditionally used, which stood out as a bright spot against a white background. Now you can experiment with the proportions of white and blue or yellow, for example, increasing the number of the latter in the interior. But then the shade of these colors should be muted. Red can be taken as an accent, but slightly change its shade towards brick, coral or carrot, for example.
Another option to diversify the Scandinavian interior is to use light gray instead of white.
Vintage or retro
A vintage-style kitchen harmoniously combines everything that will be relevant in the coming year – pastel shades of blue, lavender combined with cream or sand.
Add bright colors: a juicy retro refrigerator, white tiles on the apron, and your small kitchen will take on the style of the 50-60s. years of the last century.
Watch a video about kitchen trends that will be relevant for many years to come:
Trending kitchen colors of 2022
All the best and perfect has already been created by nature. Apparently, this is what the trendsetters in the world of interior design decided. And they were right. The palette of earthy, clay and other shades that occur naturally in nature have a beneficial effect on our psyche, creates a good mood and is comfortable for perception.
Even bright shades have a natural background: red-cinnamon, rusty, yellow, green, lavender can be safely used as accents in the design of a small kitchen in 2022.
Designer Tips
All natural shades are ideally combined with each other, which greatly simplifies the selection of colors. For example, green and yellow that are trendy in the upcoming season are a great pair. Add neutral white to this duo for a harmonious combination. Bright accents can be in the same color, but in a more juicy shade.
Bright accents
With bright accents, the interior acquires character, expressiveness, individuality. But in a small kitchen 2022, use bright colors with extreme caution.
Among the most relevant colors for the coming year are mixed and complex:
red-pink;
warm red-brown and rusty;
coral;
berry;
blue-green;
conifers and emerald;
brown and yellow colors of different saturation.
Juicy shades are best used as accents in the design of oversized items – pillows on chairs, curtains, kitchen facades of the upper or lower row of a headset, an apron, table textiles.
Pastel shades
Pastel, calm shades with a beautiful, complex undertone are in fashion:
sandy beige;
muted yellows;
gray-beige;
creamy pink;
gray-blue;
delicate lavender;
light earthy and other natural tones.
Designer Tips
It is the light color scheme that is most suitable as a base for decorating a small kitchen in 2022. Unlike cold white, which has not left the covers of fashion magazines for a long time, the above shades create a positive mood and a warm, homely atmosphere.
The paler the color, the more area in the interior it can take. Use light shades in the decoration of the walls and headset to make the small kitchen appear visually larger.
Green
The undisputed leader among other color trends is green with a complex undertone and with different saturations:
turquoise;
emerald;
malachite.
Among the pastel shades, mint, pistachio-gray-green are in fashion.
Fashion-conscious kitchen furniture makers have already included smooth matte façades in shades of green, from vibrant to subdued, to their range.
For example, in the photo below, the facades of the IKEA company of the Bodarp series. A beautiful and deep gray-green color of medium saturation will look harmonious in a small room.
Facades of IKEA "Bodarp"
Green is most effectively combined with yellow, white, black, brown. Mix up these colors, playing with their saturation, but remember that a small kitchen 2022 should be dominated by a mostly light range of shades.
Blue
Cold blue can be used in the design of a small kitchen of 6 sq m with windows facing south. In its pure form, this color can inspire melancholy, so paint manufacturers suggest adding a little gray, blue or green to the blue.
The resulting shade will be ideally combined with other natural colors – yellow brown, green, blue, red-brown.
Wood-like surfaces will help to dilute the severity of blue. For example, it can be a headset tabletop or a dining table.
If you paint the walls in blue, then the floor can be finished with a parquet board in a warm shade of oak.
Grey
Gray is the second white. And in the new season, he does not give up his positions. True, in a somewhat modified form. Gray is best used in mixing with other colors – in complex beige-gray, gray-green, gray-blue, dusty pink shades.
What to combine gray with when creating an American-style interior, you will learn from our article: 105 of the most stylish kitchen interiors in gray tones
Pink
If you think that pink is only suitable for decorating a children's room for a girl, then you probably did not see what mood it can create in the interior of a small kitchen.
As in previous cases, it is very important here to choose a suitable shade of pink – with an admixture of gray, brown, yellow or red.
If pink is used as the dominant color in the interior, then its shade should be muted. For accents, you need to use juicy tones.
Pink will effectively complement live greens.
Features of kitchen furniture and appliances
Modern design has become democratic. Not having enough funds, you can make the interior stylish and comfortable. And trends and fresh ideas are in every possible way favorable to this. Reasonable consumption, use of energy-saving technologies, abandonment of sophisticated and luxurious furniture in favor of simple and laconic – these are just a few trends that confirm this.
Let's see what exactly will be relevant in 2022 in the design of furniture and appliances.
Facades
A novelty among the design of kitchen facades in 2022 are ideas with a texture for decorative plaster.
Matte smooth facades of complex tones are still relevant – gray-pink, blue-green, gray-green.
Another interesting modern solution is a set with facades made of plywood with a natural wood shade.
3-tier wardrobes
Not only beautiful, but also a practical idea for a small kitchen 2022, which allows you to rationally use every square meter to organize storage. It is better to arrange the top row of cabinets in one color.
Alternatively, you can make them in different levels to create the effect of a built-in headset.
Without top cabinets
A set that looks more like a chest of drawers is what you need to give the room a neat and tidy look. Such a non-trivial way to make a small kitchen look more like an office or a creative studio is definitely not suitable for those who cook a lot and often. In the latter case, you need a full-fledged comfortable workspace.
Hidden furniture
What does hide headset mean? And how do you do it?
There may be several options:
in the literal sense, close the built-in kitchen-niche behind the sliding partition;
disguise the headset as a cabinet.
A reception with hidden furniture may be needed in a combined kitchen-living room, so as not to disrupt the stylistic unity of the space. It is also convenient in case you do not have time to clean up the work area before the arrival of guests.
How best to zone the combined space: to make an arch, a podium or put a sofa, read here: 75 fresh ideas for the design of a kitchen-living room 20 sq. M (real photos)
Bar counter
The bar counter has long ceased to be just a fashionable piece of kitchen furnishings. In a small room, it is valuable for its practicality and compactness. Where it is not possible to install a full-fledged dining table, a bar counter will always come to the rescue, which over time changes its design in accordance with fashion trends.
The bar counters with built-in metal pipes and chrome coasters for glasses and fruit are worth leaving behind. They are replaced by racks with massive tabletops made of a solid piece of wood or concrete.
All the trends of 2022 in terms of color, choice of materials and decor can be combined in the design of the bar counter.
What will fit better into a modern interior: a mini-counter or an island version, you will learn from our article 107 of the most stylish photos of bar counter design ideas for the kitchen
Multifunctional furniture
Furniture that saves space is in particular demand among small kitchen owners in 2022. It can be:
folding, folding table or transforming table;
retractable additional table top;
a multifunctional corner cabinet or a "smart corner" system (already the same "mast have", without which no tiny corner kitchen can do).
Why is the corner set the most comfortable? Where is it better to install a sink and put a refrigerator if there are 2 windows in the room? The answers to all these questions can be found here: 88 of the most fashionable interiors with a corner kitchen
See also a helpful video in which the designer talks about the current techniques for arranging tiny kitchens:
Couch and folding chairs
The kitchen corner has undergone significant metamorphosis since the 2000s. Its modern versions are more compact and stylish.
For a small kitchen 2022, it can be a corner bench in a minimalist design, complemented by a soft seat mattress and decorative pillows.
Folding chairs are a smart solution to save space. And when combined with the seat cushion in a trendy shade, they add a special charm to the interior.
Popular countertops
For the second year now, thin countertops are relevant, the thickness of which does not exceed two centimeters. The requirement is logical that the material of manufacture must be durable.
An interesting solution is a thin countertop in the color of the facades, which makes the lower cabinets look monolithic.
Technical equipment
The rapid pace of modern life could not but affect the technical equipment of the kitchen. Smart gadgets not only save our time, but also make the cooking process more comfortable and interesting, and the quality of food is better.
Modern technology consumes less electricity, which saves not only time, but also money.
Modern kitchen design 2022 involves built-in and compact appliances that can perform several tasks at once. For example, a microwave oven and an oven – "2 in 1". In a tiny room, multifunctional technology is the best way to solve the problem of saving limited space.
A monolithic ensemble of furniture and appliances will benefit a small kitchen, since a freestanding refrigerator or stove visually cut the room.
Designer Tips
The exception is freestanding stoves and refrigerators, which are bright accents in the interior. A compact bright vintage refrigerator will harmoniously fit into a small kitchen, even if it takes its place in the corner opposite from the headset.
Among the new products are refrigerator models that look completely unusual for this technique, but the new design is definitely pleasing to the eye.
For example, such refrigerators were presented by Sumsung.
Washing and plumbing
The trend for built-in sinks keeps pace not only with aesthetics, but also with practicality. The integrated sink not only looks beautiful, but also prevents the accumulation of dirt in the seams.
The already familiar solution is an acrylic worktop with an integrated washbasin, which together form a seamless, seamless surface.
Increasingly, in modern projects from designers, built-in stainless steel sinks in combination with a stone countertop began to appear.
Fashion and mixers have not spared. Their shape also tends to simplicity, minimalism, but the color can be anything you like – red, yellow, green, etc.
Sensory mixers are relevant, which are very hygienic and comfortable to use.
Kitchen lighting and decor trends 2022
Today, lighting performs not only its direct practical function, but is also a powerful tool in creating a play of light from different lamps.
The lighter in a small kitchen, the better.
Lack of light visually narrows the space, which is unacceptable for a small room. Therefore, at a minimum, you should consider central lighting, as well as the working and dining areas.
The hallmark of a modern and comfortable interior is not only external lighting, but also internal lighting. The lighting inside the display cabinets also has a decorative function.
The main trends in kitchen lighting design
The lamp can be a separate work of art, but for a room of 5-6 sq m, only those options that do not take up much space are suitable.
The photo is a selection of lamps that reflect the trends of 2022.
Kitchen decor
A small kitchen of 5-6 sq m does not give many opportunities in choosing a decor. There is always a risk of cluttering up the space, thereby visually reducing the room. To prevent this from happening, decorate the interior with what is already an indispensable element of the furnishings – a lamp of an unusual shape, complex textures in the design of facades or walls, a bright apron, intricate kitchen chairs.
There are also new trends in the kitchen decor.
Dried flowers. The leaves of monstera, which last season were present not only as living plants, but also as fashionable prints and even dishes, were replaced by feathers or bouquets of dried flowers. They can be placed in a vase on a windowsill or in a tall vase on the floor, on a corner cabinet or on a wall shelf.
Vases. Geometric, polygonal options or resembling a narrow glass bottle are relevant.
Decor in the spirit of antiquity. Dishes, bowls, vases, busts and even pieces of furniture reminiscent of Homeric times will be appropriate not only in the classic, but also in the modern interior.
Handmade ceramics. You can make such beauty yourself at a master class or purchase it from craftswomen (many of them blog on Instagram).
Corrugated surfaces. They can be used not only in the design of dishes, but also in furniture.
Do not be afraid to use mirrors in your decor – for example, in the design of an apron, a faceted panel, or even in the design of an entire wall. Mirrored surfaces will deceive the perception of the size of a small kitchen and make it visually larger.
Is it possible to abandon the upper cabinets of 6 sq m and put a U-shaped set, you will learn from our article: How to choose a kitchen set for a small kitchen: designer tips + 120 real photos
Which kitchen curtains to choose in 2022?
For a small kitchen, the most successful option would be short curtains of the current pastel shade – gray-green, yellow, gray-beige, dusty pink.
If the headset and walls are made in a neutral, pale color scheme, then the curtains can be accentuated. For this, bright plain short curtains or with a colored print are suitable. When choosing a color, rely on the trends of 2022, which we described at the beginning of the article.
Actual styles and fabrics that are suitable for a small room:
Roman curtains;
roller blinds;
light curtains made of natural fabrics – cotton, linen, etc.
For the kitchen-living room, you can choose corduroy or velor curtains.
Whether Roman shades are suitable for country style and when tulle is inappropriate, read here: 65 design options for kitchen curtains
Trends in the design of finishing materials
Among all the variety of materials, the most popular for decoration are tiles, porcelain stoneware and wallpaper. Let's see what's new in their design.
Kitchen apron
The most popular finishing material for an apron is ceramic tiles. In 2022, its stylization in brass, metal or bronze and design in an industrial spirit will be relevant.
For the loft style, fashionable metallized tiles will be a style-forming element. Already today, famous Spanish brands offer both smooth and embossed tiles with imitation of rust or metal with rivets.
Concrete with a pronounced texture is still relevant.
Rough and brutal tiles go well with wood surfaces and brickwork.
Another, completely opposite trend is the use of tiles in gold, bronze shades or shiny tiles, the surface of which closely resembles the texture of precious metals. Such a luxurious apron should be the centerpiece of a neutral overall look. A white or light gray set with panels without any decorations will make a brilliant apron a great company.
How to revive a white headset with an apron or countertop, and why you don't need to be afraid of gloss, you will find out by reading our article: 120 photos of the most beautiful white kitchens in the interior
For those looking for a versatile option, small-format square tiles with contrasting grout will do.
What is fashionable to cover the walls with?
Fashion brands of paints and wallpapers have already released new collections, in which you can get fresh ideas for the design of a small kitchen in 2022. Decorative plaster with a shallow relief, with the texture of fabrics or with a sand-sprayed effect will be relevant.
A paint finish on such a surface will give a surprisingly beautiful hue and glow. Read about the current colors for painting walls at the very beginning of the article.
Trendy printed wallpaper can be used in accent wall design. Choose heavy washable non-woven or vinyl wallpaper.
Floral wallpaper – fashion trend or archaism? And photowall-paper? You will find answers to all these questions here ➡ watch.
More fashion ideas can be found in the video collection of the Dutch brand Rise & Shine:
In a small kitchen, it is better to refuse wallpaper with a large pattern.
What should be the floor?
What is the most practical kitchen floor covering? Of course, this is porcelain stoneware or ceramic tiles. Its design has the same fashion trends as in the design of the apron – imitation of rust, industrial motives and stylized metal. For the floor, less extravagant options with an unexpressed texture, light shades and without sharp contrasts are suitable.
Why diagonal laying is better in a small kitchen and what it is better to combine with, you will learn from our article: Choosing floor tiles for the kitchen and hallway
The tree is still relevant. Moisture-resistant parquet board looks expensive in the design of a small kitchen 2022 and fully meets the trend for environmental friendliness.
Small kitchen design 2022 with an adjacent loggia
Loggia can add space to the kitchen, but it does not always make sense to combine these rooms. On a separate glazed loggia or balcony, you can equip a recreation area with wicker furniture, which is in trend today, or organize a "home garden".
Open plan – kitchen-living room design
The popular decision to combine kitchen and living room spaces is not only driven by fashion. The desire for space and freedom of movement, an attempt to escape from a cramped, confined space – these are the true reasons why many people prefer a united interior, even despite the existing disadvantages of such a solution.
For owners of a small kitchen, the idea of ​​combining it with the living room is especially relevant. In Khrushchev, the wall separating the living room, as a rule, is not load-bearing. The possibility of such redevelopment has already been used by a large number of owners of standard apartments. And real photos of the result clearly prove that the efforts were worth the hassle of demolishing the wall and legalizing it.
What are the fashion trends in studio and kitchen-living room design 2022?
Bold furniture arrangement. Not around the perimeter, as used to, but in the middle of the room.
As for the textile decoration of the kitchen-living room (curtains, upholstery of a sofa and armchairs), here you can choose corduroy, velvet, velor and not be afraid to be branded as old-fashioned. Now these fabrics are relevant not only in clothing, but also in the interior.
But! Do not use any of the above fabrics on curtains, sofa and armchairs at the same time. Corduroy or velvet add elegance to the interior, so it is important to choose one here.
In a spacious kitchen-living room, you can focus on the chandelier. The place allows you to install a volumetric lamp made of glass or with a wicker lampshade, which will definitely attract the attention of guests.
Bright colors will make your interior welcoming. The most fashionable this season will be deep green.
Saturated colors are especially relevant in the design of velvet curtains or in velor sofa upholstery.
Distinctive features of small kitchen design in 2022
In addition to the ideas listed above, we have found many other interesting solutions that will be relevant in 2022:
high doors. Ceilings will be visually raised, which is very important for Khrushchev;
a lot of greenery. The desire to create a winter garden in your home is due to the trend towards environmental friendliness and the desire to be closer to nature in a noisy city. A wide window sill, adjoining loggia or balcony is best for creating a green island;
a lot of wood and natural fabrics;
hidden doors, without platbands and frames;
combination of various textures;
unusual design of window frames. Standard white PVC windows are not bad on their own and are always a win-win. But they undeservedly bypass dark frames and wood-like frames, often giving preference to the familiar;
seamless large tile for a stone-like backsplash, which is laid joint to joint. Such a monolithic canvas in the working area with a beautiful pattern of natural material looks very expensive;
interior items made from recycled plastic;
"smart" technology that will allow you to remotely control the multicooker, program the coffee maker, which will wake you up in the morning with the aroma of freshly brewed coffee. Now these things are not fiction. Thanks to "smart" sockets, it becomes possible to turn on any electrical appliance from a distance at a given time;
sensors for gas leakage, water leakage. For residents of Khrushchev and other old typical houses, for which a gas water heater is an integral part of the kitchen environment, this is already a matter of safety – for one's own and for neighbors;
energy-saving technologies allow you to take care of nature and establish reasonable consumption.
Conclusion
Much of what will be relevant in the upcoming season (pastel colors, minimalism, rejection of complex shapes and unnecessary decor) will perfectly fit into the design of a small kitchen in 2022. Regardless of the size of the room, it is important to pay attention to trends in the use of natural or recycled materials and avoiding excessive consumption. Keeping up with the times is now not only aesthetically pleasing, but also necessary from the point of view of taking care of nature and ecology.