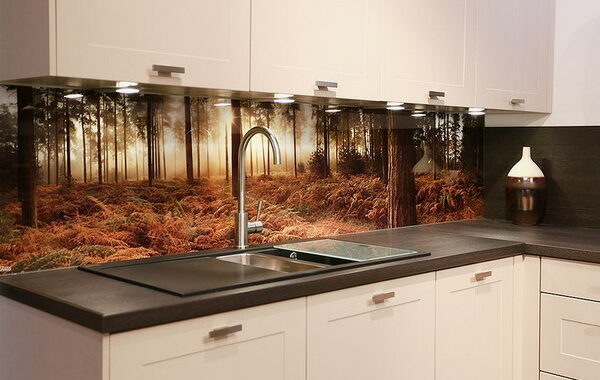 Is the kitchen tile boring and trivial? Do you want non-standard solutions? How do you like the copper apron? Or a wild stone work wall? Which apron for the kitchen is better – we study, we take notes, we are looking for the best ideas
We often underestimate the role of a kitchen apron, focusing mainly on its functional features. But an apron can easily become a highlight of the kitchen, the main accent and an object of your pride. Which apron to choose for the kitchen? We have found 15 modern options for you – perhaps among them there is "the very one" that you are looking for for your interior.
Glass apron for the kitchen: skinali – a fashionable idea
The term "kitchen skins" is used to refer to large tempered glass panels that are installed on a working kitchen wall. The back surface is usually patterned or patterned, and the surface can be glossy or matte. Skinali is always a highlight of the interior. The material, unlike ordinary glass, is characterized by strength, fire resistance and higher quality in general.
Kitchen ideas: classic tiles for a stylish apron
And ordinary ceramic tiles can be a good basis for a stylish and beautiful apron. Smooth or embossed, matte and glossy, imitating the texture of natural materials, hand-painted… The modern range of ceramics allows even the most crazy creative ideas to be realized.
Kitchen apron from tiles: mosaic in the kitchen
Another tile option, more elegant and sophisticated. Mosaic tiles are not only ceramics, but also stone, smalt, glass, many shapes and different sizes. Of course, facing an apron with such a tile requires professionalism, and in the absence of experience and a solid budget, you can use an alternative: tiles with imitation of a mosaic.
Which apron to choose for the kitchen: photo tile
Against the background of standard decor options, photo printing on tiles, of course, wins: with its help you can decorate the entire kitchen apron or its individual fragments, choose from those presented in the modern assortment, or order the printing of images (or even your own drawings). When choosing a photo tile, be guided by those drawing technologies that provide the most durable and wear-resistant decor (decal, for example).
Patchwork tile: kitchen design ideas
A fashionable option that is increasingly being used in modern interiors. The army of fans of the "patchwork quilt" style is growing every year – patchwork allows you to breathe life into even the most boring kitchen interior. Bonus: soap stains and splashes are almost invisible on such tiles.
Stone apron: ideas for modern kitchen
Decorative stone looks impressive in any room of the house, and the kitchen is no exception. So that the stone does not lose its aesthetics in the working kitchen area, you can cover it with a special varnish, install a powerful hood, cover the most vulnerable part with a glass panel, or arrange this area above the stove with another material, leaving the stone to decorate the rest of the apron. Another option is stone-like ceramic tiles.
Wood apron or wood-look apron?
Wooden surfaces will quickly lose their appearance if exposed to chemical cleaning agents. What if your choice is a rustic kitchen and a wooden backsplash? As with stone, you can cover the panels with glass or look for porcelain stoneware with imitation of a wooden structure. Modern wood-like tiles are one of the trends in recent years.
Editorial opinion:
The color of your apron does not matter for practicality (there is a contrasting spot for each color), so you should focus on the texture. The more heterogeneous it is, the less spots are visible on it. For example, glossy black tiles require daily cleaning, but on tiles imitating wood or stone, with the appropriate surface imitating natural material, splashes of water will not be visible at all.
Aprons for the kitchen – photo: mirrors and mirror tiles
The mirror version of the apron is ideal for large rooms and… ideal housewives. First, all stains are visible on the mirror surface, including fingerprints and water splashes. Secondly, the mirror doubles the pile of dishes in the sink. Thirdly, you can forget about roof rails. The main ideas for decorating an apron: large mirror panels, mirror mosaics, mirror tiles – regular and with a facet.
Glossy tiles: for shiny kitchen aprons
If a mirror effect, shine and glare are still desirable, and a mirror apron absolutely does not suit you, you can stop at glossy tiles. Caring for it will also be difficult, but it certainly wins in terms of durability over mirrors.
Kitchen renovation ideas: brick apron
Even the most laconic kitchen interior is transformed by adding brick aesthetics to it. An apron made of brick, clinker tiles or brick-like materials looks especially luxurious in tandem with smooth surfaces.
Kitchen apron: tiles and panels made of metal
A metal apron for the kitchen can also be stylish and beautiful. In addition, the stainless steel apron is also practical, easy to clean and ideal for modern styles (loft, hi-tech and others). In addition to stainless steel metal panels, in modern kitchen interiors you can see an apron made of copper, metal tiles or even metal mosaics. However, there is also a version of ceramics for metal.
Budget kitchen renovation: wallpaper apron
If your budget is tight or your kitchen wallpaper is so good that you want to leave it even on your work wall, you can cover your wallpaper apron with glass panels.
Apron for the kitchen made of plastic: ideas and photos
A modern plastic apron looks perfect immediately after installation, but quickly deteriorates from cleaning with sponges, washcloths and household chemicals. If the protection of the apron with tempered glass panels is not included in your plans, it is better to pay attention to the options created using the "postforming" technology (multilayer plastic on chipboard sheets – the technology is used in the production of countertops).
Kitchen apron under the slate board: stylish and convenient
To decorate such a designer apron, you can purchase a slate or chalk board, or you can make a slate apron yourself using slate paint.
Modern kitchen design: marbled apron
Marble (quartz, onyx, colored granite) is a material for a luxury kitchen. It can be natural, artificial, or stone-look tiles. When choosing a "real" marble apron, remember the capriciousness of this expensive material.