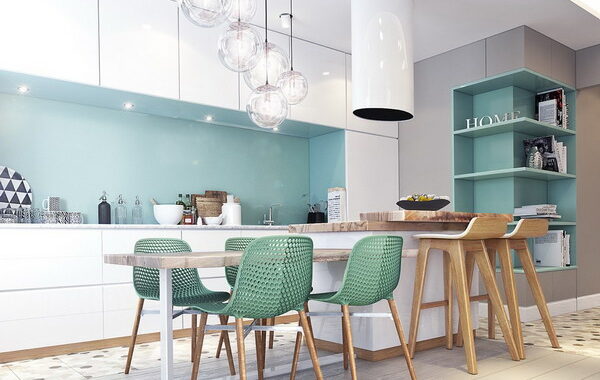 2022 is declared the year of sustainability, practicality and individuality. Recently, designers from all over the world have been creating trends of love for nature – natural wood, stone, or imitation marble and granite. But the main highlight of the year is the use of concrete in the interior. And not only in natural form, but also imitations for it. Bright accents are also indispensable – they fit perfectly into modern cuisine, but dictated by the chosen style. Everything in our article.
Recently, individuality, a flight of fantasy, a combination of incompatible things have been appreciated – everything that the soul wants. After all, our life is our rules. This applies to any area, including the interior of the house. And since we spend most of our time in the kitchen, it should be nice to the owner, as well as to his family. For those who want to be in trend, see our article.
What is 2022 Kitchen Design? What ideas, novelties, techniques and styles will bring us the year of the bull? What colors, shapes are in fashion? Let's find out more about everything.
The main thing is freedom and space
How nice it is to feel free space around you! Unfortunately, in the old days, few could boast of a spacious kitchen. Now construction companies are more competent in this issue, making kitchen hostesses happier. What can we say about private houses, where initially a rather large kitchen, most often, smoothly flows into the living room – a feeling of endlessness and freedom is created. That is why space is the main focus of kitchen design 2022.
The classic combination of kitchen and living room remains a fashion necessity. In this case, the design of the resulting space can be different:
with the help of space zoning, two parts of the room are visually delimited: the cooking area and the recreation area. For this, a huge number of techniques are used: the correct arrangement of furniture; certain lighting of this or that part of the kitchen; construction of podiums, installation of sliding doors, hanging curtains; different floor coverings (as a rule, waterproof materials are laid in the cooking area – porcelain stoneware, natural stone), etc. Note that zoning is also relevant for studio apartments.
create both zones in the same style. This option can be attractive for those who do not like discrepancies in design or simply have a "favorite" – a certain material (for example, wood) or color (for example, blue in a nautical style ).
 Space is the main focus of kitchen design 2022
Kitchen Colors
Simplicity in the interior is the absence of complex patterns on the walls, furniture, floor. Monotony in soothing colors is the trend of 2022. Designers who are to some extent our psychologists recommend considering the following fashionable colors:
for walls:
green and its shades (from mint, olive to apple);
blue and its tones (from turquoise to deep complex);
classic white;
soft calm tones (cream, shades of gray, dusty rose);
for the facade (observe the contrast with the walls):
Warm but intense color (like pumpkin color)
bright brick;
classic white;
classic black (charcoal shade is also relevant);
deep sea;
for floor:
gray and its shades from light to dark;
beige and its tones from light to dark brown.
 One of the trendiest kitchen colors of 2022 – all shades of green
Kitchen Materials
Fashionable kitchen with ceramic hexagonal tiles
2022 motto: sustainability, simplicity, comfort.
Based on this, the "right" materials are selected for floors, walls, ceilings, facades. Motley, bright, flashy is gradually receding into the past in order to be sure to become fashionable again in the future. After all, fashion develops in a spiral. However, trendy kitchens-2022 is a bet on a calm color, environmentally friendly materials that can be combined with each other. Wood plus stone – why not?
The main principle of creating a cozy and eco-friendly kitchen is the use of wood material. Designers are discovering new trends – wooden wide, long bars laid on the floor in a row, or boards of different sizes, laid in a chaotic direction, creating a complex pattern.
Natural stone is in no way inferior to wood – the same practicality, environmental friendliness, beauty. For many years now, marble is more relevant than ever, and in 2022 it comes into fashion in different color shades – yellow, pink.
Parquet or laminate with natural wood look is what you need. At the same time, one should not be afraid of the aging effect – it is now in vogue. Hexagonal floor tiles are gaining popularity, but such innovations quickly fade into the background, giving way to the eternal – wood or stone. If you're creating a trendy porcelain stoneware kitchen, opt for a burnt clay pattern or a large slab. This is the hit of 2022. More on this below.
Tile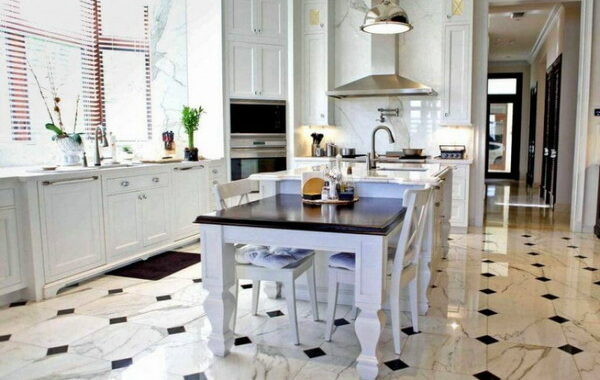 Floor made of large slabs imitating natural stone – hit of 2022
In order to choose a tile (floor, wall), you must carefully consider all the options. If you don't like something after laying the tiles, it will be very difficult to replace it. In the case of, for example, wallpaper or laminate, the situation is much simpler. Here, the fact is also important that any replacement of material is a financial cost.
If we talk about materials for finishing walls, kitchen floors, a new trend in 2022 is monolithic slabs with a pattern imitating natural stone. This option is more expensive compared to others, but as an alternative, you can use porcelain stoneware under natural stone (marble, granite, onyx).
Installation of such massive slabs should be maximally "joint to joint", using grout of the same shade, so that in the final form the surface is perceived as a single whole. Then the kitchen will look expensive, exquisite, very beautiful. Do not be afraid that large layers of porcelain stoneware are not suitable for a small kitchen. On the contrary, the uniformity created by using a single material, even large in size, will visually expand the space. And it is recommended to use large patterns / drawings in small kitchens with great care.
Note that it is recommended to use bright, metallic profiles on the wall / floor. They are used when creating complex geometries on the surface, as well as when transitioning from one material to another (for example, porcelain stoneware into laminate). 2022 is an emphasis on expensive "little things". Profiles can be in gold, bronze, silver and even black.
Connoisseurs of small tiles can be reassured – they have not gone out of fashion, but their styling has changed a little. According to the new trend of 2022, small tiles are laid not with an offset of half or 1/4, but without it. In this case, the tiles can be placed not horizontally (which is more usual for us), but vertically. This will give the kitchen a fresh and unusual look.
In color, we move a little from the classic monochromatic to a deeper, darker shade, textured material. These are all kinds of tones of green, gray, blue. Different tiles can have separate shades, which as a result gives the effect of blurring, some inaccuracy, as well as aging due to chips, uneven surfaces, smudges created on purpose.
Wood
Slat panel wall in modern kitchen 2022
Will wood ever go out of fashion? Hardly forever. And the longer humanity lives on Earth, the more clearly it understands and appreciates the gifts of nature. Through the routine of daily affairs, life surrounded by cars, offices, the tree remains the very thread with nature that cannot be cut off.
The 2022 principle is that there is never too much wood. Therefore, it can be used everywhere: on walls, ceilings, floors, as rack inserts, open shelves, shelves in a display cabinet, furniture, etc.
Stone
The combination of stone and wood – fashion 2022
Let's continue on natural materials. A stone is a beauty that designers have fully revealed a long time ago. Unfortunately, not everyone can buy natural material – it is too expensive. An alternative to stone is ceramics with imitation of granite, marble, onyx. At the same time, the combination of stone with the same wood is a fashionable technique created by designers. Do not be afraid to experiment, fantasize.
Remember – 2022 prefers individuality.
Metal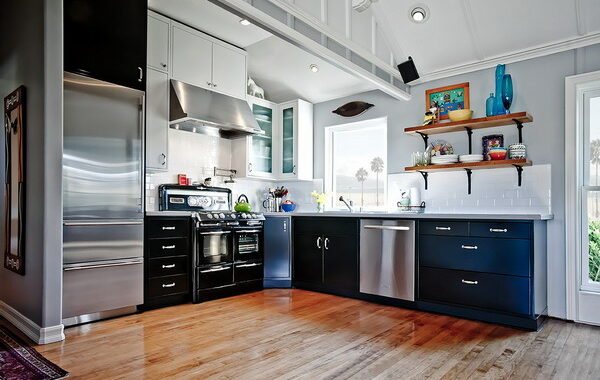 Chandelier made of metal plates in a fashionable kitchen-2022
The tree wasn't the only favorite in 2022. Metal should not be discounted. Today, the use of copper and brass decor is highly regarded. Deep, luxurious shades with overflows suit almost any kitchen style. Most often, as a decor, as well as various inserts, metal is used in the decoration of tables and chairs.
Metallic elements can be present on chandeliers, creating intricate designs. The kitchen will only benefit from this.
Glass
Display cabinets are back in fashion
Glass is still not out of fashion. On the contrary, glass display cabinets have become an absolute trend. Eco-friendliness, lightness, transparency of design are what modern fashionable kitchens need in 2022.
Concrete
Concrete countertop and floor
The absolute trend of 2022 kitchens in terms of material is concrete. Yes, that's it. It is gaining popularity again with manufacturers and customers. There is no need to worry about its characteristics – it is strong, reliable, durable. In addition to these advantages, we add a pleasant-to-touch surface, naturalness, and visual calmness of the material. But what about its color? Will it not be boring and cold? Of course not. The classic shade is gray. By playing with shades of gray, you can get warmer or colder tones. On all shades, the texture of concrete will be clearly traced, which will give the interior a certain charm.
Concrete can be not only the floor, walls, but also the table top, made to order, manually. You can also order a countertop with a built-in sink, made of a single material – concrete. The design will not have seams, which is an undeniable advantage.
But concrete structures have one "significant" drawback. Significant – literally. Concrete floors and countertops are too heavy.
You need to take this fact into account before your kitchen collapsed on the heads of the neighbors from below, and calculate all the loads with a professional architect.
Terrazzo
Modern corner kitchen-2022 using Terrazzo styling
Terrazzo is an Italian floor casting technique. Under the natural filling material (concrete, lime) there are broken stones, marble, glass of different fractions. When it comes to kitchen floors, they can be completely seamless. It is also possible to purchase terrazzo tiles that can be used for both floors and walls. Which faction to use, small or large, is an individual matter. But be careful when combining terrazzo with other materials – more often than not, it looks more advantageous on its own.
Kitchen set
The illusion of a built-in kitchen unit
The fashion for ease of perception, avoiding massiveness, cumbersomeness has touched almost everything, including the kitchen set. Complex additional structures framing the facade of the headset are gradually becoming a thing of the past. In the present, as well as in the near future, there are flat surfaces without inserts, frames, smoothly turning into another material (wood in a mirror, wood in glass).
Plaster facades became fashionable quite recently, but immediately became popular among buyers. The year 2022 will be no exception, therefore, in the catalogs of modern interiors, you can find a sufficient number of examples with similar facades. Currently, the choice of material for decorative finishing is not so much, but development is constantly taking place in this completely new direction.
The hanging (top) cabinet is also undergoing changes. If earlier they did not hang up to the ceiling, acting as a shelf for vases and other kitchen utensils, now this space is being filled. At the same time, there are two types of kitchen upper cabinets: installing them under the ceiling, or not up to the very top, covering the remaining space with plasterboard, ceiling molding and other building material. The fashion for three-tiered facades remains the same as the illusion of a built-in kitchen unit.
All this complicates the kitchen to a good degree, making it richer, more spectacular, and more massive.
Fashion 2022 dictates its own rules – give up accessories. The handles are distracting, so the best offer is their complete absence, that is, the use of a push-to-open opening system.
Kitchen apron
Kitchen apron with ceramics for natural firing – stylish kitchen design 2022
The design, material, style of the kitchen apron have  not changed – glass, ceramics, natural stone, as well as metal and mirrors are still in fashion.
The use of glass in the kitchen is a guarantee of safety, because durable tempered glass is used. A wide range of skins will suit any kitchen interior. The metal apron is style, power and absolute elegance. This apron is perfect for a high-tech kitchen.
An apron for a kitchen made of natural stone is a luxury that is not available to everyone. But the fashion for natural materials will not come out in the next few years. Marble, granite, as well as plain stone for firing are all in trend.
The use of mirrors in the kitchen is a great option for a small room. Reflecting, light fills the entire space, illuminating the darkest corners. Therefore, a mirrored apron will help expand the space. And when combined with lighting, the effect will surpass all expectations.
Many people have a preference for ceramics, a material with a huge history. Kitchen aprons are often decorated with ceramic tiles, as well as the favorite mosaic. Today, designers talk about the use of plain ceramic tiles for natural firing without applying glaze, without a pattern. Moreover, this material is suitable not only for the apron, but also for the floor. Simplicity yet chic is the new accent of the 2022 kitchen. We look at the photo.
Countertops
Granite and marble look countertops in modern kitchen
Little has changed in the fashion of countertops. The top materials are still natural stone, which is also one of the most expensive. Glass countertops are not inferior to stone countertops in price, but the demand for them is just as great. Another natural, environmentally friendly and therefore expensive material for countertops is wood. An alternative to such materials is a countertop with an imitation of stone, as well as concrete.
Kitchen styles
Furniture with metal legs in a loft style kitchen
This is not to say that 2022 is the year of country style or classics. Any style has a right to exist, while designers recommend combining them. Moreover, if the kitchen is combined with the living room – there is a place for a flight of imagination.
Do not be afraid to express yourself, to be misunderstood in creating your own style.
The main thing is to be able to combine styles so that they smoothly transition into one another, have a common denominator. As a result, you will get a unique kitchen interior that you will not find in anyone else. Try to experiment, combining minimalism with neoclassicism, loft with country, art deco with provence… Success is guaranteed!
Lighting
Loft-style kitchen lighting
The theater of light is a trend of recent years. Gone are the days when a chandelier hung alone in the center of the ceiling gave light in the kitchen. 2022 will not differ from 2020 in terms of coverage – the more the better. Illumination of the working area, illumination of the kitchen set, display shelves, romantic illumination – all this applies to the kitchen of the year of the bull. Depending on your mood, reason, desire, you can turn on the backlight anywhere. At the same time, the interior of the kitchen will "play" with new colors.
An innovation loved by many is the illumination of the facade from below. In this case, there is a feeling of soaring kitchen tables, something mystical and romantic at the same time. It looks especially impressive in the dark.
If we talk directly about lighting fixtures, then glass and wood remain in vogue, and unprocessed, in their original "antique" form, which is perfect for country, loft, eco, and Provence style kitchens. Preference is given to interesting geometric shapes, complex lines (spiral, clusters of light balls), with metal or mirror inserts. If the chandelier is made in a minimalist style, then here you can play with color, choosing the most unusual, bright solutions.
A focus on a bright chandelier in a modern gray kitchen of 2022.
Doors
High door to the kitchen – the trend of 2022
What can you think of with doors? Use a different material, color. But the trend of 2022 is not content, but form. More precisely – to make the doors as high as possible, as suitable as possible to the ceiling. An exception will be private houses with very high ceilings. Here it is necessary to build on the personal wishes of the owner.
If more recently the accepted standard for door height was 2.10 m (Soviet GOST), now the recommended height is 2.30 and even 2.40 meters. The main advantage of such a door is the increase in height of the kitchen. Visually, the room will become more spacious, which is especially important for the kitchen.
Another secret is that it is necessary to minimize additional door trims, which visually makes the entire structure heavier. Airy, sophisticated, graceful kitchen door in the wall – simple and stylish. The only drawback of such a door will be its price. Since new trends are financially costly, the door will be the same.
Window sill
Using a windowsill as a work surface
Most often, the hostess does not have enough space in the kitchen. The exception is the same – houses with free planning and a huge kitchen-living room. Using the windowsill as part of the kitchen space is an idea that came once in the life of Russians and is not going to be eradicated. After all, practicality, convenience are the main trends of recent years.
The window sill can serve as an additional work surface, dining area, place for installing household appliances, etc.
Window
Black plastic window – trend of 2022
The use of natural materials in the interior has become a part of our life. If after the Soviet wooden cold windows the whole country switched to a plastic glass unit, now everything is returning to normal. An eco-window is always an indicator of concern for health, nature, and taste. But, unfortunately, not everyone can afford wooden windows – they cost much more than plastic ones.
More affordable window options are with aluminium inserts or colored plastic. The classic white color gradually turns into more elegant or deeper shades, up to black. At the same time, you can pay special attention to the fittings: plastic, banal and simple, can be replaced with a more complex structure suitable for the interior of the kitchen. It all depends on the wallet and imagination.
Open shelves
Open shelves and furniture with metal legs – the trend of 2022
Open shelves are back in fashion. But not all housewives are happy about this. The main disadvantage of such structures is obvious – this is an excellent place for the accumulation of dust, which in the kitchen is washed with great effort compared to any other room. There are people who are ready to tolerate such nuances, but stay in trend. However, most people listen to themselves, using what is convenient, comfortable. After all, the house is the place where we rest. Why create nerves just because it is "so fashionable"?
However, fashion is a contradictory thing. Despite all the disadvantages, one must be able to find advantages. For example, this is convenience. And if the crockery is collectible, gift, inherited from your beloved grandmother, or just very beautiful, why hide it in a locker?
Showcase cabinet
Kitchen-2022 – with display cabinets
Completely closed kitchen fronts are no longer in vogue. Showcases re-enter our life. At the same time, as we wrote earlier, the transition from one material to another should be practically imperceptible.
The showcase can occupy one, two or several wall cabinets, or it can be a structure from floor to ceiling, the entire height of the headset, and also stand alone. Do not forget about the lighting – inside the showcase it will be very appropriate, and the visual effect will be "tasty" and exquisite.
Furniture
Laconic furniture on metal legs in a fashionable kitchen-2022
Inflated pretentious furniture is slowly being pushed aside, leaving the way for more fashionable trends. Clear geometry is the trend kitchen design of 2022. Laconicism in everything is a new fashion.
We have already written that it is preferable for kitchen furniture to have metal inserts, for example, on the legs of chairs and tables. Wooden dining table tops with metal legs are an absolute trend of the year. Upholstered furniture can be made of pleasant materials – velvet is again in the top. At the same time, surrounded by calm tones of the kitchen, furniture can be a bright shade.
In the arrangement of furniture, it is necessary to observe harmony and convenience, because the main customer of this is ourselves. In a cozy kitchen, the owner will rest not only physically, but also mentally.
Curtains
Scandinavian-style curtains in the kitchen – trend of 2022
Minimalism has not spared even the curtains for the kitchen – everything should look simple, but tasteful. The most trendy solution is plain colors without additional prints, laces, ruffles. Roman, Japanese and Scandinavian curtains, which are known for their laconic, functional design, are still in the top of popularity. They are great for the kitchen. The material of modern curtains-2022 is preferable natural – it is linen, burlap.
Individuality is something that is always appreciated. Fashion dictates its own rules, but we don't have to follow it entirely. Fashion only directs us in the right direction. When creating a kitchen according to the latest trends, listen to yourself, your needs and desires. After all, we spend a lot of time in the kitchen. So let this place be comfortable, stylish, unique, your own.