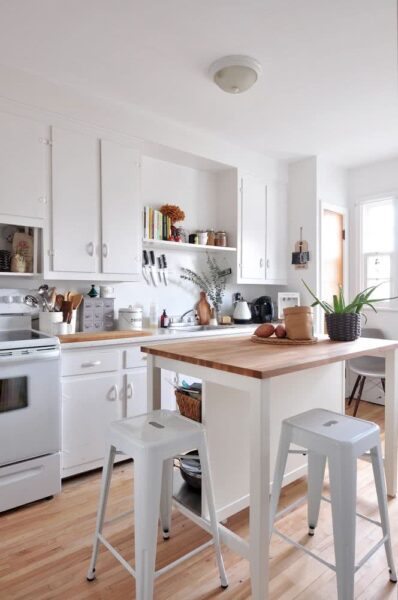 The kitchen is one of the most important places in the home, so it is vital to achieve a harmonious design, where we can cook comfortably, achieve good storage and allow proper cleaning. But it is not only important to make the kitchen a comfortable and very functional space, but also to make it look modern and updated. That's why we show you some trends in modern kitchens by 2025.
Before starting with the design and decoration, remember that the first objective of the kitchen is to be functional, practical, that everything is at a safe distance, that can be easily circulated through it, and only from these features, look for it to be modern and contemporary.
Modern kitchen designs 2025
There are several parallel trends in the design of contemporary cuisine for this season.
Scandinavian kitchens
The first trend is oriented towards a Scandinavian aspect, with a natural atmosphere, simple and clean silhouettes, without too much decoration and ornaments. Wood dominates this type of design.
Also called Nordic style, these designs opt for modern and clean lines, organic shapes and natural materials.
This kitchen is very practical and functional, and always looks clean and fresh. This is because white is the main shade of the color palette, which allows much more light to enter and be reflected in the walls. Keep in mind that Scandinavian countries do not receive much sunlight, which means they need as reflective surfaces as possible.
Hanging lamps become focal pieces. Wooden floors, bright furniture with splashes of color and a touch of design, and some contemporary wall art are used.
Industrial kitchens
This is one of the cooking styles that, although quite charming, does not look very warm or cozy. Born from the kitchen of the commercial restaurant, the industrial kitchen uses some key elements to be considered as 'industrial'.
These elements are: neutral colors such as white, black, gray and brown, open shelves for upper cabinets, grates for pots suspended in cast iron or stainless steel, exposed structures such as rough brick, water pipes, beams and other decorations or accessories metal, concrete floors, counters and / or walls, large bar or wooden table.
The texture of black marble is combined with the warm wooden surfaces that add a rustic charm to the contemporary composition. The kitchen includes multiple structures that intertwine the glamor of the illuminated glass shelf with the bright aluminum finishes.
The combination of solid dark materials and warm wooden structures (with a vintage touch) is always a successful combination when it comes to industrial kitchen designs.
Rustic urban kitchens
When we say "rustic", we tend to visualize a lot of wood. This is because wood is a natural material known for its striking characteristics, friendly texture and warm appearance.
They offer a wide variety of combinations of textures and materials and include a dynamic mix of vintage, classic and contemporary design elements. The huge variety of artistic combinations offers great freedom of expression.
You can have a rustic kitchen in a modern city apartment or an urban design with natural and cozy features.
The light should also be warm and cozy, a strong contrast to modern kitchens that tend to have colder and harder appearances.
A good dose of stone and brick surfaces is also used, as well as old appliances.
Modern minimalist kitchens
The minimalist kitchen design is characterized by the lack of luxuries. This does not mean that it is less sophisticated. Emphasize simplicity, but also an elegant simplicity that aims to highlight kitchen furniture, some decorative strengths, colors or materials. Accessories, appliances and utensils should hide behind cabinets and drawers.
Only the essentials are left on the work surface: a food processor, a decorative plate, a small cactus or a succulent. Materials should be highlighted: a concrete floor, a wooden countertop, or whatever material is used.
Neutral and natural colors dotted with color accents (indigo blue, bright red, matt black, dark gray) are preferred to improve the design sophisticatedly.
The minimalist kitchen is reinforced by the lighting that takes place in two ways: incorporated into furniture or hanging walls or lamps.
Less is more in any minimalist space, as we have been taught since this movement emerged in the 1950s. Although it has taken several forms since then, its main objective is to focus on the absence of elements and the presence of clean spaces.
To achieve a minimalist kitchen, it includes materials, objects and simpler forms. You must have everything you need, but nothing more: unnecessary details are not allowed. Choose lower and upper cabinets with smooth doors and optimize every corner for storage.
Eclectic Kitchens
If you implement it badly, the eclectic style can become chaotic and a visual disaster. But when done correctly, eclectic kitchens can be unique and simply amazing.
Here we can also observe the presence of wooden elements, but in these cases, it is used more as artistic details, not as a predominant material selection. Dark colors and contrast are also used.
You can include numerous ideas for a very personal kitchen, including some touches of modern and rustic styles, for example.
Furniture and cabinets in modern kitchens 2025
There is a visible trend in the materials that make up the kitchen cabinets and appliances, and we will show you below.
Texture mix
The combination of a sophisticated selection of colors with high quality materials: wood, concrete, corian, glass, ceramic, stone or metal in different shades, become a recipe for a unique and beautiful kitchen design.
Varying the styles, from the classic to the modern, from the country style to the high-tech modernist, the designers play with the surfaces, matte and bright, dark and bright, with and without handles.
Smart storage
On the other hand, well-equipped kitchens with high-tech appliances are increasingly gaining ground. For this reason also, more and more storage systems are chosen, which should be functional and as compact as possible, so as not to reduce space.
We must try that all the elements that are used for cooking, have a place to be stored. In this way, the kitchen will always look very neat and clean.
Kitchen stools
We can choose from a wide variety of proposals of the most varied, but in the seats one of the most popular are undoubtedly the stools, since they are stylish and take advantage of the space.
This option can be applied in our kitchen if we have an island or American bar.
Open shelves
Kitchen furniture designs should emphasize comfort. That is why we are now seeing a trend towards open shelving, which undoubtedly are very comfortable because we have everything in sight. Why hide these striking kitchen and crockery accessories with closed doors: these have an interesting design as well.
Now people are willing to show not only their luxury kitchen, but also everything else (of good quality), which is in the kitchen. This trend is growing rapidly.
Metal shelving
We continue with the trend of open shelves, but this year metal shelves are also being incorporated, especially black metal. They can certainly add a lot of style and character to the kitchen.
2025 trends for modern kitchen countertops
Quartz countertop
Quartz is a good material for its durability and its color characteristics. It offers an impressive amount of colors in white, black or gray tones and is increasing its popularity.
Granite kitchen countertop
Granite remains at the top of its popularity. It is often cited as the most durable natural material. Hot pots can be placed directly on the countertop, can be cut directly on the surface without damaging it and spills are easily cleaned.
Marble countertop
Marble is synonymous with luxury and style, and becomes a classic choice for any elegant environment. It is a functional and stable material, offers a lot of colors, responds well to temperature and mechanical damage. You just have to be careful with the spots.
Metal countertop
Metal is always a modern and fashionable option, mainly for more urban or industrial designs. The latest and innovative technologies offer durability and prevent oxidation.
Wooden kitchen countertops
And, of course, for those who prefer a more natural but elegant appearance, wood is always a beautiful and aesthetic option. Lately, the reclaimed wood countertop becomes a trend: it is sustainable and nature friendly, making it a conscious choice.
It is well known that the use of wood, unlike natural stones such as marble and granite, is an environmentally more sustainable resource because it is renewable.
Black countertops
Once again, we see black countertops in black granite or quartz, in matt or glossy finish. It is not a new trend, but it is very popular and the trend will not expire like this no more. Still in 2025: black countertops (which can have a glossy or matte finish).
Another dominant trend for several seasons is to use high-tech innovations in materials and surfaces. Large and massive volumes with bright surfaces and simple shapes are created.
Materials and textures in modern kitchens 2025
If you are thinking about materials and textures of modern kitchen trends, the possibilities are many. Wood, concrete, stone, bamboo, tiles, bricks, wall papers, decorative vinyl, metals, acrylics, are some of the many options you can handle.
Terrazzo
Terrazzo, which dates back to ancient times, is making a great comeback. You've probably seen it on the floors of old buildings. They are characterized by small glass stones, marble and other embedded materials.
The new porcelain terrazzo looks amazing, and is available in polished and matte finishes. It can be used only on the back wall to the countertop, on all walls or floor.
Texture blends
If you have noticed that the materials you want to mix are not compatible, do not be discouraged. Nothing is absolutely incompatible, each element can have its perfect place in a kitchen and at the same time complement it with a totally different one, being able to coexist both in the same environment. The mixture of textures enriches, for example, one of the mixtures that is fashionable is that of concrete with wood.
Hot and cold metals
This year, in addition to the classic cold metals in silver colors, such as stainless steel, warmer metal tones such as brass, copper or bronze are also incorporated.
These metals give kitchens an industrial look.
Brick, stone, wood
Natural tones and materials are being used in all interior design spaces, as well as kitchens. The brick cladding adds a rustic and natural touch, making it an element that is being used a lot.
Let's see the modern kitchens whose walls are broken to expose old natural wood beams, which look fantastic with a wax coating. The new construction will seek to build beams, tabs and grooves in the walls and ceiling: an additional cost yes, but it is worth the finish it gives.
Walls lined with natural wood or stone, or with brick cladding, natural wood cabinets … Everything that comes from the earth is good (within reason, of course!).
Lighting trends 2025 in modern kitchens
Among the elements that can be seen most in all the proposals, the lighting occupies a leading role, either through LED lights, energy saving or common lighting.
Hidden lighting under cabinets has been the prevailing trend in kitchens for the past 5 years, however, we are now seeing a return to hanging lamps and lighting fixtures that are masterpieces in themselves.
The tendencies are inclined towards rustic or classic metallic lamps, of copper and brass. If the kitchen has a monochromatic minimalist Scandinavian design, modern lamps are best, if you have a traditional kitchen with a lot of natural tones, use a more traditional accessory.
Modern faucets and sinks 2025
Stainless steel is being left aside, to give rise to other types of metals such as copper or bronze.
Taps with architectural lines and sensors, for automatic switching on and off, are being used more and more.
The sink is the most functional place in the kitchen, the heart of it. You go there to rinse your salad leaves, fill a pot of water and wash the dishes. And now, it is also being used for food preparation, thanks to the new accessories available.
It is a way to make the most of this area of the kitchen, making it an integrated workspace. Accessories such as a sliding cutting board, multi-level grilles (to maximize space), a strainer that is placed on the edge and a garbage or debris collector with a drain.
2025 color trends in modern kitchens
Often, the kitchen is the heart of the house and marks its style and atmosphere. Especially in modern design houses where the kitchen merges with the dining room and living room, the design style of the whole house is influenced by the kitchen design. That is why the colors, shapes, materials and the range of functionality sets the tone for the rest of the house design.
The color sets the atmosphere of any home, even the simplest design becomes vivid and vibrant when the right color selection is applied. This is especially true for the kitchen, where you usually spend a lot of time in your life.
Dark tones
There are indications that dark tones will have a significant presence in the modern color palette.
Some award-winning kitchen designs include at least one dark color as a strong accent. The new thing is the search for contrast and juxtaposition: dark colors are compensated with lighter colors.
Two-tone and warm kitchens in natural tones, such as clay, copper, gold, henna and ginger, are becoming an option for next season. The influence of nature is expected to be one of the trends, from the terracotta colored soil to the dry green tones of the desert.
Blue kitchen
Blue is one of the colors that is used again in modern kitchens. Do not feel limited to one type of blue, you can mix them all, the use of calming navy blue, or sky blue, electric and energetic turquoise, they can look great when combined together. Look for blue accessories, cabinets and tiles in these colors.
Look for tiles with interesting patterns, in shades of blue and keep the rest of the kitchen minimalist.
Neutral
Colors such as white, black, gray and brown as a base are ideal, as they favor a pure and clean aesthetic.
The wide spaces in the kitchen also gain an important popularity, so it is always sought to combine colors and elements in order to create a greater sense of space.
Like the Scandinavians: simple, classy and elegant. The trend has been here for a while to stay in 2025. To avoid a cold and unattractive kitchen, add some accessories of natural wood, marble, glass or other wall coverings. This will continue to be a winning trend in 2025.
Red kitchens
Today the spectrum of colors that we can find in the kitchen is very wide; While you can opt for white and neutral classics, modern kitchens also allow the use of strong colors, as well as metallic, gray and black. To add a more vibrant touch, colors like yellow, orange, red, green may be ideal.
For this season, the color options range from natural neutrals, oak, green and coal (with black accents) combined with red.
Yellow kitchen
Green kitchen design
Olive green is being used a lot, in all its shades, as well as the more tones that throw the sage.
Lilac and purple
Intense lilacs, approaching purple, are also another of the colors that would be a trend for 2025.
Modern small kitchen design trends 2025
In a small kitchen, the goal is to save space. But how to make it practical, pleasant and modern?
1) Create a sense of space. To visually expand a space, nothing better to eliminate all borders. Knocking down a wall to create a kitchen open to the living room makes the whole more friendly. Create a bar that can be used for a quick meal.
2) Play with the colors. In a small room, bright tones provide maximum clarity and a sense of space. The application of a dark color on the back wall adds depth to the room.
3) Choose the right furniture with intelligent storage solutions. The three areas of activity must be respected: washing, cooking and preparation (the cold zone). A table that unfolds along a wall can be used for breakfast, for example.
4) Make the most of the space. All available space must be maximized. The wall of the countertop can be used with shelves and rods with hooks to hang the most used utensils. Shallow wall cabinets can give a sense of space. It is recommended to have at least 70 cm of free space on the countertop for easy cooking.
5) Smart storage furniture. Folding tables, containers integrated into the furniture. The sink may disappear under a sliding plate, providing an extra work surface for preparing meals, for example. Choose devices with small appliances suitable for small kitchens.
6) Compact corner sinks are an ideal solution for small kitchens. Most kitchens do not use the corner for anything other than accumulating things, so this idea is making a triumphant entry into kitchen design.
2025 Modern Outdoor kitchens
Outdoor kitchens are rising within kitchen design trends 2025. The climate is a factor that limits to some extent, but it will not stop this trend, especially in tropical countries.
In humid, cold and windy environments, a sliding glass door works well to avoid the need for constant cleaning of the weather and at the same time allows versatility in its use, both in magnificent or questionable weather conditions. It also protects the materials from inclement weather.
Impressive and glamorous: a definitive jewel for any home that can house an outdoor kitchen.