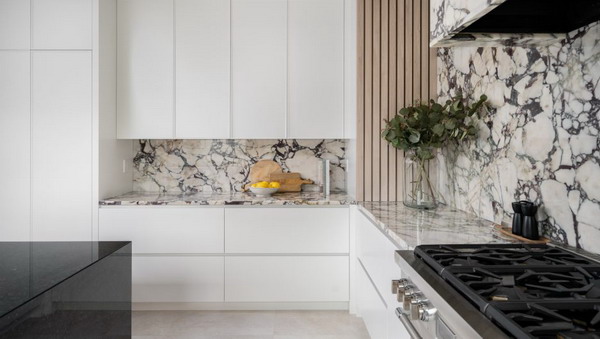 Trends come and go and it's not always easy to keep up with fashion. We guide you on the kitchen trends 2024 to adopt easily and in a timeless way.
In 2024, what are the trends? Are they here to stay? Can we follow trends without regretting it later? Sure! Follow our advice and everything will be fine!
Your kitchen deserves a perfect concept and a well-thought-out decoration! Ideally, we design the kitchen so that it is timeless, then we decorate up to date according to the inspirations of the moment. Then, with our changing seasons, decorating that adapts really takes us to another level. It allows us to get in the mood for changing temperatures and make our living space a place that lets us take full advantage of all that the seasons have to offer.
In this guide, these major trends in decoration and design announced for 2024 will be presented to you:
The colors of the year 2024
The organic modern style is always on top!
The Biophile philosophy, you know?
The style of our grandparents?
The essential items not to be missed!
The trends that we love again and again!
The organic modern style is always on top!
We've been hearing about organic modern for a few years. The terms defining the styles are quite vague and interchangeable, but this one gives us a good idea of the intended style!
What is organic modern style?
Modern: straight lines, simple and natural materials, monochromatic or tone-on-tone color palettes, minimalism and natural light.
Organic: natural materials in their simplest form, based on natural forms and elements with a handmade look or even directly from nature.
Organic modern: a balanced mix of modern lines and often white surfaces, contrasting with natural shapes and materials in neutral colours.
Materials and colors of the style
Neutral tones (white, taupes, warm greys, etc.)
Woods in natural tones
Rattan, bamboo and other similar materials
Natural fabrics such as linen or pure cotton
natural stone
Did we mention the natural elements…???
What creates the balance of the modern organic style is the way natural materials are used and the dosage of contrasting materials.
The Biophile philosophy, you know?
The Biophile philosophy ties in perfectly with the organic modern style. This philosophy brings to decorate and conceptualize its interior so that it is in harmony with the surrounding nature. It is ideally the reminder of the natural environment from outside to inside. Here, we give in our roots as organic beings and our relationship to the natural environment that surrounds us.
This is done in several ways including:
Respect the outdoor vegetation when choosing indoor plants. So use plants that are native to the location of the house. For example, we will use boreal plants if we live in the north surrounded by conifers.
The woods chosen will be species found in the region.
The chosen color palette will reflect the outside environment. For example, we may choose soft greens or even black for the house in the mountains but shades of beige for the house by the river. We base ourselves on what is happening outside to create a well-balanced interior.
On the inspiration above, you can see a good example of this applied philosophy. Each element of the kitchen is found in terms of color and texture in the vegetation seen outside.
Do you know why this philosophy is so popular? We often use it without even knowing it's implement because…
"Humans have within them the intrinsic desire to feel connected to nature and to other living beings. By basing our design on this reality, we can only create a comfortable and harmonious environment."
We all know the benefits of going for a walk in nature, breathing fresh air that smells of pine or putting our feet in the sand or peat… It's relaxing, it refreshes our mood, takes away stress and restarts creativity.
After several stressful, sad and exhausting months of the pandemic, we are naturally drawn to nature to reconnect and restore our balance. Manifesting this same environment inside makes sense more than ever and explains why this style is at the top of the 2024 trends!
The style of our grandparents
Yes yes, you read that right!
Just as modern organic style and biophilic philosophy help us de-stress by connecting to our natural roots, so our grandparents' style comforts us by connecting us to our memories of family well-being.
What is meant by grandparent style?
Not the yellowed, oiled oak of your childhood memories, I promise! But we are certainly far from an overly refined style that we saw a lot in the 2000s.
Here, we are looking for a style organized around colors, objects and materials that make us feel the well-being we had falling asleep, children, in the pile of family coats on New Year's Day..
How to create this personal style?
Use a historical palette such as soft or deep greens, browns, old pinks and other such colors.
Combine this palette with noble wood species with deep, if not opaque, colours.
Blend rounded lines with straight lines. For example, cabinets with straight lines under an arched wall.
Populate your shelves with small treasures, antiques or objects that remind you of the good old days.
The silverware comes out of the drawers and returns to the curio style glass cabinets as well as the porcelain.
We love chests of drawers and shelves like in old European houses.
In today's uncertain times and the disconnection we often feel as digital life takes up more and more space, a little nostalgic style helps us slow down a bit and feel at the comfort of our younger years.
The must-have decorative items for 2024
Decorative items are a perfect way to create the desired atmosphere throughout the year. Here, we offer you some ideas inspired by our biophilic philosophy of 2024:
Plants in the kitchen, a fashionable classic
A bit of greenery immediately brightens up any room in addition to integrating restful nature into our interior. But which plants to choose?
Here are some ideas:
Succulents: As their name suggests, succulents go perfectly well in the kitchen to be devoured…with your eyes! These little succulents are extremely fashionable and so easy to maintain that it would be a shame to do without them!
Herbs and indoor vegetable garden: In addition to being really practical, the decoration made with herbs requires little space and your kitchen will always smell good!
Hanging and drooping plants: The next time you are offered spider plant cuttings, jump at the chance! Soak them to develop roots, transfer them to hanging pots or put them on top of cupboards, and voila! When they have become too invasive, we cut a few ends to offer or even to create other plants.
Cacti: There is a wide variety of them and since they are extremely easy to maintain, there is no excuse: if space allows, add cacti to your kitchen! Of course, make sure to place them on shelves or counters if you have children or pets.
Seasonal plants: Do not hesitate to change the plants in your kitchen according to the seasons. For example, bouquets of lily of the valley cause a sensation in May!
Centerpieces
Adjusting your centerpieces according to the seasons and occasions allows you to always be up to date!
In the spring, for example, like all self-respecting sugar shack brunches, the food will probably take up most of the space on the table. That's why it's better to choose smaller centerpieces – like small bouquets in mason jars – or even personalized place cards made with corks!
In the fall, no one will blame you if you don't resist the temptation to place a few pumpkins here and there in your decoration. This is a great way to decorate your fall table. Perfect as a table runner, their different sizes and colors allow you to slip them everywhere.
The mix of conifers arranged in the center of the table is very popular during the holidays to add a touch of green to your decoration. Eucalyptus is also a perfect choice all year round and stores very well.
Dried flowers
Dried flowers add a touch of elegance and color to your interior. They are a nod to the current season: rather orange in fall and bright in summer, you can easily find them during nature walks and it's a good excuse to enjoy the outside air!
If the flowers you find are neutral colors or somewhat muted, feel free to choose a vase with character to contrast your decor.
Wooden planks
Wooden planks are popular! They bring a little warmth. We like the look they have as they age, it will give a hint of old Europe. They can simply decorate or we can use them to cut our food or in presentation when we serve our meals and appetizers.
Antiques and vintage
Mixing a piece of furniture or an antique object with an otherwise organic modern style or even old Europe can bring a lot of character to your space. In this case, we create roots in our environment and that also has something relaxing about it.
We told you, the style of our grandparents is coming back…!
The lights
Never underestimate the power of well-balanced lighting to create an environment that makes us want to stay there!
If, like us, you pay particular attention to lighting, be sure to check out our article on lighting trends for your kitchen!
Yes, the look is important, but let's not forget to choose the tone of our bulbs in accordance with the desired atmosphere. A warm tone will be more relaxing for the eyes, warm and comforting. A neutral tone will respect the exterior ambiance, but it also means that if it is gray outside, it will be gray inside. A cold tone gives a more medical vibe
Whatever type of decoration you choose, there is really no right or wrong answer. The only unavoidable rule: make your space a good place to live! Do not hesitate to follow us on instagram to discover our advice and decoration ideas over the seasons.
The trends that we love again and again!
Some things don't change and we won't complain!
Camouflaged appliances
"Goodbye, old fridge door that completely changes the look of my kitchen!" it's a phrase we hear more and more when our kitchen designers meet their customers.
Indeed, when our customers confirm that they plan to change their appliances, we often suggest that they purchase a model of fridge that allows the addition of a custom-made door. This way, the fridge doesn't clash with the rest of the kitchen cabinets and blends in perfectly with the decor.
The open concept kitchen
We tear down the walls and we open the closed spaces! The open concept kitchen is definitely a trend that we are not ready to see disappear since it encourages interaction during the preparation of meals and promotes exchanges between guests and this, at all times!
Islands are at the heart of this trend. We like them more and more functional, especially when we add a spacious table to them. Family and friends can more easily gather there and share many moments.
Dark colors
Far from being out of fashion, all-white kitchens are still timeless and will remain so! Synonymous with purity and cleanliness, white goes well with all colors and you can therefore easily add a few touches to the decor.
But the dark colors are no longer outdone and are coming back to the fore. The darker tones offer a comfortable and enveloping ambiance.
They have long been overlooked because dark cabinetry can easily dwarf a kitchen. But the trend is two-tone, playing between pale shades and darker shades.
Matching two colors brings a nice contrast effect and highlights the different spaces. The contrast can be made between the upper cabinets and the lower ones but also between the different elements: the counter and the cabinets, the backsplash and the counter… many possibilities to energize your kitchen!
Metals: brushed gold, champagne and black
Luxury is in the details and current trends are no exception!
Metals invite themselves into the kitchen for our greatest pleasure. They are found in touches on different elements such as lighting, hardware or even taps to integrate them more easily into the design of the room.
These materials add a nice dose of elegance and chic to the whole for a guaranteed result.
By small touches in decorative accessories such as lighting or even the stools of your central island, metals help to create a warm and authentic atmosphere in your room.
The question is always: will it stick? Here, we generally talk about accessories, handles and plumbing. So our advice is to go with what makes your heart beat even if it means making inexpensive changes in a few years.
Brushed gold and black have been a safe bet for quite a while while champagne is rather young in our trends. We like it because it gives a look quite similar to brushed gold while being softer and less contrasting.
A great future is predicted for aluminum framed doors. Immediately on the market they have become a safe bet and will continue to be so.
What trends would you like to adopt for your kitchen?