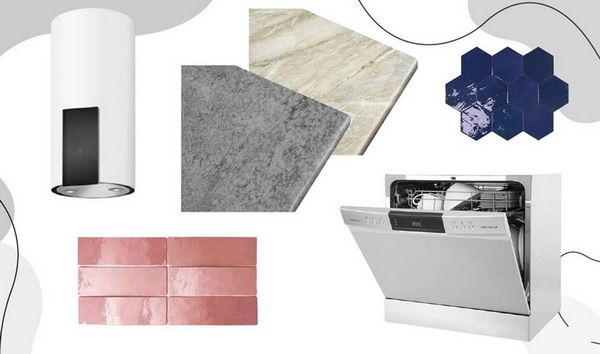 In 2022, kitchens that combine aesthetics with functionality will be trendy. This is due to high-quality materials and carefully thought-out furniture, which will replace ready-made solutions.
The trendy kitchens of 2022 will have no shortage of noble woods, elegant marble and rich colors. What else will surprise us in the kitchen trends of 2022? Here's a roundup of trendy kitchen furniture, colors, and tiles for 2022.
Trendy kitchens 2022 – elegant minimalism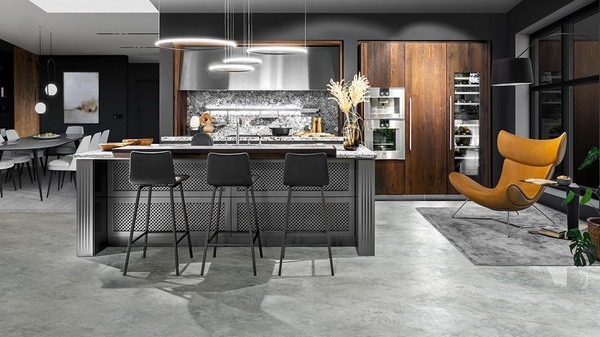 Elegant minimalism will prevail in kitchens in 2022 . Modern and harmonious designs that occupy the entire wall, from floor to ceiling, will be in vogue. If you want to design your kitchen in accordance with this trend, give up decorative items such as stucco or massive handles. Instead, use quality materials with decorative patterns, beautiful colors or expressive textures.
In 2022, only a single piece of equipment should be visible in a fashionable kitchen that matches the design concept. Hide the rest behind the facades. The worktop, cleared of unnecessary items, will provide greater comfort when working, and the interior will be harmonious.
In the coming year, the trend towards open kitchens that go with the living room will continue. When choosing such a layout, make sure that both zones are consistent. Remember that kitchen furniture should match the style and color of the living room. The best choice for a trendy living room kitchen in 2022 will be compact furniture, which will definitely make it easier to keep order.
Trendy kitchens 2022. Kitchen furniture smooth and matte
Smooth facades will prevail in the kitchen in 2022. The place of decorative handles will be taken by contactless cabinet opening systems, as well as milled handles, that is, specially profiled recesses along the edges of the doors. Kitchen trends for 2022 also mark a definite shift from glossy surfaces to furniture with matte finishes.
What materials will appear in kitchens in 2022? Several solutions will prevail in the offer of kitchen furniture:
Kitchen furniture made of wood or plywood – in 2022, interest in such noble types of wood as walnut, ash and oak will increase. Furniture from them adds warmth to the interior, but at the same time fits perfectly into modern kitchen decor.
Plywood kitchen furniture is an inexpensive, aesthetic and environmentally friendly solution.
Furniture made of lacquered MDF board – when arranging a kitchen in 2022, be sure to choose a matte option.
Trendy kitchens 2022. Colorful kitchen fronts
An interesting trend that will gain momentum in the coming year is colored cuisine . You can safely abandon white furniture in favor of dark blue, green, burgundy and even pink facades. In 2022, in addition to a single design, two-tone kitchens will also be in fashion. In which the top and bottom row of cabinets contrast with each other. Use this solution if a green or dark blue kitchen seems too daring for you and you want to break it up by adding white or wood.
Kitchens without top cabinets will also become more popular. In this version, simple longitudinal shelves for the kitchen are hung above the countertop. And sometimes the wall is left unbuilt at all. A kitchen without cabinets looks light and allows kitchen treasures to be displayed on the showcase:ceramic dishes, cups, bowls or colored glass . However, this solution is not suitable for every home. We recommend them most of all to people who have enough room in the room to "free up" the wall by placing a long row of lower cabinets in the kitchen.
Fashionable kitchen countertops 2022 – noble and durable
In 2022, kitchen countertops made from durable and noble materials that go well with harmonious combinations will be in vogue. The interiors will feature stone countertops , agglomerate countertops, and sintered quartz countertops. White marble with gray veins will continue to be of great interest. Unfortunately, this material is not suitable for kitchen worktops. It is too fragile and absorbent for that. If you're dreaming of a marble countertop in your kitchen, use an accurate imitation. For example, in the form of the aforementioned quartz agglomerate.
Stone countertops can be combined with very fashionable inset washbasins. In this case, the sink should be placed under the worktop and not over the previously cut hole. This solution is not only aesthetically pleasing, but also very functional. It primarily solves the problem of seals around the edge of the sink, under which crumbs and dirt like to accumulate.
Trendy Kitchen Tiles 2022 – Different Shapes
What materials to choose for walls in the kitchen in 2022? You can choose from a variety of shapes and colors. A very fashionable choice would be zelij tiles, that is, glazed Moroccan tiles that shimmer beautifully in the light. The popular metro tiles will be replaced by square tiles with contrasting grout, as well as white rectangles with a pearl sheen. 2022 will also bring about a change in the way tiles are laid. If you want to design your kitchen in accordance with the latest trends, do not overlap tiles. Lay it in even rows – vertically or horizontally.
When setting up a modern kitchen in 2022, consider other solutions besides tiles. On the wall above the countertop, quartz plates will look beautiful, providing the effect of a smooth, uniform surface.
Fashionable kitchen appliances in 2022
The arrangement of the kitchen in 2022 should be supplemented with modern built-in appliances. Devices in silver or black will do, as they blend perfectly with a minimalist design. Appliances such as a dishwasher or refrigerator can be hidden behind cabinet fronts so they don't stand out from the kitchen furniture.
At the design stage, think carefully about which arrangement of the appliances is suitable for your kitchen. A very popular and practical solution that more and more people choose is the installation of household appliances in a pole. This option stacks the devices on top of each other to save space and make everyday tasks easier. Since the devices are at hand level, you don't have to bend over to see them or pull out cooked food.
Trendy kitchens with an island in 2022 – simple and elegant
When setting up a kitchen in 2022, it is worthwhile to allocate a place for an island. This impressive piece of furniture is a good substitute for a table and relieves the burden of kitchen countertops. And thanks to the drawers hidden in the base, it provides additional storage space.
What shape will kitchen islands take in 2022? Recent trends indicate that kitchens will be dominated by islands with a simple, elegant form in harmony with the style of the furniture. Their body can be wooden, and covered with a plate of stone, agglomerate or conglomerate. The side walls of the island are also decorated with stone slabs (or their imitation). In keeping with the trend of minimalism, designers are rejecting any decorations and ornaments.
How to equip a kitchen in 2022? When arranging this room, take care of the choice of quality materials. It is a good idea to order furniture by size to make full use of the potential of the available space. A fashionable kitchen in 2022 should be not only beautiful, but also functional. Therefore, opt for a compact design that will accommodate all your kitchen utensils and help keep things tidy.