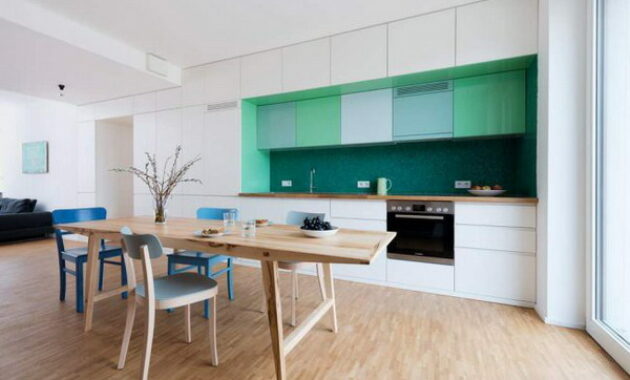 Style can be treated in different ways. It does not oblige you to anything, but at the same time it provides an excellent opportunity to update the kitchen design, to learn modern ideas and unusual solutions. Interior exhibitions were held in Paris and Milan, and now we can take stock of the main styles and kitchen trends of the coming 2022.
Kitchen Colour Trends 2022
The environmental trend dictates the choice of colors.
Finally, the fashion for light interiors fades into the background. White and close to it light shades are replaced by dark colors.
The following colors and shades will be relevant this season:
blue-green in its various variations;
dusty pink;
gray with a pearl tint;
olive;
mustard and complex shades of yellow;
emerald;
gray green;
mint;
bleached blue;
terracotta;
coral;
a shade of black currant;
mint.
Kitchen Styles 2022
Today there is no clear framework for following this or that style. The originality, the uniqueness of the interior, and its personification come to the fore.
It's great when it reflects habits, hobbies and lifestyle. The main thing here is to aesthetically design that very expression of your personality.
Style can only set a certain direction in the choice of finishes, furniture, decor and suggest the choice of their design.
Minimalism
Today, simplicity is relevant in kitchen design. This place should clearly fulfill its functions, but at the same time the atmosphere itself should create a feeling of peace and comfort, peace and tranquility.
Laconic furniture design, lack of bright color transitions,  minimalistic decor – all this will help to achieve harmony in design.
Despite the fact that the fashion for white Scandinavian interiors has passed, some elements of this style have not yet lost their relevance. Scandi is actively mixed with modern styles, which gives an interesting result.
For example, by adding bright warm and darker tones to the interior, you can avoid its traditional coldness. A rough finish and an abundance of wood surfaces can perfectly fit into a modern conceptual interior.
Eco and care for nature
Growing environmental concerns keep eco on the list of the most urgent.
Wicker furniture, large windows and an interior with an abundance of natural daylight, chandeliers with bamboo lampshades, an abundance of living plants and hedges on the walls, the use of green and mostly natural materials – all this is the hallmark of eco-style. Someone calls it the style of the future. And it is certainly no coincidence. Indeed, in the bustle of the city, you so want to create a piece of nature at home.
An eco-style kitchen can be made of solid wood, furniture board or plywood, covered with a clear matte varnish to preserve the natural shades of the wood.
Eco also loves minimalism in furnishings and decor. You can decorate your kitchen and dining room with clay flower pots with unusual house plants.
It is important that renewable natural resources and recyclable raw materials are used in decoration and furniture production.
Eco style should be more than just design. This is a whole philosophy and way of life, the main motto of which is to care for nature and its resources.
Rustic style
Walking next to eco, but fundamentally different from it in its brutality, an abundance of rough unprocessed surfaces made of solid wood species.
Kitchen with rustic elements
This style, like eco, expresses the human desire for unity with nature.
Art Deco
The interiors in the style of art deco  mostly dark with geometric and graphic lines. This style uses a lot of glass, gilding and brass. The theme of jungle, floral and predatory print, which was relevant last season, is still at the height of fashion.
Watch an interesting video about trends and anti-trends in interior design:
Materials and furniture trends 2022
Fashion for naturalness dictates not only the choice of colors, but also materials. The trend towards the use of natural materials makes the use of natural wood, stone, and concrete still relevant.
Especially beautiful is the exquisite white marble with gray veins in the decoration of the backsplash of the kitchen, the countertop of the headset or the dining table. Although this is already a kind of revived classic that will exist outside of fashion.
More and more metal is used by designers. Legs of dining chairs or armchairs in the dining room, the frame of the bar counter or the underframe of the dining table can be made of it.
Mix of metals is relevant. It is not forbidden to combine gold, silver and copper in one interior.
Metal can also be used in decor: for example, in the frame of mirrors, kitchen handles, photo frames in the kitchen-living room.
Simplicity, brevity and minimalism are also relevant for furniture design. A simple form and the performance of only those functions that should be performed by it, the absence of complex decorative elements – this is how modern furniture of 2022 can be characterized.
In the design of modern furniture, you can find references to the 70s, but in an improved version – in a new frame, with beautiful graceful legs or in more modern upholstery.
For secrets and useful tricks, see the video from a professional designer:
The invisible kitchen
Kitchens hidden from the eyes or disguised as built-in cabinets-niches respond to the trend of minimalism. Headset facades without any accessories are popular – smooth and minimalistic.
Another option for the execution of a hidden kitchen is to literally close its working area behind the sliding partitions.
This idea is a great option for a kitchen-living room or a small studio apartment, where stylistic unity of zones is important, or if there is a need to quickly hide the working mess in the kitchen from the guests' eyes.
The concept of the invisible kitchen also has a different meaning. The ability to hide the kitchen area allows you to turn the room into a home office or creative studio. For those who use their apartment not only as a place to relax, but also as a place for business meetings, work, this idea will definitely please.
Kitchen Décor 2022
In continuation of the eco theme, I must say that complex and unusual compositions from natural plants are very relevant. Moreover, it can be not only fresh fresh flowers, but also a herbarium in a frame under glass, decorating your wall in the kitchen-living room, or an armful of dry branches in a tall floor vase.
Decor made from objects of unusual and abstract shapes remains in trend. In the dining room, it can be an interesting tableware, set.
Floral prints and plant motifs are continued in the design of wall panels, textured wallpapers, fabrics, and furniture upholstery.
Any decor in a modern interior must be justified. Here, preference should be given to either minimalism, which will manifest itself in the absence of handles on the facades of the headset, the absence of carvings and other furniture decorations. But if the decor carries a certain philosophy and uniqueness, then it is perfectly acceptable to use it in moderation.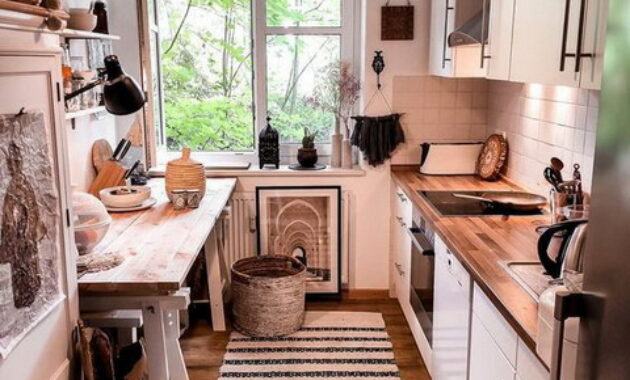 Rugs are in fashion, which will perfectly fit into the interior of a country, scandi or eco.
Small kitchens and studio kitchens 2022
A small kitchen is a problem not only for the owners of apartments in the old housing stock, but also for residents of huge metropolitan areas. In big cities with huge infrastructure and opportunities, the cost of housing per square meter is very high.
Taking into account this problem, modern developers offer small studio apartments, the total area of which can start from 15 square meters. Such a small space will be uncomfortable for families with children, but for a small family of 2 people, for a single man or an unmarried girl, this option is quite suitable for starting an independent life.
A small kitchen in a studio apartment can also disguise itself as a closed built-in wardrobe, or it can harmoniously fit into the overall environment. At the same time, the correct organization of space and storage will negate all the inconveniences associated with a small area.
As an illustrative example, below are several solutions on how to equip and zone a small kitchen in a studio.
The use of convertible furniture, such as a fold-out or pull-out dining table, is encouraged.
A few more ideas on how to practically equip a small kitchen not only in a studio, but also in an ordinary apartment can be seen in the photo below.