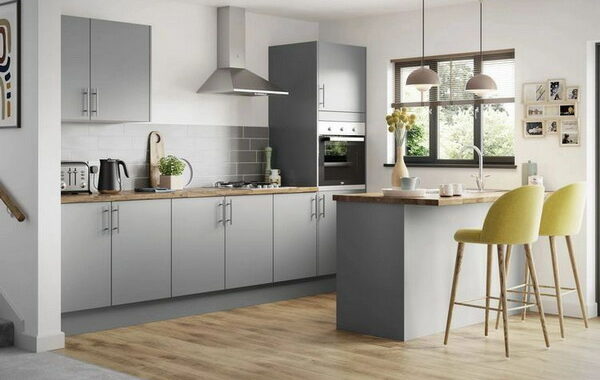 The choice of kitchen colors is very important. A space used daily by the whole family, the kitchen is not as easily transformed as a bedroom or living room, which can usually be remodeled or repainted in a matter of hours. In the kitchen, cabinets, walls, countertops, appliances and flooring form a cohesive color palette, so your choice of color carries some weight. Most people can't remodel every time the latest trends change, but there are some 2024 kitchen color trends that you can be sure aren't going away anytime soon.
Kitchen trends 2024: color palettes that inspire
Color energizes the world of interior design. Plus, it's often one of the most cost-effective changes you can make to your home. The kitchen trends for 2024 focus on shades inspired by nature and sophisticated shades.
Greens and oak inspired by nature
The design world agrees, because the kitchen colors for 2024 are also tending towards forest-like shades. Green is the color trend that everyone is talking about and is particularly popular in the kitchen. Since green is found in nature, it is a safe and timeless color for the kitchen. This year, shades from deep emerald green to soft sage are popping up in kitchens, particularly in cabinetry where green hues really shine.
Sunny celebration
There is a happy turn in the kitchen colors 2024 and one could not be happier. Expect more yellows and oranges to contrast with moody blues or bright whites. Due to the contrast, the color tones come into their own even better. The yellow kitchens look fresh and different. This color trend brings warmth and happiness to the kitchen, but you don't have to go all out on yellow to create an illuminating effect.
You can add this popular color to your space through wallpaper or fabrics and accessories, and it also pairs beautifully with today's shades of green, creating a perfect color combination.
Beautiful, modern shades for monochromatic kitchens
The future looks bright, especially with earth toned kitchens on the horizon. Minimalism and Scandinavian design come together and show how cozy and calm a monochromatic kitchen can be. The rustic color palettes take a step back and the rich earth tones come to the fore. More natural wood furniture can be seen in the kitchens.
Gray as one of the current kitchen trends for 2024
Cabinets in a matte gray undoubtedly look futuristic and stylish. When incorporated into a warm-toned interior with hardwood floors or a fiery backsplash, these cabinets are also bold and memorable.
The other shade of grey, which is also very modern right now, is warm and light. This shade is in line with the trend of recent years where people are looking for neutral shades that feel cozy rather than crisp. Warm grays offer more depth and interest than pure white while retaining the versatility that makes neutral colors so popular in kitchens.
Black color palette
Black is definitely making its way into the kitchen this year to add a pop of color. You can use a bold color like black for the kitchen island instead of painting the entire kitchen. Or you can choose dark colors for the lower cabinets and leave the upper ones light and friendly.
Using black as an accent requires less commitment but still makes a statement.
Kitchen trends 2024: kitchen backsplash that shines
A metallic or light-colored tile kitchen backsplash alongside dark cabinets is one of the most popular kitchen trends for 2024. Not only does it add a touch of luxury, but it also reflects the light for more shimmer and brightness.
Two-tone kitchens
Known and loved for their versatility, two-tone kitchens open up many avenues of discovery. However, as designs become more streamlined, complementary hues work best for the look. Different tones of a color, like gray, can create an impressive arrangement of light and dark areas.
Gold for your sink
Now that faucets are available in a wide variety of colors and finishes, sinks are following suit and shouldn't push up the average cost of a new kitchen all that much. Aesthetics have taken hold in wet areas as well as in furniture and appliance design, with colour, shape, size and material heavily influencing the overall feel of the space. Models are introduced to meet customers' desire for a sink that is not only purely functional but also makes a definite style statement.
Kitchen trends 2024: patterns for the tiles
Patterned tiles are very popular in 2024 and floors are no longer boring. For homeowners who are bold when it comes to kitchen design choices, colored patterned tiles offer a wide spectrum of on-trend hues.
Which kitchen wallpapers 2024 are trendy?
Colorful kitchen wallpapers are really a good idea. Although often considered as practical as a rug in the bathroom, there is now a new wave of wallpaper on the market designed specifically for kitchens. It is recommended that once the wallpaper has been hung and dried, it is recoated with a water-based matt varnish to seal all edges and joints for extra protection.