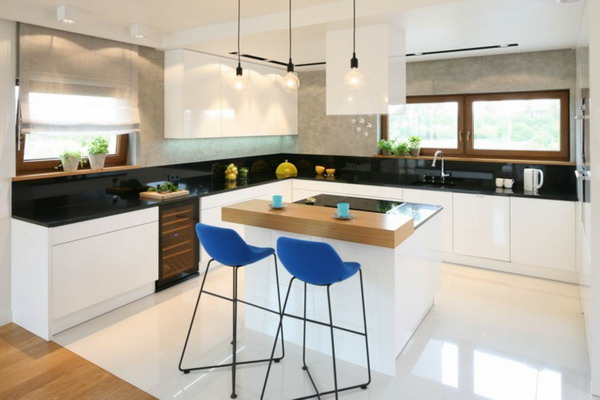 For some years now, bright kitchens have been enjoying increasing popularity, and for good reason – they are timeless, super elegant and always create a friendly and cozy atmosphere. White kitchens have become very popular recently and are among the most popular kitchen trends in 2025. The color white in the interior stands for elegance and gives a feeling of freshness and cleanliness.
Whether in country style, a modern design kitchen or a minimalist Scandinavian kitchen – white is always possible and can be wonderfully adapted to each individual kitchen style. A white kitchen black countertop looks particularly classy and chic and transforms the room into a real eye-catcher. What you should pay attention to when furnishing, which is the best material for a kitchen countertop and which wall color best suits your new kitchen and many other useful tips, we tell you in our article!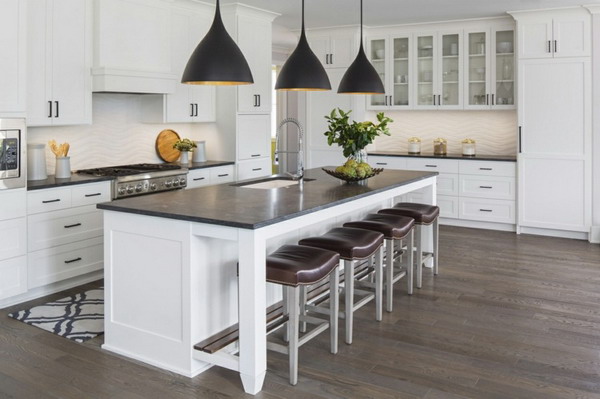 White and other light colors make a kitchen appear significantly larger and brighter and are therefore the best choice for smaller and darker rooms. Another advantage of white is that it blends particularly well with all other colors. Without a doubt, a countertop is one of the most important elements in every kitchen. In the first place, it must be heat-resistant, robust and resistant to stains and moisture. But that's not all you should pay attention to. The kitchen countertop is not only a working basis for various kitchen tasks such as cooking, cutting, etc. It also has to be visually appealing and be adapted to the rest of the interior.
White kitchen black countertop
Black countertops, for example made of marble or granite, are particularly effective in a white kitchen and provide a unique and incredibly beautiful contrast to the other kitchen furniture. So if you are looking for stylish and modern inspiration for the interior, a white kitchen with a black countertop is hard to beat. In addition, this kitchen trend has recently become synonymous with chic, elegance and luxury.
What material to use for a white kitchen with a black countertop?
From granite to plastic to glass – the range of materials for the countertops is simply huge. For this reason, choosing the right countertop for our kitchen is unfortunately not that easy.
Countertops made of natural stone look classy and elegant and are always very popular. You can choose between marble, granite and slate. In addition, they are very resistant to cuts, scratches and heat. The marble top was, is and remains the classic black countertop for the white kitchen. A marble plate in design kitchens in white comes into its own particularly well, which not only stand for an exclusive and luxurious design, but also for a high degree of functionality.
Granite countertops are particularly robust, heat-resistant, durable and easy to maintain. If you want to redesign a white high-gloss kitchen black countertop, you are best advised with a granite top. The stone material underlines the high-quality and noble character of the shiny cupboards and fronts in a unique way.
White kitchen black countertop made of artificial stone – The artificial stone is also known under the names of quartz composite, quartz stone and quartz material and is a cheaper and easier to clean alternative to the conventional countertops made of natural stone. Since the material does not have to be impregnated, it is used quite often in the kitchen. By adding different dyes and mirror and glass fragments, many wonderful effects can be achieved that give a white kitchen with a black countertop that certain something.
Other popular materials for countertops are plastic (laminate), concrete, tiles or glass.
White kitchen black countertop – which wall color?
Which color is best for a white kitchen black countertop depends on the living style of the kitchen and of course on your personal taste. The right wall color for the kitchen should create a cozy, inviting and warm atmosphere – after all, this is the place where you have to feel relaxed at home. White is the most neutral color and basically matches all other colors. However, white walls could appear a bit cold and to avoid a sterile appearance, we recommend that you use soft beige and cream shades. It has even been scientifically proven that bright colors in the kitchen have a calming effect on us when cooking.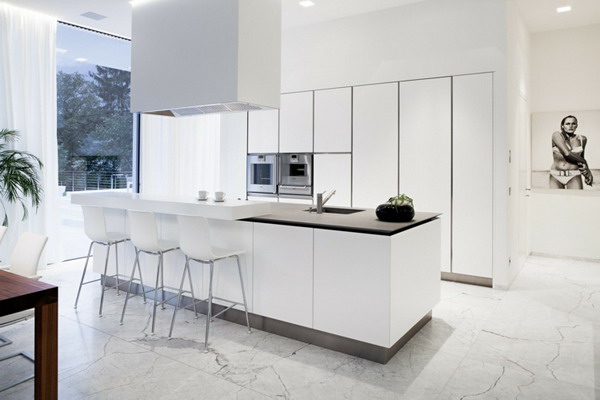 Beige kitchen walls make a kitchen with a black countertop look elegant and classy and the color gives the whole room a warming feeling that feels light and also a little romantic. Since the white color reflects the light and makes every room look larger in this way, you can also paint the walls in a darker and saturated color. Light gray walls create a great contrast and a glitter wall color with delicate silver particles looks glamorous and elegant. However, if you are still unsure which color combination will work best for your kitchen, you could simply take several color cards home with you from the hardware store and then compare the colors at home in peace.
Kitchen trends 2025: further inspiration for white kitchen black countertop
This photo is clear proof that a white kitchen with a black countertop can be adapted to any living style. The pendant lights and the rest of the home accessories are a great contrast to the white kitchen furniture and create a feeling of warmth and comfort.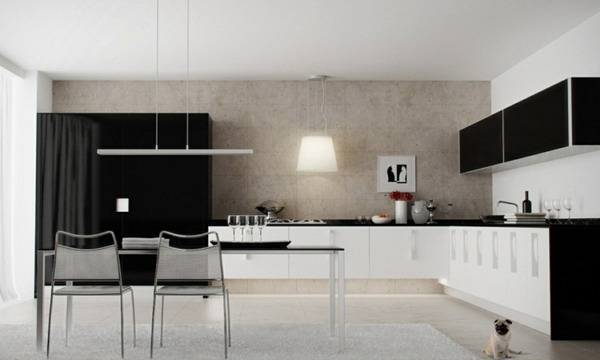 White kitchen cabinets give the room style and character, while a black countertop provides more dynamism and a fashionable touch.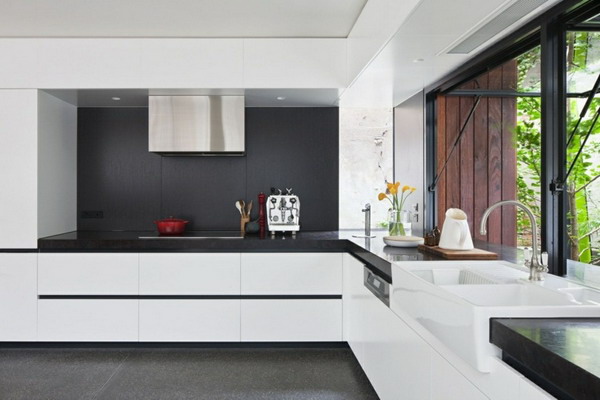 The floor, which is color-matched to the kitchen countertop, ensures uniformity and harmony throughout the room.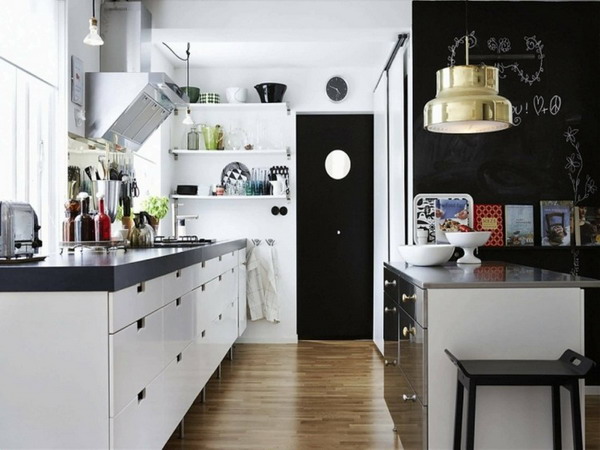 Would you like to spice up your white kitchen black countertop a little? What do you think of tiles, for example? With countless variations of patterns – either geometric or with different embellishments – they are the perfect choice to give your kitchen a refreshing touch and to provide it with energy.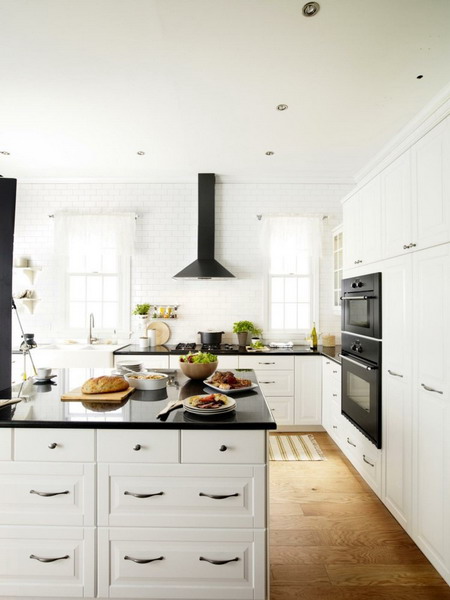 As you already know, the color white is the basis of the Scandinavian style of living. In combination with various elements made of wood and a black countertop, your Scandinavian kitchen becomes the epitome of contemporary style.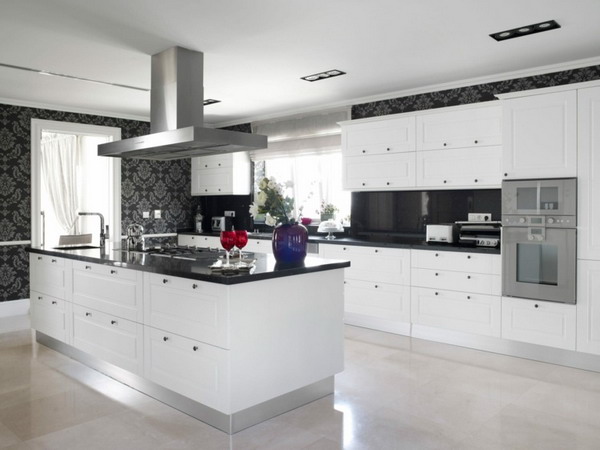 It is no wonder that black and white kitchens are among the most popular kitchen trends in 2025. Take a look at the kitchen shown above – all elements and cupboards are super modern and provide both an aesthetic and elegant, as well as a cozy atmosphere.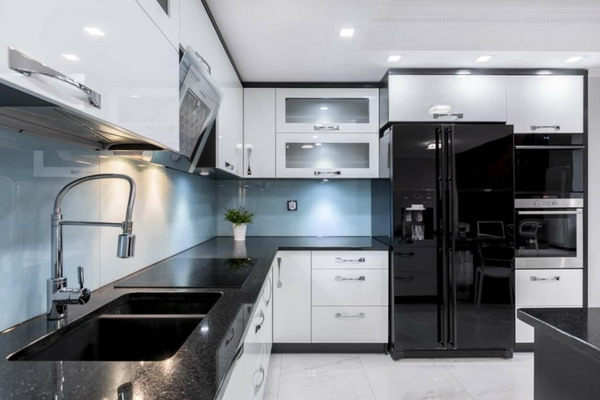 Spacious, clean and bright – this white high-gloss kitchen black countertop radiates luxury and timeless elegance and enchants us with its flawless design.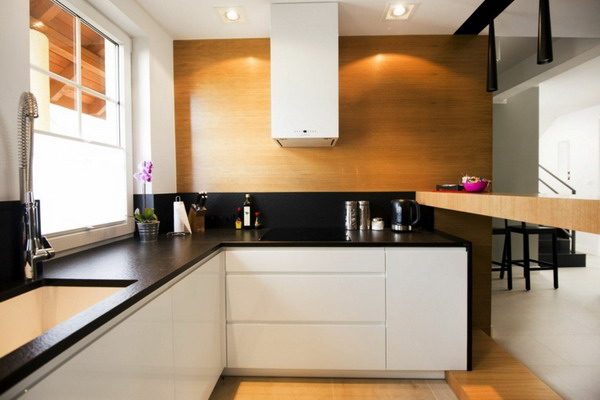 In order to give the kitchen a truly individual and elegant character and keep it as warm and inviting as possible, you have to think of every little detail.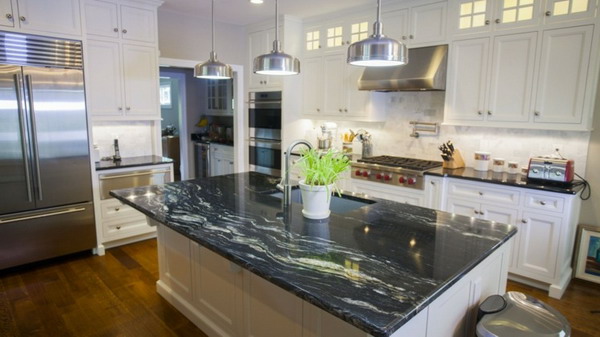 Beautifully shiny and particularly glamorous – the marble top gives the room a noble touch and creates a great contrast to the rest of the interior.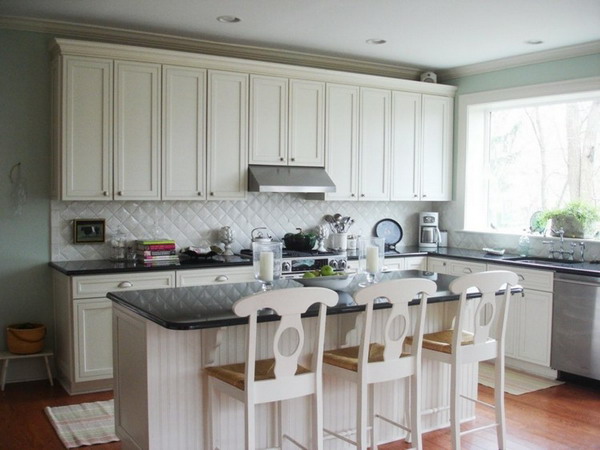 Even light blue shades look pretty good as a wall paint for a white kitchen and provide a summery feeling.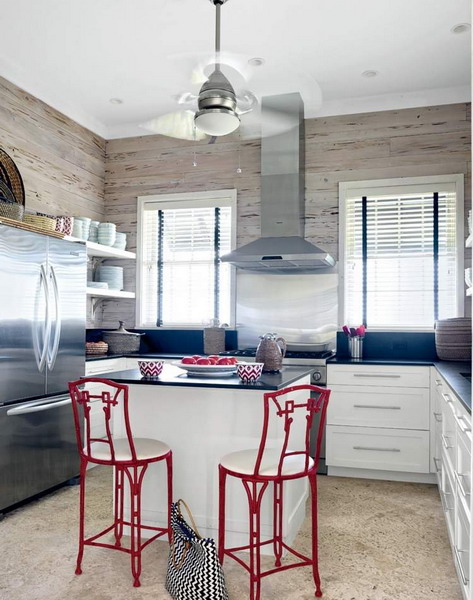 Nothing beats colorful furniture, such as red chairs, which revitalize the white kitchen with black countertop and create an atmosphere of happiness.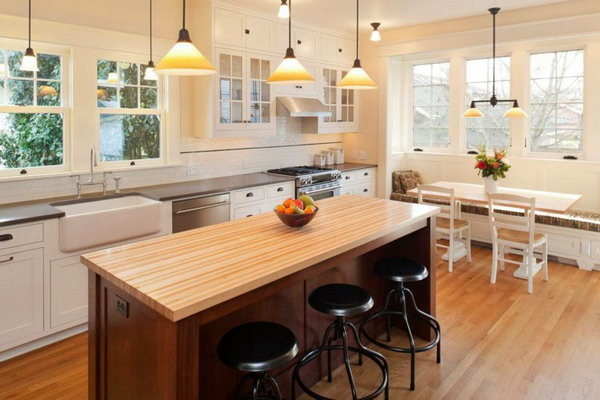 Let's look at an example where light wood for the kitchen island and floor gives the whole room freshness and elegance.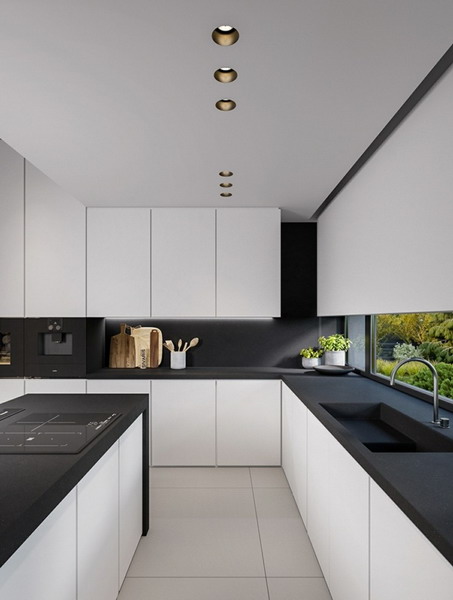 The minimalist style of living is increasingly used in kitchen furnishings. The main thing is to forego all unnecessary details, accessories and elements – this way you achieve an airy and calming atmosphere.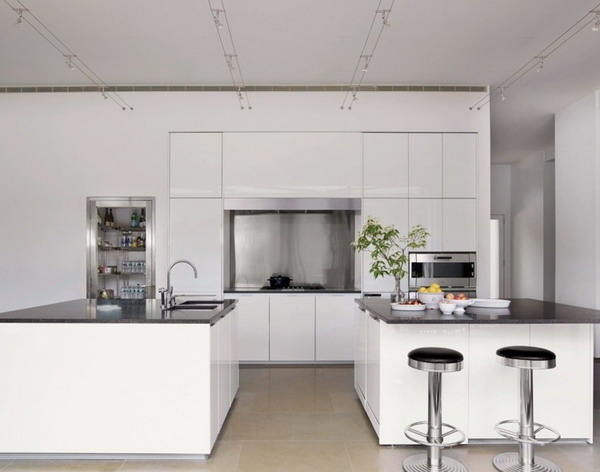 White high-gloss kitchen black countertop is synonymous with sophistication and elegance.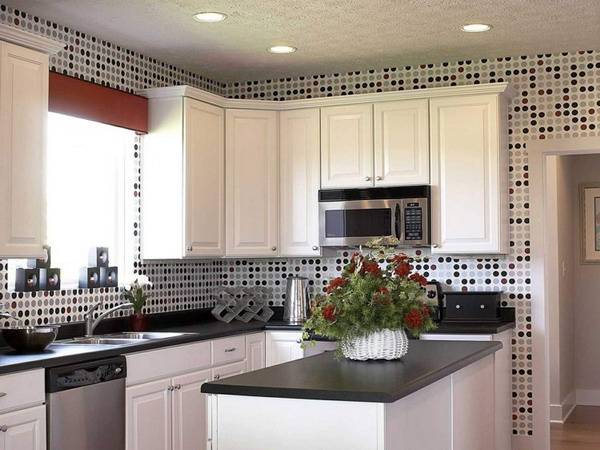 Looking for inspiration for your small kitchen? Then you are well advised with the black and white combination – it makes the room look much more lively and larger.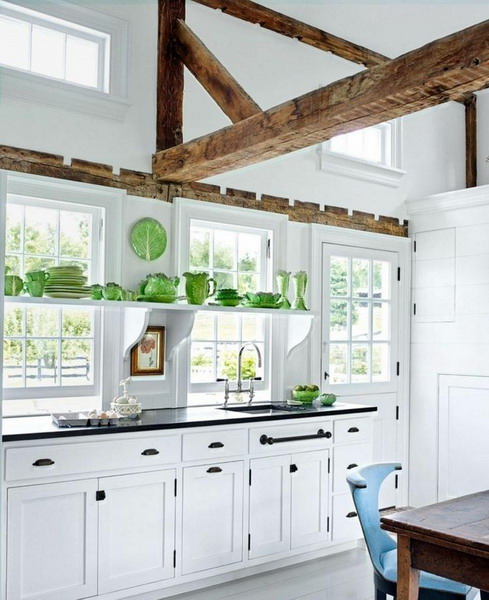 White and wood also work pretty well for the kitchen and create a chic, cozy and very harmonious atmosphere.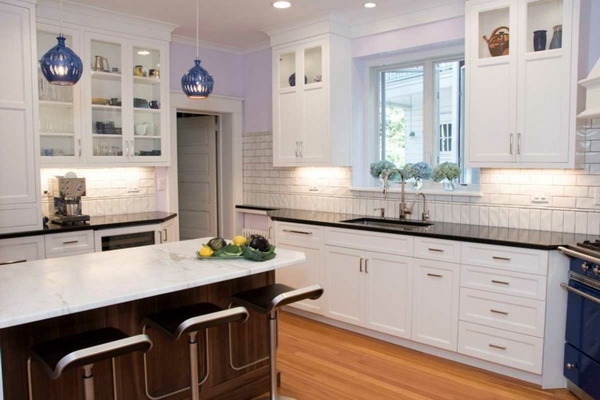 The beautiful wooden floor complements the black countertops and gives the room an airy feeling. The lilac-colored wall looks subtle and very elegant.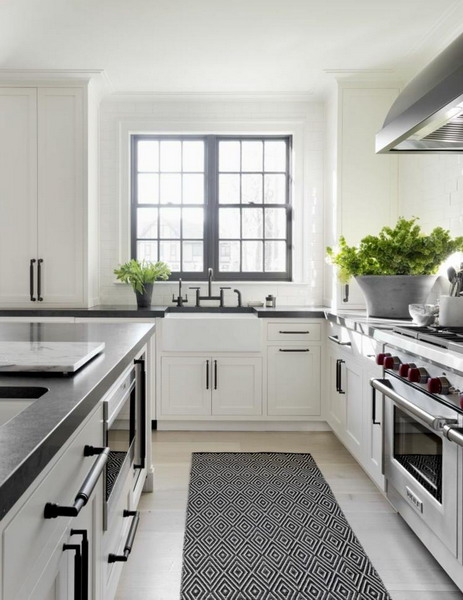 The carpet is an indispensable part of the decor in a white kitchen and plays both a practical and an aesthetic role – it keeps our feet warm in winter, protects the floor and contributes to the decoration of the room in a wonderful way.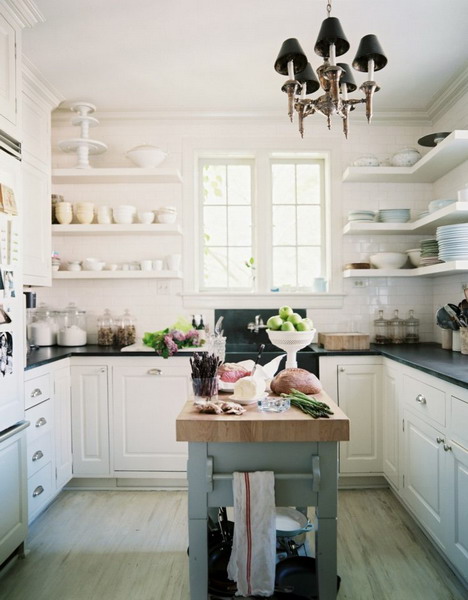 The key to successful kitchen furnishing and decoration lies in the perfect balance between what is currently trendy and what makes the room pleasant, inviting and functional.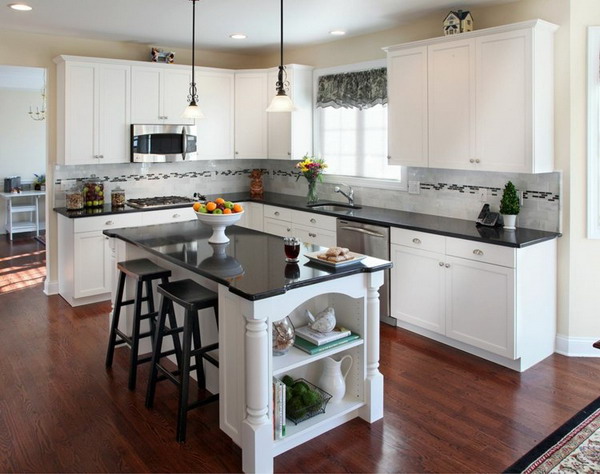 Elegant, modern and timeless – this kitchen offers a friendly atmosphere that invites you to spend pleasant hours with family and friends.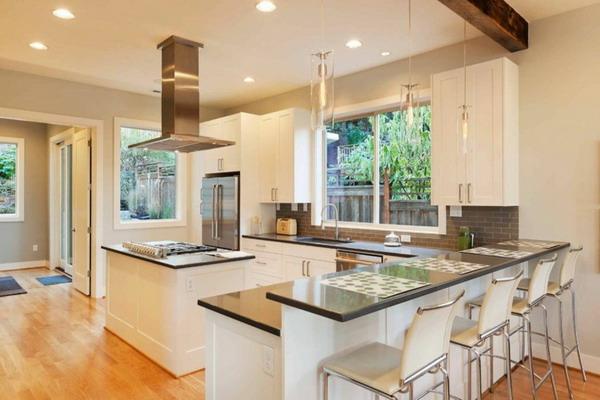 You can freshen up your white kitchen black countertop by adding a few cool and stylish accessories like designer pendant lights. Sometimes it's the little details that make a room so beautiful and unique.