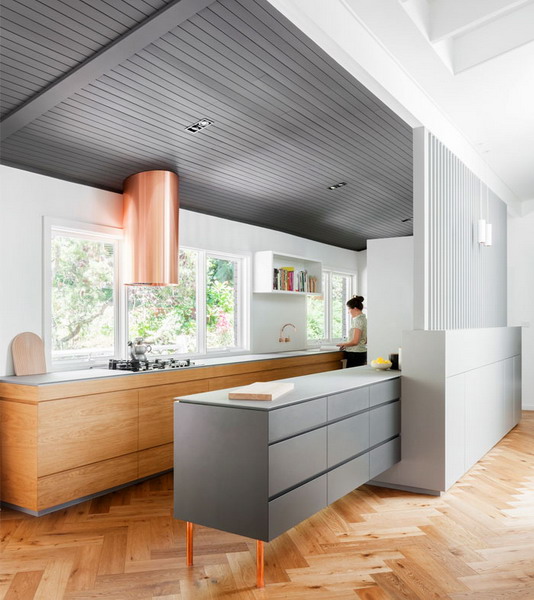 A few decades ago, the kitchen was hidden at the back of the house. It was a place where they cooked and washed dirty dishes. Fast forward to 2024, and it will play a completely different role. Today, the kitchen is the center of the house, and now instead it is on display in all its beauty and warmth in the very center of the house.
Culinary spaces have changed a lot over the past decades and planning or remodeling is also very important. Technological progress and changes in social dynamics have made a great contribution to the development of modern trends. As with any modern design trend, clean and simple styles have become favorites for homeowners.
New trend number 1. Smart Kitchens
Technology has come into full force and not only in the form of fancy gadgets and household appliances. Today, you can see the kitchen with technology integrated into every function – from taps to the refrigerator to lighting. This is what we call smart cooking.
Lightweight add-ons are kitchen taps equipped with Motion sense, which can sense the presence of hands under them and automatically turn on or use the one-touch function. Refrigerators that can alert you when your products run out or the coffee maker is programmed so that your coffee is ready when you wake up. There is also a gadget that monitors the readiness of eggs, telling you which ones are undercooked.
Integrated kitchen technologies are becoming increasingly popular as homeowners experiment with new technologies. This is one of the biggest new kitchen trends in 2024-2025.
Kitchen decor trend No. 2. Dark shades
Although white cabinets are a classic look that can be used in almost any style, we are slowly starting to see them at the exit! We expect white to begin to decline in popularity during 2024-2025, so expect to see kitchens in different colors of paint.
Colors will be most popular in shades of blue and green. In addition to these neutral shades of nature, there is another color palette that breaks into the kitchen – dark precious tones: black, dark blue, emerald green and even plum. It will surprise you with how well dark kitchen cabinets can work in and / or improve the kitchen space with its luxurious feel.
Dark kitchen furniture is full of elegance and a deep rich luxurious atmosphere that other options simply do not create. However, you should be careful, as dark colors can crush space and make the kitchen small. But more and more homeowners are becoming bolder and are choosing a dark kitchen set and kitchen furniture. Expect to see tons of black and dark shades, as this is the new trend of 2024-2025. Take a look at the new design trends below.
New kitchen trend number 3. Streamlined designs, materials and textures
Kitchen designs are becoming more streamlined in their overall aesthetics. They will continue to be a huge trend during 2024-2025.
Removing the top wall cabinets has become a growing trend in the last few years as it opens up the visual space, making the small kitchen much larger and brighter. This allows you to use the space more productively. Not to mention the fact that most people can't get to what is on the upper shelves of the kitchen. Although open shelves would be a great alternative if extra storage space or a focus element is required.
Open shelving, raw wood bring natural elements and a more industrial design. Natural stone floor tiles or kitchen aprons that are sculpted, beveled, or stacked make for an amazing trick. These interesting textures are very different from the usual polished or glossy coatings that we see everywhere. Caisson, tray and wooden beams are the perfect new trend of 2024-2025.
There is a noticeable growing new trend of 2024-2025 towards softer and more neutral colors. More and more homeowners are choosing colors such as: gray, dark gray, cream or white. This definitely follows the trend towards cleaner styles seen in most home spaces.
It is important to note the growing popularity of composite sinks. These are sinks made of the same material as the countertop. This creates a cleaner, even look and makes cleaning with maintenance much easier. However, it will be a tough battle against the still very popular stainless steel and farm sinks.
If you look at modern designer kitchens, you will find that the classic materials that you expect in kitchen facades, countertops and household appliances have now been replaced by very unusual building materials. Of course, this is always a wallet issue, because some surfaces are more expensive than others. However, the kitchen trend continues with an unusual selection of material.
In particular, four materials are preferably selected:
marble
strained glass
concrete
ceramics
This sounds unusual at first glance, because ceramics will most likely be in the bathroom and concrete in the basement, but using them in modern new kitchen trends makes sense. Thus, classical marble is characterized not only by a very high-quality appearance, which can no longer be used only on the countertop. Tempered glass surfaces add a glossy finish to the entire kitchen and, combined with coordinated lighting, can create a great color effect. In addition, the glass surface is very scratch resistant and can be well maintained from a hygienic point of view.
Even concrete is very scratch and heat resistant. In addition, it can also be well cleaned. Last but not least, ceramics can win with its variety of design possibilities.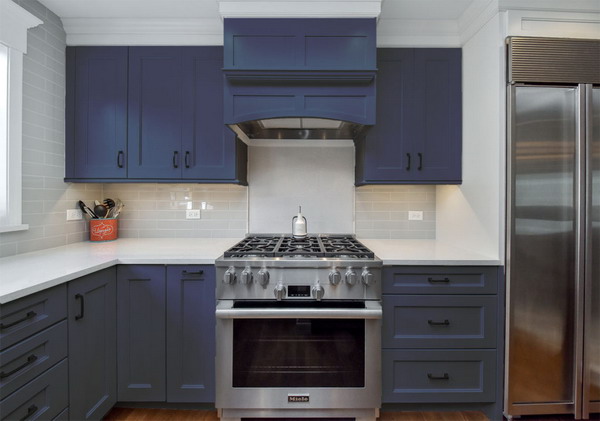 The usual spatial structures, according to which the kitchen and the rest of the apartment were visually and functionally separated, have long disappeared. And to be honest, this is actually nothing new.
Today you don't have to decide which room you will receive guests in, because modern new kitchen trends and concepts with separate kitchen islands, a bar counter and a comfortable interior make your stay in the kitchen as comfortable as in the living room on the sofa.
Let these new trends serve as design ideas for your 2024-2025 kitchen. These ideas combine the best in functionality and aesthetics to create a cozy culinary space.