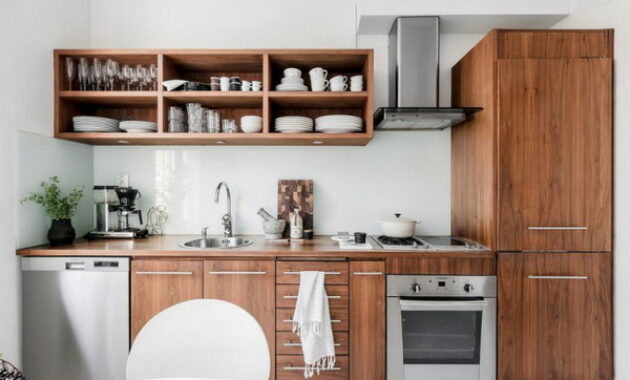 In any apartment you can make your dream of a beautiful and cozy kitchen come true. Following modern trends in interior design, any kitchen, regardless of its layout and size, can be turned into a favorite place in the house for all household members.
Kitchen Interior Design 2022
The exterior of a room is the most important step in kitchen remodeling. Sometimes it is enough to re-glue the wallpaper to change the room beyond recognition.
1. Fashionable colors
Light tones, natural colors dictated by materials (wood, glass, brick, stone) and minor color accents are the main trends in kitchen design in 2022.
White has been declared one of the most popular colors of the year, so a kitchen decorated in one of the shades of this universal color will definitely match modern trends in interior design.
Another trendy color will be brown and its shades – from light to rich. This trend is driven by the eco-trend in interior design.
2. Combining spaces
Still one of the popular trends is zoning and combining premises. It can be a combination of kitchen and living room, balcony and kitchen while maintaining the visual zoning of the room.
Combining two rooms is one of the best ways to expand your space. Despite the fact that such redevelopment requires appropriate permission, it is justified in the future. A studio apartment is fashionable, relevant and spacious. Instead of two small rooms, you get one large one.
In the case of combining the kitchen and the balcony, there is an option of incomplete combining while preserving part of the wall. However, if the wall is completely demolished, the balcony must be additionally insulated. But even a small balcony space significantly increases the small area.
The kitchen space can be separated from the living room by a decorative partition, a bar counter or a dining table. Often times, visual separation is achieved with light. For example, spot lighting is used in the work area and central lighting in the living room.
3. Brick wall
The raw brick wall is a nod to the loft style. Such a solution will fit well into the kitchen, where the surfaces are made of wood and a lot of metal elements and details.
A painted brick wall can complement a Scandinavian or eco-style interior.
Brick, due to its texture, looks very stylish, and interiors with masonry look actual, modern and original.
4. Wallpaper with floral print
The floral print is often used in Provence style interior decoration. Modern fashionable kitchen design involves the use of floral prints in other styles, for example, eco or French.
For an eco-style, you can choose wallpaper with a floral print or floral ornaments. Country-style décor also rhymes well with flowers of all shapes and sizes. In any case, the floral pattern on the wallpaper looks very cozy.
5. Stylish apron
An apron can be the only accent in the interior. This is a popular technique for minimalism.
In this case, furniture and decoration are chosen in completely neutral colors, and for the apron, bright tiles or washable wallpaper with a 3D pattern or just a pattern are used.
Kitchen Furniture and Appliances in 2022
In addition to decorative finishes (wallpaper, apron) and room layout, an important point is the choice of furniture and equipment.
1. White kitchen
One of the most sought-after modern kitchen interior ideas in 2022 is an all-white finish with white furniture and appliances.
See our catalog for real examples of such kitchens.
A snow-white space can be diluted with rare color accents, for example, fresh flowers, dishes or lamps.
An all-white kitchen is a real trendy squeak that's really worth the investment.
2. Without upper fronts
The popularity of kitchen cabinets with doors is dwindling with new trends in open shelves.
Open shelves look organic in the style of country, boho, Scandinavian. This technique is suitable for both large and small spaces. Open facades visually increase the space due to the air and the absence of overhanging heavy cabinets.
In large rooms, open shelves will create an atmosphere of coziness, because, in addition to dishes and kitchen utensils, you can place interesting decorative elements and bright accessories on them.
Open fronts look good in any kitchen: corner, linear, etc.
3. Vintage technique
Surprisingly, the trendy interior of a modern kitchen is not a high-tech room, but a cozy country-style room.
Vintage-style furniture fronts and appliances hidden behind retro fronts are the hottest kitchen trends in 2022.
Even if you have a room with an ordinary refrigerator, it can be built into a special cabinet decorated in vintage style.
Of course, such furniture and appliances will most likely have to be made to order, but in some antique stores you can buy, for example, an old coffee grinder or a retro French press, which will become an interior decoration
4. Bar counter
A bar is often used to separate the kitchen from the living room. This interior element still looks stylish and modern. In addition, the bar counters are very functional and can even replace the dining table.
You can also put a rack in a small room. If you choose not simple, but multifunctional, then it will replace not only a dining place, but also kitchen shelves for storing dishes and products.
5. Kitchen with an island
The island is an additional work area. Modern kitchen design involves the use of the island for large spaces.
For a small room, a bar counter is best, and a large one can be zoned using an island, which is usually installed in the middle. It can act as a dining and work area, as well as a place to store utensils and dishes.
6. Working area by the window
The trend comes from America – the working area by the window. Open windows by themselves increase the space well, and therefore installing a countertop opposite the window sill is an excellent solution for the exterior design of the kitchen and for its functionality.
If the countertop is also a window sill, then this is a very fashionable and modern idea. In this case, it is better to abandon the curtains, leaving the window completely open. So in the kitchen there will be even more space due to the light from the window.
7. Sofa in the kitchen
Fusion in the design of premises has been very relevant lately. The mix of different styles within one room creates a unique atmosphere.
If there is a sofa in the dining area, then this adds a hundred points to the comfort of the room. A soft sofa with matching upholstery or covered with an interesting blanket will perfectly fit into any kitchen, up to the loft style.
In addition, the sofa can act as a space divider into zones if it stands between the living room and the work or dining area.
Kitchen Decor 2022
Decorative elements and accessories can completely change the interior, bring a share of comfort and home warmth to it. Fashionable decor novelties not only look beautiful, but are also functional in nature.
1. Inspiration from nature
Eco-trend today is one of the most popular in interior decoration.
In a completely minimalistic kitchen, it is appropriate to place flowers in pots, and loft-style decoration does not do without wooden countertops at all.
Natural materials are not only beautiful, but also environmentally friendly and safe for health.
2. Unusual chandeliers
The original chandeliers fit perfectly into the loft style, but in the Scandinavian and other interior trends that are currently fashionable, unusual lamps look catchy and relevant.
A chandelier can become an accent in a minimalist interior, and a floor lamp or sconce will add coziness to the room.
3. Wall decor
In modern urbanistic styles, active wall decor with posters and graffiti has been used for a long time.
The loft style is characterized by paintings by contemporary artists, posters, wall clocks, mirrors in forged frames of the original form.
In country and its branches, decor is also used with paintings, but they should depict, for example, still lifes. You can also use retro posters, posters and signs.
4. Playing with light
Light can be not only functional, but also a decorative element: for example, in the form of garlands and spotlights.
Garlands look harmonious in the aesthetics of urbanism, therefore, if you have organized brickwork in the kitchen, then garlands on it will be very appropriate.
5. Vivid colors
Color accents are good even in complete minimalism. For example, in a completely white kitchen, you can arrange multi-colored lamps.
A bright apron in the work area, colorful pop-art chairs, colorful cups and other dishes. The main thing with color accents is not to overdo it.
6. Wine shelves
Shelves with holes for bottles look truly original in a city apartment. Without exaggeration, this technique is considered the main fashion trend in kitchen design in 2022.
Wine shelves will fit into any interior, except for a frank hi-tech, and in this case they can be correctly placed.
7. Electric fireplace
Live fire is the best way to create a cozy home. In a city apartment, an electric fireplace will help create the illusion of live fire.
For a small kitchen, this option is unlikely to be suitable, but for a spacious one or combined with a living room, this is a good solution.
8. Minimalism
Among the trends that smoothly transitioned from last year is minimalism. Lack of decor, jewelry, textile elements, bright accents are in vogue today.
The hottest trend is the minimalistic white kitchen.
In line with fashion trends, the most fashionable kitchen is minimalistic, functional, but with characteristic details: for example, flowers in pots or retro posters.