Today we will talk about modern ideas in the design of the kitchen, learn about the latest kitchen interior trends in 2025, look at the photo of the new interior.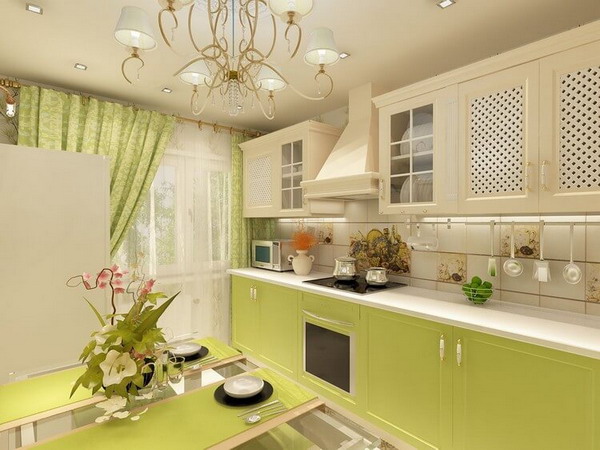 Proper arrangement of the kitchen plays a big role in everyday life. Many families have preserved the tradition of getting everyone together for dinner, discussing how the day went. That is why this room should be one of the most comfortable in the apartment, and the atmosphere should have a good mood.
Popular kitchen interior trends of 2025
Designs in the coming year are distinguished by their simplicity and practicality. The focus is on minimalism and convenience. This year's kitchen should be designed concisely and clearly so that as much free space as possible remains. A minimum of scenery, simple and comfortable furniture.
The room should be not only spacious, but also bright. For good daylight, it is best to use translucent light curtains, and for the evening, purchase powerful lighting products that match the style of the kitchen.
Naturalism, naturalness remains popular. This applies to both the appearance and the arrangement of the home. The furniture should be made of quality wood, curtains are best purchased from natural fiber, such as linen or cotton. Finishing can be natural wood, stones or glass. The use of ceramics and metal is acceptable, but it is desirable to preserve naturalness.
Simplicity and modesty should not concern kitchen appliances. This year you can and should use all available modern appliances, such as food processors, built-in hobs and other items that can greatly simplify the cooking process.
Wallpaper and curtains in the kitchen should be in harmony with each other.
What style is better to decorate the kitchen?
The style of design largely depends on the size of the room and the personal preferences of each family member. There are many different interior solutions, among which there is sure to be suitable for any home. The main rule is that the design of the kitchen harmoniously fits into the overall design of the apartment.
The most popular in the coming year will be styles in which minimalism is appropriate.
High tech. A modern style that combines a minimum of furniture with a lot of modern technology. Free space is occupied by food processors, ovens and programmable ovens. Almost no decorative elements. Metal is most often used as a finish; it can be replaced with glass.
Modern. Simple, but very original style, with characteristic non-standard forms. It gives great scope for fans to experiment with space and color. A combination of unusual color shades and a large number of floral ornaments are acceptable.
Classic. This is the only style that never goes out of style. Massive furniture made of natural wood with decorative carvings, a large crystal chandelier, paintings and antique vases.
In this case, household appliances should be as small as possible. Such a style is suitable only for spacious rooms with a large amount of free space, since the elements of luxury should not create a feeling of crowding and discomfort.
East style. Most suitable for lovers of colorful, but thoughtful decorations that create a single harmonious composition. It is very diverse in itself, since it is divided into subspecies. The Japanese style, which is characterized by modest bamboo mats, is ideally suited to modern trends. An Arabic-style kitchen will look just as good.
Provence. Suitable for those who dream of creating a unique atmosphere of home comfort in the kitchen. Floral or linen curtains with cotton, old antique furniture and brickwork can make the atmosphere romantic and modern.
What kitchen color is the trend?
Natural wood furniture of all shades is becoming the most relevant. You can use neutral milk, beige and cream tones, dilute them with a coffee or chocolate shade.
The classic contrasting combination of black and white, as well as their golden mean – a noble gray palette will be no less relevant . This color combination fits perfectly into many interior styles.
Fans of a brighter and more vibrant interior can pay attention to an extensive palette of natural shades. In the fashion all blue and blue shades, turquoise, green tones.
Of the brighter colors, you can turn to yellow variations. Do not make the kitchen too bright, it can hurt your eyes and quickly tire, so saturated contrasting colors are best used only to create an accent.
An original and modern solution will be the design of the room in one color scheme, but with a large number of shades of different intensities.
For a small kitchen, it is better to use light colors. With their help, the room will seem more spacious and wider. Cold shades will make the room more austere and solemn, while warm shades will help create a cozy home atmosphere.
Beautiful kitchen designs 2025
It is always necessary to pay attention to some details, such as furniture facades. The headset should have a presentable appearance and have useful functionality. Flowers, openwork decorations, watches, paintings will help to dilute the interior.
Dishes can act as an accent.
On a white background, bright spots will win. For these purposes, you can use an apron.
Beautiful modern kitchens love open spaces. Shelves and rating systems are used.
Pay attention to the little things. Filling a free corner, you can make the space convenient and indispensable.
Corner kitchens have their own characteristics. The most important thing is to think over the corner space. You can beat it with the help of additional accessories, decor items, insert a sink, or leave it empty.
The design is selected in such a way that the room remains stylish and comfortable.
How to design a kitchen depending on its size
The most important thing in arranging a room is the availability of free space. The kitchen will be comfortable only if there is enough space for cooking or family gatherings. It is very important to learn how to properly organize the space, while making it modern and stylish.
Small modern kitchen
In cramped spaces, the location of things plays a large role. A modest small kitchen can be both comfortable and stylish.
To visually expand the space, use light colors in the design. The most fashionable in the coming year will be
dairy;
blue and white tones;
cream with a light lemon tint;
beige color.
You can use a glossy surface that will advantageously reflect light. Lighting should be as bright as possible. It is better to use several small light sources.
Another important point can be called organized storage. Ergonomic furniture such as a corner cupboard, folding chairs and a table provides it. When folded, they will occupy a minimum of space, which will greatly facilitate the cooking process, and before a family dinner, it will be easy to lay out a place for food again. It is also worth choosing the most versatile kitchen appliances.
To protect yourself as much as possible in a confined space, it is best to abandon the protruding pens and unnecessary decor elements. Use furniture with rounded corners.
Spacious modern kitchen
A large room gives more room for imagination. The original idea would be to create a kitchen island. The essence of such an interior solution is that in the center of the room is an additional workplace or dining table. In any of the options, a powerful light source should be located directly above the island.
The kitchen island as an additional workplace is especially convenient if several people are involved in cooking. You can approach it from any side, it allows you to stand opposite each other and communicate freely during the cooking process, in addition, all the necessary things are at hand.
The kitchen island option is suitable for a studio apartment. In this case, an extract must be above it so that the smells of food do not hover around the house.
Modern photo ideas for the interior kitchen designs: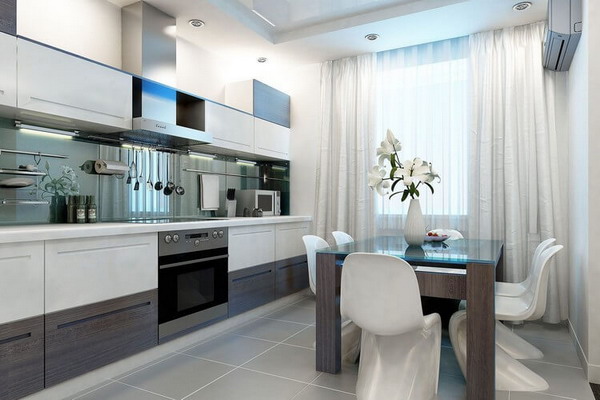 See fashion designs implemented in ordinary kitchens. Get inspired and make your dreams come true!