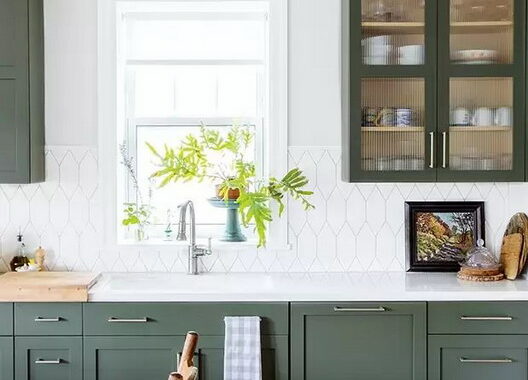 Interior design trends are always influenced by clothing fashion, but the difference is that they change more slowly and it's often small elements or colors that are more present from one year to another!
When you invest $50,000 to renovate a kitchen, you don't want to do it every 5 years! Normally, a kitchen renovation has a lifespan of 20 years, after 20 years the materials start to be damaged and the style is quite outdated! There are always ways to make a timeless design that will pass the time, on the other hand, sometimes it's fun to dare a little in a decor to personalize it and make it unique and original!
As interior designers we are looking for this kind of challenge, which is why I went hunting for 2024 kitchen trends and it looks promising! Your kitchens will look better than ever with a mix of rich textures and colors! In addition, the manufacturers surpass themselves to offer us top quality materials with sought-after designs! Without further ado, here are my finds in interior design and kitchen trends for 2024.
Kitchen trend of 2024: WARM COLORS AND DARK WOODS
Although last year Pantone had released a stone gray as the color of the year 2021 (questionable choice), we are moving to a whole new level this year in interior design and we are diving into earth colors such as beiges, browns pale and dark, terracotta and orange. How will this color choice translate to the kitchen design? First of all, by integrating more and more wood into cabinet boxes, floors and occasional furniture. This year we will see all the shades of wood reappear. Although blond woods are still popular, we will see more and more darker shades like chocolate brown, walnut and mahogany. I know what you're thinking! OMG not the chocolate brown, we've seen enough of it, it's way too dark! I agree, but this time we integrate it intelligently and gently. For example, we will see interior design layouts with a chocolate island and the rest of the cream cabinets and with gold accessories! It doesn't sound like the year 2000 at all. I swear, we're somewhere else! The designer trick is really to mix wood colors with trendy tones like soft green, black or very pale tones like white, ivory and taupe
Kitchen trend 2024: DECORATIVE CANE DOORS
What I love about 2024 kitchen styles is the mix of textures and materials, it creates such interesting and unique designs! Caning is making a BIG comeback! Yes yes! We will see it in all kinds of furniture such as side chairs, entrance consoles, side tables and also in kitchen cabinet doors, of course!! My advice as an interior designer is that when incorporating a different material, there should be at least a reminder of that material elsewhere in the room. So, for example, if you decide to put two pretty caned accent doors in the kitchen cabinets, you can choose stools with a rattan seat to do the recall! Another very relevant designer tip; do not plaster an entire wall of canework door from top to bottom, it would be too much!!
Kitchen trends 2024: VARIED PLUMBING COLORS
In the same vein, the trend of integrating several colors and materials into your kitchen in 2024, we are seeing more and more varied choices in finishing plumbing items. Matte white will be a big must this year! At first it sounds weird, but it's really really beautiful! It gives charm and elegance to the design of your kitchen or bathroom. We are going to see more and more white in the field of interior design such as in taps, but also in lighting and in some interior furniture items. Matte white can also go very well with matte black or brass finish, so it is very easy to integrate into a project.
It is not just white that will be popular, many opaque color hues can be seen in kitchen faucet choices such as soft green, blue and all other colors. I really like the the company for their wide choice of colors available in their kitchen and bathroom products. Rubinet is a Toronto based company, you can buy their product at Ceragres or through an interior designer.
2024 kitchen trends: CANOPIES
Oh yes, skylights are back in interior design for 2024. We had put them aside in recent years, but yet they're so beautiful and it also makes a kitchen wall much less massive by creating depth. Canopy styles are truly limitless now with the types of materials available on the market. First, the doors in black and thin metal frames are popular. The interior finish of the canopy is also important for the style. In fact, we see a lot of black glass doors with the interior of the wooden cabinets, it is beautiful and original. We can even make the inside of the copper-effect metal canopies with integrated lights, the effect is incredible! The possibilities are endless, have fun.
The only disadvantage with glass cabinets is, of course, maintenance. Tablets can become dusty. We must also think about having beautiful dishes to put on display in the cupboard! I still recommend this type of design because the look is sensational!
Kitchen trends for 2024: FINE STRIPES IN RELIEF
This year in interior design we will see the integration of wooden drums everywhere … in the furniture, in the kitchen cabinets and on the walls! I really like this texture because it's different from the shiplap we used a lot in Farmhouse homes, but it's still delicate so easy to integrate into any style of decor.
There are also different varieties to use. First, there is the classic drum made up of small half-moon wooden sticks assembled one after the other. The advantage of this material is that it is flexible so you can make rounded shapes! It's joy because you'll see that I'm talking about rounded shapes in my next trending topic.
Another style of wood texture is a series of raised vertical square sticks. You can do this type of custom design with a cabinetmaker in your area. On the other hand, more and more companies offer products already manufactured in this style so it is more accessible. There is the Quebec company Woodzco, located in Beauce, which makes magnificent oak and walnut products. Recently, the the company also released a very affordable version of this product offered in three colors; maple, oak or mdf painted for an opaque finish. Do not hesitate to contact your interior designer for information about this product.
Kitchen trend 2024: LES ARCHES
If you bought a 70's house that had arches and you didn't take them down, I'm jealous!! The interior design field has appropriated the arches by integrating them into a modern decor and it is quite breathtaking! Here are some ideas for incorporating arches. First, the gypsum arch can be used in a corridor or a division between the living room and the dining room. This creates a discreet and not too heavy division so it's perfect for dividing open areas. In fact, the fashion for open spaces is coming to an end. We want bright houses where each room has its own function so that we feel more enveloped in it.
Another way to use arches can be with arch cut glass dividers/doors. For example, the door to a shower or an accent window in the house. In bathroom designs, we are also seeing fewer and fewer glass showers to make way for alcove showers. That is to say, an all-ceramic walk-in shower with open access without a door. The opening for the shower must be arched of course!
Then the arches are available in all derivatives of interior design, such as furniture, materials, lighting and decorative elements. I have given you several examples of the use of arches, but to make a successful design you have to go with moderation!
Kitchen trends 2024: THE GREEN COLOR AND THE MUSHROOM COLOR
I saved my 2024 color trend predictions for the end of the blog since I wanted to keep your attention until now! In fact Pantone and Benjamin Moore have not yet released their color forecasts for 2024. So I will go with my interior designer intuition justified by my observations of major decoration magazines and what is being done in international.
First of all, greens will be in the spotlight this year, both in terms of clothing and interior decoration. We will mainly use shades of soft green that draw on warmer than cold hues. We will also see a lot of forest green in our interiors, but we are moving away from the dark emerald green of the 2017s. Although I still really like this color, it will give way to calmer and softer colors.
How to integrate green into your interior design project? Well for the design of your kitchen, you can integrate a green island. If you want to go more "all in" I recommend that you make a wall full of green cabinets, the result will be amazing! And as I mentioned above, you can also integrate green finishing plumbing elements, why not!
If ever green is not your favourite, another very trendy shade for kitchen cabinet doors is the mushroom color. That is to say a gray-beige (greige) very soft and warm. It's a subtle color so it will age well over time compared to green which is really special… It's certain that in 10 years you will say to yourself; yes it was beautiful in 2024, but now I'm a little jaded. That's what happens with the big trends so that's why as an interior designer I often advise to go with more timeless choices, but adding the personality of the client.
In conclusion, interior designers won't be bored this year as we have an array of trends, materials and colors to create beautiful, on-trend kitchens in 2024. We look forward to working with rich wood hues, the caning and striped textures, the arches, the new style canopies and the original colors. Challenge us to design your kitchen, we don't lack ideas.