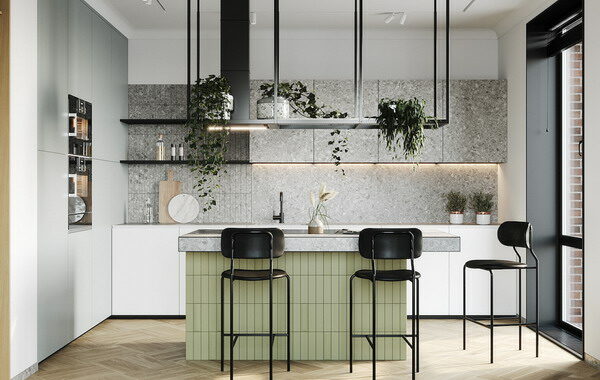 Who says new year, says new trends! And today, I invite you to go with me to discover the 2023 kitchen trends.
Closed, semi-partitioned or completely open kitchen, the choices are many. However, this year, we are giving way to beautiful open kitchens, warm and friendly! Indeed, between center islands or fine windows, your kitchen will be your new meeting place. Both with his guests and in the kitchen, no need to make concessions! Your guests can even get their hands dirty.
So between colors, materials, textures, furniture and layouts, come and get inspired by the new 2023 kitchen trends!
Kitchen trends 2023: a very elaborate aesthetic
The charm of natural colors
The look and aesthetics of a room are essential assets. Indeed, that is what makes all the difference. They set the tone and plunge us into well-defined universes. This year in terms of colors, two choices are available to us.
On the one hand, we have the luminous and natural shades, ever closer to nature. Sage green, water green, pale grey, yellow or even creamy white are the big favourites. It's true, I grant you, the freshness and softness of their color also made me crack.
For example, over the entire surface of a wall or sparingly, water green, jade green or celadon green will diffuse a full of freshness and brightness to your kitchen.
Moreover, it is the same for sage green. A delicate combination of gray green and celadon green, sage green is one of the most natural. The latter brings more authenticity to your interior. Combined with exposed wooden beams, green will accentuate the natural, rustic and rural effect.
Finally, the pale gray or mouse gray immerses us in soft and bucolic waters. Moreover, for followers of the Nordic and Scandinavian style like me, pale gray works wonderfully.
In this example, we benefit from a sublime shades of gray between a mouse gray on the wall and a darker gray on the furniture. Then, in order to warm up the room and break with the limpidity of pale grey, the owners decided to conceal a few woody notes here and there. Parquet, dining table or worktop, these woody shades immediately warm the place.
Add contemporary notes to your interior
Second flagship palette of 2023 kitchen trends: dark colors. Yes, this year we find dark green, such as the fir green very fashionable at the moment, ink blue, the timeless black as well as anthracite gray. These relatively dark colors are becoming more and more charming!
Anthracite grey, black metallic suspensions and shelves, these take us straight into industrial worlds. The wooden floor and ceiling combo come, as usual, to soften the atmosphere with their honeyed nuances.
Finally, refine the look of your decor by bringing modernity by working on the finishes. For example, adding faucets with a matte white, matte black or brass finish will have a small effect, you'll see.
Kitchen trends 2023: reinforce your decor with raw materials
Marble, wood, wood chips and waxed concrete dominate once again. Among the 2023 kitchen trends, we find raw materials. The latter are indeed ideal for reinforcing the character of a room.
So feel free to play between colors and textures. The white and inky blue marble combo, which we saw earlier, works perfectly! Being both resistant and elegant, marble is often the favorite. Indeed, there is only to see! The white marble comes to break the dark and raw aspect of the navy blue, while bringing modernity, elegance and luminosity.
Both raw and soft, wood marvelously combines the natural with the industrial. I think it offers more authenticity. A wooden kitchen instantly brings a touch of nature to a home.
Another possible combination, the natural wood and the stone mosaic credenza, accompanied by open shelves and a matte black worktop with invisible handles. This last combination is perfect for lovers of contemporary universes.
Finally, concerning the floor, tiles with a cement tile pattern or wood effect tiles, are making a comeback this year. I find the idea of wood effect tiles very interesting. Indeed, it is easy to maintain and retains heat, while providing the comfort of a wooden floor.
The great return of wallpaper
Always present in the decoration, the wallpaper also lends itself to kitchens this year. Previously unappreciated, wallpaper has been making a strong comeback in recent years. Thus, in order to satisfy as many people as possible, the designers have specially designed wallpapers for kitchens. So don't be afraid of humidity and splashes, they were developed for that.
There is a very wide range of wallpapers on the market. Vegetal, floral, animal, industrial, exotic or even geometric style, there is something for everyone.
I love this one. The plant covering at the bottom of the room brings vitality to the room. In addition, combined with the black and white pattern of the floor, we benefit from a beautiful harmony between geometric atmosphere and urban jungle. Finally, the fact of having installed a metallic canopy as well as glass suspensions add an additional note of modernity.
Still in this tropical spirit, here is a second trendy kitchen in all its splendour! Indeed, between dark green, fine and minimalist furniture, barely visible handles and vegetable wallpaper, this kitchen really ticks all the boxes of kitchen trends 2023.
Last inspiration with the kitchen of an industrial loft. Here, the owners decided to incorporate a minimalist wallpaper with fine black and white lines. I find this association very successful. Indeed, brown leather stools, black furniture and imposing paintings of buffaloes, the universe is relatively robust and loaded. So adding wallpaper to all this could have overloaded the room and provided too much information. However, with fine patterns, the latter is discreet and blends in perfectly with the environment. A beautiful harmony is thus achieved between each decorative element.
Kitchen trends 2023: between structure and layout
Integrate shelves and racks
Shelves and racks are ideal for aesthetically storing your finest crockery. This year, we are focusing on shelves integrated into the backsplash.
In raw, smooth and well-cut wood or even held in place by straps, wooden shelves continue to charm. Yes, as below, raw wood provides a rustic atmosphere thanks to its irregular lines.
Little tip of the day, opt for a shelf of the material that the wall or the backsplash of your kitchen. This will harmonize and offer a beautiful continuity to your decor.
Opt for discreet door handles
This year, we succumb to the minimalist spirit. Indeed, fine and refined handles, the idea here is to hide them within its decoration so that they are as discreet as possible.
Storage walls, for example, are ideal. Indeed, they reconcile both voluminous storage space and discretion. It's all about subtlety. This arrangement immediately brings refinement and modernity to an interior. Strict and straight lines, the kitchen is full of elegance and sobriety.
Kitchen trends 2023: Design and voluminous suspensions
Unlike invisible door handles, we prefer volume for suspensions. Tinted, chiselled, deformed, metallic, mix styles, colors and materials.
By opting for imposing suspensions, they will offer more volume, character and modernity to your kitchen. Here, for example, the blond wood blends perfectly with the matte black steel dome.
In addition, do not hesitate to mix the shapes. This trick works just as well. Indeed, the opaque glass suspensions offer both a retro note, by their roundness, and a contemporary note, by their material.
I really like the pendant lights from La Redoute, Maison du Monde, Decoclico and Lightonline. These e-commerce sites offer many ranges of lights, each as different as the next. Wall fixing, suspension in steel, natural fiber or even glass, there is something for everyone.
By surfing on the site of La Redoute, I fell for this suspension. In glass, curved and metallic shape, it knows how to impose itself. Moreover, this type of luminaire is ideal for interiors with an industrial style. Indeed, the materials used accentuate and reinforce the robust aspect of the atmosphere. The small specificity here lies in the wood finishes. Yes, these come to soften the robust aspect of the metal, as well as the bulky bulbs.
Decompartmentalize your kitchen
Other layouts that can be noted in the 2023 kitchen trends are the partitions. It's true, I told you earlier that this year's trend was open kitchens. However, fashions adapt to satisfy every craving and desire.
Eh yes ! For fans of open kitchens, you can opt for semi-open kitchens made up of thin partitions. The latter will make it possible to clearly delimit each room, without however brutally breaking up the space. In addition, these small partitions will limit the spread of odors throughout the home.
Regarding design, canopies remain the big favourites. Indeed, the glazed or semi-glazed partitions allow light to pass through, thus spreading freely in each of the rooms.
Among the many existing designs, the ones that appeal to me the most are the metallic canopies. I find that the combination of glass and black metal merges wonderfully. At the same time fine, refined and discreet, these canopies bring elegance and body to an interior. Here, combined with metallic chairs, a round wooden table and a copper pendant lamp, the kitchen is warm and contemporary.
Black marble, furniture without handles, voluminous suspensions and metallic partition, this kitchen definitely has all the codes of the trendy kitchen of 2023.
Moreover, in addition to the metallic canopies, the graphic partitions work just as well. These provide an additional visual element. Indeed, they offer more material and texture to the atmosphere, while remaining very discreet.
The center island and its undeniable charm
Once again, dare size, modernity and practicality! Break the codes of traditional cuisine and adopt the marbled, wooded or waxed concrete island.
Small or large kitchen, the center island lends itself to all surfaces. Originally, I was a big fan of open kitchens and their famous bars. But this year the center island catches my eye and could well make me capsize.
Indeed, the center island has the power to create a friendly atmosphere. The kitchen then becomes a gathering place where everyone can get together. The host can thus cook while taking care of his guests.
Thus, in marble, wood, concrete or more, all desires are allowed! Let your imagination run free. Fan of retro and rural atmospheres? Here are islands that you might like! Molded furniture and marble or wood worktops, choose the one that suits you best.