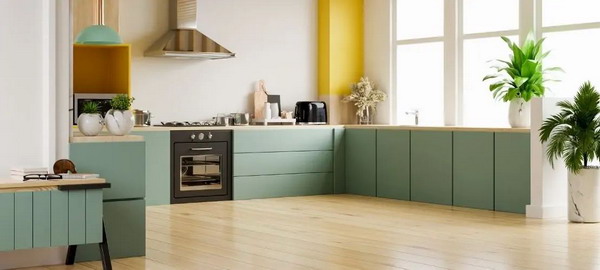 The kitchen is the friendly space where adults and children gather. It wants to be practical and functional but not only. We think of making it aesthetic and luminous by choosing suitable colors and materials. Kitchen trends 2024 are changing because our lifestyles are also changing. The kitchen no longer only meets functionality criteria but offers many more possibilities. We tell you everything.
What do we expect from a modern kitchen in 2024?
The modern kitchen must meet certain essential criteria:
Of course, be functional : depending on its size, we will look for a layout that allows you to cook efficiently and without unnecessary fatigue (example: large storage drawers, central island in a large kitchen, equipment adapted to our needs, space-saving furniture in a small space, etc.);
Being friendly : the kitchen is the place where the whole family gathers and the circumstances of the health crisis, including confinement, have only made this trend grow. Children cook there with their parents, draw or do their homework there, the family gathers around a table, etc.
Being adapted to our new lifestyles : after this health crisis, many people were able to organize their time to stay in telework. It is not rare that, in a somewhat small apartment, the room where one works is the kitchen. We adapt this place to work in a studious and comfortable setting (additional connections, lighting, adapted table, etc.);
Being easy to maintain : because spending our time cleaning means having less time to take care of others, we want to make life easier by choosing materials that are easy to live with and maintain (washable and low-soiling floor, easy-to-clean walls, functional worktop, practical and easy to maintain, etc.);
Bringing out the natural : whether in materials or equipment, we are looking for something sustainable and ecological. We monitor the energy labels of our household appliances to reduce our carbon footprint. We use non-polluting materials, we choose renewable energy sources to heat us and cook our food. We take out of the cupboards all the utensils that are dangerous to health, such as the plastic that contains bisphenol A from our food boxes and our cutlery. We are replacing plastic materials with more ecological and more trendy wood (for our storage lockers and our kitchen utensils).
Fight against food waste by consuming better and healthier. Organize your storage and your pantry. We organize our cellar or we reinvent it to store products more intelligently and in complete safety. We adopt storage methods to go to the essentials;
We bet on plants: as the kitchen becomes a place of life in its own right, we do not hesitate to include one or two green plants or to install a small planter near a window to grow very useful aromatic plants. to cook!
Whether open to the living space, semi-open, closed, with a canopy  that creates more light, large or small, all kitchens are intended to be the central room of the house and the place where everyone love to meet.
We take more time to cook and innovate thanks to the more widespread enthusiasm for gastronomy. With the internet and tutorial videos, everyone is stealing new recipes and trying to create with their hands instead of succumbing to the appeal of ready-made dishes. A tendency to want to eat healthier while avoiding food waste which will encourage us to be more difficult about the choice and layout of our future kitchen or to want to renovate our current kitchen to make it more suited to our current needs.
Color trend 2024: we opt for softness in the kitchen
To rediscover harmony and nature after a long confinement, the colors that seduced us the most recall this natural spirit that we seek to recreate at home.
We opt for soft colors such as pastel colors that we choose with a matte finish to give style to our kitchen. We do not hesitate to combine colors to create effects such as sage green associated with Terracotta, also a trendy color.
But bright colors are not excluded and among the trends of the year 2024, we will find all the shades of blue, green and pink, whether in pastel or in more frank, even lively tones. We find, for example, duck blue, very trendy in all rooms of the habitat, but also shades of purple, such as Very Peri (Pantone) which is elected color of the year 2022!
Other colors are entering the 2024 trend such as wine-red or cognac. We continue to have in our color palettes, the timeless ones like beige associated with small touches of black.
To revitalize our kitchen, we also have the right to choose a mustard yellow or an emerald green  two colors that slam and bring vitamins to this living space.
What materials to choose for the kitchen splashback?
The credenza is one of the essential elements in the kitchen and the choice of materials and materials will focus in particular on cement tiles and zellige.
But to sublimate a modern or old kitchen, copper splashbacks will have no equal!
As for zinc, it will be perfect for a modern design or a loft style because industrial decoration is always on the rise.
Materials trend 2024: long live the mix & match in the kitchen!
The 2024 trend is to mix and match materials. The different types of wood  (from the darkest to the lightest) go well with lacquers, metals or even natural stones, depending on the desired effect.
For example, you can equip yourself with a natural stone splashback or change the work plan and opt for a chrome mixer tap. And we don't forget the natural inspiration that remains on the front of the stage in 2024. Why not opt for recycled wood? Bringing a compost bin into the kitchen? Choose wood over plastic?
The functional in the kitchen and the return of retractable elements
In the 80s, the retractable and very functional kitchens had a boom! Still, for those looking for functionality in a tiny space, this is the takeaway idea. For a small kitchen or for a space whose functions are expanding more and more (kitchen + nursery + telecommuting, etc.), you need to arrange the space of this room well and retractable elements are appreciated! (retractable doors, practical and cleverly designed wall storage, well-designed lighting to adapt to small spaces).
What style to choose for your kitchen in 2024?
Alongside the wood trend, some kitchen designers will find vintage styles inspired by the 1950s. The materials combine marble worktops, wooden facades with triangular shapes.
The Danish style, called hygge, offers a monochrome overall look, soft tones and particularly minimalist lines.
And as the trend tends to work from home, for those who can, telework inspires kitchen designers who will surprise you with home office kitchen styles, where there is a space dedicated to office work!
For a very Art Deco style, we will bet on accessories in trendy materials such as brass for door handles or taps and we can even find household appliances in golden colors and materials.
The Scandinavian trend, "slow life" spirit is still relevant and brings together soft woods and objects that bring comfort, peace and well-being. We accentuate the cocooning spirit while ensuring that the kitchen blends in with the aesthetics of a living room when it is fully open, opting for discreet facades and furniture without handles, retracting certain elements to hide it from the view of visitors (example: we hide elements such as the extractor hood or the cooking plates).
Melamine is also very trendy in 2024 to cover the facades in our kitchens. These melamines can perfectly imitate different materials such as wood, marble, natural stone, etc. Melamine greatly simplifies the maintenance of the surface and above all it costs much less than the imitated material!
For the style of furniture, the trend meets the desires of consumers who always favor lacquered furniture. However, glossy lacquers lose some ground to matte finishes which also avoid fingerprints. Kitchen designers offer varnished melamine fronts with sometimes matte finishes, sometimes glossy finishes to meet everyone's tastes. These varnished melamine fronts offer the advantage of reducing the cost compared to genuine lacquer.
How to choose your work plan in the kitchen?
If you want to renovate your kitchen and follow the 2024 trends to redo your worktop, know that, like many consumers, you will mainly study quality. A survey carried out by Mobalpa has highlighted this major trend among kitchen buyers: quality always comes first when choosing a worktop.
The big trend is for laminate, which makes it possible to perfectly imitate natural materials while providing quality and a lower cost. In addition, the models offered on the market may have received a water-repellent treatment to make them particularly resistant to humidity, which further enhances their qualitative aspect.
The favorites then go to natural materials such as real stone, but also to quartz, ceramics  and new fashionable coatings such as Silestone (mixture of high quality materials and recycled materials) which is particularly resistant to shocks., stains and heat.
Optimized storage in the kitchen
Kitchens tend to become more personalized and manufacturers can follow this trend by offering "regionalized" kitchens. The kitchens of the southwest will bet on "local" decorations. We do not hesitate to suspend Espelette peppers which create a decorative asset and a welcome touch of red in a kitchen that is a little too sober.
Above all, we want to stand out and not have at home the cuisine that we find everywhere else. This is why kitchen designers are expanding the offer, such as, for example, the manufacturer of Schmidt kitchens, which is extending its catalog offer by offering 4 exclusive printed decors: Art Deco, Casablanca, Jungle, block and two colours: a deep blue ( Navy) and a wood color (Twist).
Personal work will also operate. We will not hesitate to optimize the entire surface of our kitchen by adding storage or by imagining a pantry in a dedicated space. We will not hesitate to get help and advice from an interior designer or an architect for the optimal layout of the space because the layout of a kitchen deserves as much thought and care as the layout of a living room.
In terms of storage, we want ergonomics in our kitchen. Today, it is no longer a question of not having everything on hand when embarking on a recipe. But robots, saucepans, appliances of all kinds are cumbersome. The kitchen designers have developed functional and retractable furniture to hide what you want and give a clear view of the kitchen when you are not using it. It is also the inspiration for Japanese-style storage, a country where every square meter is profitable because the price of real estate is exorbitant. However, the Zen spirit and minimalism are always present in these skilfully arranged spaces. We are rethinking the organization but we are also including ecological and anti-waste data ! We rethink the bins hidden in a retractable piece of furniture to organize our selective sorting, we reorganize our pantry differently to have everything in view and simplify our purchases without over-consuming.