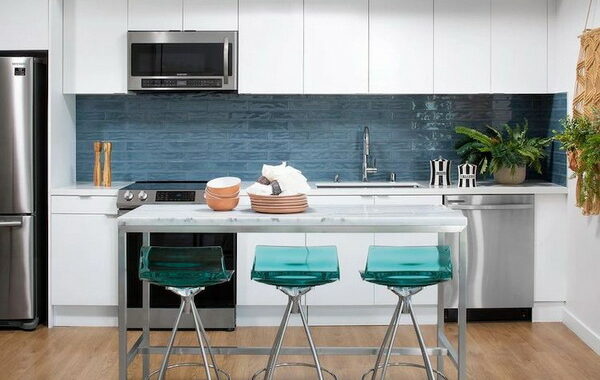 From sustainable designs to playful colors, the current kitchen trends 2024 offer sufficient inspiration for creative kitchen design. There are plenty of options this year for practical storage and stylish retro-style kitchen interiors.
When planning a kitchen project, you can keep up with the most popular kitchen designs. In this way, your kitchen not only stays up to date in terms of materials, colors and equipment, but also uses innovative interior design solutions. Here are some examples that show a stronger connection to nature and put style first.
Send ideas for creative kitchen design according to the trends
There's a reason many people consider the kitchen the heart of the home. The shapes these spaces take and the way they change from year to year says a lot more about personal taste than just what color is trending. In addition, they reflect the owners' priorities for the optimal design of their own home.
The desire to be closer to nature and to integrate it into the design of interiors is reflected in this year's color trends for interior paints. Although these can point you in the direction of modern style, you should make sure that you can really enjoy your kitchen. Trends come and go, but investing in a new kitchen will help you make the most of that space for years to come.
The latest kitchen trends come from a number of sources. For example, kitchen designers may find that more and more of their customers are asking for specific styles, finishes or colours, which can also lead to more investment in new ranges around these themes. Trend researchers are another source of new kitchen trends.
In addition, "Color of the Year" predictions are made each year in fall and winter. Other forecasts relate to what retailers carry in their stores and how they photograph and advertise their latest collections. So consider some of the hottest designs to realize the ideas for modern and creative kitchen design yourself.
Kitchenettes in bold colors
The trend of using bold, dark colors in the kitchen has been rumbling for some time, but there has definitely been an expansion in the hues used. The combination of black and gold is totally hip, while earthy nuances like green and brown express the connection to nature. Designers are experimenting with colors and the use of raw materials in kitchen design.
In addition, green is becoming increasingly popular as an accent or across furniture. Such a bold color scheme is becoming a key element in many industrial-inspired spaces. To add interest to a color scheme, pair these hues with statement features such as extensively patterned or textured countertops, smoked glass cabinets, or statement shelving with metallic accents for an opulent design statement.
Sustainable and creative kitchen design with recycled materials
A renewed focus on natural materials and sustainability has primed wood for a major comeback. From countertops to kitchen islands made from reclaimed materials, designers love the warmth and nature-inspired wood. Interest in recycling has been growing for a while, but right now it really seems to have peaked.
From a sustainable point of view, buying used or refurbished kitchen cabinets makes a lot of sense to recycle products that are usually in pristine condition. Buying second-hand is also a cost-effective option, allowing buyers to save up to 70%.
Noble marble kitchen worktops
Heavily veined marble looks stunning next to dark fixtures like faucets and cabinets. The natural material not only stands for luxury and high-end quality, but is also the perfect partner for metallic surfaces such as brass and gold. Go for white or creamy marble tones and you'll have a great contrast with bold greens and blues too. In addition, heavily veined marble is a particularly popular kitchen trend in 2024.
50's style with wallpaper in the kitchen
Many people gravitate toward the vibrant, energetic, and exciting shades that were popular in the 1950's. This was a time when mass production and personalization made truly bespoke interiors available to the general public. Consumers embraced their individuality because they had tools to do so. A return to the bright, candy-colored, retro tones that characterized the era are best represented by patterned wallpaper.
In addition, kitchen wallpaper can be a really good idea for creative kitchen design. Often considered as practical as a rug in a bathroom, there is a new wave of wallpaper on the market today that is specially designed for kitchens.
Soft and oval shapes for inviting and creative kitchen design
2024 and beyond will see more rounded shapes and curvy designs that add an elegant touch to the kitchen. Softer shapes are alluring and appealing because they exude luxury and sophistication. They are also more ergonomic and feel more natural while aesthetically considering each view rather than creating abrupt stops. The rounded corners are particularly popular with kitchen islands when it comes to kitchen trends for 2024.
Most kitchen countertops, especially for breakfast bars, use contrasting materials like wood and quartz, as well as composites of varying thicknesses. A curved seating area is also more sociable than a small dining area with angular shapes. Accordingly, after 2024 it looks like more curved cabinets will also be incorporated into the kitchen design, but keeping the perimeter at right angles – this will make the islands more interesting, individual and more of a statement piece to introduce personality.
High tech in the kitchen
There are already filtered, chilled and sparkling water faucets that you can control from your smartphone. Just when you thought kitchen appliances would do a lot to make life easier, they just got smarter. That's something that will only grow in 2024. From ovens that run recipes for you and even take on the role of intuitive temperature control, to refrigerators that order your groceries, the possibilities are endless. The boiling water faucets that wowed everyone a few years ago have also received an upgrade. Most smart faucets now also dispense boiling, chilled, filtered and sparkling water. Some of these even allow you to choose exactly how carbonated you like your water.