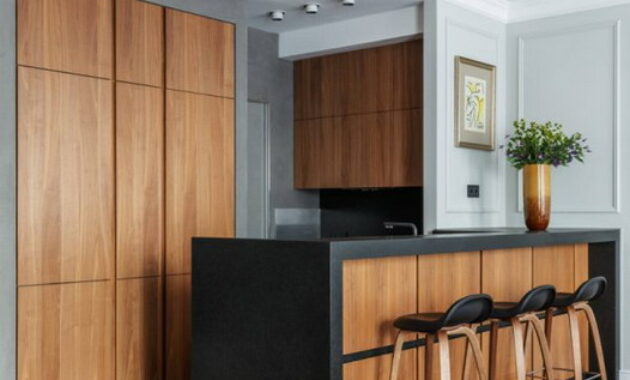 I have long wanted to write an article about the trends that I see in the kitchen to order segment and which, in my opinion, will be relevant kitchen interior trends in 2022. I want to look at this question both as a designer, as a manufacturer, and as a consumer of furniture. Some of them will be controversial. But it's even good – there will be something to talk about.
First, I want to make a reservation right away that the trend is not the trend. The segment of furniture is of great importance and in which territory this furniture is manufactured and sold. Different segments have their own trends. I am most interested in the segment of furniture with an average budget and above. And the trends that I will write about below are more closely tied to this particular segment. Geographically, these are Moscow and the Moscow Region. It is in this region that the most interesting kitchen projects are being implemented today.
And I also want to say that you should not mix real trends and exhibitions. As a rule, large players are present at exhibitions who offer modular systems to their clients. In practice, these systems are difficult to apply. Especially, recently, this applies to modern high-tech islands. The reality that surrounds us in life is slightly different. Therefore, I will talk exactly about the trends that I see in practice, observing colleagues, the behavior of customers and manufacturers.
I will not build any definite logical chain of trends. A separate trend is a separate paragraph. Let's start.
Trend 1: natural materials are still popular
Natural materials are still popular. At one time, especially in Moscow, there was a surge in demand for countertops made of quartz agglomerate. Now the market for these countertops has formed and has taken its own niche. At the same time, interest in natural stone countertops remained. This is especially evident in expensive projects. Still, a beautiful unique texture created by nature has a special unique power.
I myself love natural materials. Imagine a sheet of stone that was taken from the bowels of the earth, now lies in "my kitchen" and decorates the apron. There is definitely value in this. At least for me.
If we talk about wood, then this material is also in demand. Of course, now entirely wooden kitchens, even modern ones, look a bit old-school (ala 70-80s), but at the same time, interior designers continue to use the natural beauty of wood in their projects. You can often find bar counters made of slabs. And also in many projects the filling is made of solid wood (boxes, trays).
I think that over time, given that our resources are limited, natural materials will become more expensive and their use will only be possible in expensive custom projects.
Trend 2: design veneer is gaining momentum
Another actively developing area among the materials for the manufacture of kitchens is the use of design veneers in the external design of kitchens. Many lumber suppliers have begun to supply artificially modified veneer to Russia: natural dyed veneer, reconstructed multi-veneer, as well as finished decorative panels. Therefore, many interior designers have started using design veneers when decorating living spaces.
I myself like this direction. The only negative that can be identified is the cosmic price for some items. Over time, the situation may change and such veneer can be found in budget projects. Time will tell.
We can definitely say that in the coming years, interest in design veneers will only grow.
Trend 3: Kitchen furniture fades into the background
Recently, more and more often kitchen furniture is fading into the background. This trend is largely due to the popularity of the modern classic style. Interior designers began to place more emphasis on other interior details – the backsplash, flooring, walls and kitchen accessories.
I support this trend. Furniture should be as practical and functional as possible. If we talk about design, then a correctly selected color scheme ultimately solves all issues. No matter how complex the kitchen may be, if other materials and colors are poorly selected, then it is very difficult to save such an interior from "failure".
I think that this trend will continue to strengthen and we will see more beautiful projects for a reasonable price.
Trend 4: Kitchen from the salon – already tired!
A study of the houzz site, where a large number of completed projects are posted daily, shows that people's interest in large manufacturers is losing. More and more interesting projects are being implemented by small companies. This is a good trend for us as well.
The furniture market continues to change. If earlier, five years ago, the kitchen was a purely conveyor product, now they began to make kitchen furniture even in small carpentry workshops. I'm not just talking about cabinet furniture, but custom kitchens with unique dimensions and thoughtful design.
This is why big companies with their inflexibility are facing difficult times. Someone may become more flexible. Someone will leave the market. Maybe I'm wrong – time will tell.
But the fact is, interior designers are constantly looking for performers and look less and less at big brands.
Trend 5: Kitchen without handles
In general, it can be stated that pens in terms of design are becoming simpler and less and less focusing on themselves. If we talk about modern kitchens, then handleless facades and facades with cut-in handles are gaining momentum.
A kitchen without handles, on the one hand, is more functional, on the other hand, it is not overloaded with details and, in addition, the handles do not create any interference.
In general, this trend applies to all the things we use every day. A minimum of buttons, a minimum of design, simplicity and convenience come first.
In expensive projects, electric pull-out systems for drawers are increasingly used. The most famous of them is produced by blum.
Observing what projects our designers are working on, I can state that consumers are interested in this area of kitchens.
Trend 6: three-tier kitchens also remain popular
In pursuit of the previous trend, it is worth mentioning the "three-level" kitchens. We are talking about kitchens in which an additional upper level in the form of mezzanines is installed above the upper hanging cabinets and tall cabinets. As a rule, the depth of these cabinets is made the same as that of pencil cases and lower cabinets.
This layout came to us from the Scandinavian countries and is typical for modern kitchens. It allows you to significantly increase the functionality of the kitchen and unload the lower cabinets from rarely used kitchen accessories.
Typically, these kitchens have two primary colors. Often there are options using natural veneer and enamel.
Basically, such kitchens are installed in large, spacious rooms. In kitchens combined with a living room or studio apartments.
Trend 7: English cuisine
Connoisseurs of modern classics are becoming popular kitchens in the English style. In Europe, this style has long found its consumer. English kitchens have a small frame that is fixed to the body and stays in place when the front is opened. The presence of a frame significantly complicates the kitchen and makes it more unique, especially in our realities.
Many large companies are starting to offer their customers alternative options. For example, with imitation of a frame. But it's still not that. The frame should be on the body – this is the style standard
Today, half of the classic kitchens we produce are made in this style. I think that interest in such cuisines will grow dramatically in the coming years.
Trend 8: More Metal in Kitchen Design
Over the past two years, many custom metal workshops have emerged. They did not appear by chance. There is a demand for unique decorative items, handles and other items. In our projects, we have already collaborated with such workshops several times. Now, for example, we will soon be renting a kitchen with a unique portal, the box in which will be made of metal. There are first pictures.
We have also delivered several projects with custom-made handles, grilles and plinths.
The services of such workshops are expensive. I think that with the development of a niche and the appearance of competition, prices will fall. And then we can see more interesting interiors, realized with the use of custom metal decor.
Trend 9: Kitchen Colors 2022
In conclusion, I want to touch on the topic of colors and name the most interesting shades that deserve attention.
Gray-green
This color is currently in trend in Europe. It calms, relieves of fuss. The color is deep, aristocratic. It goes very well with white.
Pistachio color
Pistachio or olive color is similar in tonality to the previous one, but softer in terms of perception. In general, pastel shades of green, marsh color have been in trend for several years. Therefore, this color also remains relevant.
Shades of gray
The gray color of the kitchen will also be in trend in 2022. Especially light, light and faded options.
Ocher
The growing trend this year is ocher or persimmon. It manifests itself both in clothing design and is now moving to interiors. A warm, positive-thinking color. I myself am very close to him.
Blue tones
Blue will remain in trend, especially its faded shades – deep and complex.
In conclusion, I would like to say once again that the trend is not the trend – everything is relative. General trends keep your finger on the pulse, but are not required. In this regard, I believe that you should always try to find your way. The creation of any interior requires creativity. Therefore, using modern trends, you should not forget about your own feelings. Kitchen design should be close in spirit.
In this article, I have highlighted the most key and significant, in my opinion, trends in kitchen design. If you have your own vision, then be sure to write about it in the comments.