Metal, wood and bold colors dominate the kitchen trends for 2023. This is also reflected in the countertops, which have a decisive impact on the impression in the kitchen thanks to their large surfaces. What other trends we can expect in 2023 in terms of kitchen countertops is now the topic.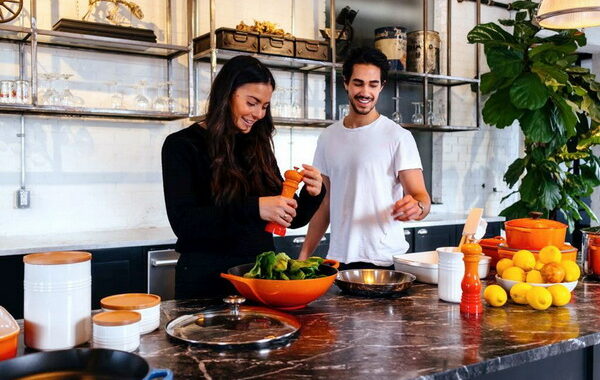 Finally cooking together in the new kitchen! Photo: Jason Briscoe by Unsplash
Nature First! Wooden countertops
Nature never goes out of style and that is why wooden countertops are still trendy in 2023. Anyone who loves it particularly sustainable relies on local types of wood such as maple, beech or walnut. Exotic woods are also available.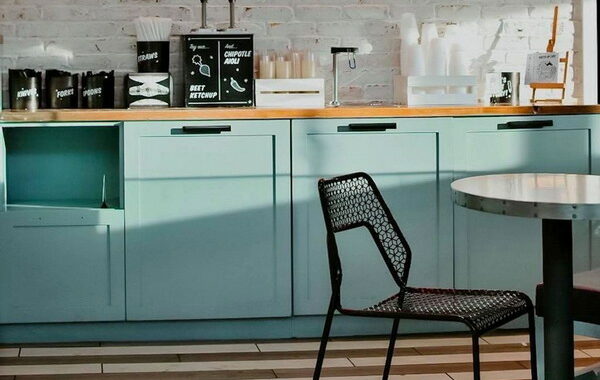 Wooden countertops are natural and look cozy. Photo: Andrea Davis by Unsplash
Solid wood countertops
A worktop can only be described as solid wood if it is made entirely of wood. Individual pieces of wood can be glued together (= glued wood panel) Each individual worktop is unique, because nature creates its own designs. All countertops are characterized by natural knots and grain, adhesions and resin deposits. Aside from the fact that solid wood countertops look wonderful, their natural surface gives them a unique feel.
Imitation wood or real wood?
Wood imitations are man-made surfaces that look like wood. In principle, these are plastic panels, laminate or laminates that come with a wood look. Wood imitations are priced a little lower than real wood countertops. A decisive advantage is that the surfaces are absolutely smooth and the material does not show any pore formation.
Real wood has a natural structure that can change over the years. There are countertops with a real wood coating whose core consists of chipboard. It is a compromise between solid wood countertops and fully synthetic countertops.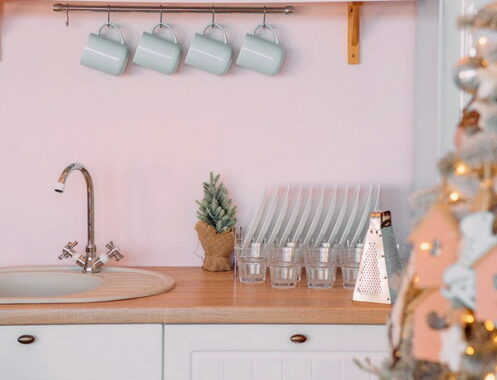 Laminated wood countertops are uncomplicated and inexpensive. Photo: Eugenivy_Now by Unsplash
Plywood countertops
Laminated wood kitchen countertops offer an enormous range of different designs. There are lively wood decors, great surfaces with a concrete look or natural stone looks that look so much like nature. Colorful and creatively patterned kitchen countertops are also in the range and ensure a good dose of good mood in the kitchen. It is possible to choose between matt or high-gloss surfaces. With laminated wood countertops, it is possible to turn even unusual wishes into reality. These countertops have powerful advantage. Above all, they are easy to care for and can be cleaned hygienically. Their surfaces are absolutely odorless and tasteless. In addition, they are comparatively cheap.
The quality of a laminated wood worktop is measured by the thickness of the veneer and the precision of the processing. The surfaces are of course scratch-resistant and impact-resistant, so that they can withstand the usual stresses that occur with typical kitchen work. In order to choose the right worktop, it is advisable to visit a kitchen studio and see the countertops on site. In kitchen design, interested parties can make appointments and get their own impression of kitchen countertops in different versions, qualities and designs. In addition to laminated wood countertops, countertops made of natural stone, wood, ceramics and glass can also be seen here.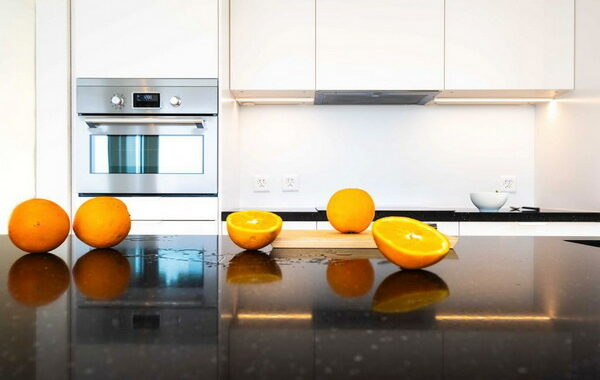 Polished stone shines elegantly, is robust and looks inviting. Photo: Daniela Gisin-Krumsick by Unsplash
Natural stone countertops
A worktop made of natural stone is something very special. It transforms a kitchen into a small cooking palace in no time at all. Stones such as granite or marble are hard and can be sanded and sealed in such a way that the surface becomes super smooth. The worktop can be cleaned hygienically and is water-repellent. Such countertops are easy to care for and they also offer an enormously wide range of different colors. Natural stones are extremely robust in terms of heat resistance and an option for people who are sensitive to plastic. One of the most popular types of stone is granite, which is available in a variety of colors and qualities. However, sandstone or quartzite are also suitable for countertops in the kitchen. The unique pieces are visually so attractive that a decision should be difficult. Natural stone countertops can be precisely machined. The surfaces are ground smooth, polished and sealed depending on your choice. This permanently preserves the natural markings.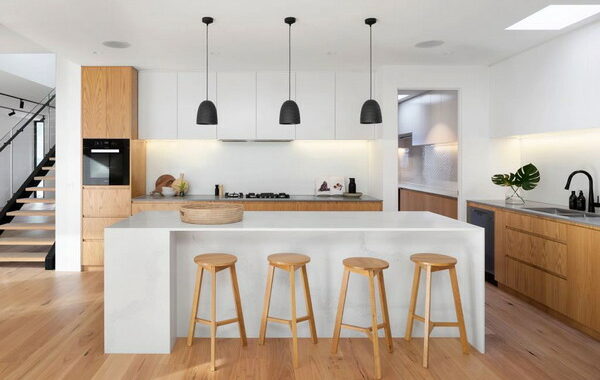 Ceramic countertops are hygienic, easy to care for and versatile. Photo: R Architecture by Unsplash
Ceramic countertops
Ceramic countertops are particularly hygienic. They are easy to care for and durable. Ceramic can even withstand high temperatures, the material can withstand temperatures of up to 1200°C. Ceramic is scratch and cut resistant and allows for very thin countertops. This in turn means that the kitchen design can be filigree. Ceramic is absolutely waterproof and does not absorb any moisture. Its resistance to aggressive and acidic cleaning agents enables the surface to be cleaned intensively accordingly. If you decide on a ceramic worktop, you are opting for an elegant look that will retain its high-quality and well-kept impression for many years.
Glass countertops
Glass countertops are easy to care for, robust and heat-resistant. They are also widely used in young kitchens because the back can be designed individually. Brightly colored countertops are just as possible as bright 3D effects and much more. Anyone who likes extravagance will opt for an illuminated glass worktop. Noble effects can also be achieved, for example with marbled glass work surfaces or matt-tinted backgrounds. The surface is extremely robust and withstands the usual stresses in a kitchen. A hot pan, boiling water or the blade of a sharp knife will ricochet off the hardened surface. Glass countertops are trending and will remain so in the years to come,
Stainless steel countertops?
Stainless steel countertops have long had their main area of application in professional kitchens. But it is also being used more and more in private kitchens. The unbeatable advantage of stainless steel work is that the surface is robust, easy to clean and hygienic. The material is food-friendly and does not absorb liquids. This means that germs have no chance here. Cleaning is uncomplicated, because even dried food residue can be removed with a little water and a cloth. Stainless steel is one of the durable materials, it is heat resistant and abrasion resistant. However, two disadvantages cannot be dismissed out of hand. Stainless steel plates are prone to fingerprints, grease stains and, most importantly, they are not scratch-resistant. It is therefore strongly recommended to always put a cutting board underneath
Which kitchen worktop is right for me?
If you are wondering which kitchen countertops are best, you can easily assess this using the following checklist. The mini-test serves as a guide to get an initial overview of your own preferences.
For pragmatists
For beginners who simply want a functional kitchen, countertops made of plywood and wood veneer are perfect.
For design lovers
Those who value design and a chic look will be particularly happy with countertops made of glass, metal or ceramics.
For nature lovers
Natural stone and wood are high on the list in this category. The variety of possibilities and colors is enormous.
For more information on countertops, see our worktop guide.