If one of your New Year's resolutions for 2024 is to renovate your kitchen (or, at least, give it a new look), you will surely be interested in learning about the trends for next year.
With them, you will get a functional, beautiful and trendy kitchen, which will surely become the heart of your home. Discover in this article the materials, distributions, colors, aesthetics and products that will be most popular in the coming years. Shall we start?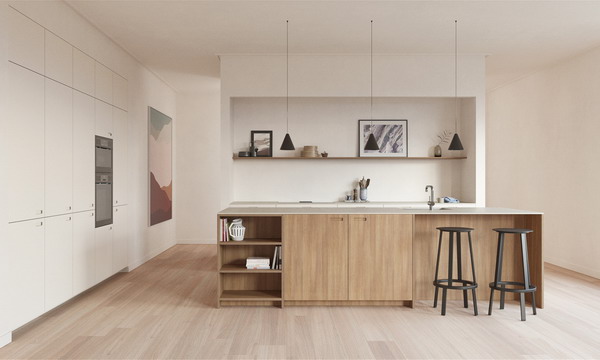 First of all, we want to make it clear that it is not necessary to spend large amounts of money on works to give your kitchen a new and trendy look. To follow many of the tips that we recommend, it will simply be enough to make small changes, both in the furniture and in the appliances, so that your kitchen looks like it does in decoration and interior design magazines.
The kitchen occupies, more and more, an essential place in all homes: beyond being the appropriate place for the preparation and consumption of food, it is a meeting place, for socialization, among the members of the household. For this reason, more and more people discover the need to make it a convenient, comfortable and pleasant place.
In this way, the best way to design your kitchen is to consider our needs and desires, in addition to reflecting on the types of uses that are given to that space on a day-to-day basis. The kitchen is the heart of the home and for it to be a cozy and functional place it is essential to take into account the spaciousness of the space, the distribution of furniture and elements, the storage, organization or arrangement of electrical appliances, among other aspects.
For this, being aware of trends is not only an aesthetic issue, but to inspire you with new ideas, possibilities and functionalities for the kitchen. The kitchen is a place that requires maintenance and constant daily care to keep it in good condition at all times. A kitchen that is not designed or planned can cause difficulties in the development of daily tasks, loss of time and headaches.
We invite you to discover the kitchen trends that are expected for 2024, and take note of the tips and ideas that you like the most. Surely you will find inspiration to achieve the kitchen of your dreams, where you will like to share time with your partner, your children or your friends. It is probably, after the bedroom, the room where you spend the most time in your home, so we invite you to give it the importance it deserves, to make your day to day more pleasant and optimal. Let's start!
1. Open and multifunctional kitchens
This feature can hardly be considered a trend anymore, since it arrived several years ago, and with the intention of staying for a long time. With the arrival of the pandemic, it became completely clear that the kitchen is no longer just a place to cook, but is the heart of every home, a place to socialize, live together and spend time together.
For this reason, as has been demonstrated in recent years, new kitchens tend to be increasingly versatile and flexible to allow the space to adapt as much as possible to each type of use.
The trend of creating kitchens open to the living room encourages the interaction of people within the home and generates a more pleasant social climate. It also seeks to unite the environments and open up the rest of the house, eliminating barriers, as well as giving new uses to the kitchen.
Current kitchens encourage another type of distribution and organization of space, making them suitable for other activities beyond cooking. In this regard, and in those houses that allow it, kitchen islands continue to be an elementary key to organization and practicality.
All these points will continue, without a doubt, during the year 2024. What's more, we will be able to see kitchens designed as a real living room: wooden floors, integrated and invisible electrical appliances, quality finishes…
2. Kitchens with eating area
If your home does not allow you to have a kitchen open to the living room, for whatever reason, what you should undoubtedly consider is including a space to eat in the kitchen. Whether it is an entire area, with a table and chairs for lunch or dinner, or a small bar with two folding stools, this space will become a meeting and interaction point for all members of the home.
3. Colors inspired by nature: the green color arrives
As today's most prestigious decorators and interior designers say, the all-white kitchen is outdated. They have gone from looking for white and metallic kitchens, with an extremely clean industrial look, to rooms with much more human and natural tones. If you are more classic, you can opt for soft earth tones, but if you dare with something more risky, what will take the most in 2024 are the powerful green and blue colors, which will undoubtedly give a great personality to the room.
Colors inspired by nature will undoubtedly turn your kitchen into a much more pleasant and habitable space.
4. The importance of taps
Smart and ultra-efficient faucets have become an essential part of modern and current kitchens. In 2024, the latest generation faucets, respectful with the environment, with flow control and extractables, will be sought even more.
As for the colors, the protagonists will be, in front of the classic, cold and industrial stainless steel, the colors white and matt black. With them, you will be able to give a new look to your kitchen without works and without spending large amounts of money. Plus, the planet and your water bill will thank you.
5. The wood returns
If during the last decades a clean and industrial look has been sought in the kitchen, now the opposite is being pursued: creating warm and natural spaces, without neglecting the hygiene and cleanliness that this room requires.
This 2024 and, very possibly, the next few years, wood will return with great force, both on the floors and on the doors and the fronts of cabinets and drawers.
Among all types of wood, oak and walnut will be the most repeated in the kitchens of 2024.
6. The breakfast furniture arrives
You are probably not used to seeing breakfast furniture in home kitchens, but we assure you that, more and more, this type of furniture will gain prominence among the most current homes.
One of the trends that will gain more prominence in the coming years is to allocate a kitchen cabinet to store everything you need for breakfast. These pieces of furniture have the interior space perfectly organized with tiles and drawers, to store cups and plates, as well as all the small electrical appliances necessary to prepare a good breakfast; and they have a support surface where you can prepare it.
If you want to have a perfect breakfast furniture, we recommend that you take a look at our breakfast packs, which include toasters, blenders and juicers, at an unbeatable price, with which you can prepare a complete and balanced breakfast: good avocado toast, tomato, or your favorite toppings, a shake or smoothie to start the day off right, and a freshly squeezed natural orange juice. So sure that all your days will start well!
7. Cabinets without handles
A trend that has been integrating into our homes for several years is to hide everything from the kitchen. For this reason, it is increasingly common to find cabinets with doors without handles, which have other opening systems, to achieve a cleaner, simpler kitchen, and integrated with the rest of the home, and with the living room in the case of open kitchens.
These opening systems also make cleaning the kitchen easier, since cabinet doors and drawers become totally smooth and clean surfaces, without gaps or handles that are difficult to clean.
8. Efficient and sustainable small appliances
Whether you are the type of person who loves to spend hours in the kitchen, trying new recipes and preparing tasty meals, or who tries to cook as little as possible and tries to spend as little time as possible cooking, there is something that everyone is looking for. in your kitchen: efficiency, both time and energy.
The rise in the price of electricity in recent months has generated a new demand for low-consumption, energy-efficient household appliances, or that allow cooking several foods at the same time to make better use of energy expenditure.
In addition, today few people are unaware of the need to reduce our impact and ecological footprint, which is why they look for quality appliances, designed to last for many years and accompany you for a long time at your breakfasts, lunches, snacks and dinners.
On the other hand, there is surely a trend that you have already joined: that of preparing healthy food or, as it is usually called, healthy or real-fooding. To help you meet your goals of following a healthy and nutritious diet, without losing any flavor. We suggest that you try our appliances, both those of the Easy range, such as the Easy Hand Blender, the Easy Steel Blender, the Easy Toaster, or the Easy Cytrus, with which you can prepare delicious and nutritious toasts, smoothies, milkshakes, sauces and juices; such as the innovative products in the Foodie range. Like the Foodie Fryer., the Foodie Pan., or the Foodie Pot. If you like these products, we recommend you keep an eye on our news, as our Foodie family will soon grow and meet its new and innovative members.
9. Sintered stone and porcelain
If there is a determining factor that determines the success of a kitchen, that is usually the countertop. This part of the kitchen is of vital importance, since it is there where all meals are prepared and where, in addition, many of the foods prepared there are usually eaten.
For this reason, in contemporary kitchens, sintered and porcelain materials that imitate the beauty and finish of natural stone acquire great importance. These materials are, in addition to being very aesthetic, scratch resistant, waterproof, resistant to high temperatures, and very hygienic and easy to clean.
10. Countertops with invisible fires and kitchens without cables
In 2024, one of the greatest revolutions that kitchens have ever known is coming to homes: stoves and cables from small electrical appliances disappear, making the kitchen a much cleaner, safer, easier and more comfortable place to use..
We have always believed in the importance of promoting innovation and technological development that make people's day-to-day life easier, contributing design, quality, innovation and simplicity to kitchens. That is why we present a completely new system, with which we can use our appliances without the need for cables or batteries, turning our kitchen into a place free of cables and more respectful of the environment.
Thanks to the integration of technology in induction hobs, we managed to take another step in the use of these hobs, achieving a system with a double function: cooking and transmitting electricity. Through this dual system of cooking and invisible electricity you will obtain a completely clean and cable-free kitchen, in such a way that simply by placing induction pans or our electrical appliances on your worktop, you will be able to use them easily and safely. Unique in the market.
Discover everything about the arrival of this technology on our social networks and on our website. We recommend you to be very attentive, since we promises to revolutionize the world of kitchens as we know them. Be one of the first to know and have our technology in your home!