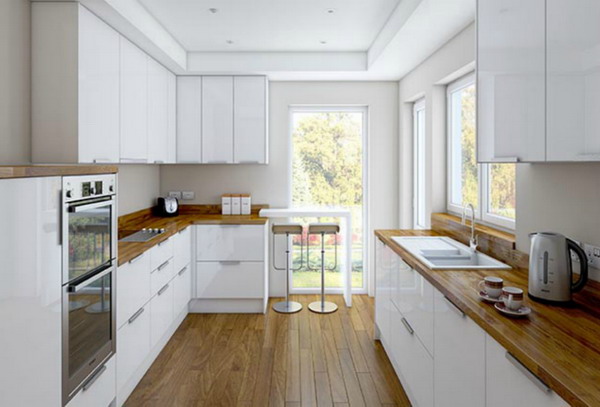 If you plan to repair the kitchen next year, then you should definitely pay attention to all the new design that will be offered for this room. Do not ignore the kitchen as an interior that needs a beautiful decoration. After all, it is she who brings all family members together, and it is in her that we, the women, spend the most time.
It is not always so simple to decide how we want to see our kitchen. Designers offer many innovative and fashionable ideas for the overall design of the kitchen (color and style), and for kitchen furniture and appliances for 2025. Let's see how they see tomorrow's kitchen.
2025 kitchen color palette
Let's start with the color scheme. Color is what you immediately pay attention to when entering the room. What color to choose for the 2025 kitchen to make it fashionable and energetic?
White color is always in trend, but next year all-white kitchens will go a little to the side and give up their leadership to the black color scheme. After all, black color (both in individual elements and in the overall design) can fit into many styles – be it the avant-garde style or the Art Nouveau style.
Gold and black – this combination will add elegance to any kitchen. Be it a cabinet, household appliances or just a copper accent on fittings.
To create a richer and thinner look, you can dilute the deep dark green color of the cabinets with a gray or even lighter shade of the floor, ceiling and other design elements.
The trend remains a combination of light and dark. Consider using two contrasting tones for walls and cabinets to design your kitchen.
To create a bright and energetic space, use appliances and cabinets in bright colors that will give your kitchen an individual and unique flavor.
By adding Spanish or Moroccan tiles to your kitchen interior, you will add not only color, but also an exotic touch.
New trends for kitchen countertops
Marble and granite countertops continue to please housewives with their surfaces. Such countertops are not only beautiful, but also durable.
Terrazzo surfaces – popular in the 50-60s and revived in the 80s of the last century, returned again. And all because the design of the middle of the last century is still at the peak of popularity.
Wooden tabletops will not lose their appeal. Wood is a way to make the kitchen warmer and more comfortable.
Kitchen backsplashes trends 2025
The graphic design of the kitchen apron is one of the solutions in the decor of the kitchen. The color of the grout pattern on the tile will give you a hint for the color scheme in the design of accents.
A great option for a budget kitchen is concrete and brickwork. These materials for wall cladding and backsplashes are suitable for many styles that are fashionable next season – from the loft and industrial to rustic.
Another idea for modern kitchen is the exact opposite of the previous one. We remove all "heavy" materials (concrete, brick, tile) and decorate the walls of the apron with facing paint. Great idea for a bright minimalist kitchen.
Recently, clean and clear geometric lines have been in fashion, and therefore mesh patterns and motifs will fit perfectly into the kitchen apron. Especially if you use them as an easy industrial approach – a white apron in combination with dark wooden countertops, floor and doorway.
Popular kitchen styles in 2025
If we talk about the styles in which it will be fashionable to design kitchens, then minimalist kitchens will still be in the forefront. Although your stylistic preferences may be different. You can choose your own style, especially since there are plenty to choose from.
The concept of Hygge style in kitchen design is one of the styles that makes your kitchen cozy and comfortable in terms of placing small things (lots of cabinets and storage space), as well as clear lines, warm colors, textures and natural light.
The natural touch of a heavy farm-style natural tree is not quite what you should strive for, but light and slightly abstract industrial accents with a hint of Russian style are quite acceptable. The kitchen becomes light and elegant. Lightweight industrial style – one of the leading in the next season.
The romance of traditional English kitchen will also be trendy next year. Simple colors and materials, strict attention to details and functions – all this should be in harmony with each other.
Modern and rural. These are two styles combined into one. With its help, you can create a unique and surprisingly thin, but rich look of the interior in the kitchen.
Furniture trends for kitchen 2025
Glass shelving is a sophisticated alternative to bulky wooden cabinets and shelves. Not only do they look luxurious due to the lightness and transparency of the glass, but they are also easier to clean.
Banquet chairs are gaining more and more popularity in kitchen design. They are comfortable and will look great around the dining table, uniting family and friends. And the design of the chairs will give your kitchen softness and comfort.
Stylized under a modern interior, bar stools of the middle of the last century will give your kitchen a Hollywood look, full of personality and everyday glamor.
High wardrobes will be in fashion. Why? Because (according to the designers) they look great! They are well combined with the red lacquered surface of the brickwork. But this is an option for a hyper-large kitchen.
Ideas for smart (and not only) kitchen
For a good and comfortable sense of self, choose a kitchen only from natural materials. Eco-kitchen with lots of greenery is fashionable and healthy.
To illuminate a large kitchen, use a set of pendant lights above the dining area. This will not only solve the lighting problem, but also decorate the interior. Light "industrial" lamps made of brass, glass and copper will be in fashion.
Storage problems occur in all kitchens, regardless of area. This storage idea – a round island with many cupboards and a special hanging stand for pans and pots – solves your problem completely.
For a small kitchen space, "sliding" covered sinks are very convenient, which can be used (if you close the lid) as an additional area for cutting and peeling vegetables. In addition, dirty dishes are not so visible …
Although this is not all the proposals for updating the kitchen in 2025, you can always use any of these ideas and create your own unique modern and cozy kitchen.