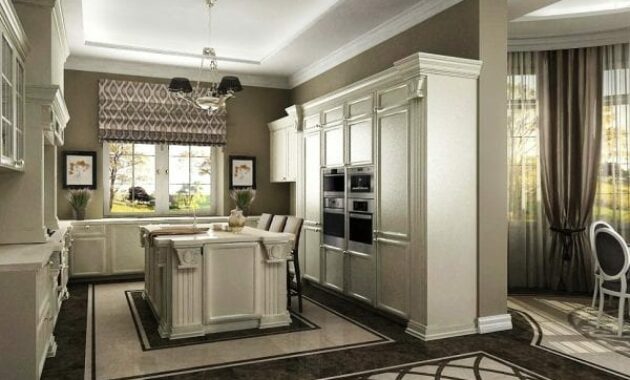 In an effort to satisfy all the new demands of consumers, designers every year come up with new items for different interiors, offer unique decor options, and develop amazing furniture. They also do not bypass the kitchen, in which harmony and comfort should coexist with absolute functionality and ergonomics of the environment. Modern trends often get in the way of styles and trends to bring the latest ideas to life in line with growing demands.
Having their own idea of what beautiful kitchens are, each person strives to create a comfortable space around himself. The kitchen trends of 2022-2023 only support this desire, offering functional and effective solutions. Everything changes: shapes, furniture, colors, curtains, lampshades, kitchen layout. At the same time, the main value of such a room remains – its functionality.
Kitchen Color Palettes
The kitchen of 2022-2023 can be painted in any color. However, it was and always will be. But modern design assumes bright, catchy colors. They can even be used in a tiny room. Among the popular shades and their combinations:
Orange: a beautiful, appetizing color that transforms any space and allows you to embody the most unexpected ideas. A warm, intense, energetic shade that blends beautifully with black and metallic gray, making the kitchen look futuristic.
Mint and Light Turquoise: The cool aqua color evokes a fresh sensation. It harmonizes with white and light gray. Such a duet will make the interior cozy in any style.
A beautiful and rich blue or light blue is an unusual solution for a classic kitchen, and not only for 2022-2023. It is in this style that you can see the color of the sky. In matte finish and in combination with gray wood, this interior gets an interesting combination of modern functionality and classic elegance.
Coral is another exquisite color, despite its affinity with red. He is elegant, has a touch of femininity. It is a graceful shade, which, when combined with natural wood, metallic gray, stone black, will create an absolutely amazing character of the interior.
Kitchen Lines and shapes
Modern ideas for interiors often offer original forms of furniture, headsets, shelves. But such a design is not always appropriate: lovers of the classics are unlikely to like the dynamic setting with tilted shelves, sloping table legs and faceted chairs. The trends of 2023 provide new possibilities for the implementation of a functional kitchen in a classic design:
Clarity, correct geometry and simplicity of lines are more relevant than ever. They should emphasize the functionality of the interiors and the purpose of the premises.
Italian kitchens in classic style acquire new modern features: pretentious gilding is leaving, preference is given to simple smooth surfaces in framed facades, natural textures.
Ideas 2022-2023 propose to implement a classic kitchen with the maximum amount of functional technology. It must be embedded. Here they use not only the usual hobs and ovens, but also built-in microwave ovens, steamers, coffee machines, etc. Such solutions support the ideas of a healthy lifestyle and make life easier.
The transformation in 2022-2023 takes on a new meaning: the more transformable structures, the easier it is to rebuild the same interior for different needs of people at any given time.
Kitchen Furniture
Furniture novelties in 2022-2023 represent the embodiment of literally every idea voiced above. Such items make the interior functional, comfortable and transformable. Multifunctionality is the most important feature of modern furniture, and not only for kitchen furniture.
The design of the headsets and dining areas also matters. The trend to paint kitchens in vibrant colors is embodied here in the use of combinations. The kitchen work kit comes in two shades. Most often, the rich tone is complemented by black (countertop, sink, frame structures), gray (all wooden surfaces), natural brown with preserved wood texture. If modern kitchens are also glossy, the classic ones will still "prefer" a matte design.
Glass inserts and stained-glass windows in the facades of the headset are relevant, only they look a little different: these are practical, sophisticated solutions in selected color combinations.
Kitchen Decor
The eternally controversial question: is there a need for decor in the kitchen, especially if the interior is decorated in bright colors, especially if it is laconic and functional. The answer for 2022 and 2023 is clear: there is no place in the kitchen for the typical trinkets of the past. This room is extremely functional, even if it is decorated in a classic design.
It looks like this:
The curtains are changed to controlled blinds. The classics, of course, do not accept technological innovations, but trends change stereotypes and suggest using unique design ideas.
In the photo – functional curtains: blinds in the form of decorated classic curtains.
The luminaires are simple, elegant and extremely functional. There is no more room for small details. The shape of the shades can be original. It will emphasize the character of a modern interior, even in a classic visual design.
Paintings, clocks, vases – what is undesirable to use in the kitchen design of 2022-2023. Watches are needed, but their implementation should be unique – not striking, not highlighting accents.
A tile apron is a typical and practical solution for the kitchen working area in 2022 and 2023. Only now it is relevant to lay out with tiles not only the area between the cabinets, but also the walls above the headset, next to – wherever splashes of water and grease reach.
A modern kitchen in a classic design, as paradoxical as it may sound, is a visually traditional room, but without unnecessary decor that needs to be washed and a lot of time spent on it. At the same time, there is the familiar charm of the classics, the necessary high-tech functionality and, of course, comfort. You don't have to give up all the details, as the designers recommend.
If you like lightweight curtains, keep them, just keep them clean. Choose practical materials, inconspicuous curtain rods, from which it is convenient and easy to remove cloths for washing. The essence of the trends of 2022-2023 boils down to making life as easy as possible in a comfortable environment for a person. Then in our hectic era there will be time for relaxation.