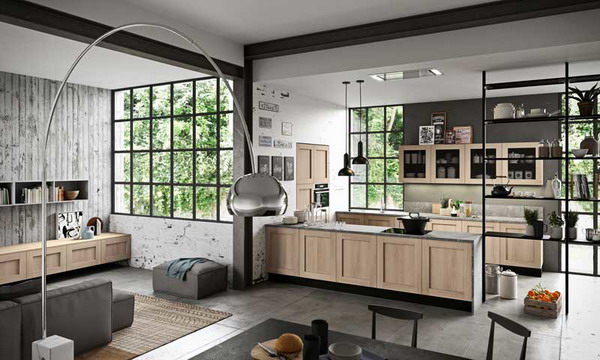 Interior decoration is a reflection of the society in which we live. For this reason, this year's kitchen is a social and sociable place, where sensations, smells, flavors and, of course, company come together around the table.
We are facing a kitchen that expresses our way of seeing the world, with personalized, intelligent and 'homemade' solutions at the same time, where the latest technologies can coexist with an urban garden, for example. In addition, it approaches nature and traditions, but with an eye on technology and energy efficiency.
If you are thinking of renovating yours and you don't know where to start, these keys will answer questions like, will black kitchens have gone out of style in a year? Or What countertop is (and will be) in 2022? Discover the 12 kitchen decoration trends that will triumph this 2022.
1. Multitasking space
The kitchen has been the heart of the house in recent years, but the situation due to the coronavirus has given it a new power: multitasking. Now in addition to the culinary operations center and the new living room, it is an office, study area, meeting room and family videoconferences. Therefore, rather than opening up to the rest of the house, what it does is blend in with the rest of the rooms, seeking union and eliminating barriers.
2. New distributions
We can say that, with the opening to the living room, the classic design of aligning high and low furniture is over. Now it tends to be organized around the kitchen table, which provides a modern and uncluttered look, very much in the current line. The islands are still the consumer's favorite, although they are now looking for more 'clean', orderly and, if possible, no sink.
3. Team spirit
The open kitchens are becoming more common in today 's homes and during this 2022 one of the most sought distributions. Of course, as recommended by the Kitchen Furniture Association (AMC) it is important that "if you are going to tear down the partitions that separate it from other spaces, plan a water area in another room, especially if you intend to move the electrical appliances." And that you think about the future "leaving spaces to put retractable doors, in case at some point you want to isolate yourself from the living room, due to work, noise…". In addition, being part of the living room it is important that its decoration does not look like that of a kitchen and that the appliances are hidden or integrated in such a way that they are not seen.
4. All in gray
When changing the perception of the kitchen, it is necessary that its colors adapt to this new situation, creating matching 'walls', more than kitchen furniture. Goodbye to solid oak, for example, and hello gray, one of the wild colors of interior decoration and declared color of the year, along with yellow by Pantone. Therefore, he had all the ballots to enter fully into our kitchen, ready to bring some of his elegance and know how to be on the stove. "Gray is the trend color because it means not giving up anything. For this reason, gray kitchens are conquered by many homes, since they have a series of characteristics that other colors lack: they soften and intensify at the same time, giving rise to a timeless, stylish and minimalist kitchen, different from all the others ", they affirm from Kvik.
5. The eternal and seductive white
If last year the color triumphed in intense tones (green, blue, pink…), this 2022 we return to the timeless, elegant and beautiful white kitchens. And we love it! Because they are the most desired, they fit into all homes, even when there are not enough meters, and they adapt to all styles. You can give it a touch of warmth with wooden details, as in this proposal by Knowhaus, a more sophisticated one with golden details or an industrial one with elements in stainless steel or iron.
6. Black is the new white
For its ability to impress without embellishing, for its style, sophistication and personality. In addition, it has gone from kitchen furniture to shelves, the worktop or the sink, creating a 100% 'black' environment. Of course, it is an essential requirement is to have natural light and design good general lighting, which enhances the whole and does not make it gloomy and dark.
7. With storage capacity
It's your Achilles heel and one of the top design priorities. For this reason, to the deep and tall made-to-measure furniture, which makes space profitable, there are more ingenious options such as cabinets  that also allow to hide small electrical appliances, without losing their practical function.  By the way, the latest generation appliances, such  as the steam oven, an element that begins its ascent timidly, but that promises to be the king of the new kitchen, are also a constant in the kitchen of 2022.
8. Sustainable and 'eco'
The kitchen decoration of 2022 not only wants to be beautiful but also ecological, seeking a positive impact both on people and on the planet because, according to the latest Ikea studies, more than 90% of people want to live in a more sustainable way, but 37% of them do not know what to do. To achieve this, they partner with sustainable materials and technologies as well as with brands and manufacturers that work and seek sustainability with certified woods of responsible origin, renewable, recycled or recyclable materials and products that make it easy for us. The urban garden in the kitchen is going to be one of the elements with the most pull in the kitchen of 2022.
9. 'Clean' and maintenance-free work surfaces
This year, glossy finishes and natural wood, not painted wood, are losing ground, compared to melanin (easier to maintain) and porcelain. In addition to quartz, which maintains its privileged position, stone and quartzite stand out, this year's star material, due to their great decorative and functional possibilities. On the other hand, the countertops are sharpened (almost) to the impossible (2 cm), in a striking 'knife effect' and are worn in light colors with veins or pure, like this white quartzite countertop from Naturamia.
10. Minimalist
Because, although maximalism has knocked on our door this year, the kitchen claims its right to simplicity and at 'least is less' as a lifestyle. To achieve this, everything superfluous is eliminated and attention is paid to natural or non-effect materials. While creativity and technology go hand in hand so as not to occupy more meters than they should and not overload it with bulky and bulky elements. In this way, it is committed, for example, to almost invisible or sculptural extractor hoods  or to surface extraction systems, such as those of Bora. Long live simplicity!
11. Stainless steel for a professional 'look'
But also for the sense of hygiene and cleanliness they offer. In an age where Covid-19 has made us staunch enemies of viruses and bacteria, stainless steel stands as the quintessential aseptic material and one of our favorites for countertops and sinks and island, which can also create continuous surfaces. Only one 'but' to his reign: his cleanliness. Seeing it gleaming implies a constant effort to remove fingerprints and marks. Although it is already known that, sometimes, to be beautiful you have to suffer. And we are willing to pay that (mini) price.
12. With a traditional point
We could say that, in this modern and technological panorama, there is a trend that breaks the rule, and that is succeeding on Pinterest. These are traditional family kitchens, with a charming English flair. Although they are not suitable for some homes, since they 'sing' between dark colors and sophisticated finishes, they can be an option in closed kitchens or in classic-style houses. This aesthetic line highlights another trend: the handles in brass or gold. Although for a time kitchen furniture with integrated handles triumphed and today they are still the favorites of some, the truth is that this 2022 they are brought to view and, if possible, they stand out for their color or design.