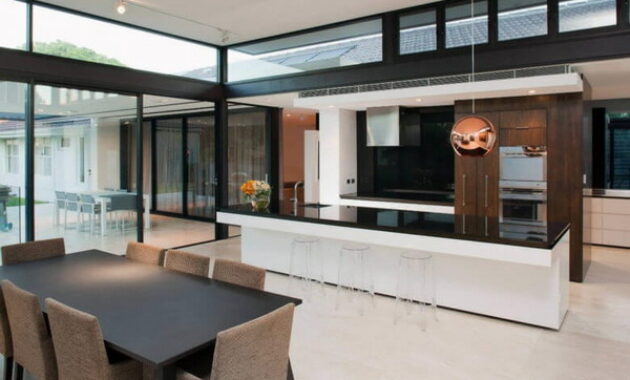 Kitchen Interior Design Trends 2022. The world of residential design is moving at a rapid pace, so every year many old trends give way to new kitchen trends. All world brands produce such a wide range of goods that anyone can create a cozy and at the same time stylish space around them.
All this is done in order to make each individual room as comfortable as possible. For several years, the main trends in kitchen design remain unchanged – in fashion accessories made of environmentally friendly materials that combine practicality and comfort.
General motives for kitchen design trends in 2022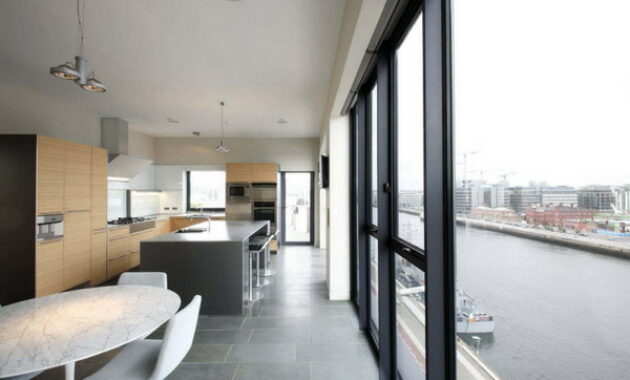 Today, the interior must be able to adapt to each individual. This is especially true of the kitchen, where you just need to use the space to maximum advantage. In today's world, not everyone has the time to spend hours cleaning surfaces. Therefore, designers try to decorate the interior of the kitchen so that it was not just practical to use, but also easy to care for.
The main features of modern style are:
Conciseness. This applies to all rooms in the room, including the kitchen area. Most people now decorate the interior of the kitchen in a high-tech style, loft, minimalism. Scandinavian and Mediterranean styles also look harmonious in the design of the kitchen.
Light. A room with a uniform soft natural light will look more stylish than a darkened one.
Maximum use of each individual element. Of course, it is important to choose furniture and appliances that will delight you with their appearance.
A mix of modern technology and finishes with outdated motifs. Reasonably, such an interior will look quite harmonious. You can put in the kitchen in the style of high-tech old sideboard or decorate the walls with intentional abrasions. The main thing – do not overdo it, let it be just one, but quite a bright accent.
Retro also interacts well with modern motifs. To do this, use furniture or lighting in a similar style. Many home appliance companies produce products that look like 60's items.
Kitchen Colors 2022
The color scheme of the kitchen can be both restrained and creative and bright. It will all depend on the area of the room (dark tones for a small kitchen – not the best idea) and your personal preferences. Let's find out what are the most popular colors of the kitchen in 2022?
Kitchen in pastel colors
When choosing a color, again, you should rely on the fact that in fashion today, natural and pastel shades. Imitations of wood, stone or earth are especially relevant. Many designers are inspired by nature, embodying their ideas in interior design. Customers also like natural, natural colors. These shades help to relax, give warmth and comfort in the room.
White kitchen – classics and versatility
Of course, the most popular color in modern kitchen design is always white. Despite its seeming impracticality, it gives the room freshness and a sterile look. In addition, all versions of white are universal and go well with all other colors. There is no need to even seek the help of a specialist – you can add a little bright accents to a clean white kitchen. Let it be chairs, curtains, small decor items. Fantasize and boldly turn your ideas into reality!
This solution will be relevant for small rooms. Everyone knows that a white background helps to visually expand the room, while dark shades clog it. And the sun's rays penetrating through the window will give the room even more free space.
A separate bright spot in the design of the room in white can be the use of wooden surfaces. Here you have the opportunity to start absolutely any species of wood – from light birch to dark wenge. In combination with ultra-modern appliances, this solution will look stylish and bold.
Black and white kitchen
Does not lose popularity and the method of contrast. Many designers continue to combine black and white, and they do it quite well. If you want to dilute this contrast and give it a little smoothness in the transition from one shade to another, choose wooden inserts, such as countertops, facades of built-in furniture, table or chairs.
Gray kitchen – restraint and conciseness
The most popular kitchen trend in 2022, after white, is deservedly gray. It is also quite neutral in itself, so it easily interacts with bright shades. It is easy to combine with many species of trees or bright tones. In addition, gray has a positive effect on the nervous system, soothes and makes you feel comfortable.
As you can see, fewer and fewer people prefer the bright design of kitchen furniture and walls. Of course, you can design them so that they look stylish and do not irritate the eyes, but this requires the help of a specialist. And here with neutral shades it is possible to understand independently even to those who for the first time planned to make repair.
Kitchen design styles 2022
When planning the interior of the kitchen in the apartment, we recommend that you pay attention to the popular in 2022 styles of space design. Get ideas and create a cozy atmosphere in your kitchen.
Loft kitchens
A style that came to us from the United States. It originated in the middle of the twentieth century – it was then that many warehouses were reformatted into residential. Accordingly in such interiors some features were traced:
wall decoration – brickwork (original or decorative);
open pipes and wires create a special atmosphere for a loft-style kitchen;
use of natural materials – no plastic: wood, metal, glass;
the most common colors – brown, black, white;
window decoration – blinds.
Hi-tech kitchens
Probably the most difficult interior for the kitchen. It came to us along with technological progress. Among the features of the kitchen in the style of high-tech:
a large number of appliances – in addition to the refrigerator and stove, install in a prominent place food processors, toasters, microwave ovens (the main thing – that all appliances are harmoniously combined with each other);
the most popular colors of the kitchen 2022 – gray, white, black (among the contrasts – red, blue);
practicality – each item in the kitchen must perform a certain function, abandon the details that have only a decorative function;
a large amount of light – natural (large windows) and artificial (pendant or spotlights).
Classic style kitchens
Despite the large number of fashion trends, the classic kitchen interior is still popular today. Luxurious and expensive design gives the room comfort and creates a warm atmosphere. What is typical for a classic style kitchen?
Warm shades in interior design. Brown, beige, gold. The main thing – make sure that the room does not turn out too dark.
A massive chandelier in the center of the room is probably the main element of this style of interior. Ideally, it should be made of crystal or glass.
A large number of textiles – heavy curtains, delicate tulle, tablecloths.
Rounded shapes in furniture – smooth lines and transitions are bright signs of classic style.
Use of natural materials. Finishing – wood, wallpaper, tiles. Textiles – cotton, linen, silk.
Scandinavian style has not left the trends for several years. So don't worry – minimalist kitchen design is still popular. Among the features characteristic of Scandinavian motifs in the interior are:
The color scheme is neutral with bright accents. White and gray shades are taken as a basis. They are quite versatile and can be combined with many colors. You can use red, yellow, blue, orange or green elements as an accent.
Minimalism – no extra furniture or large decor items – just what you will use.
Lots of light. Ideally – large windows. However, you can achieve good lighting and the use of lamps – ceiling and built-in kitchen sets.
Leave the window without curtains, maximum – roller blinds or shutters. The Scandinavian-style kitchen should receive the maximum amount of sunlight.
Tip : Scandinavian style is ideal for small kitchens – a large amount of white in the finish makes the room visually wider and more spacious.
Kitchen decoration trends 2022
If in the living room or bedroom you have no restrictions on the choice of decoration, the kitchen space dictates its conditions. After all, it is here that many processes take place every day that provoke a difference in temperature or increase in humidity. Therefore, all materials must be of high quality and have good wear resistance. Fortunately, modern production technologies have helped to expand the choice of finishing materials.
It is also important to remember that the ceiling, floor and wall design in the kitchen are not the main highlight of the room. The main role here is still played by built-in furniture and dining area. Therefore, many people choose a solid wall design using neutral or pastel shades. Rarely is a large or frequent print used, but more often you can see the use of contrasting wallpaper or paint.
Currently, natural materials are popular. Among them in the kitchen you can find the following:
cork coating – has a unique texture that is easy to paint;
concrete slabs – give the room an industrial style, and the gray tone of concrete perfectly interacts with many other colors;
wallpaper – still remain the most famous way to decorate the walls;
glass or metal – can often be found in the design of aprons.
Kitchen furniture trends 2022
Today, a kitchen furniture set should combine a stylish look and ergonomics. Here it is important to be able to combine aesthetics and practicality in each individual element. No matter what design you choose for your kitchen, in any case, each of its components should be easy to use every day and easy to care for. Modern manufacturers offer you such accessories that make good use of every inch of space.
Storage systems
If a few years ago ready-made storage modules were popular, today many customers choose custom-made fittings based on the parameters of the room. This is due to the fact that the layout of apartments can be radically different from each other – because modern developers prefer the originality of the idea, rather than traditional ways. In addition, a large number of both large and small appliances, forcing the competent use of free space.
The main fashion trends in the field of kitchen sets are:
Smooth facades. They have not surrendered their positions for several years now. This facade will fit perfectly into any modern interior. It looks concise and creates a sense of minimalism.
Smooth facades in the kitchen in high-tech style
Textured surfaces. Although they can be called the complete opposite of the previous paragraph, such facades also have a right to exist. Most often today, the choice of customers falls on an array of wood with a clear texture. It can be used as a window sill, table or countertop.
Open shelves. This method of storage has become popular recently, pushing closed kitchen cabinets to the background. It is especially suitable for small kitchens, where the presence of a large number of closed storage systems can visually reduce the space. In addition, such shelves are an element of decor – they can be placed jars of spices, wine, beautiful dishes. All this will be a great accent in the room.
Dining table
It is worth talking about an important element of kitchen furniture, namely – the dining table. Here fashion trends do not play any role, because the choice of a model should be determined by the number of people living in the apartment and the frequency of reception. Someone will need a large table for the whole family to gather every day, and someone will need a small bar.
Most designers recommend placing round or oval tables in the dining area. They have several important advantages:
providing additional seats if necessary;
lack of corners, which makes the room safe to move (especially for families with children);
attractive appearance that provides home comfort.
Rectangular and square tables should be placed if required by the stylistic features of the premises. By the way, some brands also make slightly rounded corners.
If you have a large kitchen, but frequent receptions are not your lifestyle, it is recommended to use special islands for eating, where you can cook dinner. In some cases, you can run a small tabletop to create a small table. And the bar stools attached to it will add variety to any interior.
Lighting and decor elements in the kitchen interior
Modern design projects are minimalist in everything, including the use of decorative elements. Such items are especially rare in modern kitchen design, which houses mostly practical things. After all, here you need to create a layout that will arrange the location of numerous storage systems, appliances and dining area. In this case, decorating with various details will only clutter the room and make it more crowded.
That is why, in order to give the interior of the kitchen an aesthetic look, use quite practical components – plants, beautiful sets of dishes, vases with fruit or lighting systems. In such a restrained design, you can often achieve more creativity just by lighting. It not only stands out against the general background, but can also become the main highlight, uniting around itself all the other accessories.
Textiles can become an accent spot. Be it the upholstery of a corner or chairs, a small sofa or a bright tablecloth. All this will bring a little originality and will definitely attract the attention of guests.
Of course, no matter how cool, but without decoration it is difficult to do even in such a functional room as the kitchen. That is why a huge number of companies today are trying to style any items used in this room. You have the opportunity to add a little creativity with, for example, the original mixer. Today, most manufacturers produce chrome models, some of which are equipped with lighting.
The kitchen is not just a place for cooking, but also a great area for fantasies. It can miraculously combine ergonomics and home comfort. But for this purpose it is necessary to plan space correctly, considering possibilities of each separate room and new trends which give the chance to feel comfortable in kitchen. Both the owner of the apartment and his guests.