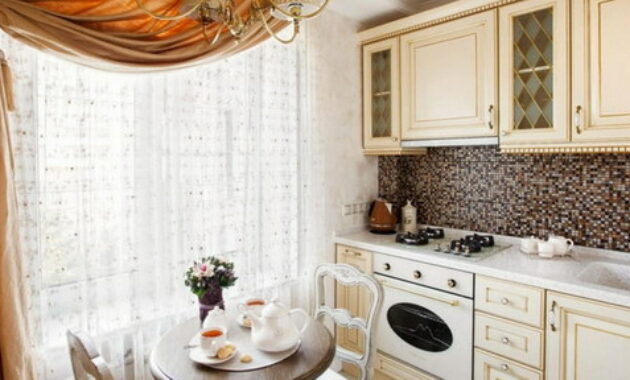 Modern models of kitchen curtains in 2022 first of all appear at annual interior presentations, and then they can be found in the collections of leading manufacturers. We bring to your attention the latest novelties of curtains for the kitchen, and also tell you what you should pay attention to when choosing a window decor.
Popular kitchen curtain trends and ideas for 2022
To figure out which models will be relevant in 2022, you can look at the photo of modern kitchen curtains. Here are the main trends this season:
Materials with imitation of natural fabrics. Modern design gravitates towards natural textures and materials. However, cotton and linen curtains will not be a universal option for the kitchen, as they do not tolerate frequent washings. But synthetic materials that in appearance mimic the texture of natural fabrics will be an excellent substitute. You can choose 100% synthetic fabric or at least 50% synthetic.
Deep saturated shades, monochromatic, without large pattern.
Without tulle. Designers agree that curtains can be used as an independent element in modern decor. It is not necessary to hang tulle.
Models in the style of minimalism. The most harmonious addition to the kitchen interior will be curtains in the Roman style, as well as roller blinds. They look elegant and practical to use.
Functional. These include blackout curtains. They provide optimal shadow illumination, provide protection against drafts and have sound insulation properties.
What's out of fashion
And it is better to refuse these styles, since they are included in the list of anti-trends:
1 Multilayer models. Modern ideas imply minimalism and conciseness, so when choosing tulle and curtains, it is best to focus on one thing.
2 Tulle of the old days. It is better to replace retro tulle with a volumetric pattern with something original, monochromatic. Organza is a good option.
3 Blinds are a thing of the past too. Now they look irrelevant and are the main accumulator of dust and dirt. Modern roller blinds are an excellent alternative.
Actual kitchen curtain colors in 2022
The shade of textiles plays an important role, especially for the design of the kitchen interior. Studies have shown that certain shades can induce or suppress appetite. The most relevant colors this year include the following:
Yellow scale. This bright and cheerful shade can cheer you up. Both soft muted and bright shades will be relevant.
Red. According to scientists, this color can induce appetite. At the same time, it is important to choose calm shades of red and combine them with other elements of the kitchen decor.
Black and white classic. These classic shades always look right. For a small kitchen, light curtains with a black picture are suitable. Light canvas visually expand the area of space.
Brown. Noble shades of brown are the perfect complement to a pastel kitchen.
Gray. Gray curtains will be a great addition to a minimalist and high-tech kitchen. They look laconic and stylish.
Multi-colored. If you want to achieve the most effective look of the window opening, choose options that combine two or more shades. In this case, you should not mix warm and cold shades.
With prints. Such options should not look too pretentious. Among the popular patterns: floral motives, kitchen themes, abstraction, animals, etc. It all depends on personal preference.
Material selection
The operational properties of the product, as well as the external design of the window opening, will depend on the selected material. When choosing kitchen textiles, it is important to understand that there are frequent temperature changes in this room, and during the cooking process, products are subject to contamination.
The material should be unpretentious to maintain and retain its original appearance for a long time. For kitchen curtains, fabrics with a predominance of artificial materials, such as polyamide, polyester, polyacrylic and nylon, are suitable. Today, many beautiful fabrics are made from such synthetic materials:
jacquard,
atlas,
matting,
taffeta,
rayon,
fukra,
veil,
organza.
Important! Do not choose curtains for the kitchen made of materials that have a pile, such as velor, velboa, soft. Such curtains will accumulate grease and dust very quickly.
If you want more natural fabrics, then choose those where 50% of the fibers are still artificial materials. Otherwise, your curtains will lose their appearance very quickly.
Types of kitchen curtains
Curtains are the detail that can create a cozy atmosphere, highlight the benefits and hide existing flaws in the layout. Consider the most popular types of beautiful curtains.
Long curtains and eyelet curtains
Classic long curtains on the floor bring elegance to the interior, visually raise the ceiling and stretch the walls. Models of long curtains, as a rule, are made of dense materials. When choosing such curtains for the kitchen, remember that they need careful care, but they look incredibly sophisticated.
Important! The traditional curtains have been replaced by modern eyelet curtains. Naturally falling canvas on the eyelets gives the room an atmosphere of coziness and comfort. In addition, to visually raise the low ceiling, it is recommended to fix the curtains to the ceiling cornice.
Tulle and short curtains
The most traditional option for kitchen curtains is considered to be short models, approximately at the level of the windowsill. Short curtains are the best option from a safety and maintenance point of view if the window is located near the stove. The most popular laconic novelties are Roman and roller blinds. They look relevant in rooms with a small area.
Tulle can also be a beautiful decorative element in a room. As a rule, tulle curtains are made of delicate translucent materials that let in daylight into the room. You can choose from both laconic cotton and luxurious silk models. When choosing, you should take into account the features of the interior and functionality.
Roman, Austrian and roller blinds
Roman blinds will be equally relevant for both the Khrushchev and the new building. This style will allow you to embody modern ideas when decorating window decor. Roman curtain models look rather laconic, but have a special design that allows you to adjust them depending on the need. The colors of Roman blinds are presented in a wide variety of options and colors.
Roman blinds are quite practical because they are able to repel moisture and resist dirt. For manufacturing, mostly rigid materials are used.
Austrian curtains are a successful combination of French curtains with Roman technology. Such models are considered functional and look truly luxurious.
Advice! Austrian lush curtains can be used as a decor for corner windows, since a rich and rich decor looks appropriate on such windows. Laconic models of curtains will not look spectacular on corner window openings. Simple curtains in the spirit of laconicism do not always look appropriate.
Roll-up models should be chosen by owners of small kitchens who want to decorate a window in a modern style. Roller blinds will improve the interior. The product has a special design that allows you to wind the curtain into a roll at any level. Roller blinds, as a rule, are made of polyester, as it retains its shape and does not lend itself to various contaminants. These curtains do not need constant maintenance. They are most often used for apartments in new buildings.
Important! Roman shades and roller blinds are a popular option when decorating a window with a balcony door, as well as for decorating a bay window.
Fashionable lambrequins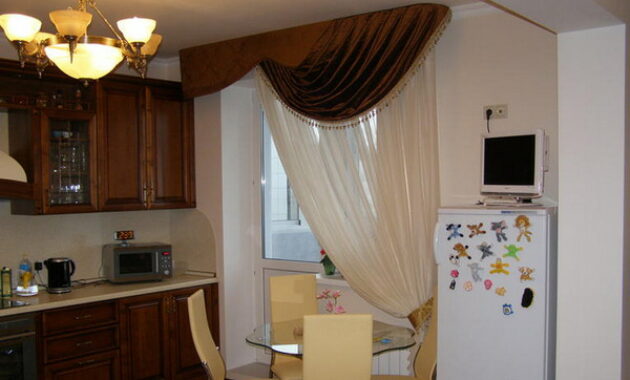 Kitchen lambrequins should not only be a beautiful decorative element, but also have practicality. Such models are used to create a solemn and bright atmosphere in the room. Modern manufacturers offer a wide range of varieties and models of lambrequins, which make it possible to focus on the stylistic direction of the interior.
Interesting! Lambrequins are often chosen for the embodiment of non-standard ideas. This is one of the new design trends that has replaced traditional rings. For example, asymmetric models are used for a window with a balcony door, which allows you to create balance in the external decoration of the window. This solution looks stylish and organic.
Interior styles
When choosing kitchen curtains in 2022, you should pay attention not only to fashionable novelties, but also to the stylistic features of the room. For example, light long flowered curtains will look out of place in a high-tech kitchen. Consider the features of choosing the style of curtains, taking into account the interior.
For modern interiors
For rooms in the Art Nouveau style, you should give preference to simple and laconic curtain models. Textiles from a material with a slight sheen will look spectacular. For interior decoration in a modern style, Roman curtains and roller blinds will be the most relevant. Short models of products will also look appropriate.
For a classic interior
If the interior of your kitchen is made in a classic style, then it will not be difficult to choose curtains. In combination with noble furniture made from natural materials in warm colors, you can choose heavy floor curtains. The current classic shades are beige and brown.
The most optimal option would be plain textiles or products with an unobtrusive pattern.
Choosing modern curtains for a small kitchen
To design a window opening in a small kitchen, you should take into account certain nuances that relate to the features of the layout and functionality of the room.
If the kitchen is very small, then the window sill can be converted into a worktop. So that window textiles do not create inconvenience, a Roman or roller blind will do.
If there is still space for the window sill, then light linen or cotton curtains can be used to decorate the window. A translucent canvas will look great in a small kitchen. It will visually enlarge the space and allow daylight into the room.
At first glance, it seems that the choice of curtains for the kitchen should not cause any difficulties. But it is the right choice of this element that can transform the room and create comfort in it. Armed with our selection guidelines, you are sure to find the perfect curtains for your kitchen.