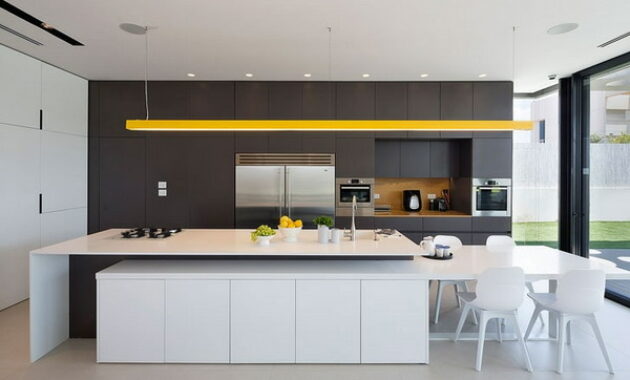 After analyzing the current kitchen design trends in 2022, we can conclude that minimalism is the trend in kitchen design. The harmonious combination of style and comfort allows you to create an original design and at the same time a comfortable atmosphere. Among the accessories, products made from natural materials are still in demand.
Popular stylistic directions
Reincarnation is the motto of 2022. The less a kitchen looks like a cooking space, the more relevant it is. The trend is laconicism, a minimum of decor, built-in appliances, a harmonious combination of colors.
Designers recommend choosing from the following styles:
minimalism . Maximum functionality is a key trend in 2022. To free up space, you need to consider a storage system for kitchen utensils. It is important to choose a simple finish, avoid small details, bright prints. Plain facades, classic furniture without fittings, built-in appliances – these are the main features of kitchen design in the style of minimalism;
eco. Products made from natural materials and recycled raw materials are in trend. 2022 is the peak of the popularity of eco-style. The combination of sky blue and simple finishes looks restrained and harmonious. You can dilute the delicate palette of colors in the design of the kitchen space with green, bright yellow or berry shades. When choosing furniture, you should give preference to items made from natural materials. The tree is popular. It is important to choose all the accessories, avoiding unnecessary details. Clay pots with living plants, linen curtains and a tablecloth, a jute rug, etc .; are considered characteristic of this style;
loft. This style appeared in the middle of the 20th century, when there was a need to reformat warehouses into living quarters. The main design features of loft kitchens are brickwork, natural materials, open communications (wires, pipes). Color shades typical for this style: brown, white and black;
high tech. Among the features of kitchen design, one can note: an abundance of technology, the practicality of each element, a minimum amount of decor, a lot of light. The main colors are gray, black, white, but for contrast, they are often diluted with red and blue details. Each element of the kitchen should be practical, functional;
classical. Regardless of the trends of 2022, this style is liked by many at any time. Luxury, high cost, comfort and warm atmosphere are the main features of classic interiors. Typical for kitchen design in this style: warm shades of beige, gold, brown, massive lighting fixtures, an abundance of textiles, natural materials.
For the interior to be unique, you need to create a cozy atmosphere without cluttering the space with unnecessary, non-functional decorative elements. According to the trends of 2022, the simpler the room, the more harmonious it is.
Fashionable design accents
If there are no restrictions in the choice of furniture, finishing materials and other interior details in the living room or bedroom, then when organizing the kitchen space, you need to adhere to some rules. In this room, many processes regularly occur, associated with a sharp temperature drop, an increase in humidity. All the details of the kitchen interior should not only correspond to the trends of 2022, but also be of high quality. Given the range of materials and details, it is quite possible to create a stylish design, taking into account individual preferences. To make the kitchen as functional as possible, you should adhere to the following trends:
matte texture. The soiling of facades is the main disadvantage of glossy surfaces. Therefore, designers recommend choosing matte textures with a dirt-repellent coating that do not have fingerprints;
island and linear set. L-shaped headsets are no longer relevant. In 2022, the trend is linear arrangement of furniture (with built-in appliances) and island layout. This makes the room more ergonomic;
neat countertops. Classic thick options look too massive. You can choose a worktop made of durable material (granite, for example), which will harmoniously complement the light interior;
White color. It is universal, shades of brown, gray, etc., as well as stylish accessories and appliances are harmoniously combined with it;
simple facades. Handles, open cabinets, a minimum of decor are the key trends in modern kitchens. Hidden storage systems look stylish and do not attract attention. The more free space, the more relevant the room looks.
The kitchen is not only a place for preparing culinary delights. When organizing the space according to the trends of 2022, you can harmoniously combine home comfort and ergonomics. It is important to choose the right materials for decoration, furniture, accessories and decorative elements. The stylish and functional kitchen will be comfortable not only for residents of an apartment or house, but also for their guests.