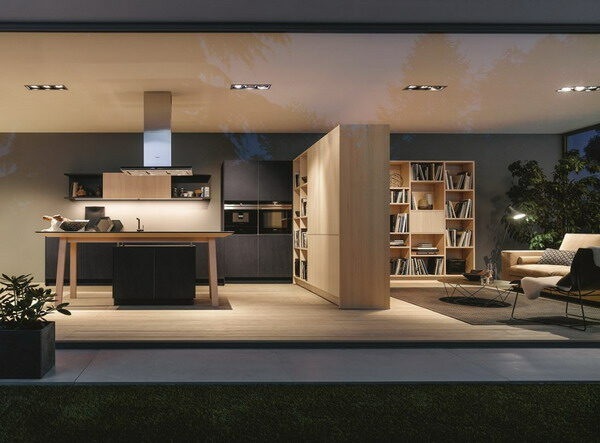 What awaits us in the kitchen in 2025? In short: interesting contrasts. The purist coziness draws into the kitchen space thanks to clear forms and warm materials such as wood. Read our forecast for the kitchen trends for 2025, which revolve around dark furniture, warm wood tones and gently delineated kitchen spaces. And the kitchen sink, of course.
Real trends take years to assert themselves – and do not disappear so quickly from the scene. Nevertheless, furniture and appliance manufacturers at the numerous kitchen fairs feed us every year with news that should bring the coming kitchen year. Why it is still worthwhile to look more closely, is explained quickly: at some point, trends take their course, and that can only know  who already reads what tomorrow is coming.
For example, kitchen trends in 2025 also provide a number of design ideas that have long been imaginable – such as the further development of the smart home or the influence of dark tones on the kitchen space – and yet also create surprises: the kitchen sink is now considered by many to be the new center of the kitchen celebrated.
Kitchen Trends 2025: 1) Open Plan Kitchens Are Limited
The open kitchen is an integral part of modern planning; be it for aesthetic reasons or simply because the tight living space forces architects to do so. Nevertheless, a turnaround is foreseen for the year 2025: Although kitchens continue to share a space with dining and living furniture, they are becoming increasingly delimited in their unity.
This can be done through partitions in the form of shelves that are accessible from both sides, but also through real, half-drawn walls or even across different levels of the apartment, which are connected by open parapets and stairs. In the US, this trend change has become noticeable as the so-called " Broken Plan Living ". In Germany and Europe, companies such as LEICHT, häcker, bulthaup and SieMatic with metal braces, free-hanging hanging shelves and special sideboards provide a gentle demarcation of the open kitchen space, which nevertheless blends into the living area.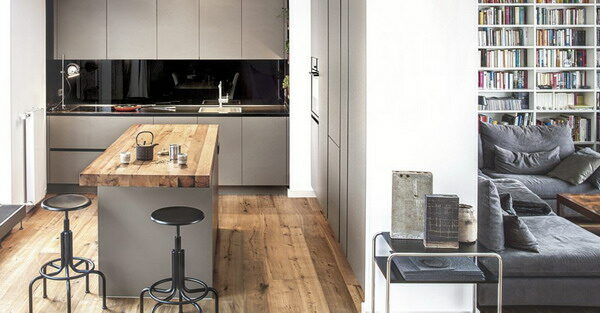 The kitchen will remain open in 2025 as well. But for the first time in years, the "Broken Plan Living" ensures that partitions and cabinets delicately limit the space. (Photo: Dross & Schaffer Munich East)
Kitchen Trends 2025: 2) The Sink As The New Center Of The Kitchen
Of course, it was the sink manufacturers themselves who ascribed the kitchen sink a special function: the sink as a place of action in the kitchen where you can do almost all the steps of the kitchen work process. BLANCO had slidable cutting boards adjusted to the drip area of its sinks and created a container for kitchen waste with the COLLECTIS 6 S model. SCHOCK called the prepstation, which is suitable for cutting directly onto the sink with a wooden board as a workplace on the sink and the scratch-resistant surface Cristadur. And Franke created thatFranke Box Center, which places cutting boards and cutting knives close to the sink.
The real accolade as a culinary trend in 2025 got the sink then, however, when premium kitchen manufacturer bulthaup proclaimed it the new center of the kitchen. The reason? Professional chefs could spend hours without electricity, but never without water to create their food. Reason enough for the bulthaup designers to make the sink even more functional (for example with a sloping draining board and insertable baskets). For 2025 may be expected that other kitchen manufacturers follow this example.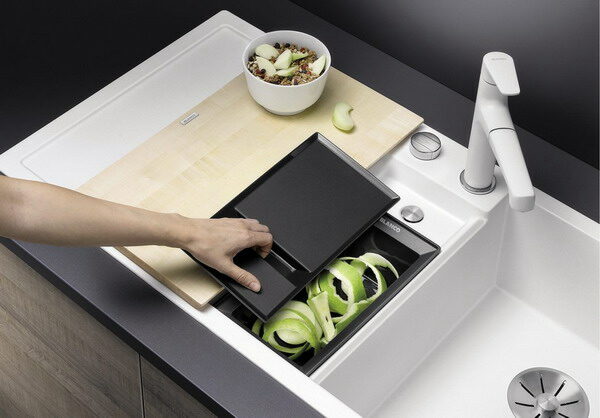 The sink moves to the individually equipped center of the kitchen. Many jobs such as washing, cutting, rinsing and serving can be done right here – in particularly hygienic circumstances. (Photo: BLANCO)
Kitchen Trends 2025: 3) Wood Returns
Wood is one of the most beautiful materials that nature has to offer. And of course, wood was never really gone – but in the kitchen, for years, it combined old-fashioned country-style kitchens and hard-to-maintain material that expands, absorbs dirt like dyes and swells and contracts with liquids like water.
With the interest in the Danish lifestyle "Hygge" and the associated turn to the cozy own four walls, the enthusiasm for wood has grown again. Kitchen manufacturer LEICHT presented wood as part of its kitchen trends in 2025 – in the " Solid " model, it is matte-matte combined with minimalist plastic lacquer to create a down-to-earth interplay between elegant and natural. Also in the combination of materials " Metropolitan Merge " wood comes back on the scene, this time as an exotic mountain sub-line.
The East Westphalian kitchen manufacturer rational, who has given a new coat of paint to his " cascade " supporting program and is now focusing on Italian design in addition to German engineering, also relies on wood. This includes not only the finest natural stone but also elegant dark woods such as walnut, mountain larch and wild oak.
Luxury kitchen maker SieMatic uses real wood in his precious kitchen models, along with glass, metal and natural stone, turning dark, heavy wood cabinets with the right light inserts and metallic struts into majestic kitchen lines that redefine purism.
Also worktop manufacturer Lechner, who works with the most frequently used surface of the kitchen, recently presented at the area30 new worktops made of solid wood in six different decors, which need to be properly maintained, but bring warm and modern design into the kitchen space.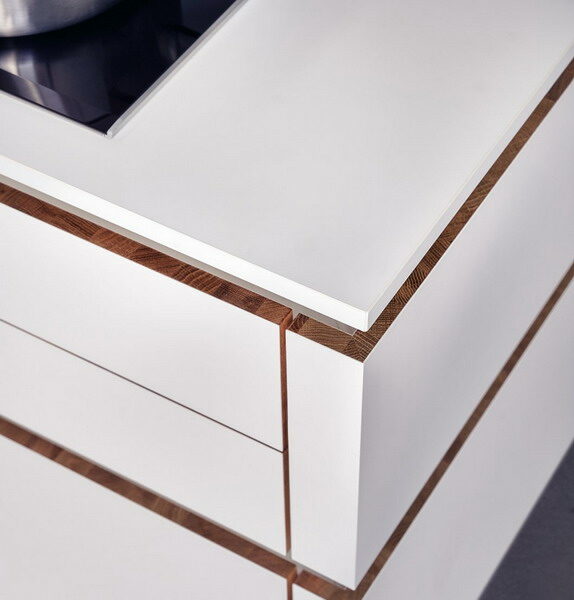 Wood again dominates the kitchen designs of the high-quality manufacturers such as LEICHT, SieMatic and rational. As a veneer or decor, as an edge or real wood front, it is used as a warm contrast to glass and metal. (Photo: EASY)
Kitchen Trends 2025: 4) The Country House Style Returns
Earlier by old-fashioned cut timber fronts, the country house style with modern cut wood fronts in a delicate frame look back. Elegant characteristics for this can be found in LEICHT's model " Verve ", which, however, was already presented for 2018. That the trend continues in 2025, shows the continued success of the British company Neptune, which now also very successfully sold rustic kitchens in the English country house style in Germany – and thus sets standards for individually hand-crafted kitchen furniture.
Those interested in all price categories will find what they are looking for: the budget-friendly manufacturer häcker offers beautiful country-style kitchens as well as premium kitchen manufacturer zeyko. The kitchen trends 2025 show that the terms "purist" or "elegant" and "country house" are no longer mutually exclusive.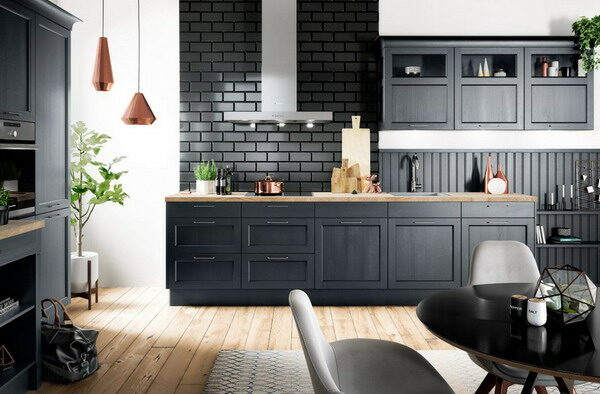 The country house style becomes purist, clearly defined – and thus again modern: Manufacturers are increasingly focusing on this style in modern colors and materials for the kitchen trends of 2025. (Photo: häcker)
Kitchen Trends 2025: 5) Black Is… The New Black
Already at the EuroCucina 2018 in April it became clear what will dominate the kitchen space in 2025 – and probably also in the coming years. Among them are many dark tones such as anodized aluminum, anthracite plastic or natural stones in Greige, because the Italians love heavy tones and, unlike their German neighbors, do not be shy for a lively space like the kitchen.
The designers of all countries can agree on black: the mysterious, deep-dark color simply never goes out of fashion and was seen in rich, matt-lacquered shades in many German kitchen and appliance manufacturers. Black emerges as the color of shelf braces ( LEICHT ), as an elegant worktop in Fenix with antifinger print ( next123 ) or as tinted glass in carbon black for high-quality built-in appliances ( Bosch ). It was once called Farbtrend, it was the new black, you can hold for the kitchen trends in 2025 : Black has retook his place – if it ever was gone.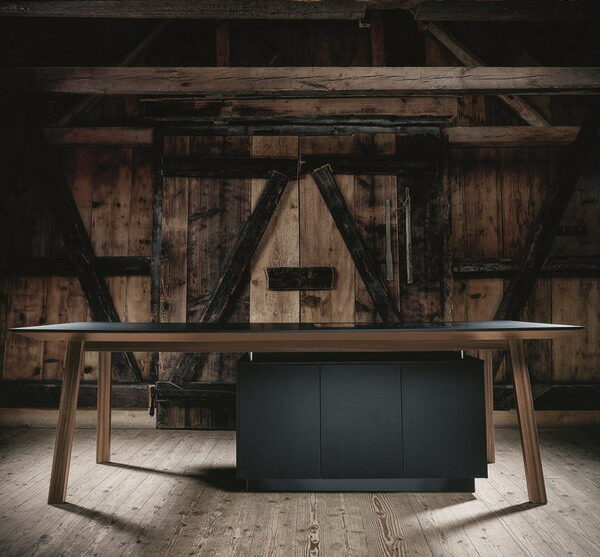 Reduced optics, sensual coloring: In 2025, black will again be a favorite as a kitchen color that captures fronts, worktops and appliances. (Photo: next125)
Kitchen Trends 2025: 6) New Storage Spaces Are Being Developed
A kitchen room is only as good as the planner who realizes it. Storage space is one of the most urgent requirements that must be considered – and often at the expense of the aesthetics of a beautiful kitchen space. Nevertheless, a clear, visual inclusion of the storage space is emerging for the kitchen trends in 2025 : it is made visible in the form of vertically used areas and horizontally movable areas.
Bulthaup presented its perfect implementation at EuroCucina 2018 with its new bulthaup b3 model : the kitchen island now consists of an open stainless steel pan for kitchen utensils of all kinds, which can be covered with sliding worktops and closed if necessary. So everything is at your fingertips and yet outwardly minimalist and not visible.
Premium kitchen manufacturer SieMatic turn plays with storage space in the kitchen back wall can be, in the niches with oils, spices or kitchen tool filled, which then can be closed with one stone visually. New storage spaces help to keep things organized without having to adjust the kitchen with additional cabinets. A creative idea for wall-hung storage can be found here.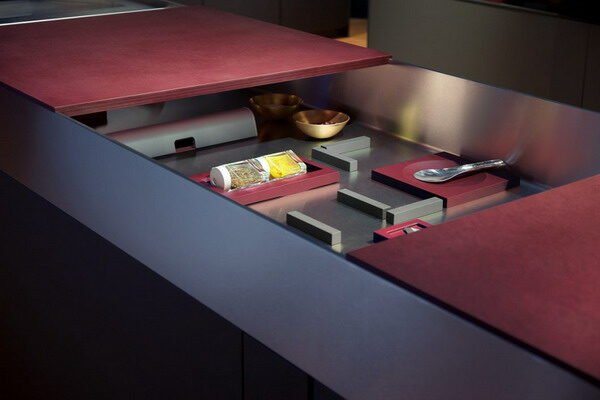 Storage spaces will be redeveloped in a playful way in 2025: this stainless steel sink from the luxury kitchen manufacturer bulthaup can be equipped individually and, depending on requirements, can be concealed from prying eyes with sliding worktops. (Photo: bulthaup)
Kitchen Trends 2025: 7) The Smart Home: Fewer Buttons, More Automation Through Sensors
Of course, there must not be missing: who wants to report on the future, and thus about the kitchen trends in 2025, must deal with the smart home. Similar to the open kitchen space, the color black or wood as the main material of a kitchen, the smart home has long existed as a trend – and is constantly evolving.
For 2025, another automation of the smart home is announcing, without the user having to set it extra via smartphone, for example in the form of the self-dosing dishwasher (Miele), the self-dosing washing machine (Bosch, Siemens) or the reflective cooking hob ( V-ZUG, Miele, Siemens), whose cooking settings follow the cooking utensils everywhere on the hob.
In the future, the smart home will not only cope with less human intervention in the technology, but also slim down in the design : fewer and fewer button handles and buttons will be needed to make adjustments. Much is generated by the smart home from experience gained (for example, how long a dish needs to bake until it is cooked), others are sensed by sensors (for example, how dirty dishes and cups are in the dishwasher).
A puristic design also offers the prospect of the newly presented CERAN EXCITE lighting system, which in the future will guide users via LEDs or control the cooking process. Buttons and levers fall away. The future will be more filigree than ever.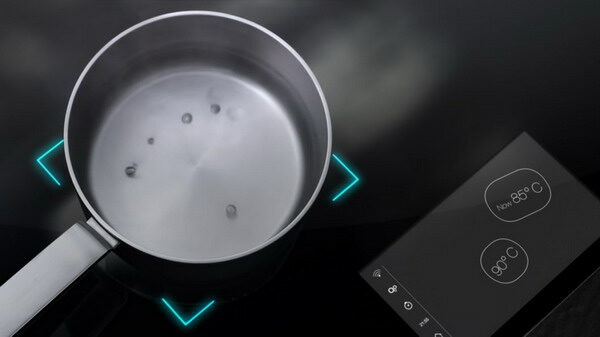 The Smart Home will not only increasingly relieve us of work, but also instruct and process it ourselves. Instead of pressing a button as before, many things will automatically be preset and displayed by light signals. (Photo: SCHOTT Ceran Excite)