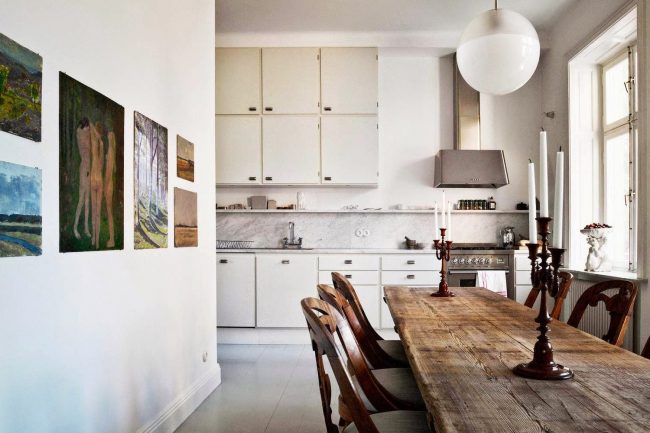 The kitchen is one of the central rooms of the home and is often the family's meeting place, so it is important to maintain a comfortable kitchen for our needs and at the same time, with a nice design and decoration. That is why we will show you a few ideas of modern kitchen design trends 2025, which can help you design yours.
Distribution of kitchen items
If we want to be comfortable in our kitchen, one of the most important factors is its distribution. Discover all the possibilities below.
L-shaped kitchens
Two right angled walls are used. It is an ideal format when we do not have much space, which is used very efficiently.
One of the fashion trends in kitchen decoration, bets on strong colors on walls or furniture. The choice of vibrant colors can add joy and positive energy to our home. In addition, the result will also be a modern kitchen. You can also add color with accessories.
U-shaped kitchens
Usually, one side of the countertop is used not only for cooking but also for eating.
Above we see a kitchen in U minimalist style. It is perfect when we look for an elegant decoration without many objects that take up space. You must choose uniform tones, neutral colors and a harmony between the colors of the chairs, tables and the necessary accessories. Black and white is the perfect combination when we talk about elegant and minimalist kitchens.
Straight kitchen on one wall
This type of kitchen gives the feeling of great breadth.
The classic design in kitchens is never out of fashion. It is also perfect for those who like rustic furniture when decorating the home and is a perfect trend to combine and bring a vintage style.
Galley kitchens
It is the typical American style kitchen, with an island or counter. It gives us a lot of cooking surface.
Curved kitchens
Cabinet trends in kitchen designs 2025
We show you some ideas that can be an inspiration for the design of your kitchen.
Showcases
You can give an old touch to your modern kitchen with glass cabinets. You can even add warmth through lights inside the closets.
Cubicles
You can divide the shelves into cubicles, this is a very showy trend for kitchens.
Sliding doors kitchen cabinets
This type of doors can allow you to show or hide the shelves you want.
Colorful cabinets
Do you want the lighting of a totally white kitchen, but with a touch of dynamism? You can insert some color door in the cabinets.
Pink is a bold and certainly fun decision for closets. A bubblegum color is clearly retro, while a deep raspberry would give a more sophisticated touch.
Two striking tones. Why decorate with a single bold color when you can have two? Choose a color for the upper cabinets and another for the lower ones, or make the majority of the cabinets in a hue and a single game in another color to achieve a contrast.
Open shelves
Do you want an open shelf without having to reveal all your stuff? Consider cabinets with an open shelf at the top, which will be enough to display favorite items.
Slate doors
The wood framed slate is a rustic but refined decoration. You can write your favorite shopping lists and recipes directly in the cupboards.
Rustic wood
The reclaimed wood adds charm and patina.
If you like the look of recovered wood, but do not want to sand your entire kitchen, you can use wooden boards as in the photo.
Wall-mounted cabinets
2025 Trends for kitchen flooring ideas
When choosing the floor of the kitchen, you always have to take into account, not only the people who live in your home, but also your pets, especially if they are inside the house.
You also have to take into account the type of housing, as well as the area in which you live, that is, take into account changes in temperature and environmental humidity, since there are materials that over time contract and expand, and they can deteriorate and break quickly.
The kitchen floor is the basis for deciding the rest of the kitchen furniture. If we do not take it into account, it can end up losing on several sides.
When it comes to selecting materials for the kitchen floor, don't forget to take into account both your budget and lifestyle. The choice of floor material can be very wide. Among the options are ceramic tiles, wood and laminated materials. The choice must be based first of all on practicality. A large family is probably a better dark ceramic floor, for permanent use and exposed to dirt. While for a single person who doesn't spend much in the house, a wooden floor could be a more elegant option.
Solid wood
If you are going to decide on wood, you have great pallets, with incredible finishes, that withstand stains, water and even blows, all laminated finishes have these characteristics.
Do not forget that one thing is that they withstand moisture, so any type of liquid should be removed as soon as possible.
Laminate
Bamboo
Cork
Vinyl
This type of material allows a simple installation and with minor complications, it will reduce costs and the fun of being able to place it.
Linoleum
Ceramics
In areas with higher humidity levels, it will be necessary for the floors to be waterproof, within which you can have ceramic floors with wood, metal, stone finishes, among other types of finishes.
Usually when you build a house, or rent a flat, you don't usually pay the necessary attention to the kitchen floor, without realizing that you will need it. The right floor can make a big difference. For example, floors with light or neutral tones create an impression of light and space. Strong colors can help for a large kitchen, but not for a small one.
Polished concrete
When you select the floor style for your kitchen, it is important to consider both the beauty and durability of the material. The kitchen floor can accentuate countertops, cabinets and appliances. It must also be able to resist daily use, such as spills that may fall on it and the transit of people. This also depends on the use of it in your home.
Home appliances trends 2025
Fridge
Select the size of the refrigerator based on the number of people in your family and the amount of food consumed. You have to measure the space that is available and the location where you want to place the refrigerator and that fits well in your kitchen.
In addition to the size, you have to look at the compartments offered, and that it contains enough to serve the different foods for storage. Tempered glass shelves are easier to clean. Some refrigerators include deodorants that absorb bad odors with an activated carbon filter.
An ecological freezer not only helps the environment, but also reduces the energy consumption of your home. Just as the use of LED lighting helps reduce consumption, since it consumes up to 10 times less and lasts 10 times longer than a traditional incandescent bulb.
Ovens
Electric and gas ovens are available in independent or integrated models. Electric ovens are the most affordable and commonly seen, while the popularity of gas ovens is growing thanks to the increasing cost and environmental impact of electricity use.
The gas oven heats and cooks food through the combustion of gas, and the electric oven heats and cooks food by transmitting heat through electrical resistors.
Most ovens now have self-cleaning options and come in two forms:
Catalytic cleaning: absorb and destroy grease splashes during cooking.
Pyro-lithic cleaning: dirt from the interior, like traces of oil and solid particles, burns them and turns them into ash.