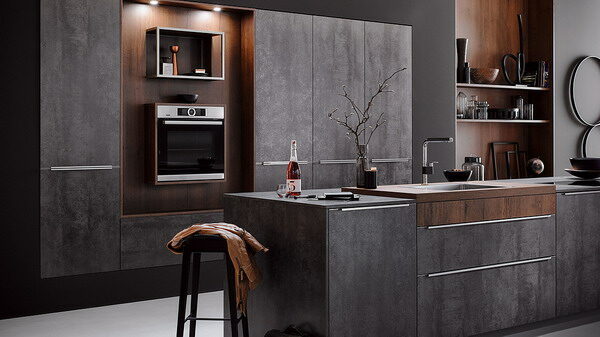 As every autumn, the major kitchen furniture and appliance manufacturers have presented their novelties. We would like to introduce you to the kitchen trends 2025 in more detail. For example, we will tell you which color you can not avoid in 2025, which new features will impress the electrical appliances and what trendy kitchen equipment  can do.
This is what the kitchen trends look like in 2025
Kitchen trends in furniture: We see black
Particularly striking is the trend towards dark kitchens. Whether black, dark brown or gray – almost all manufacturers are showing their gloomy side in 2025. Whether the black kitchen will outrun the white and magnolia-colored kitchens that have long been the popularity scale? That will be decided in the kitchen studios. It is clear that the dark materials leave a high-quality and elegant impression and can be combined well with other colors. The trend is not limited to the fronts: Handles, cheeks, panel systems, pedestals and shelves are also presented in noble onyx black. Even with the electrical appliances, white or stainless steel is no longer necessarily the color of choice. Many manufacturers have black models on offer, which fit seamlessly into the dark kitchens.
However, a surprising splash of color can also be identified: Various manufacturers, such as Häcker, have discovered the color pink for themselves and offer fronts and shelves in delicate pastel. Maybe a new kitchen trend? At least an alternative for those who can not make friends with black kitchens.
Also, metal and ceramic decorations are still on the rise and in 2025 give a sophisticated touch to our kitchens. Marble, wood and stone looks continue to be major themes in the kitchen – as well as on fronts and countertops. Matte fronts have gained in importance, while you get to see complete glossy kitchens only sporadically. More popular is the combination of matt and shiny fronts. The premium segment now scores with effective anti-fingerprint coatings. The matte surface seal is intended to guarantee that fingerprints on dark, handleless fronts are no longer a problem.
Dark kitchen with pink shelves: Gray kitchens can be friendly thanks to the splash of color. Here pink shelf ensure more color.
Kitchen? Living room? Both!
An important kitchen trend in 2025 is still the fusion of kitchen and living room. Many manufacturers have cabinets and shelves in the program, which would rather assume in the living area. This creates a consistent living concept with recurring elements, colors and shapes.
It goes without saying that the handle-less kitchen continues to be very popular. New elegant fronts, increasingly sophisticated hardware solutions and effective surface protection reinforce this kitchen trend. In order to be invisible in the open kitchen, electrical appliances such as dishwashers or refrigerators disappear behind the fronts. Laterally retractable doors reveal the view of beautiful appliances or the home bar without being in the way. If they are closed, a uniform, smooth front is created. Also striking is the trend towards broad extracts. 90 or even 120 cm wide drawers offer a lot of storage space and visually ensure quiet fronts.
Brand new and perfect for smaller kitchens is the OrgaWall by Schüller. It can be equipped with various elements such as key board, coat hook or magazine rack and can also act as a mini wardrobe. It also includes a charging station for mobile devices such as smartphones or tablets. Pens can find their place here, postcards and pictures are hung. It has the same design as the cheek of the cupboard to which it is attached.
Again, it shows that the trend towards the kitchen as a communication center continues unabated. Movable worktops and counters, which can be moved and thus adapted to different requirements, also contribute to this. So the hob or sink on the kitchen island under a countertop completely disappear. The counters can be retracted and extended and thus provide space for eating or reading a newspaper.
Lighting makes the difference: The worktop of this nobilia kitchen island seems to float thanks to the lighting.
Kitchen trends in lighting: Let there be light!
Kitchens are becoming more and more comfortable, a sophisticated lighting concept is essential. The kitchen trend in 2025 clearly goes for indirect lighting and too many light sources, which both deliberately set accents and form a harmonious whole. Shelves and wall units are equipped with LEDs in different colors, which beautifully put the content in scene. Often one sees "floating" countertops. This impression is created when the grip track between the cabinet and the worktop is illuminated by LEDs. A similar effect is achieved by illuminating the kitchen base. Cabinets, drawers and pull-outs can also be illuminated from the inside. The light will automatically turn on when it opens and off again when it closes.
The lights in the kitchen can now be controlled by app or voice assistant. Important for the kitchen: The light can not only be dimmed, you can also choose between a cool white tone for working and warm light for eating, relaxing or watching TV. An individual lighting concept creates the desired feel-good atmosphere in the kitchen and inconspicuous elements are given character and color.
Electrical appliances can be so stylish: The new accent line carbon black from Bosch is completely black.
Kitchen trends in appliances: This is how we cook tomorrow
Devices that make cooking easier and more efficient have been very much in vogue for some time now. Even methods that enable a gentle preparation of food, and devices with corresponding functions are becoming increasingly popular. Bauknecht has recognized this and has therefore equipped his new ovens with various steam functions. You can choose between high, medium and low steam intensity.
Various manufacturers, such as KitchenAid, Bosch or Siemens, are focusing more on optics in 2025 and are bringing out ovens in elegant black. They fit perfectly into the trendy black or gray kitchens, but also make an interesting contrast in bright kitchens. Bauknecht has extended its range of ovens to include handleless appliances that are visually perfect for kitchens with smooth fronts. In the extractor hoods, downdraft downdraft fans will continue to play an important role. New in the program of the company Blaupunkt is a vertical hood for wall mounting above the hob. For use, it is simply opened and closed again after cooking. That looks classy, saves space in the kitchen and protects against banging your head.
In the field of hobs, the induction is becoming more and more prevalent. The fields are becoming increasingly flexible and can be interconnected to large cooking zones. Whether large roasting pan or small sauce pot – the fields recognize the cookware and heat it precisely. At the same time, the cooktops are becoming visibly more elegant and at the same time more user-friendly. For example, a special print beneath the glass ceramic in the new hobs from Miele enables a quiet, easy movement of pots and pans.
A big topic remains the networking of kitchen appliances. Many devices now work with digital voice assistants such as Siri or Alexa. But it remains to be seen whether the Smart Kitchen 2025 will make its final breakthrough.
Kitchen trends in sinks, faucets and kitchen back walls
Among the most interesting novelties in the field of accessories are certainly kitchen taps with various additional functions. The company Blanco impresses with fittings, from which not only bubbling or boiling hot water runs, but where you can now even adjust the desired amount. Rinse with several levels and shelves, some with cheerful colorful accessories available, complete the picture. In general, sinks 2025 are very angular, which is visually appealing, but in daily use, an optionally higher level of care.
Even those who like it less, will get their money's worth in 2025. Many manufacturers offer worktop, sink and kitchen back wall in the same design. This leaves a particularly stylish and at the same time tidy impression. The kitchen back wall is generally becoming an eye-catcher. They are available in various materials and designs, for replacement or with additional functions such as panel systems. Often they are lit, which creates a particularly cozy atmosphere in the kitchen. Particularly original: mirrors as niche rear walls, which visually enlarge the kitchen, as seen by Häcker.
The worktops will be padded in 2025, not messed up. Whether made of natural stone, ceramic, wood, laminate or stainless steel – the new worktops are a highlight in the kitchen. There are still thin specimens in the trend, with some manufacturers trick here a bit: Due to a special cut the worktop is thicker down than the top, which gives it stability and still guarantees a great look. Very reserved is a variant therefore, in which the worktop is kept in the same material and design as the fronts of the base cabinets.
You want to discover even more trends? At the Kitchen Trends 2025 you will find more exciting furniture, appliances and accessories.