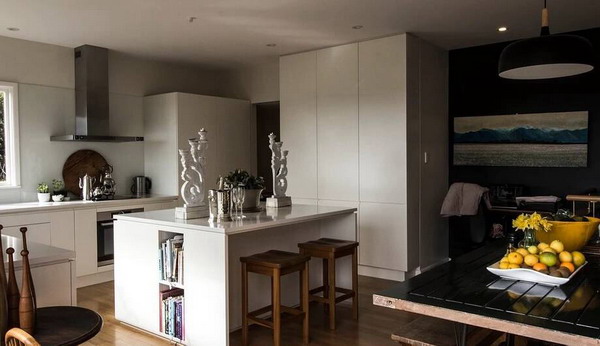 Refuse handles, remove the upper cabinets and rely on matte white facades – we tell you what designers offer next year.
It's a few months before the new year, but it's worth voicing the trends of the upcoming seasons in design now. After analyzing current trends and popular design techniques, we can draw the following conclusions: modern kitchens in 2021 will be decorated in accordance with the principles of minimalism, without far-fetched decor and with an emphasis on natural eco-friendly materials and textures.
Actual styles in the design of the kitchen in 2021
The less the kitchen resembles itself, the more fashionable it will become. Ideal if the furniture is generally invisible. You can choose the walls and facades in the most similar materials and shades. For example, a stone texture, universal white color or decorative plaster and facade for concrete will do well. A minimum of scenery, no panels and built-in laconic appliances – voila, your invisible kitchen is ready.
Minimalism
Designers say with one voice that minimalism went beyond the interior style and became a way of life for citizens. Refusing all that is superfluous in favor of maximum functionality is one of the main trends of next year. This also applies to the repair and decoration of kitchens.
Choose a laconic finish, try to avoid bright prints and an abundance of various accessories, at least in prominent places. Get inspired by interiors by fashion designers. To clear the space of all unnecessary, it is not necessary to go to the garbage chute. Think of a storage system and arrange all your belongings behind minimalist facades. The interior will become lighter.
In a small kitchen, this rule is most applicable. Clean plain facades and a simple dining group fit perfectly into a small footage. Choose the built-in technique, refuse hardware, let the furniture be with a simple, flat surface.
Kitchen design in 2021 is a novelty, first of all, among high-tech gadgets. It may even make sense to save on facades to please a planetary mixer controlled by a smartphone. Choose a technique with a decent filling and sleek design. There is an opportunity to buy a built-in model, do it. You can integrate anything: a microwave, oven, dishwasher and even a coffee machine. Do not keep small equipment such as a yogurt maker, bread machine or dehydrator in sight, provide a place for them in cabinets.
Eco friendly kitchen
Except that the lazy one doesn't speak about an ecological lifestyle. Things from recycled materials, farm products and maximum attention to naturalness – eco-style is at the zenith of its popularity.
To create a trendy interior, use a neutral color palette and a basic finish: sky blue, a shade of fresh green. They can be saturated with berry tones or bright yellow, reminiscent of the summer sun. Choose furniture from natural materials, the most versatile is wood. Do not forget about the textures: linen tablecloth and curtains, living plants in clay pots and a jute rug on the floor. The right accessories are a spice for the interior.
Trends in kitchen furniture in 2021
Matte texture
There is a common opinion about the soiled facades. And this does not depend on color, but on texture, for example, fingerprints will be clearly visible on a glossy surface. That is why such facades are increasingly abandoned in favor of opaque ones. And for those who do not want to spend time cleaning, you should pay attention to special dirt-repellent coatings for furniture.
Set in line and kitchen island
The linear set instead of the L-shaped is, again, a tribute to minimalism. The most relevant arrangement of furniture is the island and cabinets, lined up in a straight line along the wall where the appliances are built. Even if you have a small footage, do not rush to abandon the island layout, in this way you can even improve the ergonomics of the room. It's ideal to build a sink in the island, but instead have a hob.
Thin countertops
We choose thick countertops, unconsciously considering them more durable. But, if you follow common sense, you can safely abandon the classic countertops in favor of thinner ones – just select the right material. Very durable models are made of granite or porcelain stoneware; glass is good for a light interior.
Extremely simple facades
Modern kitchen design ideas in 2021 imply the abandonment of upper cabinets and handles. An impressive amount of kitchen utensils has lost relevance and it no longer needs to be stored at home.
You can replace the cabinets with an open shelf for decorative dishes or even leave the space empty. Handles for lockers also lost relevance. They gave way to a hidden door opening system at the touch of a button. So the facades look more solid, the handles do not collect dirt on themselves and do not attract too much attention.
White color
In addition, white, due to its purity and simplicity, is the main color of trend minimalism. This is a universal shade to which you can pick up any accessories and equipment.
Outdated Design Tricks
Velvet classics: elements of baroque, rococo and other heavy historical heavy styles.
Bar counter. Unfortunately, the accessory popular at the time, due to its complex design, lost its relevance in the era of minimalism.
Photo printing on the facades. The general trend in the 90s did not touch the tasteless kitchen furniture.
Open storage. It is better to avoid foci of accumulation of small objects – utensils, accessories.