Dark kitchen fronts, more wood, matt surfaces, interesting combinations and new materials – the latest kitchen trends 2023 are very promising.
Kitchen furniture for the entire apartment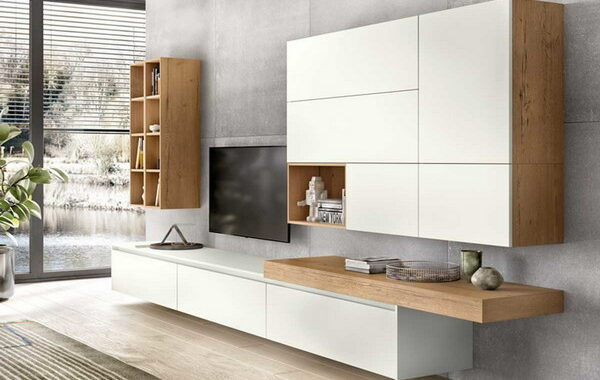 The kitchen has long been considered the new center of life and is often planned together with the living-dining area. The kitchen and living area merge into one room, the kitchen area is harmoniously connected to the adjoining rooms. It is therefore not surprising that kitchen furniture is not only finding its way into the living and dining area, but also in the hallway and bathroom. This allows a harmonious design of your own four walls. If desired, the uniform style runs like a red thread through the entire living area. This is reflected in the wide range of kitchen furniture for living and bathroom from various manufacturers.
In addition, the utility room is becoming more and more important. In many new buildings that do not have a basement, this offers convenient storage space and relieves the open kitchens. Kitchen rooms can thus be made homely and cozy.
The well-known kitchen manufacturer Nobilia has developed a wide range of furniture for different needs. Thanks to a multitude of color nuances and styles, beautiful living ideas can be found for every taste.
Dark kitchen fronts are on the rise
In the meantime, black kitchens have become an integral part of the kitchen. They are elegant and set noble accents. Dark fronts are the trend in 2023. The classic white kitchen will be black, anthracite or gray in 2023. The dark kitchen fronts are often combined with wooden fronts or light wooden furniture. Above all, visibly grained and lively wooden fronts in a wide variety of color nuances are very popular. These set pleasantly homely and luminous accents in the otherwise covered kitchen. So that oily fingers or fingers dusted with flour do not leave any annoying marks, the new kitchens usually have an anti-fingerprint seal.
If emphasis is placed on a wooden front, this is often combined with dark, natural materials such as granite or marble or with concrete and stainless steel. This gives the kitchens a modern look. This trend is particularly popular in minimalist kitchens.
Pastel shades are in
The new dark kitchen designs are accompanied by pastel tones and earthy color nuances in the kitchen area. Whether as a kitchen front or as a wall color, the soft, soft and sometimes upbeat colors such as red and pink tones tinted with black, sage green or chilli red brighten the covered fronts and give the kitchen a modern flair. The kitchen rooms can also be combined with grained wooden furniture as cupboard or shelf elements. This creates a modern kitchen ambience and at the same time an extra dose of freshness.
Matt instead of glossy
Whether kitchen front, worktop, niche rear wall or appliances on the worktop – in 2023 there will be no more sparkle and shine. Matt colors are finding their way into kitchens. Manufacturers are following this trend, but still offer alternatives.
Filigree worktops
If worktops set effective accents in the kitchen simply because of their profile thickness, regardless of whether they are made of veneer, layered laminate, granite or real wood, that will be a thing of the past in the kitchen world in 2023. The profiles of work surfaces, kitchen cabinets and also drawer elements are filigree and thin in the new kitchen season. This gives the surfaces an elegant or cozy industrial look, depending on the material properties. In particular, stainless steel surfaces in the work area reinforce the modern industrial touch.
Nobilia relies on functional solutions in the kitchen
Practical, functional and individually combined with comfort – this is what the kitchen manufacturer Nobilia has written on the flags in 2023. On the one hand, Nobilia offers new decors, for example in concrete terragrey imitation, dark wood optics and matt satined glass optics in Titiano. These new decors are also available for furniture in the living room and bathroom. On the other hand, Nobilia relies on continuous fronts, which makes cabinet surfaces appear larger and more modern.
At the same time, luxury furniture is becoming more flexible. On the one hand, cabinet elements for the bathroom and hallway can now be ordered with a shallow depth – a great advantage for small rooms and narrow hallways. On the other hand, there are deeper wall and top cabinets with a side depth of 350 mm for kitchens. This means that pizza and pasta plates now have enough space in the wall unit area! There is also more storage space thanks to extra-high wall cupboards.
In addition, Nobilia now offers antibacterial surfaces for Xtra worktops with a thickness of 38 mm, so-called microPLUS ® surfaces. This allows hygienic work in the kitchen.
There is more flexibility for kitchen users for the working height. In addition to the standard height, a minimum or maximum height of up to 86.4 cm can also be selected, depending on individual needs. In addition, three different worktop heights and 4 base heights are now available and allow ergonomic and individual design of the kitchen planning. If desired, the different work areas in the kitchen can be designed at different heights, for example lower around the sink than around the hob.