There are a few months left for the new year to come in but we're getting ahead of ourselves! The experts reveal to us what it will take to plan the work of the kitchen renovation and decoration trends in 2024.
Trend In Kitchen Renovation 2024
For the year 2024, the idea of connecting and opening the kitchen with the rest of the house continues. And here the three consulted companies coincide: Ábaton architecture studio, Dos Design renovation company and Mobalpa furniture company. "In flats of less than 100 m², the kitchen is opened to the living room to gain light and visual amplitude. These are kitchens in which the greatest possible number of electrical appliances are integrated to give a sense of continuity to the living room ", they point out from Dos Design.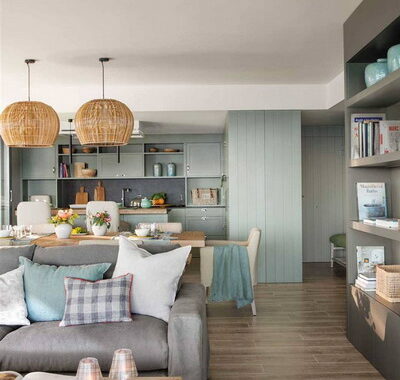 Crearte Collections sofas with Jute upholstery, Luzio coffee table, Ay Illuminate ceiling lamps and porcelain stoneware floor that imitates wood.
Glass Walls In The Kitchen Are Still On The Rise
"The search for functionality leads to increasingly integrating the kitchen with the rest of the home's environments, unifying both furniture and accessories : taps, handles or wall finishes. The transparent divisions take the lead over the separation with partitions ", Clara Farinella and Eva Espada, architects and heads of the kitchen department at the Ábaton studio, specify.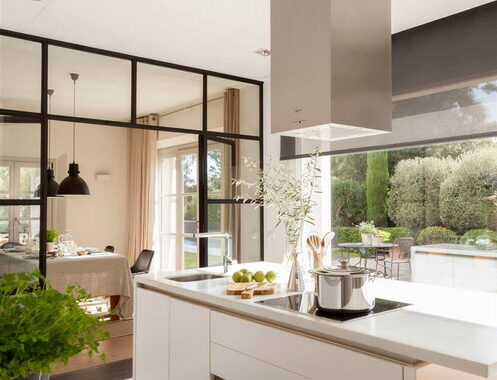 Siematic kitchen furniture, Macael marble top, Franke taps and sink and Neff hood.
It Is A Trend To Decorate In Earthy Colors
In the decoration of the kitchens in 2024 there will be no lack of earthy tones. This is how Richard Perrin, responsible for the Mobalpa product range, explains it : "Terracotta tones are still very present in 2024. The trend is to choose a very earthy, reassuring, warm, enveloping and soft color."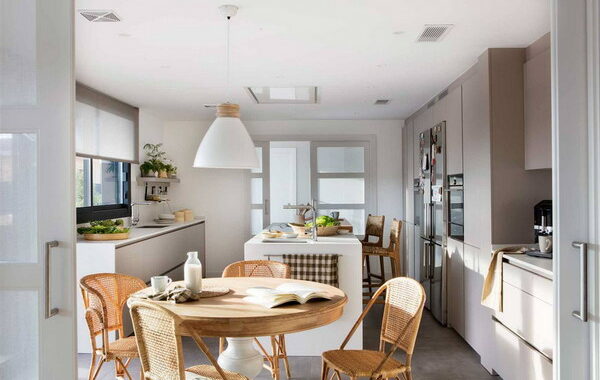 Kitchen furniture and office table made to measure by Coton et Bois, chairs by Taller de las Indias and Pomax lamp.
The Idea Of Monoblock Cochlores In The Kitchen
From Dos Design they provide another trend to take into account when renovating and decorating the kitchen: " the so-called monoblock kitchens are making their way. What a few years ago was somewhat bland, is now a trend when it comes to decorating kitchens in a single tone". Furniture in the same color -even coatings- where details such as black or gold taps stand out.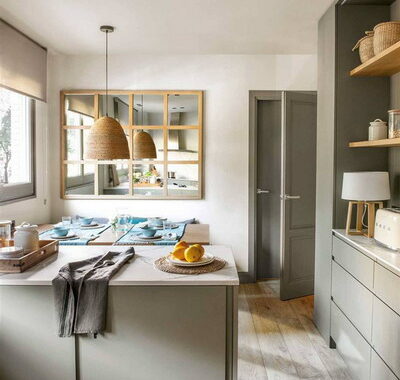 Furniture designed by Bäse Interiorismo and made to measure in lacquered MDF by Salmar Fusteria. Dekton countertop and sill, Kairos model by Cosentino and lamp by Faro Barcelona.
It Continues To Stomp The Kitchen In Black
"Wood and white are invariably present in the best sellers as colors to decorate the kitchen, but the darker tones have gained strength: black, graphite, midnight blue… This year the color is booming and it will continue in 2024", explain from Mobalpa.Two colors that are very fashionable are sage green and terracotta.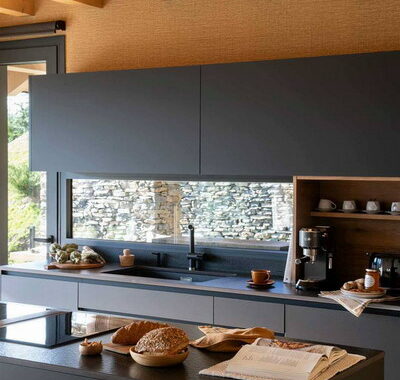 Kitchen furniture designed by Marina & Co. and made by Gelse. Neolith countertop.
Decorate With Furniture Without Handles
"There is a real consumer appetite for the handleless effect, and it is growing all the time: clean lines for a minimalist looking kitchen. The combination of no handles and slim countertops is perfect for a contemporary effect, a fundamental trend that will be confirmed in 2024".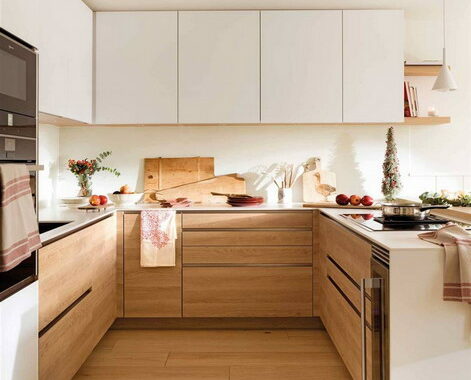 Schmidt kitchen furniture.
Trend Affecting Kitchen Planning: Technology
Clara and Eva, architects from Ábaton, do not forget that technology is imposing itself as a trend in the kitchen in 2024 : "It has come to change the way I used the kitchen: countertop extractor hoods without ducts to the outside, large-format porcelain, smart taps, professional appliances…".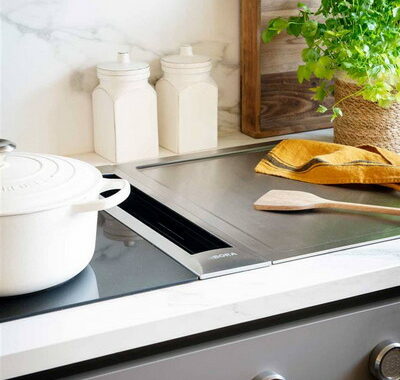 Natural Materials In The Design Of Your New Kitchen
"The most natural materials conquer the kitchen: metals, leathers, fibres, woods in multiple finishes …", they remember from Ábaton. So in kitchen decoration, as a trend in 2024, take these materials into account both for the fronts and for the details that you incorporate.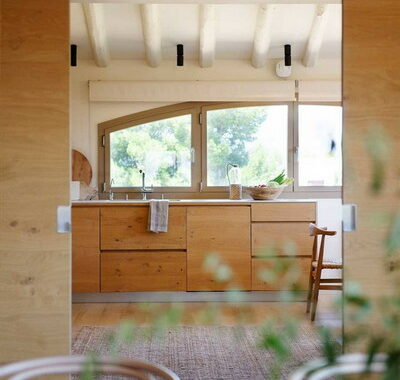 Kitchen furniture designed by the decorator María Just and made by Fusteria Ramón Cornellá. Neolith worktop and jute rug from Calma House.
A Kitchen Adapted To The Whole Family
"The Coronavirus crisis has generated the need and desire to stay in a home that is as adapted and ergonomic as possible, to achieve optimal comfort. The trend in 2024 will therefore be to keep people at home for as long as possible and to develop mechanisms and designs that optimize comfort and ease of use", they explain from Mobalpa. In the design of the kitchen, it translates into spaces to share, with space for everyone and places to sit even if you are not cooking. Even teleworking from a corner of the kitchen.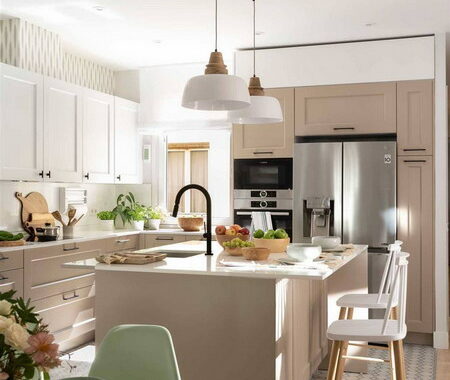 Furniture designed by Paula Duarte with Silestone countertop. Franke Samoa sink and faucet; Maisons du Monde lamps; wallpaper by Scion and hydraulic mosaic flooring by Equipe Cerámicas.
With Unique Elements
For the Ábaton architecture and interior decoration studio, "neutrality in kitchen furniture gives way in 2024 as a trend towards the search for singular elements that attract attention ". This translates into looking for elements of a special character that personalize, such as a bar with a contrasting finish, an integrated heritage piece of furniture, unique lamps…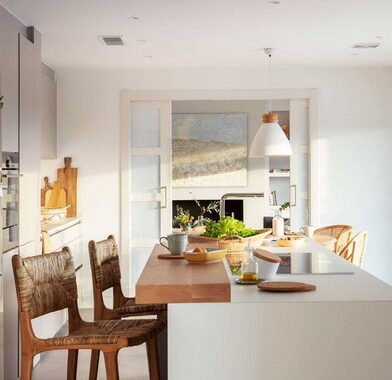 Kitchen furniture made to measure by Coton et Bois. Tulum stools from Taller de las Indias and Pomax lamp.
Durable And Eco-Responsible Materials
This idea is more than a trend, it is a necessity. Choose eco-responsible and durable materials to help conserve the planet. "The aim is to consume better, bet on sustainable products. The quality of the products is essential, as is their design, which highlights materials that can withstand the passage of time without losing their seductive and modern character, such as quartz, for example", defines the person in charge of the Mobalpa product range.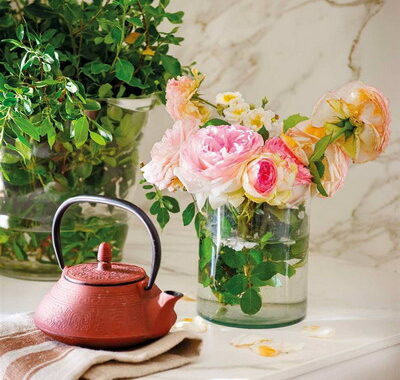 Materials That Create Sensations
When designing a kitchen, thinking about what will be in 2024, try to give prominence to the sensations that you perceive through the sense of touch. We are invited to this from Ábaton. "The sense of touch takes center stage, we find soft finishes on countertops, rounded edges, brushed wood…"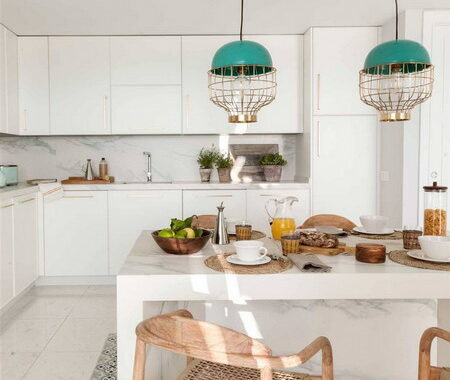 Kitchen furniture designed and made by Del Pino del Valle, where the table with the porcelain stoneware top that imitates marble, the chairs and the lamps also come from. Hydraulic mosaic floor from Secretos del Sur.
Nothing In Sight: Built-In Appliances
As we have seen, tending to orderly and comfortable spaces, it is not uncommon for refined designs to prevail in kitchen furniture. In this sense, we must not forget that it is best to integrate the appliances so that they are not visible. And in those that cannot be hidden, such as the hood, we have already pointed out that technology works in favor of integrating it into the countertop or hob, or embedding it in the ceiling.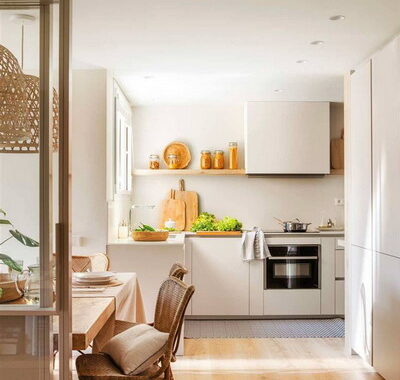 Santos furniture based on Sacum's design. Neolith countertop, Brucs chairs and table designed by decorator Marta Tobella.
Create Planes And Volumes
"The concept of compact and uniform furniture explodes to discover different volumes, planes and materials", they conclude from Ábaton. That is, mixing is a good idea when done with balance. Enrich. It is essential when decorating with a monochrome palette, for example. It also affects the design of the furniture that plays with the background of the modules, for example, to create movement on the same front.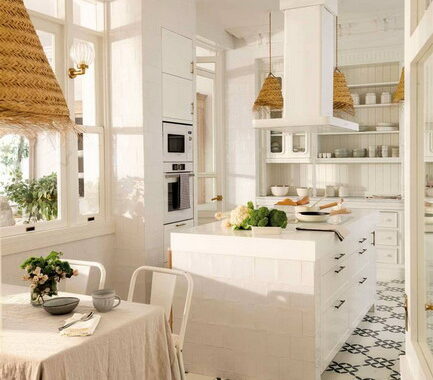 Kitchen furniture designed by Ramisa Projects and made by Arias Nadela, Faber hood at Laguardia & Moreira and hydraulic mosaic floor by Mosaic del Sur.
And A Detail For The Office
Sidewalks and benches. This is the recommendation that Mobalpa gives us to plan the kitchen space, and specifically the integrated office, in accordance with 2024 trends: "they allow space to be gained and thus create a larger dining area. Centimeters are saved, since the seat is integrated into the wall. It can also become a piece of furniture to store under the seat".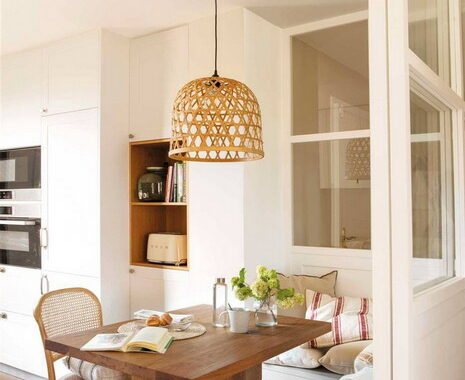 Table designed by Coton et Bois, chairs by Taller de las Indias and a lamp by Pomax.