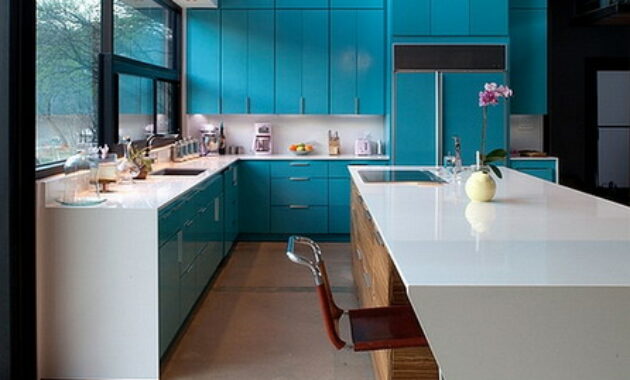 It's time to leave behind the ordinary and fill your kitchen – moderately or not very – with elements of cheerful colors. Regardless of whether you like unconventional solutions, or if you feel a craving for more familiar looks, we  are ready to offer you many of the most interesting options.
Aside banality and boredom! The cabinets painted in bright colors returned to the kitchen interiors, becoming even more expressive and fashionable! But just a couple of decades ago, most of us categorically refused retro shades, preferring beige, cream and brown interiors.
However, fashion is a capricious lady, who also has the magical ability to constantly surprise, turn back the clock and make actual what yesterday was a sign of hopeless backwardness. Colorful kitchen furniture quickly topped the list of the hottest design trends of 2014. We will assume that you have already decided on the configuration and style of your cabinets, and now it's time to plunge into the subtleties of choosing colors for their decor.
Truly, the variety of color solutions that you can use is unlimited. Nevertheless, the selection can be optimized using a simple technique: rely on thoughtful topics and your own taste in creating vivid combinations. Never give preference to what is presented as a "hit of the season" if it does not suit you!
Precious purple
At the moment, purple and purple colors are trending, and the giants of the design industry are convincing us that they will be relevant for a long time. Violet in any conditions looks especially attractive, instantly giving the room a rich look. In this case, you need to pay close attention to the environment and the accompanying gamut. It is with this approach that the wide possibilities of color as a design tool are revealed.
If you intend to install purple or purple cabinets, use cool, neutral shades for the rest of the room. Since in large volumes cold and at the same time dark colors can act overwhelmingly. Moderation is a prerequisite for the inclusion of these catchy and alluring elements.
Deep gray
We move from impressive accents to exquisitely neutral. Many people find the gray color too dull for kitchen cabinets. This is not entirely true: a warm, deep palette adds elegance and style to the interior. But in order to truly feel the magic of ash, smoky and slate cabinets, it is necessary to provide for the presence of textured surfaces and fashionable accents.
Cool blue
The enumeration of possible shades of blue may take a long time, and the list will still not be exhausted. Azure, indigo, ultramarine, cobalt are the eternal favorites of interior design, so the diverse inclusion of these beautiful colors can positively affect the atmosphere of the kitchen and the perception of its space.
Turquoise wardrobes are a pleasant addition to any setting that gravitates to marine or beach themes. In the design of a country house, cornflower-blue tones look even more radiant. Refreshing and invigorating white is the natural backdrop for the always desired blue accents!
Explosive orange
When we offer orange as the main color in interior decoration, we are not talking about turning the kitchen into an exact copy of a picture from the furniture catalog of the 70s. Terracotta shelves instantly revive and fill any dark and neutral interior with cheerful energy. Even one stylish piece of furniture with an orange hue can clearly indicate its presence, which seems to be a simple way to bring dynamism into space.
Orange, like purple, needs balancing elements and a discreet approach to use. Combine it with gray, white or even blue, only very light to find the desired balance.
Soulful white
There are likely to be many people who find it surprising to choose white as the basis for creating spectacular cabinet decor. However, all doubts about this gamut should disappear under the influence of evidence in the form of concrete examples, very successful and memorable.
A simple but artfully designed interior in milk, cream and snow-white colors can be an ideal basis for the inclusion of more saturated colors. The sophistication of pearl elements will fill the space with a sense of luxury and depth. If you have difficulty creating color contrasts, then white is better than others to help you cope with this task.
Bold black
Black is not among the highest priority colors chosen for the design of kitchen cabinets. Nevertheless, in some cases – this is perhaps the most natural choice for fans of trendy design, clear lines and glossy surfaces.
The combination of black and white is a traditional decoration technique, obviously doomed to success. The most daring decision may be the union of black with energetic red, exciting and noticeable equally. A smart alternative to this overly gloomy color scheme would be moderate use of a shade of anthracite. Finishing is acceptable both glossy and matte.
Refreshing green
Green is much more popular among homeowners who want to see their kitchens brighter than the colors listed above. This is probably to some extent connected with the development of eco-design and the need of urban residents to feel close to nature. Green shades make the living environment more comfortable for visual perception. So why not take advantage of their opportunities for their own benefit?
Just like blue, this color is available in a wide range of shades. In concise, modern kitchens, fresh shades of lime, olive and mint are more preferred. Lighter and more moderate versions of emerald can give the interior a vintage charm.
Enchanting yellow
Natural motifs integrate quite easily into an artificial environment. If green offers freshness, then yellow radiates a radiance that fills the entire space with dazzling light. To create a stunning effect, combine solar cells with countertops made of natural stone and wood.
Light shades of lemon blend elegantly with other vibrant tones such as green, red, and black. Thus, the neutral background can be replaced with a moderately yellow to provide expressiveness to the design.
Vibrant red
And finally, we turn to red. Furniture designed in this color will look appropriate in any modern interior or space in retro style with expressive attributes of the 50s. If you are inclined to favor red shades with respect to cabinet decor, pay special attention to the entire design palette. The black and white combination perfectly balances overly energetic tones and provides the feeling of harmony that all homeowners seek.
Cherry Gloss
Are you ready for a colorful transformation of the kitchen? Share your ideas with us!