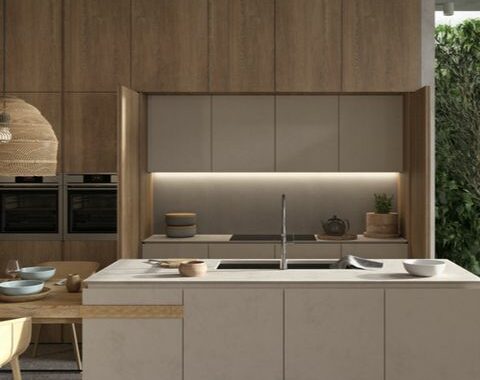 Renovating your kitchen to have a new one is a really exciting project. We spend a lot of time in this room; it is both the place where we develop our recipes, a place for the children's homework and sometimes our office.
The more time you spend there, the more the little irritants turn into big ones! If you are planning a kitchen renovation soon, it is good to be on the lookout for the latest trends to get a clearer idea of the type of environment you want to see on a daily basis. The possibilities are almost limitless. Our team has compiled, with the help of top industry experts, the 10 kitchen trends we'll see everywhere in 2024.
The 2024 kitchen is a family room, designed around its use and ergonomics. We want it to reflect our personality, without however being outdated in 10 years. Nature takes a big place in our choice of decor. The most important thing is to have a kitchen that we like and that we will like for a long time to come. Whether you're looking for trendy colors, new cabinets or styles in the spotlight, you'll find something to satisfy your curiosity!
1. Natural materials in the spotlight
The presence of nature indoors is undoubtedly one of the focal points of new kitchen trends. The whole kitchen adopts a more minimalist style in order to highlight the noble materials selected. We choose wood, marble, quartz, in short, any material that recalls nature. As for ceramics, the patterns are discreet. On the kitchen backsplash side, we also see the appearance of very glossy ceramics, with a shape marked with irregular lines, called Zellige. Their appearance recalls the irregular shapes of nature, and brings warmth to the room. As interior designers have long recommended,hardwood floors are one of the best ways to achieve harmony across your entire floor.
How to integrate it: We make sure to choose a finish that will not be too polished, but rather matte. We leave room for wood with large pieces, as on the central island, up to the finishing piece, all in warm tones. Check out our article on kitchen cabinets to make an informed choice on the material that would suit your kitchen.
2. Neutral and natural colors for complete harmony
To combine softness, serenity and comfort, we put on pastel colors that are reminiscent of nature. Sage green is our favorite of the year, and it pairs perfectly with beige, cream and sand tones. The goal is to avoid the garish colors that were all the rage a few years ago. So, we favor bright and vibrant shades such as yellow, ocher, water green or sandstone pink which will perfectly complement touches of stone or wicker. To create contrast, we advise you to also play with cooler colors such as gray, green-gray and sky blue, which blend well with woody textures.
How to integrate it: We put on touches of color rather than large flat areas. Choose accent walls or bring color to your cabinets and backsplashes while maintaining notes of white. Don't forget to complement this natural look with hints of wood in your furniture and shelving.
3. Blue cabinets for a serene kitchen
This year, blue is getting a makeover and is landing…on our kitchen cabinets! Dare cobalt blue, navy or turquoise. In fact, dark colors are still popular, and fir green or burgundy are also making their way into our kitchens. Provided you don't overdo it, these shades will give depth to your room and divinely catch the eye.
How to integrate it: Do not hesitate to alternate these dark colors with touches of wood which will make it possible to soften the whole. You can also paint only the upper or lower part of the cabinets in blue and keep the other part in white or wood. Touches of gold or brass on the handles, lamps and accessories will perfectly complement these bright colors.
4. Small appliances out of sight
The 2024 kitchen trends are minimalism. So, we put small appliances in the closet to save space and ergonomics. Work surfaces should be kept as clear as possible. We get rid of the superfluous which will find its place in spaces designed for this purpose. Take advantage of your pantries, drawers and cupboards to store all the little accessories that clutter up your workspace. Your kitchen will be bigger and brighter. In addition, it prevents dust from accumulating on your fryer!
How to integrate it: Opt for built-in appliances and cabinet panels with doors that will be dedicated to small appliances. So, in a jiffy, everything is tidied up.
5. Matte textures for a sensational sleek style
In 2024, we forget the gloss of cabinets and backsplashes, for a matte texture that looks more natural. No more fingerprints or grease on shiny cupboard doors, because we choose matte fronts, which are easier to clean. Wood remains timeless in this area, for counters and cabinets alike. You can also use textures such as concrete or sandstone which will give a more sophisticated and modern touch to the layout. In all cases, it is a matter of betting on materials that will catch the light rather than refract it.
How to integrate it: Choose matt and thin surfaces, for a minimalist look and more ergonomics. You can bet in your decoration and your accessories on textures such as linen, jute, cotton, clay or slate which will create a harmony of colors and materials with the non-gloss finish.
6. The kitchen trend that remains: the integration of metal
The trend has taken hold in 2021, but it still persists in 2024. Luxury is in the details as the saying goes, utilitarian accessories deserve to be put forward, especially if they are chosen with care. This trend is ideal for those who want to quickly transform a classic kitchen into a luxurious kitchen ! We love the handles, taps and golden accessories. Long-term trend, it remains, it's pretty.
How to integrate it: Be consistent with the style of your kitchen and the rest of your accessories. While it is good to be daring, you should not saturate the decoration with too much eclecticism.
7. Mixing vintage and antiques with modernity
It is said that fashion is an eternal renewal. The same goes for kitchen design! Do not hesitate to mix the eras for a unique decoration. High-tech counters with antique furniture, chrome with wood, art deco backsplashes with minimalist cabinets, 1980s appliances with geometric light fixtures. Everything is allowed to you! Finally, recycled wood is becoming an important element in our kitchen, which allows us to be more ecological while giving a character to the room.
How to integrate it: We recover chairs, stools or other decorative objects in used object stores. We bet on antique cabinets that we will paint in the trendy colors of the year. Next, we play on more modern textures (matte finish, glass, sandstone) that will contrast with the vintage elements.
8. A harmonious and durable kitchen backsplash
Renovating is not just a matter of aesthetics. Always rely on durable and quality materials. This is also the case for kitchen backsplashes, which will tend to be damaged easily, either due to humidity, splashes, grease, etc. We recommend ceramic, solid and easy to clean. They come in all colors and shapes, and it's easy to play around with. White or beige remain timeless choices, but of course you can have fun with darker tones. You can also take inspiration from kitchen backsplash trends !
How to integrate it: Subway tiles are still trendy and go well with most kitchen styles. Pale tones are preferred to create harmony with the rest of the room and ensure the durability of the material and the look.
9. Hanging Lights for a Detailed Room
Bulky pendant lights are very fashionable in 2024. Geometric shapes, large bulbs, metal shades. There is something for every taste. They will be the touch of modernity and chic that your space was missing. In addition to their sophisticated style, these pendant lights will bring beautiful lighting to your kitchen. Whether you arrange them above the dining table, your central island or the counter, they will add warmth and character to the place.
How to integrate it: Do not hesitate to play with materials such as wood, metal, glass, and to play with colors. We use neutral or natural lights, rather than artificial tones that will cool the room.
10. Boldness to create a personalized and unique look
The goal is always to have fun. To make your kitchen feel good, put your personality into it and be bold, while making sure you like the design in the long run. Colors, objects, utensils can tell a story and reflect something about you. Your new kitchen should bring a smile to your face when you walk into it.
How to integrate it: Mix the materials of the cupboards, use tiles of international inspiration, add plants, travel souvenirs… Instead, rely on original accessories, to favor more neutral counters and cupboards that you won't have to change if you get tired of it.
Outdated and unrecommended kitchen trends
In summary, the kitchen trends of 2024 are inspired by natural stones, noble woods and they adopt a minimalist style. Navigating through trends and making the right choices can be complex. Our experts have compiled the trends that are now to be avoided.
Tile counters : They are not desirable on a counter, simply because they are not practical to clean. In addition, they could break easily under a great shock.
Microwave as an oven hood : as we want above all an ergonomic kitchen, it is better to avoid placing your microwave above the oven, because it will be difficult to access. It could even be dangerous for children.
Too many open cupboards: Open cupboards or shelves are pretty, but not practical. Dust easily collects there. Instead, we give priority to closed glass or completely opaque cabinets.
Lacquered Cabinets : Cabinets with a high gloss finish were very fashionable a while ago, but they are now to be avoided.
Very colorful kitchens: kitchens with garish colors or accent colors are now out of fashion. Instead, choose a variety of tones that work together to create a harmonious whole. On the other hand, deep blue, rich greens like forest greens
The timeless design choices for the kitchen
Some elements are, on the contrary, timeless. They stand the test of time and don't make the kitchen look old-fashioned! Here are the sure values in kitchen design.
Central kitchen island. The central kitchen island is and will remain present in our kitchens. In addition to opening up the room and allowing light to circulate, it becomes a meeting place for guests and other inhabitants of the house. It also frees up counter space.
Marble. How to miss a material such as marble? It's a safe bet when you want to have a timeless kitchen that will also keep one foot in current trends. If some people don't dare to use marble for their counters because it is recognized as being an easily damaging material, when it is adequately protected with sealant it will remain like new no matter what happens to it!
Cascading counters. These counters, which do not stop at the end of the cupboards but overflow on the sides, offer a touch of chic to your worktop. Marble or granite, they immediately give a luxurious side to the place, regardless of the style you prefer.
Trendy kitchen inspirations with their real costs
Keeping in mind that trends come and go, the important thing in your kitchen renovation is: are you going to like this design in 15-20 years? Make sure you love your choices for the long haul, even if it's not trending this year.
Need more ideas before you get started? We invite you to explore the kitchen section which compiles our achievements. We have collected a variety of photos of kitchen renovation projects from our customers with their prices. If you're ready to turn your dream kitchen into a reality, check out our article on kitchen renovation costs, take a look at the available kitchen cabinet finishes, and plan a proper kitchen budget! And to learn absolutely everything about kitchen renovation, we have prepared a complete guide for you!