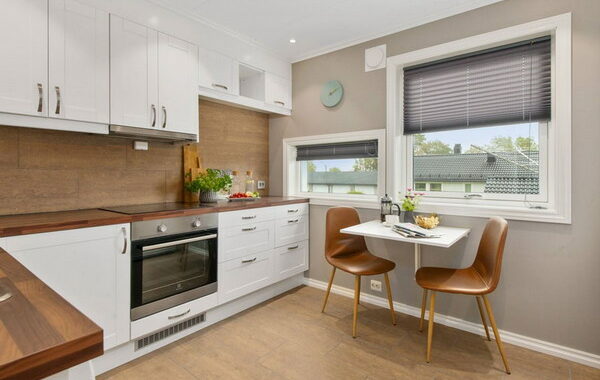 The coronavirus has not only disrupted the daily routines of families, but also their homes, marking a before and after in the world of renovations and interior decoration.
After confinement, where the "home" has been valued, many studies confirm that many owners are launching to reform their homes to face discomfort and deficiencies that were not so obvious before. What's more, the drop in spending on leisure has allowed many people to save, who are now considering investing in making their home more comfortable, where they have moved from day to day.
In this post-pandemic context, and more so in Ekitchentrends, where the kitchen is an indispensable space of great value, it occurred to us to prepare this post with the 10 current kitchen decoration trends 2023 that you should know if you are going to reform your kitchen.
If you want to make it a practical, current and personal place, keep reading!
1. Open, multifunctional and integrated kitchen
Before, this space was only used for cooking and eating, but today the concept of open kitchen, highly demanded in Anglo-Saxon countries, is increasingly in demand in our country.
Today, and even more after confinement, we are much more aware of what it means to enjoy, for example, kitchens integrated into the living room, which allow us to carry out our day-to-day activities in a much more dynamic and functional space.
The trend is to create kitchens open to the living room or dining room to encourage interaction within the home and create a social environment.
2. Natural materials: wood, stone, granite…
The marble, stone and wood (walnut and oak) have gained ground in recent years, as wall cladding, floors, furniture and even work surfaces such as countertops.
This year the kitchens are the place where raw materials are mixed. Thanks to these materials we are able to create a calm and cozy environment with a certain connection to nature.
Another option is to opt for cement, giving the kitchen a very modern and industrial look.
3. Kitchens or accessories in dark tones to create contrasts
The dark tones in contrast with light tones give a very elegant and sophisticated touch to any room and if it is the kitchen, too.
Dark gray and black stand out, combining both with woods and metals, creating a luxurious look. It is also seeing a lot of green to get closer to nature.
If so much color is not your style, you will always have the help of white, one of the classic colors for kitchens that provides a lot of light and gives a general cleanliness appearance. Try combining it with wood of natural color, granite or concrete and add the note of color through the use of tiles, furniture or different decorative accessories.
4. Metal and craft decorations as accessories
One of the options that interior decoration offers us when designing this space to our liking, are the built-in kitchens where we can balance elegant finishes with natural or industrial organic elements.
Adding a restored wooden furniture, an exposed brick wall, wide wooden plank flooring, a stone basin or kitchen utensils with an industrial touch, we will get closer to the concept of sustainability with a kitchen that is the most eclectic and personal.
Visit our store and discover the LiniQ metal drawer, the steel roll-up drainer and the Horizon hanging bars and shelves in matt black and oak wood.
5. The marble returns
Thanks to the rise of natural materials, marble has returned, and its precious veins once again decorate many elements of our homes. Specifically in kitchens, this material has its place again, both on the countertop and on the walls.
As we mentioned at the beginning of the post, with the increase in the trend of open spaces, kitchens with island or peninsula take center stage to delimit the space with style, so what better option than to finish them off with a marble top ?
But this material is not only for countertops. The marble-lined walls are very modern and elegant, adding a different touch to your kitchen.
One of the advantages of choosing marble kitchens is that it combines well with any color of furniture: from the basic black and white to the most daring. For older, mix it with other decorative elements in gold and black and they will give it a very attractive touch of class.
6. Subway or square tiles
Who remembers what the walls of the New York or Paris Subway are like? You will wonder what this has to do with cooking… but no, we have gone crazy. One of the new trends in kitchens this year is to make use of the subway tile for kitchens.
The metro-type kitchen tiles, with their small and elongated shape, allow to recreate environments of a rustic kitchen within a modern kitchen design, either in a gloss finish or a matte finish.
This type of beveled tile allows a greater reflection of light, which brings more light to rooms. Thanks to its glazing, the subway tile combined with white furniture or light colors on the walls, will give your kitchen a warm and elegant character that everyone will admire.
7. Handleless design
One of the proposals that are booming is to choose kitchen furniture without handles and with a system for opening doors and drawers by pressure, and combine them with contrasting textures throughout the kitchen. For example, dark porcelain or slate with wood, or super matte cabinets combined with metal sinks in gold or bronze… etc.
Not having handles and choosing light matte or gloss tones transforms the front of the furniture and enhances the current trend by approaching the minimalist kitchens that we are seeing so much in magazines and blogs.
8. Faucets in gold, copper or matt black in addition to the classic stainless steel
Say goodbye to the chrome finish in bathroom and kitchen. Golden taps, matt black fittings, copper and bronze colored stained current sinks of the boldest in a trend that surely will last a long time in the decorative picture.
The traditional chrome-plated stainless steel tap is not disappearing, it has only given way to other finishes.
Add a note of color to your sink without sacrificing current features and technology. Choose between a modern or retro model, combine it with handles in the same finish and you will give all the prominence of your home to a designer kitchen.
9. Variety in kitchen lighting
Another key to modern decoration is to implement techniques that increase the feeling of space, such as installing good lighting.
The lighting in the kitchen is an art, not only because it has become a component of decoration more, but because to create a good atmosphere at home need to have proper lighting.
Materials such as bamboo or rattan are resistant and light, but if rustic kitchens are not your thing, there are countless intermediate solutions that are still in vogue: exposed light bulbs, ceiling lights, recessed lights, light points under cabinets, kitchen lighting with led, etc.
What we do, the advice we give you in this case, is that you take into account the color when adding light to your kitchen. A light color will provide an extra light and will enhance the lighting elements that you include. Use them as a basis to work on and improve your lighting.
10. Connection with the outside world
Lately, a way has been sought to give more vitality to the kitchen through large windows that bring us closer to the outside.
The idea is to place the kitchens near the terrace or garden (those who are lucky enough to live in a house / flat with those spaces so desired lately), so that the window creates the sensation of being in both places at the same time while cooking. with enviable views.
For those who are not fortunate enough to have such a space in their home, we recommend giving the kitchen a green touch with plants. Indoor plants are ideal not only to decorate the rooms of our house, but they are also highly beneficial because they improve air quality, make the environment more pleasant and brighten up.
We hope that these 10 kitchen trends can help you personalize the space and make it a more operational place for your daily activity. Regardless of the style you have in your home and you like it, the kitchen, like life, changes as the years go by. It is in our power to convert it and adapt it to our needs.
Now that we have done our homework for you by showing you the latest kitchen trends, we are waiting for you at Salume to guide you and design the kitchen of your dreams. Visit us!