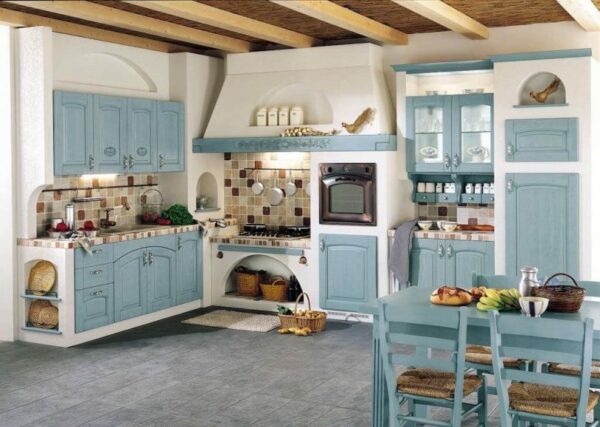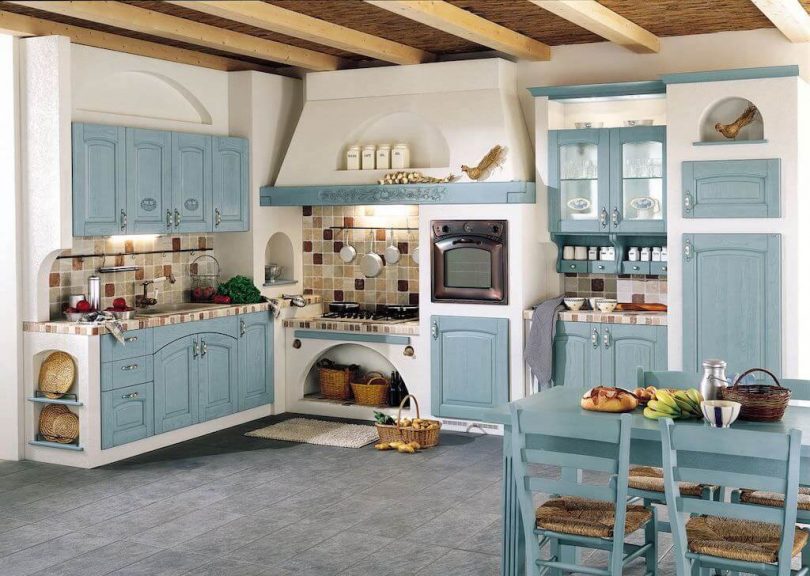 Provence style kitchen is gaining more and more popularity. It is understandable, because with it comfort, a certain romance and calm come to the apartment. A morning cup of coffee even without freshly baked buns will be especially enjoyable. The atmosphere relaxes, calms and inclines to spiritual conversations.
Creating this style is easy even in a city apartment. The main thing is to know the features of such an interior and not go too far. Examples from our photo gallery will help with this.
Distinctive features for Provence Kitchens
Provence is often called one of the destinations of the country, because it gives the impression of a cute French village. But you cannot equate such designs, as they often use different colors and materials.
To better understand the difference, you should familiarize yourself with the distinguishing features of Provence:
the use of only light pastel colors in furniture and wall decoration;
a large amount of natural light;
the abundance of textiles in the kitchen;
only natural materials – abandon synthetics in any form in favor of natural fabrics, stone, wood, ceramics;
creating the effect of aged furniture – it is not necessary to spend all the capital only on antique furniture, you can take modern models from natural materials and just age them ;
use of vintage decor;
the presence of a textured surface;
simple shapes and textures – after all, these two points will help maintain the atmosphere of naturalness in the interior;
the use of vibrant colors for accents such as lavender.
Light green Provencal kitchen with a ruler layout and a bar counter. Pay attention to the combination of tiles on the backsplash with floor tiles.
Who is it for?
First of all, such an interior will be appreciated by romantic natures, creative people and connoisseurs of beauty – all those who prefer extravagant design to simple home comfort.
The Provencal-style kitchen will look especially chic in a country private house or cottage, but such an interior can be repeated in the apartment.
For urban residents, the atmosphere of rural life and comfort will be valuable. The advantage of the style is that it is suitable for any kitchen – both small and large.
Advantages and disadvantages
Like any other style, Provence can find strengths and weaknesses. Before you start the repair, you need to familiarize yourself with them, so as not to regret it later.
| | |
| --- | --- |
| Benefits | disadvantages |
| Cozy atmosphere | It's hard to find furniture, you may have to do it yourself |
| The possibility of manifesting one's creativity during decoration | It's not so easy to equip a small space |
| Easy to update the interior, replacing the decor | |
| Light colors increase space | |
Modern purple kitchen in a wooden house in Provence style with a stainless steel hood, built-in refrigerator and copper pots over the island as a decor.
Differences of Provence from Country and Shabby Chic
Country, shabby chic and provence look about the same, so there is often confusion among them.
It should be understood that the main difference between Provence and other styles is the greater use of flowers – both in decor, and in potted or cut-off ones. And this trio only French Provencal interior can afford wicker furniture.
The main distinguishing feature is the warm, cozy and relaxing atmosphere in the house. This is expressed even in detail: in country furniture is more rough and massive, and Provence requires bent legs at the dining table.
If it seems that the room is too luxurious and chic for the French village, then this is shabby chic. He appeared in England, so he is distinguished by a certain conservatism, but he still looks gorgeous.
By the way, the white color from this three styles is actively used by Provence.
Kitchen color palette 2025
Provence implies a calm light palette without brightness and pretentiousness. It is advisable to choose natural shades, for example:
green will be associated with grass;
blue – with a lake or sky;
yellow – with flowers in the meadow, etc.
There are some of the most popular colors and combinations that can act as the main ones in a Provence style kitchen.
White
The main tone is often left white, complementing it with other shades, for example, turquoise or lavender. Such a decision, at first glance, may seem unusual, but it looks very attractive and cute.
White can be:
walls;
the ceiling ;
headset ;
lunch group.
The addition of other tones will save the atmosphere of sterility and lifelessness. In addition to the colors of mint and lavender, the following tones can appear in a duet with white:
pale blue;
light yellow;
pistachios;
gray-white.
Two-color kitchen of 9 square meters. meters in Versailles style with a round kitchen table.
White and Pistachio
In this unusual combination, white is usually used for walls and ceilings, which helps to make the space more spacious and free.
Furniture is selected in light green tones – it will soften strict white and refresh the interior as a whole. A brown tree is laid on the floor.
U-shaped kitchen 8 sq. m with a collection of painted dishes, including teapot, decorative shelves and corner sink.
Blue
The second most popular shade for use in the interior in the style of Provence. Not only pale, but also quite deep shades can be used. The rule is this: the darker the tone, the less it is used in the kitchen.
Any shade of blue performs perfectly in a duet with:
Most often, blue color sets, textiles or decor.
2025 project of a blue headset to the ceiling in the style of English Provence with a dark truffle-colored worktop in a narrow kitchen of 8 meters.
Green
The combination of light green in the interior with rich colors in the decor or even furniture looks very interesting in the Provence style. It could be:
Green can be present almost everywhere:
in textiles;
headset
dishes;
the door;
windows and so on.
Olive and beige
Another color duet, peeped from nature. One need only recall the fresh olive groves on the background of burnt grass.
Such an interior may seem simple, but this makes it no less cozy and homely. Again, brown can serve as an additional color – they are decorated with floors or even headsets.
Blue
Blue – the color is quite saturated, therefore, in the interior of Provence it is used together with white or light gray. Deep tones are used in a limited amount, so as not to overdo it. The most light shade should dominate.
Blue and sand
A very beautiful and natural combination of colors, based on a light marine theme. Soothes and pleases the eye. The duo can be complemented with brown tones, for example, on the floor. Against such a background, furniture made in two shades of blue looks great.
A stylish kitchenette from an array of Provence style, combined with a living room, in a small apartment.
Kitchen Finish
The most important thing you need to know about decorating a style from France is that he prefers only natural materials and light colors. If you adhere to these two rules, then it will be extremely difficult to make a mistake.
Walls
Designers cannot agree on what is better to use on the walls of a kitchen in the style of Provence – wallpaper or decorative plaster. From a historical point of view, there were no wallpapers in the French villages, but they fit so well into the interior that they began to be actively used.
Initially, in the Provencal interior, it was important to emphasize the texture of the walls, so ordinary or decorative plaster was used. As a modern option, you can choose a lining painted in bright colors.
Provence-style kitchen balcony with Scandinavian notes.
Wallpaper
Wall decoration is always important, because it can add zest or just emphasize the atmosphere of the room. Only light colors are used, for example:
beige;
pale blue;
soft lavender.
Of course, you can choose monophonic wallpaper, but it is better to find something more comfortable and romantic. Designers with a small floral pattern enjoy a special love of designers. But bright or geometric-patterned wallpapers are best left in the store.
Interesting to read: How to beautifully combine wallpapers. Design Tips
It is worth thinking about practicality. The kitchen is a room where splashes, drops of fat can fly, as well as humidity and air temperature. With dignity, only washable wallpapers, such as vinyl or non-woven, will pass these tests. The paper life will be too short.
Kitchen with a stove and wallpaper for painting in an unusual Provence-style kitchen in a log house with a wall height of 3 meters.
Backsplash
An backsplash can become a cherry on a cake in a Provence style kitchen. Typically, ceramic tiles or mosaics are used to clad the work area. Designers recommend using the potential of the backsplash to the maximum and choosing rich tones or even unusual color combinations like:
terracotta and turquoise;
blue and brown;
yellow and lavender;
orange and green.
Do not be afraid to overdo it, because in a light calm tone of Provencal cuisine, these combinations will always look harmonious.
An backsplash, more like a mural, depicting lavender fields in the kitchen of 10 square meters. m letter P.
If you want to experiment with backsplash material, you can use:
wood – but it will have to be covered with numerous protective layers;
stone – natural or artificial.
It is important to ensure that these materials look organically in the Provence style interior.
There are quite unsuccessful solutions for a kitchen backsplash in this style:
glass – thrown off ;
plastic;
MDF;
metal.
Countertop
The ideal solution for countertops in the kitchen in the Provence style would be wood or artificial stone. You can use both acrylic and agglomerate.
If you want to bring originality to the interior, you can finish the work area with small ceramic tiles, but in this case you need to be very careful to maintain the seams in good condition.
If you plan an inexpensive repair, it is worth taking a closer look at two options:
plastic countertops in wood or stone;
particleboard with veneer finish.
Brown countertop on a white modular kitchen in Provence style with elements of a loft and modern classics.
Floors and ceilings
Despite the fact that Provence implies only natural materials for decoration, there are still many options for what to put on the floor :
wooden boards;
parquet or laminate;
stone (natural or artificial);
porcelain tile;
ceramic tile.
It is best to choose monophonic coating options, but a simple and simple drawing will do.
There is no great variety with the ceiling : it can only be white – painted or with decorative plaster. If you want variety or zest, then you can install decorative beams. But it is better not to use them if the kitchen has low ceilings.
If you choose a stretch ceiling, then only white and matte.
Cottage kitchen-living room 25 square meters. m with linoleum on the floor, an excellent combination of a set of curtains with a soft corner and a bright picture depicting Provence.
Furniture trends 2025 for Provence Kitchen
Furniture is one of the main components of a successful Provence style kitchen interior. Most often, this is a natural tree that is specially aged with a patina or craquelure.
All the irregularities, peeling paint, small cracks here are not considered a drawback, but are created specifically to make the design more colorful.
The general rule is that Provence style furniture should be light. But you can always find an exception to any rule.
Since Provence is an old style that originated in village houses, it is worth considering all the furniture that could be found in the kitchen. In addition to a headset and a kitchen table with chairs, these are:
buffets;
chests;
dressers;
Bottles;
all kinds of shelves ;
shop windows.
Italian cuisine 12 sq. M. m with a very unusual bar, small posters at the recreation area and cutlery on the railing.
Headset
Ideally, in the Provence style, only natural materials should be used, for example, an array of cherries, ash, oak, pine or beech. But if you want to save money, then you can get by with more budget options – for example, MDF or particleboard.
The best quality option would be MDF facades coated with veneer, enamel or varnish. If you want a budget model, then it will most likely be covered with PVC film. Outwardly, it does not look so exquisite, but it can also be aged with special solutions or ordinary paint, if you try hard.
Pay attention to the combination of wall paintings in the niche and drawings above the open shelves.
The patina of the following warm colors looks most organically in the Provence style:
If we talk about the color scheme, then it is preferable to light and slightly tinted tones, for example:
cream;
creamy;
sand;
Ivory;
lactic;
champagne.
An example of how to decorate a room for the holidays is New Year's decor.
If you want to make the kitchen a little brighter and more interesting, you can consider the following color options:
lilac;
mint;
pistachio;
pale yellow;
light blue and others.
For decor, you can use:
forged elements;
ceramic tiles or mosaics;
colored glass.
On the doors in the style of Provence you can find elements of carving or weaving. Handles for the kitchen are selected brass or copper.
Novelty headset from economy-class modules in the Provencal interior.
Provence loves open shelves, so you can choose a headset without hinged upper cabinets. One minus – you will often have to wipe the dust from the shelves. They can store dishes, cans with cereals or spices, small kitchen utensils or just decor.
Lunch group
Dining table in the kitchen in the style of Provence is often a key figure, so it is of great importance. There are no special requirements to the form, the most popular options are possible :
a circle;
oval;
square;
rectangle.
To the overall appearance, there are already more wishes:
only natural wood;
bent legs;
aging in the form of patina or scuffs;
the presence of a tablecloth.
If the budget is not designed for solid wood, then the familiar MDF will come to the rescue. Models made of plastic or glass simply will not fit into such an interior.
Chairs should also be made of wood, have thin legs, bent or straight back. A sofa in such an interior is rare. Usually the replacement is a wooden bench with a mattress and pillows – the next use of textiles in the kitchen in the style of Provence.
Wicker chairs made of rattan or bamboo in natural colors or painted in white colors will also look good.
Details
Provence must be considered. This even applies to the usual little things, for example:
Faucets are selected only in the style of "retro" bronze or copper.
Sink – from the same copper, ceramic or artificial stone. Permissible maximum, if the repair is very budgetary – a small round sink made of matte stainless steel.
Household appliances – necessarily hidden, that is, built-in. The hob is preferably white.
Accessories – ideally, the handles should be ceramic and painted, but copper or bronze specimens, which are surely old, are also suitable.
Provence Kitchen Decor trends 2025
Without the correct decor, the correct interior in the Provence style will not work. Even the little things, if they are selected correctly, can play a huge role in the atmosphere of the room. It can be:
a small pot of honey;
wicker basket with dried lavender;
unusual plate of copper;
kerosene lamp;
bunches of garlic, pepper or herbs;
small figurines of a cowgirl or hens;
candle holders, plate holders;
bags with aromatic herbs;
small pillows;
a panel depicting village life or Provence;
large and antique (or aged) clocks standing in the corner or wall;
landscapes on the walls ;
a chest for storing textiles or other trifles.
Such things can be found on a flea market, souvenir or antique shops or in the same grandmother's chest.
Tablecloth
If the tablecloth is not made of the same material as the curtains, then it is selected at least in tone. The tablecloth simply must be, but at the same time it may not cover the whole table, but only spread over the center.
It is advisable to decorate it with one of the options :
embroidery on the corners;
fringe around the perimeter.
In the same color scheme, upholstery is also carried out on chairs. The same fabric can be used for curtains in the kitchen. But this is rather a rarity, since Provence style dishes should be in sight.
Curtains
It is the curtains that help create a true rustic atmosphere of comfort and immediacy. It is best to use natural fabrics that transmit light:
chintz;
linen;
batiste;
cotton and others.
You can look at mixed materials, but they should look identically natural, repeating the texture of linen or cotton. The advantage of mixed fabrics in easier care and long-term use.
Curtains should be light, but you can also afford an unobtrusive pattern, for example, floral or plaid. If desired, they can be decorated with ribbons, bows or soft ruffles.
An alternative is the Roman blinds from homespun cloth. Natural shades will look great on the background of the rough and rough surface of the plastered wall.
Tableware
Kitchenware in the Provence style is important not only from a practical point of view, but also aesthetic – it is not for nothing that it is exhibited on open shelves ! In this case, usually a set of dishes is not a set or service, rather it is just a set of plates and cups that accidentally got here. They are not related in shape, size, or color.
From materials can be used :
ceramics;
bronze;
brass;
copper;
glass;
china;
unburnt clay.
Metal objects must be polished to a shine and suspended, or at least grouped together. Also come with china.
Especially chic will use objects for other purposes. For example, put freshly cut flowers in milk cans or a jug. Dishes with some kind of defect, for example, a chip or a crack, are not thrown away, but left as a decor.
Lighting
Provence without soft and warm lighting will never be cozy. Of course, natural light should be in the foreground, but if it is not enough, then it is worthwhile to think over well and high-quality artificial light.
The chandelier in the center of the room should be in harmony with the overall interior. A great option for such a useful decor would be a massive bronze chandelier suspended from a chain. It is impossible to use the most modern light bulbs in such instances, for example, LED ones.
Do not forget about additional lighting: one lamp for the whole kitchen is no longer fashionable and practical.
You can fix several small sconces on the walls. It is interesting that these lamps may not be combined with each other, but acquired completely by accident.
French women are rather frugal housewives, so donated or even found things may be present in the interior. In a special position will be original items bought for next to nothing in the antique market.
But it is better to refuse popular spotlights around the perimeter of the ceiling – they are absolutely not suitable here.
DIY Provence Kitchen Trends for 2025
Sometimes finding furniture or decor in the Provence style can be quite problematic. And if the necessary specimens were found, then they stand like an airplane wing. It is easy to get out of this situation as a winner if you show little miracles of needlework.
Paint and paraffin
This decoration method can be applied to any item from the table to the sideboard. The principle of action is as follows:
Remove a layer of old varnish with sandpaper.
Rub the item with paraffin.
Top with paint.
Sponge the legs, bends, and sides, removing a little paint.
Here is such a simple and effective way to visually age any furniture.
So you can do the restoration of furniture in the style of Provence with your own hands.
Metal wool
Metal wool is sold in hardware stores. The principle of its operation is approximately the same as that of sandpaper. The steps for decorating furniture in this way are roughly similar to the previous:
Remove old varnish.
Apply a coat of new paint.
Rub with metal wool along the fibers.
Remove residues with a damp cloth.
Another way to quickly and simply add furniture to the "extra" ten years.
An example of decorating kitchen furniture with your own hands.
Decoupage
This is one of the most popular and easiest ways to add a touch of Provence to furniture or individual items. And this will not even require art education, but only special stickers or simply beautiful multi-layer napkins. Next, the following steps are performed:
Strip the base.
Cover it with tone, if necessary.
Remove the top – decorative – napkin layer and place on the base.
Apply gently PVA glue on top with a thin layer.
Wait for complete drying.
Coat with a protective varnish.
If you use special decoupage stickers, then this process will be even easier. This technique can be used not only for furniture, but, for example, for cans with cereals or spices.
DIY craft – table decoupage with a picture of flowers with pink ornaments in a circle.
Small provence kitchen trends 2025
Due to the dominance of light tones, the Provence style will feel great even in a small kitchen. Light colors always visually expand the space and make it freer and more spacious. It is this effect that owners of small kitchens achieve.
The only thing that would be nice to limit is the use of textiles, in particular curtains. Long curtains will occupy precious space, so it is better to opt for short curtains or Roman curtains that will let light into the room – this is a prerequisite.
If we talk about the color scheme, then it should be as light as possible:
walls and ceiling can be left white;
the set and the dining group can be painted in beige, lavender, light blue and similar light colors.
There are a few more tips to help you create the most comfortable space even in a small Provence-style kitchen:
furniture is placed around the perimeter, the space in the center of the kitchen remains free;
the corner set is selected, the sink is transferred either to the corner of the kitchen or under the window ;
use a large number of small lamps;
make open shelves under a wooden tabletop, adding spaces even "from below";
equip the windowsill as a working area.
Kitchen-living room
Provence style looks great in a large space, so combining the kitchen with the living room will be a terrific idea.
The main task of the owners of such wealth is to delimit the space into zones so that the kitchen-living room does not look like one endless spot. To do this, you need to be able to unite and separate space.
The most popular methods for combining different zones:
similar or the same textile in different areas of the kitchen ;
the same texture of the floor or walls, and tones can be different;
furniture in the same style and color;
one tone of the walls – in the working area can be without a picture, and in the dining room -with a picture;
identical flower pots, vases, or even lampshades.
Although the dining area is located almost in the center, there is still enough free space.
In order to visually divide the space, you can use:
ceiling beam;
pelmet or finished curtains, tulle at the junction of various zones;
turn the chairs backs to the working area;
different colors or textures;
a bar counter with chairs;
columns and arches.
Of course, these are not all tricks, but the most popular of them. You can always come up with something of your own.
A few nuances
There are several more nuances that will help create a complete Provencal design in the kitchen, an atmosphere of warmth and comfort.
Provence is not amenable to ordering, so you should not even try to create it in a similar kitchen. The room should not look perfect and "straight away". This is a layered style with lots of details. For example, a slightly faded ribbon, which picks up the curtains, or a slightly worn pattern on a dish.
If there is a fear of getting bogged down in an abundance of fabric and quilling, you can borrow a few ideas from the rustic design direction. It can be light brick walls or wooden beams on the ceiling. This will not destroy the rustic zest of Provence, but will make it fresher and not so cloying.
They will perfectly fit into the interior of the plant – they can be either potted, or just cut or even dried, for example, lavender. In pots, you can grow rosemary and other herbs that are useful for cooking. But it's better to refuse artificial plastic analogues, since they will be disharmonious with the rest of the "natural" interior.
Summary
Provence is a gentle and slightly distinctive style that will evoke memories of the summer spent in the village and will serve as a breath of fresh air for the city dweller. If desired, anyone can create a similar atmosphere in their kitchen, filling it with warmth and comfort. Thanks to the techniques and nuances described above, this will be very easy to do.