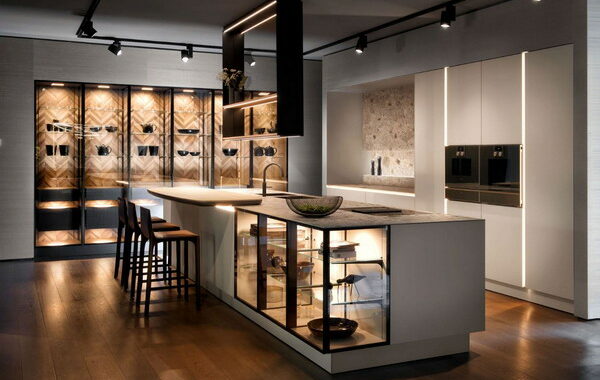 Kitchen design trends change frequently. Today, some design is popular and in demand among consumers. Over time, this option is already considered obsolete and irrelevant. Modern interior designers are trying to correct this version of the outcome of events, seeking to create trends that will be popular for a long time to come. In this publication, we will tell you which kitchen apron will be relevant in 2023.
A modern kitchen is not only visually beautifully designed furniture, well-chosen colors and decor items. First of all, it is functionality, convenience and practicality. It is on these important things that the idea of future trends for the kitchen is built. What to expect next year, what will become popular in the design of a kitchen apron in 2023?
What is a kitchen apron?
The kitchen apron is part of the wall, which is located directly in the working area. It is located between the work surface and wall cabinets. Since the surface is constantly exposed to high temperatures and also contaminated, resistant materials are used for its finishing, capable of withstanding increased loads.
What kitchen aprons will be popular in 2023
The preferences of modernity agree on one thing – the materials for decorating the kitchen should be environmentally friendly and practical. The dynamics show the following trends:
stone kitchen apron;
glass apron;
steel surfaces;
mirror apron;
porcelain apron.
These types of trendy apron designs not only look beautiful and highlight themselves, but are also very functional and practical.
Stone kitchen apron
Stone kitchen backsplash is becoming more and more popular in 2023. The material for finishing the kitchen surface can be either natural or artificial. Natural stone is unreasonably expensive. Especially since it won't last long. Therefore, when finishing the working area, it is rarely used. One of the most environmentally friendly is graphite. Marble will look beautiful and expensive, but due to its characteristics, it can quickly lose its attractiveness if the room is too humid.
Decorative stone is becoming more and more popular every day. The most popular type of apron finish is acrylic stone. Has full functionality; it well protects the wall from moisture and grease during cooking. The material also has many other advantages:
Huge selection of colors. The stone can be glossy, matte, plain or with various interesting inclusions.
The artificial stone does not pass moisture through itself, as it has no pores. Therefore, pathogenic bacteria, like a fungus, do not multiply on the surface.
The stone can be quickly restored. If scratches or cracks appear, it can simply be sanded.
Glass kitchen apron
The glass kitchen apron is effective, has a smooth surface and is in great demand among the modern consumer. It is not difficult to foresee that in 2023 it will not lose its popularity. The advantage of a glass apron is that it has few joints. This will eliminate the pollution problem in these areas.
An interesting modern solution would be to apply an image to the panel. This will add individuality, charm and originality to the kitchen. Glass withstands any high temperature. This allows you to install the apron next to the stove. Fashionable glass apron does not require special care. When dirty, it is enough to wipe with a special detergent. It is very important to use tempered glass as normal glass can crack and break.
Metal surface – a new current trend
The main feature and advantage of metal is its durability. It also looks aesthetically pleasing, easily combined with other details of the kitchen interior. The material will help visually increase the space if the kitchen is small. The metal surface is very functional and convenient due to its magnetic properties. Now all the necessary kitchen appliances and additional items will be at hand. There are many types and variations of kitchen backsplash designs in 2023 so that everyone can find something interesting.
Mirror apron: features and benefits
Another innovation in the interior of the kitchen is a mirror apron. It is based on tempered glass, which is characterized by unsurpassed strength, durability and reliability. The material is completely environmentally friendly, resistant to the negative effects of chemistry. The surface of the mirror has no pores through which moisture can seep, making it inaccessible to mold and mildew.
With such material, you can realize the most daring fantasies, experimenting with various details. The mirror apron is easy to install. It is enough just to clean it from any contaminants.
Porcelain kitchen apron
Another splashback trend in 2023 is porcelain tile finishes.
Porcelain stoneware products practically do not differ in composition from tiled products. The only difference is that in the process of creating porcelain stoneware, a coloring pigment is added to the main composition. Therefore, the material is homogeneous and does not require additional enamel for coating.
The material is durable and solid, which is a significant plus for kitchen design. It is not afraid of high temperatures, does not lose its appearance, and is stable in operation. Porcelain stoneware practically does not absorb moisture, which is a significant plus when installed near a work surface. It features visual appeal and simplicity that is highly valued in contemporary design.
Current trends in kitchen decoration 2023
All these materials are suitable for modern requirements and fashion trends. This is not surprising, because the main requirements for the kitchen are practicality, ease of use and high functionality. Such minimalist products will complement the interior of your kitchen and create a unique style in 2023.