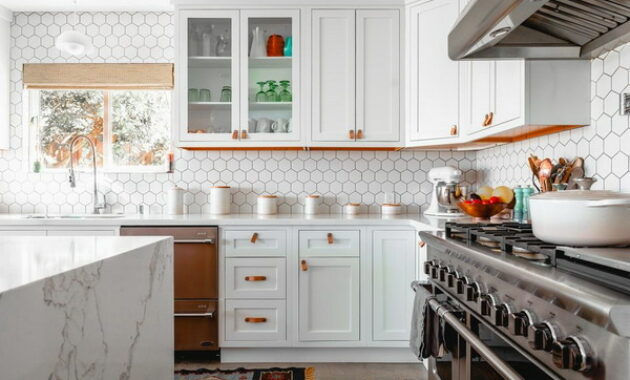 "The time has come to reform the kitchen. " Eight simple words that give way to a world full of inspiration. Because yes, when such a decision is made, the first step is usually to hunt for all the trends, ideas and solutions that the market proposes. Thus, when combined with your needs and wishes, a first sketch emerges of what will become the kitchen of your dreams, and which will become a reality with the help of professional designers, such as those we offer you at Ekitchentrends.
Kitchen trends for 2022
Like fashion, the world of interior design is renewed every season to offer trends and trends that revolutionize our decoration concept to a greater or lesser extent. Thus, a reform represents a unique opportunity to bring these trends to our homes. For that reason, if you have already made the decision to reform your kitchen, here are some of the options that can inspire you when coming up with a design that makes you feel proud and satisfied, because, in the end, that is our main objective.
1. Suspended kitchens
Luxury translated into minimalism is what suspended furniture offers us. We are talking about furniture anchored to the wall, with fixings prepared to support the weight necessary to be used as storage and as a work area. This type of kitchen gives us an image of spaciousness, fluidity, elegance and, above all, modernity. Therefore, if these concepts are those that haunt your list of alternatives, this may be the best option. But, if you are not convinced by the idea of fixing them to the wall, you can choose models with legs or with hidden supports that visually offer the same feeling of lightness, like our Matrix model from the Wraith collection.
2. White is still the star
Wood? Marble? Integrated furniture? Island or peninsula? Long before starting to answer these questions, it is usual to have made a first decision: the color that will star in our new kitchen. Thus, once again, this 2022 season white will continue to be key in the world of kitchens, for many reasons: it provides elegance, spaciousness, light, easy to combine, available in all kinds of materials, textures… Although, if they allow us the advice, we propose to break with a second color that, without competing, wins its position… We can see it, for example, in the Galia model of the Europa collection.
3. Very natural colors and the combination of black with gold
In addition to white, other colors seep into the 2022 kitchens, starting with shades such as green, beige or tan, which remind us of the so inspiring nature (wood is a great resource for this, as in the Giralda model, from the Europa collection ).
And a completely opposite concept offers us another of the trends of the moment, the explosive and elegant combination of black with gold details.
4. Furniture without handles
In the same line of modern and minimalist kitchens that suspended furniture proposes, we find this trend that hides the handles of drawers and cabinets, as we propose in model C1 of the Curve collection.
5. Wood, quartz and marble countertops
What do we look for, or should we look for, on a counter? We answer for you: elegance, resistance, design and, above all, top quality materials. That said, at Ekitchentrends we can advise and offer different models, always from top brands, and in some of the most trendy materials, such as wood, quartz or marble.
6. New concepts for soil
Gone is the exclusivity of the tile floor in the kitchen, to accommodate other materials that offer a lot of play in terms of design, such as concrete (which we also see on countertops) or easy-maintenance laminate floors.
7. White, black and metallic sinks
Trends for 2022 reach every corner of the kitchen, including sinks. With the permission of the stainless steel models, the sinks are presented in other shades, such as white, black and, even, in metallics such as copper or gold.
8. Smart storage solutions
When we talk about innovation, we talk about progress, understood as solutions that make life easier for users. For this reason, functionality must always be present in the trends of each season, which this time translates into smart storage solutions for drawers, drawers and all kinds of furniture. In the ' Accessories ' section of the Ekitchentrends website we show you some options.
9. Cabinets and integrated furniture
We are talking about solutions such as paneled walls, where the storage is practically hidden and integrated, offering a simple, light and, above all, modern line. You can get an idea of what we are talking about in one of the sections of the Germania model in the Europa collection.
10. Exposed shelves
They arrived a couple of seasons ago and, from the looks of it, are staying with us for the moment. We are talking about replacing part of the upper furniture with shelves and shelves. With this, we give the opportunity to the kitchenware to be part of the composition and decoration of the kitchen.
11. Lighting integrated into the furniture
As we said before, innovation comes from functionality. For this reason, the kitchens of the 'future' do not settle for an ambient ceiling light. To make our work in the kitchen more comfortable, lighting is integrated into the furniture itself, with solutions such as those found in our ' Lighting ' section.
12. Art in the kitchen
Finally, let us finish with one of the maxims of our work and a concept that is becoming more and more trending, that of 'art in the kitchen'. We are talking about opening the doors of this room to luxury, culture, decoration with the greatest essence there is, art… That is why, at Ekitchentrends we collaborate with painters and other artists.
And as we always remind you, at Ekitchentrends we await you with open arms, to advise you on everything you need.