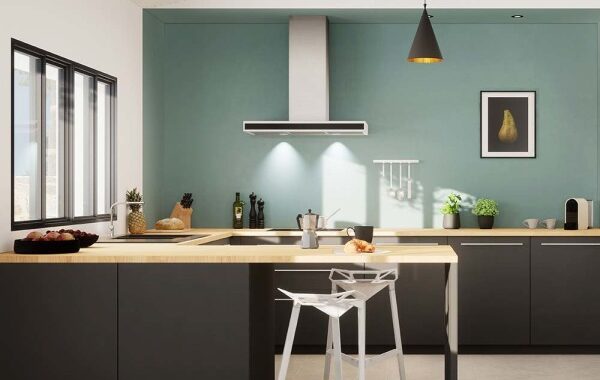 The 2023 kitchen decor trends are in place! You will quickly be seduced by the wallpaper, flagship colors, raw materials, suspended lighting, canopies, etc. that we have selected you to beautify your kitchen in 2023. Quickly discover the trends for this centerpiece of the house!
8 trendy ideas to decorate your kitchen in 2023
Can't stand your simple, old or completely outdated kitchen? Maybe 2023 will see a new and beautiful kitchen then arrive? To help you find inspiration, we've compiled some ideas of what will be happening this year and the novelties offered by some kitchen designers. Discover our 2023 favorites to design your future kitchen in which you will be able to make a whole bunch of good meals and receive family and friends.
1. The backsplash with integrated shelf: the very practical little extra
This year, we are adding a shelf to the backsplash. Practical, it allows you to arrange and present your most beautiful decorative objects , your beautiful indoor plants or your dishes. The ideal is for this shelf to be of the same material or material as the backsplash in order to affirm a certain continuity of the decor.
2. The wallpaper: a room full of pep
The wallpaper is finally invited into the kitchen for our greatest pleasure. Graphic, tropical, vintage, you are spoiled for choice. On the practical side, don't panic! The wallpaper special cuisine is developed specifically to withstand the moisture, splashing and dirt. Whether we like it or not, it gives the room some pep and totally transforms it!
3. Discreet door handles: a minimalist space
This year, the trend is for kitchen furniture door handles to be discreet and minimalist. The design of the handles is simple, and sometimes they are even undetectable. They can be located at the top or at the bottom of the doors, the objective is that they are hidden in order to create a refined and uncluttered space.
4. Kitchen colors: colors to reconnect with nature
This year, the trend is for natural colors: forest green, yellow, living coral and cream will be the big winners in 2023 for the kitchen. A new palette of energizing and light colors that will transform your kitchen with just a few brushstrokes on walls, new furniture or by arranging decorative objects.
5. The kitchen canopy: still in vogue in 2023
Once again this year, the artist's studio-style kitchen glass roof is still at the heart of trends to create a semi-open space. Canopy in wood, wrought iron or PVC, it doesn't matter, it always brings so much character to our interior!
6. Raw materials for a kitchen with a lot of character
The kitchen of 2023 is intended to be natural with raw materials such as wood, marble or even OSB. For your worktop, the front of your kitchen furniture or other furniture, these materials will give character to the room and offer you daily well-being.
7. Island design: the heart of your new kitchen
The worktop or the central island are often what you notice first in a kitchen. It must be practical, large and modern to make you succumb to its charm. And this year, the 2023 trend wants this element to take up more space and be more design : shape, material, in 2023 we are breaking the codes!
8. Kitchen lighting: larger pendant lights
Bohemian decoration or industrial style, whatever the lighting side, these are the pendant lights that will be the big winners! Bigger and more conspicuous, they will take up just as important a place as your new kitchen furniture.