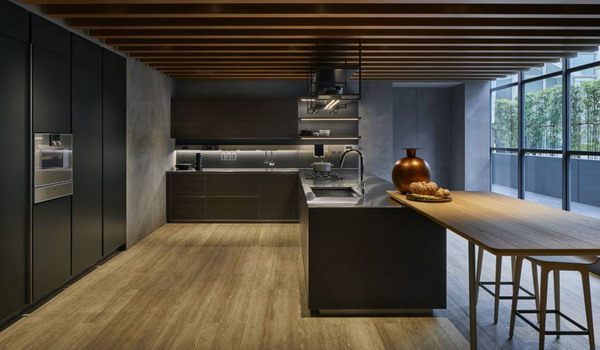 We asked experts to share their thoughts and views on the main trends in kitchen design that will dominate in 2022, and also added some memorable solutions of our own.
Regardless of the property in question, investing in a kitchen can be invaluable both for your home and for increasing resale value. Check out the latest design trends to help you choose the right style for your home.
Thoughtful compact design
Whether it's narrow, squared or uneven kitchen layouts, premium compact designs come to the rescue. More and more homeowners are choosing to benefit from every meter of living space and improve the efficiency of the allocated space. Therefore, compactness is a modern design solution.
Feel free to add a kitchen island or breakfast bar. If the allocated space does not allow placing the object, try to make it compact and oversized so that this interior detail does not restrict movement around the kitchen. Choosing an open or mobile island will retain access to all kitchen areas and provide additional seating options. Storage boxes and kitchen utensils can be placed under the island's countertop.
Dark finish for kitchen surfaces
Modern designers prefer dark colors in kitchen finishes. This trend has emerged as a result of the move towards two-tone kitchens. The darker colors of the countertops are offset by lighter furnishings and bold accents. This color scheme in the interior is suitable for rooms of any size and creates an atmosphere of luxury and sophistication. "
Many people think that shades such as black and dark gray are contrasting colors. Using them on surfaces such as countertops, floors, and aprons can help make a room feel very cozy. Especially when combined with textured wood for a rustic, homely feel.
Hoods
In the kitchens of the future, hoods will have a new look. There is a shift towards downdraft extraction systems. Such devices remove odors and vapors directly at the source, that is, directly from the stove, and direct them downward before they have time to penetrate the air.
This is especially important in kitchens in open-plan living areas, where a high-ceiling hood can create a visual barrier and spoil the interior of the entire room. The cooktop extractor hood allows more creative design possibilities and reflects the trend towards a minimalist, professional style.
Structured simplicity
The trend towards modernized kitchens will soon reach new heights. This minimalist approach creates a soothing space with clean, flowing lines. This is easy to achieve, with practicality being the key. "It's all about choosing high quality materials and items that prioritize clean lines and functionality," explains Darren Watts. "In these kitchens, it is very important to have built-in appliances and hidden drawers so as not to disturb the smooth lines."
To free up the countertop and freshen up your kitchen interior, you can implement smart kitchen utensil storage solutions.
Two-tone kitchens
Forget about kitchens where everything matches tone-on-tone. Cuisines are becoming more and more mixed in the new decade. The trend towards a combination of two colors in kitchen interiors will increase dramatically in the 2021/22 season. This is a great way to add flavor to your home's aesthetic. This color scheme can completely change the perception of a room. Choose deep, dark elements and combine them with brighter contrasting shades to add depth and character to the space. "
The trend extends beyond contrasting wall colors. It is used for all objects in the kitchen interior – from cabinets to countertops. Andy Briggs states: "You can play with rich textures like wood, matte finish or smooth laminate. Their combination generates instant interest. "
Furniture and accessories in green
In recent years, everything has been focused on the dark blue color. Recent trends tell us that kitchens will have more green in the future. It will be tiles and furniture in emerald or forest tones.
"The trend towards bold, dark shades has continued throughout 2021 and green kitchen furniture will be a key stylistic choice as we approach 2022,". "Green can be just as dramatic and luxurious when used in the kitchen."
Deep forest greens can be balanced with latte tones, smoky glass and soft metallic to add luxury to the kitchen. Add white marble and brass elements to design elements such as lighting, countertops or even accessories. This will compensate for heavier shades and reflect the light in space.
Mysterious blue shades
While green is the undisputed leader, shades of navy blue are still in demand when choosing kitchen cabinets.
"Midnight blue has become a new trend lately when choosing a color for kitchen interiors. It looks sophisticated and dramatic, ". The home improvement giant reports that Pinterest users searched for this stylish shade 45% more often over the past year.
Ian continues, "The unique shade stands out even more against the light-colored countertops and the silver accents."
Soothing tones
While dark colors continue to dominate cabinetry, we are seeing a growing trend towards soothing colors for walls and freestanding furniture.
"Breathe new life into your kitchen by bringing it to life with delicate soft colors,". "The key moment in 2022 will be bringing soothing qualities to the home, with notes of dusky pink, soft gray and sage green for a fresh feeling."
Mixers
No kitchen is complete without them, so it's time to let them shine!
"Industrial brass faucets with quirky handles and design features are a great way to draw attention and complement a space,".
Built-in household appliances
While there are tons of new gadgets and kitchen utensils coming to our kitchens in 2022, we don't need to see them.
"The trend of hiding appliances is expected to gain in popularity,". "Homeowners scrutinize the aesthetics of the appliances they integrate into their kitchens. Therefore, built-in appliances that create a streamlined finish without sacrificing style are key. "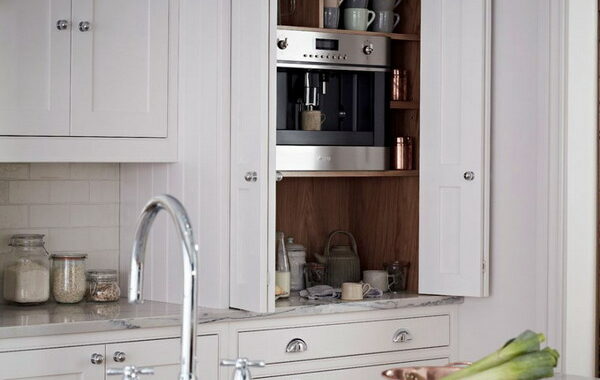 How to put so much equipment in the kitchen, hiding it from the eyes of the residents? "You can hide household appliances like a refrigerator or dishwasher with simple cabinets. The special design of the storage boxes will help to free up the countertop. A hidden station will be popular, which prevents the kettle and toaster from cluttering the countertop. It helps create a dedicated area where you can sit and enjoy your breakfast. " Tea and Toast Station – Sounds good.
Smart storage boxes
While we strive to eliminate clutter for our overall well-being, storage boxes a key element. This is especially true in the kitchen, where we need so many things – from ingredients to kitchen equipment and other utensils. Well positioned and built-in storage boxes add a sophisticated look to your kitchen.
Ben Burbidge reckons one of the most coveted design features will be the kitchen pantry.
Living room furnishings
With the growing popularity of open-plan living rooms, it's no surprise that living room furniture is becoming more popular in kitchens. Now more than ever, kitchens are the heart of our home, so creating a comfortable and well-designed space is essential.
Kitchen lighting gives homeowners freedom of choice. Pendants with spectacular design are increasingly used in kitchen interiors. While the use of spotlights is still key, there is a trend towards bringing the kitchen interior closer to the living room. Lighting plays an important role in this.
Individual pendants, which are more commonly used in kitchens and dining rooms, are receding into the background.
Brass is a good addition to kitchen design
In modern kitchens, we see more and more warm brass tones. Brass is the perfect shade to highlight the trendy blue and green furniture of your kitchen while adding sophistication. According to experts, "hardware can make an interior unique and expressive."
Faucets, hinges and handles are often overlooked. They can truly transform kitchen design. These are the finishing touches that will help complete the interior.
Modern interpretation of traditions
Traditional styles will remain popular in 2022. But they should be adapted to modern realities. The framed façade is a tribute to a tradition that nowadays looks great when done in modern shades.
Choose a traditional design but trendy colors to give your kitchen a modern look.
Industrial
The use of raw materials rich in shades and texture in kitchen design will increase. Amber, gold and rust, along with copper slate and Italian concrete, create a unique aesthetic in the kitchen, inherent in the trendy industrial style.
Dining islands
We all know that islands and breakfast bars can be a place for daily dining, as well as work and storage. But Paul Jenkinson argues that this trend is reaching a whole new level.
"In these configurations, the kitchen island has an additional dining area. This means that you can not only store utensils on the island, but also add an integrated dining room. Whenever we invite guests or relax, we want to be able to combine cooking and socializing. What better way to serve this purpose than the built-in seats on the island. "
Emphasis on gender
The trick is to shift the focus to the floor and keep everything else more subdued and minimal. This modern kitchen can be designed with handleless fronts in one of the tile shades of gray. Avoid wall cabinets – use open shelves instead and place a smooth, white, durable composite worktop on top of any base units.
Accent tiles can look impressive when distributing zones in an open kitchen. It looks beautiful next to wooden planks, bringing warmth to a bright space.
Kitchens divided into zones
Open-plan kitchens have revolutionized the organization of living space, but in this case, certain nuances must be taken into account.
The idea is simple: Take an open-plan kitchen design, but add a free-standing shelf or a raised bar to create the illusion of dividing the space without the need for a full wall.
"This division into zones is evolutionary. The approach allows you to prepare food without interrupting the conversation with the guests, ".
Tiles laid in the form of a grid
Over the past few years, subway-style rectangular tiles have gained popularity in kitchen design. But will it be popular next year? Square tiles laid in a grid pattern – usually with a darker grout – look modern and effective, especially in white. To add luxury, try edging the tiles with gold. Or give things a Scandinavian feel by replicating the look of the kitchenware.
Are you planning a kitchen renovation in 2022?