Kitchen Cabinets Trends 2023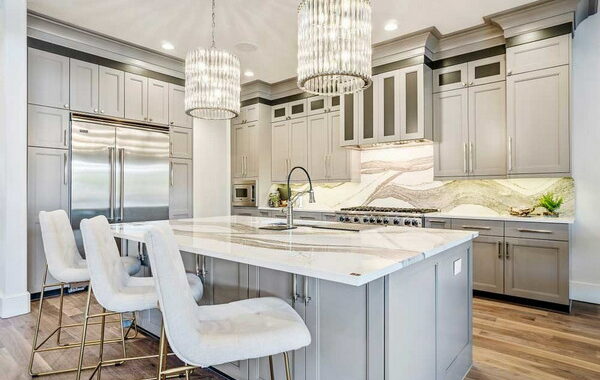 Nowadays, decorating a kitchen requires understanding the trends to come. In 2023, cabinets with inferior trim, glossy finishes and plastic inserts are expected to be removed from kitchens.
Soft pastel colors and shades are very popular these days. To this end, for a good interior decoration, natural products are increasingly preferred. Small, but spacious, wooden cabinets are very popular in modern kitchens.
You can then embellish them with beautiful metal inserts.
Thus, soft colors must be highlighted in all decorations, knowing that the brightness of the palette is no longer important.
This article will allow you to review the different structures and characteristics of contemporary style kitchen cabinets and upcoming trends.
Kitchen cabinets: The different trends for 2023
The elegant and practical design of the 2023 kitchen means environmentally friendly materials, maximum functionality and high-quality furniture.
Space, minimalism and ease of use are popular this year. In addition, spacious wardrobes are preferred.
The three-story kitchen is also very elegant. Choosing a cabinet with different storage systems would also be a good solution. Built-in convertible furniture will be very popular.
Let's take a look at the top kitchen cabinet trends in 2023.
Kitchen Cabinets 2023: Color Trend
Let's try to go through the different color trends for the coming year.
Bright colors and shades should be avoided in 2023. These are the designers' recommendations. Pastels, whites and all their shades are popular.
The monochrome design in calm and pastel colors looks very stylish.
The trends in earth colors and the influence of the green style have spread to the shade. Color choices range from rich wood tones to terracotta and soft beige.
Beige, brown and black are all popular.
Blue always has a variety of trends, including sky blue and dark blue.
Neutral pastels: coffee, light pink, cream, milk. You can combine them, but they must be made with care and taste. Only 2-3 shades can be combined at a time.
Dark green. You can combine this color palette with the metallic inserts linked to this season. Plus, you can pair rich, dark green tones with coffee-colored inserts. The green tones are in harmony with the smoked glass. Other unusual shades of green are gray-green, pistachio, swamp, and olive. All of these tones should be muted, soft and pastel.
Kitchen Cabinets 2023: What Color Combination?
Now let's take a look at various combinations of colors and shades that are fashionable in the decoration of modern kitchens:
Black and white are now all the rage. The success of this range is that it is eternal and therefore always suitable and in demand. This combination is very suitable for classic and minimalist kitchens.
A combination of blue and green. Green can have different hues and the associated color should be selected from the dark color palette.
Combining gray with green or blue is the right solution. Gray-blue combinations are just starting to become popular, and gray-green mixes have become very popular. The combination of burgundy or golden shades and light green tones
Dark brown and gray tones, woody notes combined with the main green style.
Matte black kitchen cabinet: a contemporary decor
Kitchen trends in 2023! Black is still very popular with kitchen designers and customers alike.
It is generally considered to be a complementary color and is coming back in fashion. As a result, black was found not only on kitchen cabinets, walls and counters, but also on sinks and faucets.
Black once again becomes livable, luxurious and intimate, and textured wood adds a rustic and warm elegance.
Black and dark colors are making a comeback. We're not talking about the slick black kitchen surfaces and white glass cabinets from the early 2000s.
This is a new 2022/2023 season in search of a more classic and modern trend. In addition, a dark stone (veined marble or granite) with slight changes in tone will create a dramatic sense of hierarchy, dark sophistication.
Therefore, using a darker color palette and contrasting black tones with brown, wood, gray, taupe or biscuit beige, you will get a very elegant and warm kitchen decorating atmosphere.
A tip: consider putting together a good lighting plan. When choosing a black cabinet, make sure that there is enough natural light and lighting in your kitchen.
Kitchen cabinets 2023: construction materials and structure
Modern kitchen cabinets have several trends in terms of structure and materials of manufacture.
Wood finishes
The trend of eco-friendly interior design has also affected the design of kitchen furniture. In 2023, the use of ecological and natural materials will become more important.
Wooden furniture is very popular nowadays. Thus, the use of wood in their design does not stop only at the cabinets, but also in the creation of the wall panels. The use of other natural materials is also popular. So the less plastic there is in kitchen furniture, the better.
The decoration of environmentally friendly cabinets with geometric and graphic patterns is a recommendation of modern designers.
Other design trends such as functionality, practicality and quality also apply to modern countertops.
A double island kitchen
Kitchen islands have become an important part of modern kitchens with the development of large kitchens in open spaces. A pair of islands represents the latest trend in luxury kitchen decor.
When wanting to whip up exceptional dishes, kitchen lovers need plenty of dishes and cooking utensils. For this, a second island can be an essential complement.
The second island can also become a second dining room for quick meals, snacks or snacks. It is one of the most interesting cooking trends of 2022.
Trendy kitchen 2023: cupboards without handles
They manage to be discreet thanks to a neutral color, and they use the entire ceiling height on the entire wall. This produces an elegant and timeless effect, ultra optimized, with a functional kitchen whereas if there were a multitude of cuffs, it would have produced a weighting effect and would have assaulted the eyes.
This layout represents one of the hottest trends for 2023.