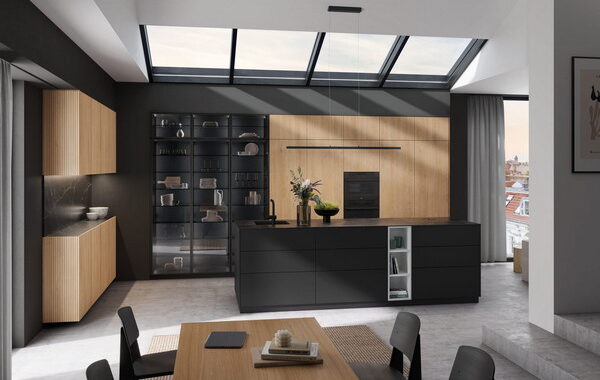 Having a new kitchen is exhilarating for most French people, especially when it is modern and trendy. If you are planning to change your kitchen, it is important to be aware of the latest trends to have a clearer idea of what you want. Ekitchentrends has listed the 20 elements to take into account to have a modern and trendy kitchen designs in 2024.
1. The materials.
When you change your kitchen, it's for a period of about 15 years, so you have to choose quality materials that will last over time. Wood, marble or quartz, discover these different materials honored this year.
a. Wood for a timeless kitchen.
For a timeless kitchen, nothing better than wood. Whether for facades, for the worktop or for the floor, wood provides an elegant and warm atmosphere.
b. Marble for a chic kitchen.
Do you want a chic and elegant kitchen? Opt for marble! You can adopt it by small touch or massively on your worktops, your credenzas or even on a central island. Being a natural stone, marble is a fairly expensive material but you can choose synthetic materials such as marble effect laminate which remains a quality material.
c. Quartz for flawless resistance.
Quartz is known for having flawless resistance, its robustness and elegance resist shocks and scratches. Ideal for your credenzas or for your worktops.
d. Ceramics for a modern interior.
Ceramic being composed mainly of clay, is a material that resists high heat up to 900°. You can find it in the form of tiles, zelliges or large plates. A chic kitchen, in a modern interior!
2. Colors for a modern kitchen
White is undoubtedly the most coveted color in France, but more vibrant colors have their place in a modern kitchen. Do not hesitate to dress your walls or your facades for an authentic cuisine.
a. White for sobriety.
White has always been invited into our interiors, a timeless and modern color, it remains a safe bet. Sobriety and purity are the words that best describe it. It projects you into a zen and soothing atmosphere that appeals to relaxation and daydreaming. You can choose white for a full white kitchen or a little touch.
b. Black, class and elegance.
The black kitchen is in great demand this year and it is not without reason, it evokes class and elegance. It can be chosen with moldings to give a vintage touch or matte for a sleek design. A black kitchen is synonymous with high-end cooking. You can adopt it for a total black look or assimilate it to other colors, yes, black has the advantage of combining with any color.
c. Yellow to add some pep.
Yellow has the advantage of bringing pep to your kitchen. Warm, invigorating and sunny, yellow makes your interior shine! Adopt it in small touches to give character and modernity to your kitchen.
d. Blue for an electric kitchen.
Symbol of the sky and the sea, blue is becoming more and more popular in modern kitchens. Multiple shades of blue exist such as royal blue, azure blue or midnight blue, it will be perfect on kitchen fronts or on small decorative objects. Do you want an original kitchen that stands out? BLUE BLUE BLUE!
e. Green for natural cuisine.
Green, or the star color of 2020, will find its place in your kitchen and will be a charming ally! It invites itself on the fronts of cupboards, in decorative objects or even on wall paintings. It has the chance to associate as well with light colors such as white as with kitchen furniture in natural wood. From fir green to comodoro green, it brings an elegant, refined and serene touch. A kitchen with a natural spirit.
3. Appliances
Who says kitchen, necessarily says household appliances! Innovative, functional or decorative, there is something for everyone! Here is a recap of the essentials to have at home!
a. The connected fridge.
We are now entering the air of the connected revolution and household appliance brands are getting up to date. You can now consult the contents of your fridge from your phone, put on music or even connect to the internet. Nice, isn't it?
b. Built-in appliances.
A modern kitchen but above all built-in appliances for a minimalist kitchen. There are fridges, ovens, dishwashers or even camouflaged hoods for a tidy and pleasant space.
c. A small wine cellar.
Wine is one of the drinks most consumed by the French, and the wine cellar is attracting more and more people. She tends to bring a warm side to the kitchen. More than practical, it is a decorative asset, there are more and more design wine cellars that adapt perfectly to the rest of the kitchen.
d. The integrated power strip.
Who says cooking, necessarily says food processors, so it is important to have enough sockets for optimal use. And for that nothing better than the multi-socket integrated into the worktop, design and practice, it appears and disappears as desired. A little extra and not least, safety, especially when you have young children.
4. Layouts
Open or closed kitchen, U-shaped or with a central island, here are the different layouts for a modern kitchen!
a. A central island.
The central island requires a room of at least 20 m² because it is more or less imposing. Aesthetics and user-friendliness are undoubtedly the terms that best describe this location. The central island embodies pure class and tends to fit better in an open kitchen than in a closed kitchen!
b. An U-shaped kitchen.
The U-shaped kitchen occupies three walls of the kitchen, it is particularly suitable for a kitchen open to the living room. This layout, in addition to being practical, allows excellent organization. It offers a very large work surface and a large number of storage spaces.
c. A L-shaped kitchen.
The L layout is suitable for all rooms and particularly for those in the shape of a rectangle. This layout is perfect for installing a kitchen table for meals or as an additional worktop.
d. An I-shaped kitchen.
This kitchen layout, also called "corridor" kitchen, is suitable for all types of rooms, but it remains ideal for long and narrow rooms. The I-shaped layout is ideal for open kitchens and small spaces.
5. Essential accessories
Accessories, the essentials for a successful modern kitchen! This year, they want to be minimalist, elegant and practical!
a. Niches for more storage.
More than aesthetic, niches or storage shelves are very functional and practical. You can easily access all your utensils or crockery. They are an undeniable decorative asset, but they nevertheless require daily cleaning to avoid the accumulation of dust and dirt.
b. Minimalist handles.
In 2020, the handles want to be worked, minimalist or even invisible. The decoration is simple and refined for a refined kitchen. Rectangular, round, in leather or stainless steel, there is something for all tastes and all budgets!
c. Designer faucets.
The taps are the icing on the cake in new kitchens and in the same spirit as the handles, they are design and atypical. Minimalist or slender, vintage or matte black, copper or brass, don't hesitate to bet everything on your mixer tap! Now you have knowledge of all the elements to make your kitchen a modern and elegant room!