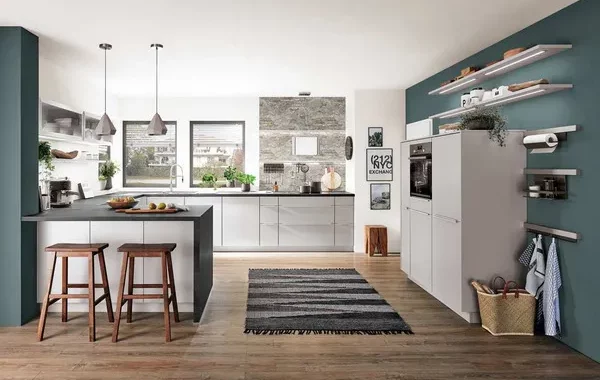 What shouldn't be missing in kitchen trends 2024? What's new in kitchen furniture, electrical appliances and accessories? We'll tell you which fronts are popular, which colors are coming into fashion and which device functions will make cooking easier for us in 2024.
New kitchen cabinets and colors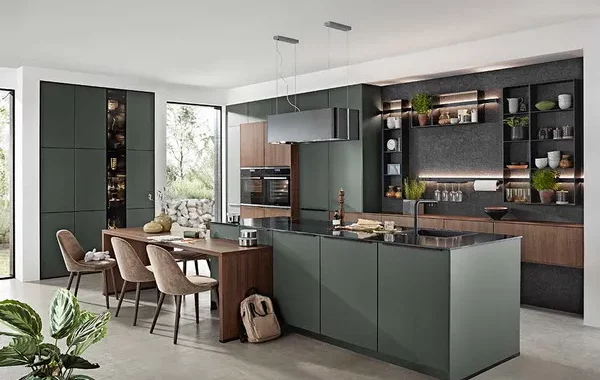 The trend towards dark kitchens has been observed for several years. From black to anthracite to gray and dark brown, the manufacturers have expanded their range to include many darker shades. However, that does not mean that the white kitchen is losing importance. As a classic and timeless variant, it continues to enjoy great popularity. The general rule is: Anything that pleases is allowed.
The combination with different types of wood is trendy in both dark and light kitchens. Oak in all shades and walnut are very popular in 2024. Light woods also play an important role in the Japandi style, which is also finding its way into the kitchen this year. Matt cabinets are still one of the absolute kitchen trends. This applies to kitchen furniture, but also increasingly to electrical appliances.
Color is a big topic in the kitchen in 2024. It can be individual splashes of color that spice up the subtle cabinets or a completely monochrome plan in one of the new trend colors green, dark red or aubergine. Thanks to modern anti-fingerprint coatings, you don't have to worry about unsightly marks from oily or floury hands.
Metallic look and wood as an eye-catcher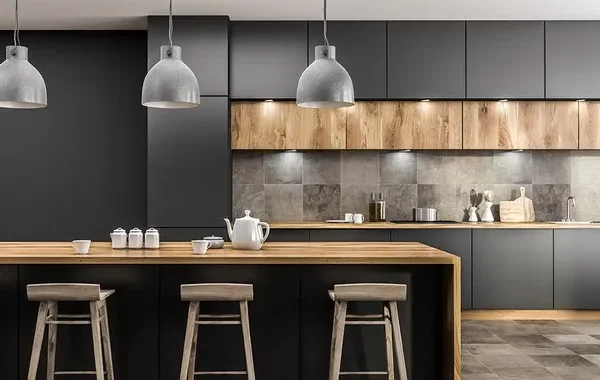 The highlights include kitchen fronts made of vertically structured wood – an elegant look that visually blends the kitchen. They are available in light or dark decor and with grooves of different widths. If a complete kitchen with grooved fronts is too much for you, you can opt for individual cupboards as eye-catchers. The high-quality relief surfaces come into their own in a mix with smooth fronts.
Another kitchen trend for 2024 are surfaces with a metallic look. Fronts made of stainless steel in combination with real wood worktops result in an elegant and cozy overall picture. Sinks and fittings end their inconspicuous existence and make their grand entrance in gold and copper. Elements in warm rose gold are also very popular. The current marble elements, which come in light white and beige tones, but also in anthracite, are similarly luxurious. Since real marble is relatively sensitive to acids, alternatives such as quartz stone or ceramics are recommended for the kitchen, as they come very close to the original in terms of appearance.
New furnishing: Japandi trend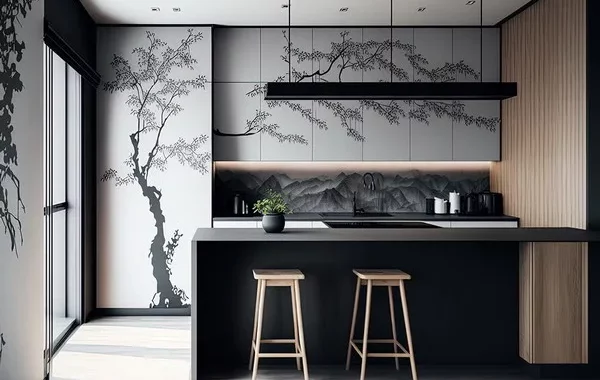 The term is made up of "Japan" and "Scandi" and stands for the combination of Japanese minimalism and Scandinavian cosiness. The natural colors from Scandinavia are also in the foreground with Japandi. By mixing with the Japanese furnishing style, strong color nuances, especially black, but also dark blue, aubergine and dark green and red tones are possible. The clear Scandinavian look meets the likewise high-quality, straightforward and above all practical aesthetics from Japan. For the kitchen, this means clear lines, handle-free looks, high-quality furniture, natural materials and a small number of functional decorative objects. Wooden struts on the fronts reinforce the Asian flair.
2024 kitchen trends in electronic devices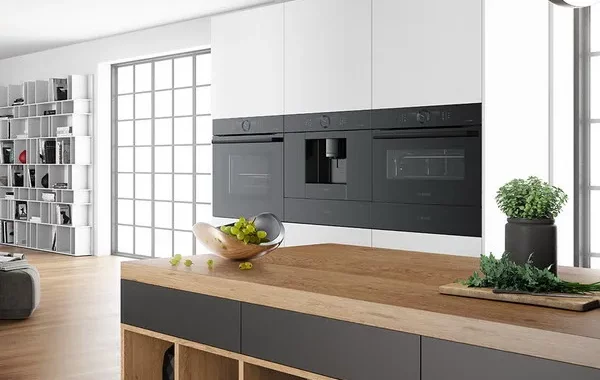 Which new functions will inspire us in the kitchen in 2024? Anything that makes cooking, washing up and storing food easier. Ovens that suggest recipes and choose the right temperature right away. Extractor hoods placed in the center of the hob, sucking in steam and odors quietly and efficiently. Dishwashers that recognize how dirty the dishes are and regulate the temperature and water consumption accordingly. Refrigerators with freshness zones that keep food healthy and crisp longer. When it comes to electronic devices, the focus is clearly on sustainability. It should be made as easy as possible for the user to save electricity, gas and water.
Dark design, matt fronts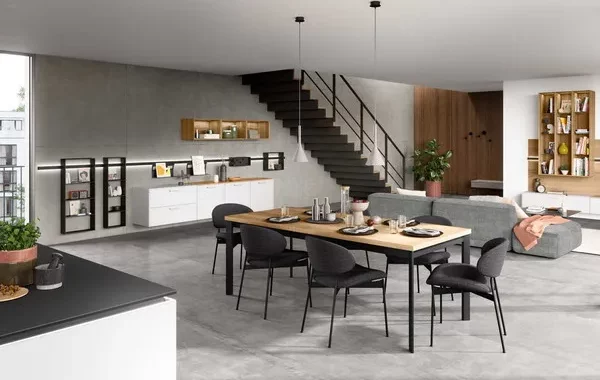 On the outside, the devices, like the kitchen furniture, show their darker side. The stainless steel look that has dominated for so long is being replaced by matte black. Appliances that blend discreetly into the look of the kitchen are particularly suitable for open planning – the less it looks like work, the better.
The electrical appliances that will continue to be very popular in 2024 also include induction hobs, preferably with an integrated extractor hood, and elegant wine refrigerators. They also adapt to the design of the kitchen – from practical and minimalist to elegant and high quality.
Fancy a new kitchen? Then simply stop by a specialty store near you and discover the kitchen trends for 2024!
Kitchen trends 2024 in kitchen furniture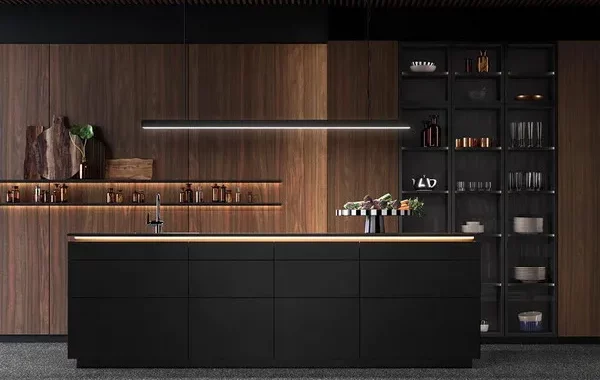 Which colors set the tone?
Black, grey, brown – we will not be able to avoid these colors in the kitchen in 2024 either. This applies to cupboards as well as worktops, electrical appliances and even sinks and faucets. But of course there are also splashes of color. Many kitchen manufacturers have discovered the color green and included it in many different versions in their range. Combined with the latest wood decors, they ensure a natural, comfortable look, but they also work on their own. In addition to the strict black and gray, warmer nuances such as ocher, curry or brown tones are conquering the kitchen. Powdery pastel shades set accents and pleasantly loosen up the severe dark fronts.
Lots of room for flexibility
Kitchen and living room are more and more often planned as a unit and therefore kitchen furniture will become more and more flexible in 2024. For example, almost all manufacturers offer individually adaptable furniture whose elements can be freely combined with each other and are becoming more and more diverse in terms of body height, body design and choice of materials. Unusual kitchen ideas can also be designed and designed with creative, multifunctional grid systems – almost without limits.
Center of life kitchen
Many kitchen manufacturers have expanded their range and are gradually conquering the entire home. Furniture for the utility room is becoming more and more sophisticated, showcases, wall units, chests of drawers and bathroom furniture in a harmonious design ensure a uniform living concept. For this reason, the handle-free kitchen will remain relevant in 2024. The transition between kitchen and living room is still fluid. The topic of working from home also remains relevant. Many manufacturers allow the integration of a workplace in the kitchen. When working from home becomes the norm, you need more than a stool at the counter – and kitchen manufacturers are also adapting to this.
Kitchen trends 2024 in electrical appliances – smart and sustainable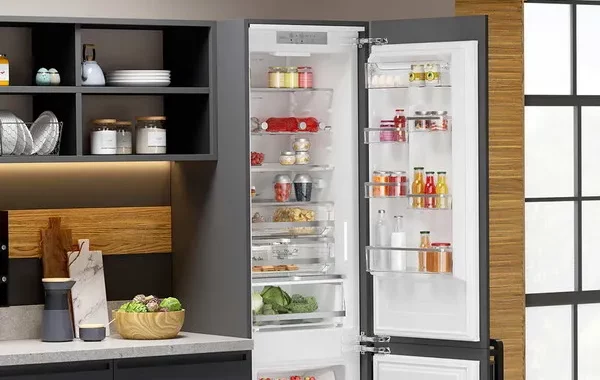 Space in the fridge
Large-capacity refrigerators – whether free-standing or built-in – are currently enjoying great popularity. Consumers want to go shopping less often, so the optimal storage of food is an important issue. The kitchen trends for 2024 therefore include refrigerators with different cooling zones and refrigerated drawers in which meat, fish, fruit and vegetables stay fresh for a long time. Various manufacturers offer refrigerators with a stainless steel interior paneling. This not only looks impressive, it also scores in terms of hygiene. Side-by-side devices that not only offer plenty of space, but also nice extras such as a bar compartment, water dispenser and ice cube maker are still popular.
Smart dishwashers
Modern dishwashers impress with their economical water consumption, improved drying and intelligent division. Thanks to flexible dividers, each load can be designed as desired and there is also space for bulky utensils. New technologies ensure cleanliness without pre-rinsing and low energy consumption.
Flexible hobs
When it comes to cooktops, the trend in 2024 will continue towards induction. The fields are becoming more and more flexible. Pots and pans are recognized automatically and your own cooking zones are created. Full-surface induction hobs allow cookware of any shape and size to be placed and moved freely. Hobs with an integrated extractor hood are very popular, and thanks to intelligent automatic control, they offer a high degree of flexibility when cooking. Powerful, energy-efficient range hoods capture cooking and roasting vapors where they arise and ensure clean air when cooking.
Discreet fume hoods
In 2024, extractor hoods will either be very discreet or really noticeable. When not in use, some hide in the work surface in which they are embedded flush and can be pulled out if necessary. Others disappear completely in a wall cabinet above the hob. On the other hand, there are extractor hoods that look more like modern designer lamps. They are particularly suitable for the kitchen island. In 2024, the color black will also be seen very often in extractor hoods.
Kitchen trends 2024 for appliances & accessories – practical and innovative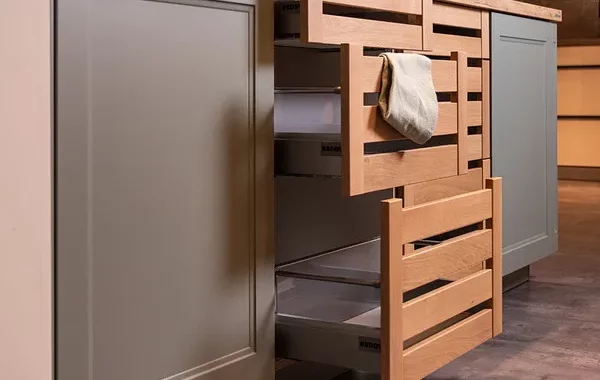 In 2024, the focus will be on sustainability
Whether in production, consumption or shelf life – in 2024, sustainability will be the focus in the kitchen. Natural materials, especially wood, play an important role in this. The renewable raw material not only impresses with its pleasant appearance, but also with a good ecological balance.
Fittings with additional functions
The idea of sustainability has also arrived with the accessories that no kitchen should be without. A kitchen trend for 2024 are faucets with additional functions. They dispense cold, hot, filtered or sparkling water at the touch of a button. There is no longer any reason to lug around heavy crates of water. Waste separation systems have also become standard in the kitchen. Installed under the sink, they are not noticeable and make waste separation child's play.